The Angus Glover hype is still very real
Even after injury and a complicated rookie season environment, Glover remains on track to be a star.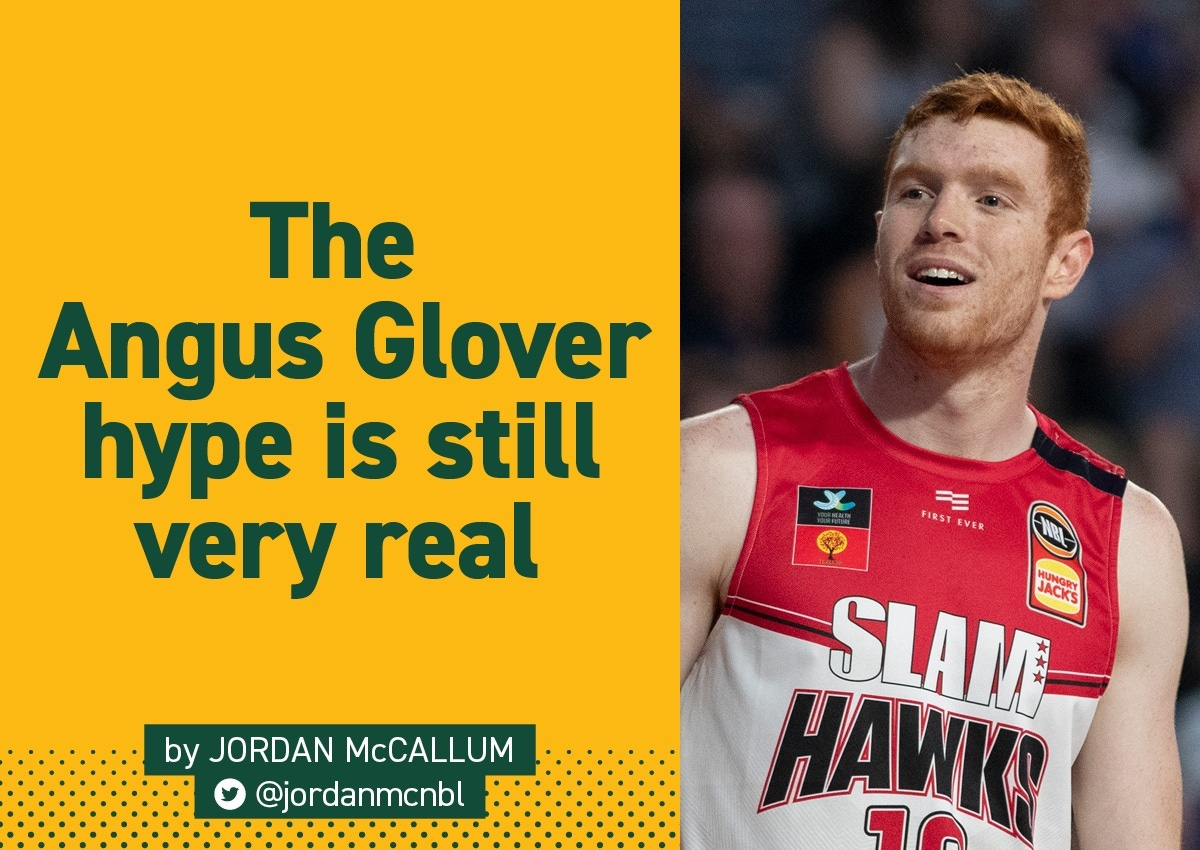 Credit: Russell Freeman Photography
---
We've all heard Angus Glover's story by now: an elite junior prospect who suffered three ACL injuries before his first professional contract. Considering that adversity, plus many other challenging factors at the Illawarra Hawks last season, Glover's ability to piece together reassuring results on the floor was incredibly pleasing.  
"This year won't be without its challenges."
This was a much-used phrase in press conferences from rookie head coach Matt Flinn throughout 2019/20. Flinn admitted to struggles with finding the right rotation and establishing clearly defined roles, whilst the Hawks initial roster and build meant that the team had holes. For example, there was no starting caliber power forward. 
Elsewhere, LaMelo Ball was given too large a role way too soon, for any team that had the slightest interest in working towards a playoff target. Aaron Brooks' Achilles injury robbed the team of their only All-NBL level player. Billy Preston's signing screamed of a lack of due diligence done by the club. Darington Hobson was nowhere near the standard the team needed as help. The Hawks' disastrous 5-win and 23-loss season finished with the club going into voluntary administration. 
Considering all of these concerns, it's easy to understand why Glover had more confidence in what Sydney were doing, and he quickly signed a three-year deal with them in free agency. The Kings appear to be a destination club again with some stability and an environment that appears to be conducive to both personal growth and team success. 
"Being able to spend time with [Sydney head coach] Will [Weaver] while I was with the Boomers at the end of last season was a big factor in my decision," Glover admitted at the time of the announcement. "The confidence he gives to players is massive, and even five or six days with him was a big jump forward for my development". 
The Hawks were understandably upset to lose their home-grown talent.
"I was excited about [Glover and Sunday Dech], and when I got here, they were all taken," new Hawks head coach Brian Goorjian commented to the ABC. "My understanding was there was an amnesty, that these kids would be left alone until free agency to give this new organisation at the Hawks a chance to do their thing."
Hawks fans will find it tough seeing their local guy running around in Kings colours, but to Goorjian's credit, he has assembled an interesting roster in difficult circumstances. 
---
The vision of Glover becoming a long-term starter or star is certainly still a real possibility. His play as a 21 year old coming back from extended time out of the game was extremely promising. Glover's season started with a very limited role in the rotation before a breakout 17-point performance on December 7th. He would log double-digit minutes in every game thereafter. Injuries to Ball and Brooks were of course factors for that increase in opportunity.
Despite the knee injuries, Glover's physical tools are still a clear strength, and we see that come through in his game in a number of different areas. Transition is one of the most obvious aspects.
Glover's acceleration to kickstart a fast break opportunity is elite in the NBL and he showed no fear attacking the rim even against quality defenders. He's the type of player who can have some success at catching teams off guard by occasionally looking to score quickly off of a made basket. As a rookie, transition plays were his second most frequent play type.
---
If you're enjoying Jordan's analysis on Angus Glover's potential impact with the Sydney Kings, consider supporting his work and the rest of our team by becoming a paid subscriber. It's only with your help that we can keep this platform growing, and maintain our independence.
---
Despite logging the ninth most minutes on his team, Glover was second for dunks per spatialjam.com. For his position, he shot an above-average 65% in the restricted area, and he also ranked eighth across the league for free-throw rate among guards at 29.9%. He's fearless at getting on the rim and knows how to use his athleticism. 
Here, Glover shows off that ability to attack the paint with the ball in his hands in the half court.
Another aspect of Glover's game that is assisted by his athleticism is his rebounding. He uses his spring, together with a great nose for the ball and ability to read the play, to punish opponents that fail to box him out. 
He really does have a great knack for helping out on the boards on both ends. Per spatialjam.com, Glover ranked second among guards across the league last season for offensive rebounding percentage, as well as seventh for defensive rebounding percentage.
Following on from the idea of combining physical tools and a feel for the game, Glover also shows a good capacity to move off the ball and cut to the rim for layups, dunks and free-throw attempts.
These plays are clever from a rookie and demonstrate some genuine game smarts. The give-and-go plays to the big men are especially impressive. 
When looking at Glover's outside shooting, the small sample size numbers aren't as inspiring as expected but, given the versatility that he has shown on his jump shot (hand offs, pull ups, and spot ups), as well as his success from three at lower levels, there is plenty of room for optimism. 
The foundation looks to be there for Glover to play both on and off the ball and to be a threat to score both at the rim and from beyond the arc. His role was certainly more in the scoring guard vein last season, but he can also make a read with the eye to pass, and log some point guard minutes. It's now about bringing it all together and finding greater consistency as his career progresses.
As well as the offensive talent and the strong rebounding, Glover has also displayed genuine effort on defence. 
"My role primarily is defence," commented Glover after a game in October. "The shots will come. I try to hold my hat on defence."
His appetite to consistently get low in a defensive stance, pick up full court at times, fight for position in the post, and to pick off sloppy passes and kickstart his transition game is once again encouraging. There's some polish and reps to add defensively, but he looks to be ahead of the curve for a normal rookie. The combination of physical tools, effort, and game sense will hold him in good stead.
---
Sydney have had a number of moving parts with their roster this off-season, but they do have quality building blocks locked in, as well as decision-makers in management that are likely to position them firmly in the playoff picture again. 
In terms of role, Glover will at minimum be a regular rotation member. Weaver has shown a willingness to trust his bench, so minutes should be consistent. Having combo guard skills on offence and an ability to defend multiple positions will make it easy to find lineups for Glover to play in. 
The Didi Louzada decision, or any other Next Star signing will be meaningful. There's a chance that one of Glover or Dejan Vasiljevic could start at shooting guard regardless, but a non-return from Louzada would further help his minutes. 
Glover's decision doesn't appear to be about minutes, but more about finding the right environment. Imagine the development he will show in this upcoming season under a more proven coach, alongside more proven players (both on the court and in practice), and with an additional off-season behind him to refine his game and body. 
"The way I see it, he can play multiple positions," commented Rob Beveridge to nbl.com.au in 2017. "He's got super athleticism, he's got length, he can play the point guard role, he can play a scoring role, he can play defence. He's just so multi-skilled."
Fast forward three years, and Angus Glover is still all of that. 
---
If you enjoyed this story, please consider becoming a paid subscriber! This allows us to continue producing quality Australian basketball analysis like this piece, that's not found anywhere else.