Discover more from The Pick and Roll
We're all about Aussie hoops. Independent, objective analysis and commentary. Insightful narratives built around Australian basketball. Read about our men and women in the NBA, WNBA, NCAA, Europe, national teams, NBL, WNBL, NBL1, prospects and more.
Over 2,000 subscribers
Thank you to Lauren Jackson, a living legend of the game
"God sent her to play basketball. He woke up one day and said, 'Basketball needs Lauren Jackson'." -

Tom Maher

.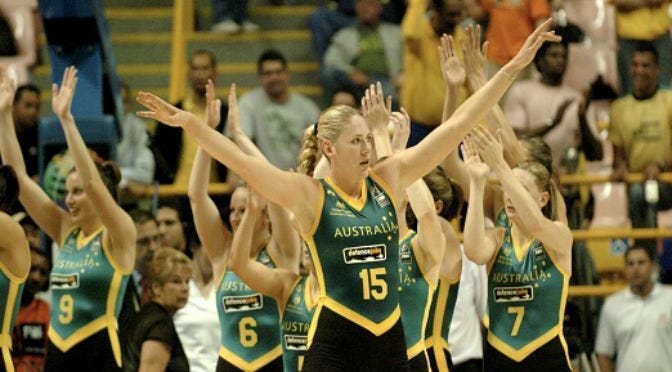 Lauren Jackson | Credit: Basketball Australia
Today marks the end of an era for Australian basketball, for women's sport and for Lauren Jackson, as the icon announced her retirement from 'the love of her life.'
After suffering hamstring problems and back pain throughout her career, ultimately it was a string of successive knee surgeries and setbacks that forced one of Australia's most heralded athletes to hang up the boots. Jackson's retirement was announced earlier today at the AIS Arena, surrounded by her current Australian Opals teammates.
We can all count ourselves lucky that we were able to witness this absolute champion for Australia. Not just any great player, Jackson can be described as a once-in-a-lifetime player. The tenacious, talented, tall, yet quick athlete has been the benchmark for women's basketball since she made her mark coming onto the scene as a fresh-faced 14 year old from the country.
Jackson didn't just stamp herself in Australian basketball, she has been regarded as one of the world's greatest female basketballers of all time.
Jackson was a member of the under 20 Australian team when she was just 14 years old, and an Opals member when she was 16. She led the Australian Institute of Sport (AIS) to their one and only WNBL Championship in 1999 alongside current Opals Penny Taylor and Suzy Batkovic. On a roll, Jackson joined the Opals for her first Olympic campaign at the 2000 Sydney Olympic games and was a major reason why the Opals reached their first ever gold medal match, finishing with silver.
It only went uphill from there, as Jackson was the number 1 selection in the 2001 WNBA Draft, joining the Seattle Storm. In 2002, Jackson was the highest average scorer at the World Championships with 23 points per game in earning a bronze medal.
Jackson bled for her country. She would go on to lead the Opals at the Commonwealth Games and World Championships where they would make history in 2006 in winning gold medals. To this day, the 2006 FIBA World Championship gold remains the only such occasion Australia has been crowned the best in the world at senior level across both men and women. Alongside Taylor, the two were an absolute force to be reckoned with. They captained the Opals in the 2004 and 2008 Olympics to again reach silver, as Jackson continued to be the dominant factor for Australia.
Jackson's exploits on the world stage went beyond the Opals. She was the crowned MVP in the WNBA in 2003, 2007 and 2010, winning the WNBA Championship in 2004 and 2010. She has also been crowned the WNBL MVP 4 times, won 6 WNBL Championships, been selected to 8 WNBA All-Star games, and named the International Player of the year (Maher Medal) a record 6 times.
Jackson's incredible contribution to sport in Australia was recognised at the 2012 London Olympics where she was named flag bearer at the opening ceremony. Jackson described the accolade to Fairfax Media as, "The proudest moment of her life."
Jackson further added, "To be named the leader of the team, and to be able to walk in front of Australia at an Olympic Games is something that I never, in my wildest dreams, would have imagined I could achieve. I can't think of anything that would ever top this...This moment makes me feel like nothing's impossible."
Following the London Olympics, Jackson finished as the leading scorer in Olympic women's basketball history.
During the announcement of her retirement today, ex-Opals head coach and BA's High Performance Manager Jan Stirling said, "When I first saw Lauren and what she could do on the basketball court, I knew she was someone special."
CEO of Basketball Australia Anthony Moore also added, "Her commitment to the Jayco Australian Opals and her work ethic should be honoured as well as her tireless efforts both on and off the court in the promotion of basketball...Lauren has left a lasting impression on everyone that saw her play and we are privileged to have witnessed her journey."
Jackson can't only be recognised for these achievements, as her ability to lead and inspire others beyond basketball is a major reason behind her status as a legend. Every quality about her has been instilled so deep in the Opals, so much so that it's practical to say that she has been the Opals.
Her experience and drive to do everything she can to win has been the inspiration for the current generation of Australian basketballers. Her legacy will reign in the Opals for years to come and will continue to inspire future generations.
There is nothing else left but to say thank you to Lauren Jackson, a living legend of the game.