Discover more from The Pick and Roll
We're all about Aussie hoops. Independent, objective analysis and commentary. Insightful narratives built around Australian basketball. Read about our men and women in the NBA, WNBA, NCAA, Europe, national teams, NBL, WNBL, NBL1, prospects and more.
Over 2,000 subscribers
A Tale of Two Towers - Part 2: Jacinta Vandenberg
While there is an increasing number of Australian's playing NCAA Division I basketball, there remain very few siblings playing concurrently. Senior power forward Cameron Bairstow of New Mexico has his sister Stephanie at Utah State, Hugh Greenwood was this season reunited with his sister Josie at New Mexico, while Sam Rowley was joined by younger brother Mike at Albany. Then there are also two 'towers' in the form of the Vandenberg siblings; Jordan at North Carolina State and Jacinta at Fresno State.
Damian Arsenis delivers the second instalment of a two-part feature interview series with Victorian siblings Jordan and Jacinta Vandenberg.
---
Jacinta is the third child in the Vandenberg clan, and like her elder siblings is also tall in standing at 6'6" and plays center. Vandenberg had an outstanding junior career, representing her home state of Victoria with aplomb in winning the U18 Australian Junior Championships in both 2009 and 2010. Her stellar play coupled with her imposing stature earned her a call up to the Australian U17 national team went on to defeat New Zealand in the FIBA Oceania qualifiers.
While her elder siblings played basketball in the USA before her, she chose to blaze her own trail. Vandenberg accepted a scholarship at Fresno State, becoming the 9th Australian to play with the Lady Bulldogs and joining fellow Australians Bree Farley and Alex Sheedy. In her freshman season she played a supporting role in coming off the bench and played in all 33 games. While she only delivered 2.9 points and 3.7 rebounds per game, her potential shone through and still managed to lead the team in blocked shots.
Entering her sophomore year, that potential started to materialize as she received more court time and more opportunities. She almost doubled her 1st year averages, posting 5.8 points and 4.9 rebounds with an impressive 1.3 blocks per contest. Her improvement and increased role played a major role in the Lady Bulldogs clinching the Mountain West Tournament crown and a ticket to this year's NCAA tournament as a result. There is time yet to add to her achievements this season, and with another two year's of eligibility. There is still more of Jacinta Vandenberg to come, something that Fresno State will be looking forward to.
http://www.youtube.com/watch?v=E7o_rqLZNJI&list=UUcLLepYprPuttYSaE6HmIqQ&feature=share&index=5
---
The Pick and Roll's
exclusive interview with: Jordan Vandenberg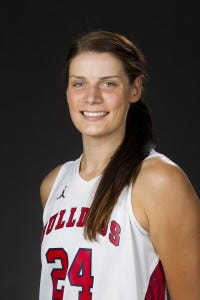 Jacinta Vandenberg - Courtesy Fresno State Athletics
Damian: With a brother who is 7'1" and the fact that you stand at an imposing 6'6" yourself, are all your family tall? Where does the height come from? Do you have any other talented basketball siblings?
Jacinta: My whole family is quite tall except for my Mum, she's the shorty of the bunch at 5'8". My Dad's 6'10" and my little brother who is 14 is like 6'3", so he's pretty tall. He hasn't started basketball yet...
Damian: Being older, am I right to assume that Jordan took up hoops first and you similarly followed, or was there something else that led to you taking up basketball? Did either of your parents play hoops?
Jacinta: Dad used to play, but retired a long time before I started. I guess the main reason, one of my two older sisters played, and my older brother both played basketball and that's why I did.
Damian: I am aware you successfully represented your home state of Victoria in the Australian junior Championships winning U18 gold in 2009 and 2010 and then went on to represent Australia at the U17 FIBA Oceania Championships. Was this the impetus to take your basketball to the next level and head over to college?
Jacinta: No, mainly I just did it because that was the highest competition I could compete at. Coming over here to college to play basketball was kind of like an afterthought. But after my brother came here I thought that was something I definitely want to do and so when I was doing the under 18 nationals, I found out this is where they scout and look for you."
Damian: What influence (if any) did your brother have in you choosing to follow him to the US to play college hoops? Who was it that helped guide you to choosing that pathway?
Jacinta: The only influence he had one me was the fact that anything he always did I wanted to do better than him. That's the main reason I came out here, so I could do better than him at what he was doing.
Damian: How did you end up landing with Fresno State, a program with an ever-growing tradition of recruited talented young players from Australia?
Jacinta: I was recruited by coach [Raegan] Pebley and I'm grateful that I came here because I don't think I would be able to do it without Australians on the team.
Damian: What are you studying? Is that something you would like to pursue post-basketball?
Jacinta: I'm studying psychology, but I want to transfer that into counselling.
Damian: As a second year sophomore, what has been your career highlight to date, both back in Australia and now in college?
Jacinta: In Australia was probably winning everything that we won, which was a lot. I just like winning, especially championships. Then coming over here, winning the Mountain West championship and then going to the NCAA Tournament, which was great fun.
Damian: What has been the single greatest challenge you have had to face in playing in US College for the Bulldogs?
Jacinta: Probably being away from home, friends and the coaches you've had strong relationships with.
Vandenberg scores over a Trojan - Courtesy Keith Kountz via Fresno State Athletics
Damian: Do you catch Jordan's games on TV for NC State and have you even watched any live in person? I am well aware of how parochial college sports can be, but do you have a soft spot for your brother's team, and does he return the favour?
Jacinta: I've only been to one of his games and it was when they played Syracuse when they were ranked #1 at the time and that was amazing because that was my first-ever college basketball game actually. The atmosphere was fantastic. I try to watch him as much as I can, I got a lot last year, but a lot of his games this year are normally when we play. So I look up the stats when I can, but I don't get to watch a lot on TV. Sometimes he does, sends me pictures of the game so I guess he follows us.
Damian: Was there ever any chance of landing at the same school as Jordan?
Jacinta: I kind of looked into it, not a lot, but I didn't want to be in his footsteps. Felt like I have done that a lot of my life and whether it restricted or expanded my opportunities I've always been Jordan's sister, not Jacinta, so it is nice to go somewhere else and not be that.
Damian: Jordan is now a 5th year senior due to red-shirting 2 seasons ago and has always appeared to battle injuries. He is now healthy and a permanent fixture of the starting line-up at NC State. What impact did his injuries have on you and your family?
Jacinta: I'm glad that he has battled through it and is healthy now. I think it was a good growing experience for him.
Damian: After he graduates, where do you think Jordan will end up in turning pro?
Jacinta: Yeah, I think that's what he wants to do and if that's what he wants to do he can do it.
Damian: With a few more years of college ahead, where do you want your basketball career to take you?
Jacinta: I'd like to play overseas, see where that takes me.
Damian: Finally, an article on siblings would never be complete with one dishing out some dirt on the other! What can you share with us that we can publish that is likely to embarrass your brother?
Jacinta: He had a really, really squeaky, high-pitched voice until he was like 18 or 19. His voice didn't break until he was about 19 and was like a seven-foot guy with this squeaky voice.
Damian: Nice one - I'm sure he won't like that being shared! Thanks for your time and good luck in the NCAA Tournament.
---
If you missed it, check out the first instalment: A Tale of Two Towers - Part 1: - Jordan Vandenberg.