Discover more from The Pick and Roll
We're all about Aussie hoops. Independent, objective analysis and commentary. Insightful narratives built around Australian basketball. Read about our men and women in the NBA, WNBA, NCAA, Europe, national teams, NBL, WNBL, NBL1, prospects and more.
Over 2,000 subscribers
Strength in numbers: How the Eltham Wildcats continue their fight for regional basketball
The Eltham Wildcats and their community on their quest for excellence.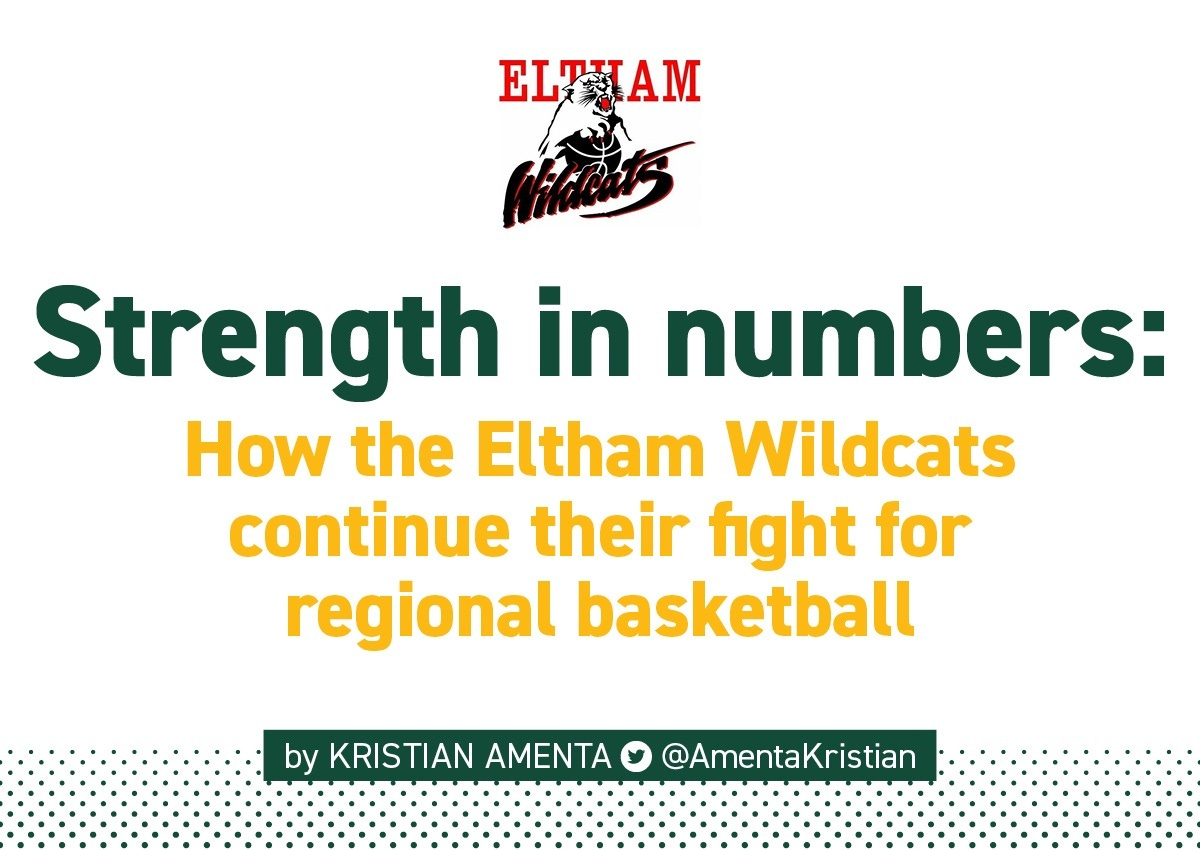 The Eltham Wildcats boast a rich history of enhancing basketball grassroots participation across Victoria. From their exceptional junior program through to competitive senior squads, the level of acceptance, mindfulness and success within the club has allowed individuals to grow both on and off the court, and have collectively raised the bar for community-driven ball clubs.
Eltham prides itself on creating an environment that resembles an extended family. Take Anneli Maley for instance. A rising star, Maley enjoyed a breakout season with Southside Flyers in the WNBL and recently signed with Sydney Uni Flames for the upcoming season. For Maley, returning to the community she was raised in was a key factor in her NBL1 signing.
"I've spent countless, mornings, afternoons, nights, grinding away on the Eltham High show court. It's cool to be able to give back in that way, the juniors who come and watch games, to be able to play in front of them, I use to play juniors and look up to the players that came through before me." Maley shared with The Pick and Roll. "It starts in the office and breeds out from there, there's never been a time where I've walked into the home courts and not been able to say hi to all the staff and the referees. It's pretty special, as the club has grown it has still kept those family roots.
"Hopefully one day I can bring an NBL1 title to Eltham, that'd be awesome. I couldn't be in the WNBL, have gone to college, or made Australian teams without the support of my home club - such an essential part of me as a player." 
Eltham has been focused on creating an environment within the suburban region that resembles an extended family. But infrastructure is just as important as the bonds between the players and community that make the club what it is. It's something Eltham Wildcats CEO, Greg Jeffers knows very well.
"The northeast of Melbourne has long been underfunded with sport," Jeffers explains in a recent interview with The Pick and Roll. "When I came into the job ten and a half years ago, it was a goal to build facilities. Working really close with Vicki Ward [senator of parliament], she's been terrific as a sounding board. We came up with the idea of Montmorency stadium and expanding that to five courts." 
Reinvestment into the sport through various ongoings has resulted in the redevelopment of a modern stadium at the Montmorency Secondary College site, which will effectively host Eltham's NBL1 matches (South Division), national league scrimmages, youth competitions and more. This development, which is expected to be completed in 2021, will see the Wildcats add additional play courts to a pre-existing two-court facility. 
"At this point in time, it's an 18 and a half million dollar stadium. Three extra courts added, over a thousand seat [capacity] stadium, undercover parking, referee's room, change rooms. It's going to have the ability to facilitate a three year-old kinder program all the way up to have practice games for the national league and certainly NBL1 matches as well."
From establishing junior teams within the Eastern Districts Junior Basketball Association (EDJBA) and Victorian Junior Basketball League (VJBL), while initiating social midweek competitions for people to remain in basketball, the Wildcats are widely recognised as the largest junior club in Victoria —even across the nation— and encourages the development of future stars from regional Victoria. The club has enjoyed success through the years, but the imperative need for facilities will help sustain the club's goal. Speaking to Eltham's member of parliament Vicki Ward, the need for modernity became apparent with all the work put in by Jeffers and his team. 
"The Wildcats are pretty unique. They do a fantastic job of not only engaging kids with basketball, but engaging kids with community. The mentoring that goes on at Wildcats, the way they try and skill up many kids with not just basketball skills but life skills - it's really exceptional," said Ward. "[It allows] more people to come to basketball, when we're at that stage, [and] will transform how basketball interacts with the community. It's a real community-building exercise."
A recent club initiative will encourage individuals to transition back into basketball with the aptly named 'Ready 2 Rebound' program. Scheduled on a weekly calendar, the Wildcats will host live online sessions of interviews, education and technique activities. Online classes will be hosted by some of Eltham's current and former Australian basketball stars who came through the Wildcats program.
"We workshopped our program with about 30 of our volunteers, providing the opportunity to hear from special guests," Jeffers shared. "Alice Kunek for instance, will be in Poland for her interview as she prepares for the 2021 Tokyo Olympics."  
Founded back in 1968, the rapid expansion of numbers through each season led to the club gaining association status in 1979. Through the 90s, Eltham developed a large number of domestic and junior championship teams whilst significant infrastructure of the Eltham High School basketball venue became the stomping ground. As adequate resources and networking upscaled the level of competition, more families became involved in a club developing a flourishing basketball record. In 2007, about 1800 families were involved with the club in some capacity, that helped in its growth on and off the court.
Eltham's representation in the Big V league became a key staple for the development of state level competitions. In 2000, the Big V founded a State Championship division for both men and women, working in tandem with the pre-existing Division 1 and 2 competitions. The women's squads enjoyed credible success, winning state titles in 2005, 2011 and 2012 while the men were involved in a period of sustained good performance.
At the turn of a new decade, the club embodies what all local sporting clubs set out to be; a policy-driven base who oversee administration and management in a competitive environment. As a grassroots club, Eltham still relies heavily on volunteers to engage with coaching, managing, refereeing and other important facets of local sport.  Without community involvement and voluntary aid, there wouldn't be the level of competition we see today - it has been critical through this lockdown period.
"Paula Hogan and Lara Masters were our conveners for our domestic competition. In the space of about two weeks put together 285 domestic teams, organised the coaches, training's, everything that you would normally do in six weeks to prepare for a domestic season, they did in two weeks," said Jeffers. 
As basketball bodies across the state amp up plans for future seasons, Eltham has taken a controlled approach in ensuring responsibilities are outlined and achieved. While the construction of a new project rivals any major basketball facility in the state, burgeoning a place for people to feel welcomed and work on their skills, there is a key focus on what can and will be achieved for Eltham's major squads. 
Jeffers remains upbeat about bringing warranted success to the club: creating quality NBL1 squads was at the forefront of boxes to tick. Prior to the cancellation of the NBL1 season, Eltham had announced a major signing in Angus Glover —who committed to the Sydney Kings recently— showing the need to be fiercely competitive in a growing league. With a good mix of local talent and key Aussie inclusions, Eltham was ready to take hold of the league following a period of finishing at the tail end of the ladder.
---
Stories like this Eltham Wildcats piece are only possible through the effort of our talented contributors. If you're enjoying this story, please consider becoming a paid subscriber to support the work that we do.
---
"It's always about looking after as many people from our local region as possible, and we made the decision that our men were ready to go in with an All-Australian side again, with a little asterisk. We didn't announce it but Michael Karena from New Zealand was someone signed for us. With an Adam Doyle, Angus Glover, Ben Waldren, Geremy McKay, and Carrera, who are NBL or fringe NBL players, we really thought that was going to be a side to do some damage in our competition.
"Through to our 13th, 14th spots, they're all local guys from the northeast that were about to take some big steps. There's 18 year old Zac Cunningham who played Under 20 nationals last year. He was in line to get a bit of a taste of it too, so it's disappointing for them.
"On the women's side of it, we were really pleased with Anneli Maley coming back to the club. We promote that pathway of opportunities, for a kid to be have been balling in our hoops program, to come through our domestics, have gone to college, played in the NBL and back into NBL1, for me that was one of the most important things we've done. As a club, we certainly envisioned that's going to be our plan going forward."
Understanding the importance of grassroots basketball is something instilled in Maley, as she looks for ways to add to Eltham's growing accomplishments. "I have run a few girls only basketball camps in the past, when restrictions drop I'm really looking to start running a few skills camps. A more holistic approach to basketball, talking on basketball mindset, rebounding and hustle plays, things like that."
Travelling to America for college after coming out of the AIS [Australian Institute of Sport], Maley was forced to learn and adapt quickly to the pressures of elite sport. She inspires in speaking on the importance of healthy living with everything coming to a standstill. 
"I am a huge advocate for the mental health side of basketball, and the mindset side of things. Taking the time to work on your skills is great, but you need to take the time to work on your brain. Learn how to breathe, how to separate basketball and your self-worth. Learn how to really be locked in, that type of thing just doesn't happen unless you have a sound and healthy mind.
"We have such a golden opportunity here. As professional athletes, we don't really ever get a break. There's no real offseason, so taking this as an opportunity to meditate, breathe, and work on all those visualisation techniques, figuring out who we are away from basketball, it's only going to aid us as soon as we head back onto court."
Jeffers reiterates the need for mindfulness and wellbeing, alluding to what Eltham continues to do in that particular space. "Sport is imperative isn't it? The mental side of it is something that came up for us three or four years ago, we undertook all the courses and we've now got a welfare and wellbeing panel who have done some tremendous work." 
Full of praise for his own staff, Eltham has been trailblazers in the field of healthy living and it was yet another reason for the support shown by senator Ward and her team. 
"Their mental health mentoring program is a really good example. They've recognised kids might often tell their coaches things they may not tell their parents or teachers, or even peer groups. So how do we equip coaches to be able to do a bit of triage, to look after their own mental health but also the health of their players?
"Showing that kind of leadership and that kind of vision has really helped the club be as strong as it is. It is more than just basketball, it is a community that invests in itself beyond basketball."
In this new age of remote learning and networking, sport has taken a backward step in showing what it can achieve for communities and the desire to build resilience through networking and showmanship. 
Eltham has been a leader in creating jobs, in addition to the need for on-court success, according to Jeffers. "We've got staff, management of facilities, all with the need to be managed the same way as the local cafe, or the local hairdressers, if you include referees and our casual staff, we employ over 300 people. We are potentially the biggest employers in Nillumbik [council]. So it is about our kids, but it's also about the young workforce, how can we help them return to community. There's programs put in place for three year old's, for the domestic kids, for the championship and senior players, but we also need to look after these young people that have chosen not to play as a pathway, but administration or refereeing as a pathway. What are we doing for them to ensure that they're engaged and ready to come back in a safe manner?"
"Expanding those community networks and community linkages is really important, this is another example of how good the Wildcats are," says Ward. "There's a cohort of people who say money is always thrown at sport, and not everyone plays sport. They don't, but sport is hugely important to community development and community relationships. I think that sport is going to be an integral part of bringing communities back together, giving that commonality."
For Maley, the construction is another reason for her to give back and grow Eltham's identity. "How exciting is it to have a place within the community that has such high-level facilities, in such a professional environment? It gives the younger generation a window into what it is like to be a part of a professional sports team.
"As seasons kick back up again, you'll see the VJBL kids play in the same stadium as the NBL1 teams, how cool is that?
"If you look at [it], Eltham has been such a hub for community sport for so many years, and how cool that we can add onto that and give basketball another place to grow!"
There's no doubt about it: the Eltham Wildcats are here to stay. Thanks to the collective belief and effort from everyone, they are continuing to pursue the chase for continued excellence.
---
If you enjoyed this story, please consider becoming a paid subscriber! This allows us to continue producing quality Australian basketball content for you.