PHILADELPHIA - Every day in the NBA presents a different challenge, and Ben Simmons was given another reminder of this tonight.
Tonight was arguably the worst game of Simmons' NBA career, there is no other way to slice it. He struggled mightily in the face of a defensive scheme that is all too familiar. As the Charlotte Hornets threw bodies at Simmons and packed the space around him, the Australian was unable to find any rhythm.
His fifteen missed field goals tied a career high. Or more accurately, it matched the worst shooting night he has ever had in the NBA. Only one of Simmons' misses were from outside the paint. He was able to get into the heart of Charlotte's defence, but was rendered useless once inside.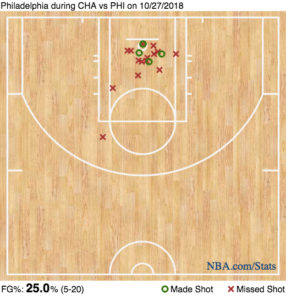 His tally of three assists is equally outlandish, and only one above his career low in this category.
"It wasn't one of his better games," Brett Brown said post-game. "But I think his mindset to attack is something that we want to encourage. Just in the right environment."
The silver lining is that Simmons took 20 field goal attempts, something he only reached three times as a rookie. The increased aggression is something that can hopefully be harnessed for good.
"I'm always trying to get him to be in attack mode," Brown added. "To be proactive. Maybe there were a few times tonight where it was forced. I still like his spirit."
"It's taking that spirit and putting it in the right environment. Helping him find those driving lanes and opportunities. We are always challenging him with offensive rebounds."
Simmons did have six offensive rebounds, and three of his five field goals came directly from putting these right back up.
The Sixers secured a much-needed victory, and that is the immediate takeaway from tonight. Simmons admitted as much post-game.
A win will provide respite for now, but there is much work to be done before Simmons and the Sixers reach the heights they aspire towards this season.