Sixers-Nets playoff preview: Why everything rests with Philadelphia's defence
Philadelphia and Brooklyn will kick off the NBA playoffs this weekend in what promises to be one of the most engaging first round series.
Ben Simmons, Jonah Bolden and the Sixers are looking to improve upon last season's second-round exit. Before Philadelphia can dream of a likely showdown with the Toronto Raptors, they must first overcome a plucky Nets team that is returning to the postseason for the first time since 2015.
Here are some important takeaways that will determine how this series plays out.
What to take from the regular season
As with everything in Philadelphia this season, it is difficult making sweeping statements on the four regular season meetings. The teams split the season series 2-2, although each game had a distinct feel because of Philadelphia's constant roster upheaval.
Brooklyn blew out the Sixers in early November, in a game that Markelle Fultz, Robert Covington and Dario Saric all started. Mike Muscala and Landry Shamet both played over 28 minutes that night. All five players are now gone.
Three weeks later the teams met in the aftermath of Jimmy Butler's acquisition. The newly acquired Butler played the role of hero that night, redeeming a slack Sixers performance with a buzzer-beating jumper to secure victory. The Nets came into Philadelphia and bested the Sixers in a high scoring December battle that Butler missed due to injury (more on this game later).
Philadelphia secured a 123-110 victory in the only game between these teams after the Tobias Harris trade.
Embiid or no Embiid?
This entire series has a massive Joel Embiid level disclaimer hanging over it. His health, or lack thereof, has become a point of much contention in Philadelphia as the playoffs arrive.
Comments from Sixers general manager, Elton Brand, before the regular season finale did little to assuage concern. Here is an excerpt of Brand's comments to the media, via Kyle Neubeck of The Philly Voice:
Reporter: In your mind, is his health a question at all, or is he as healthy as you could have hoped he would be heading into the playoffs?
Brand: No no, I'm optimistic that he'll be ready this weekend and he's doing everything he can to get back. But you know, of course, he's the major key. We see the difference between when Joel is out there and when he's not.
Reporter: So there's a possibility he won't be ready?
Brand: Again, I'm optimistic he'll be ready this weekend.
Reporter: So it's possible he won't be?
Brand: It's possible.
This is a massive smoke signal and, as the old saying goes, there is definitely fire here somewhere. If Embiid was fit and healthy, then there is a simple answer to these questions. I suppose it's possible (insert Dumb and Dumber GIF here) that Brand is toying with us all, but given Embiid's injury history, and the Sixers' questionable management of his prior ailments, the team doesn't deserve the benefit of the doubt here. Embiid has only played in ten games since the NBA All-Star break and that itself is the most damming piece of evidence.
If Embiid misses games, the entire tenor of this series changes. By every metric, the Sixers are a better team with Embiid on the floor and his absence is felt most on the defensive end. Philadelphia plays like the fourth best defence in the NBA with Embiid and the 26th without him, per Cleaning the Glass.
Brett Brown knows the key to the series
Brett Brown has a unique phrase that he preaches to his Sixers team before every game. A "pre-mortem," as Brown explains, is an insight into how things could go poorly. If the Sixers were to lose on a given night, what would this look like and how would it happen? These are the questions Brown ponders, like any coach. In other words, don't get beat by what you know.
Why is this relevant? Entering the third meeting between the Nets and Sixers this season, here is how Brown articulated his pre-mortem to the Philadelphia media: "We have a hard time defending them [Brooklyn]. Any team that has multiple, live ball, pick-and roll ball handlers is tough. It's tough for us to guard them."
Brown's words were prophetic that evening, as Brooklyn defeated Philadelphia 127-124, on the back of a career-high 39 points from Dinwiddie and a robust Nets performance that posted a 124.6 offensive rating. Brooklyn picked the Sixers defence apart, in a manner just as Brown foreshadowed: pick-and-roll after pick-and-roll generated open looks for Brooklyn.
It must be noted that Butler didn't play that night and his absence created a gaping hole within the Sixers' defence. Dinwiddie was given a smorgasbord of undersized defenders to feast on and he did just that. T.J. McConnell, J.J. Redick and Landry Shamet defended Dinwiddie on 73% of his offensive possessions and their opposition proved futile.
In contrast, when the teams faced off in late March, Shamet was gone and the Redick-McConnell pairing only served eight possessions against Dinwiddie. It was instead left to Jimmy Butler and Mike Scott to slow Dinwiddie and unsurprisingly they did a much better job.
The case of how the Sixers defended Dinwiddie this season is indicative of this series for me. Philadelphia knows exactly what is coming at them. They know the challenge of defending the Nets, Brown said as much back in December, and best of all, they how to contain Brooklyn. It's just a case of whether they can do it. Philadelphia's point of attack defence is the key to this series and it is going to be tested with a heavy dose Nets pick-and-rolls.
The Sixers roster has been a revolving door this season and their defensive effort has been inconsistent at best, lazy at worst. In the first three meetings against the Nets, they played just one quarter of competent defence – the fourth quarter of the second meeting in Brooklyn. Independent of personal or scheme, there was a malaise that defined their output on the defensive end.
https://gfycat.com/plumpmedicalirishdraughthorse
A fully fit Sixers team has the personnel to slow Brooklyn. Look for Ben Simmons to take the challenge of defending his high school classmate D'Angelo Russell, something the Australian did very well when the teams faced off in late March.
It's becoming clear that Butler has slipped defensively, although he remains capable of playing elite defence when engaged. Predicting effort is a dangerous exercise but if Butler commits to being a impactful two-way player, then a Simmons-Butler tandem should hold the Sixers in good stead.
Tobias Harris and J.J. Redick are vulnerable if forced to defend elite opponents on the perimeter, but Brooklyn's roster isn't equipped to exploit these weaknesses.
Watch the threes
Here is a comment that goes against everything basketball analytics will tell you in 2019: Brooklyn attempting more threes might be a good sign for the Sixers.
Consider: The Nets averaged 36 three-point attempts per game and recorded a 109 offensive rating in the regular season. In the four games against Philadelphia, Brooklyn's volume of three-point attempts reduced to 28 per game while their offensive rating skyrocketed to 117. Only San Antonio and Portland scored at a more efficient rate against the Sixers.
These numbers further reinforce the challenge that Brooklyn's offence posses to the Sixers. The likes of Russell and Dinwiddie were able to penetrate at will and do their damage in the paint. Brooklyn averaged 48 points in the point per game this season and this figure jumped to 58 in games against the Sixers. Threes aren't needed if you are scoring unencumbered in the paint.
What to expect from Ben Simmons?
The simple truth is that Brooklyn doesn't have anyone who can slow Simmons down. Rondae Hollis-Jefferson will likely get the assignment to start the series, although just as the Miami Heat didn't in the first round last year, Brooklyn don't have an ideal match-up.
Simmons will almost certainly see his direct defender sagging off within half court settings. Brooklyn was the first team this season to be hyper-aggressive in ignoring Simmons from the perimeter.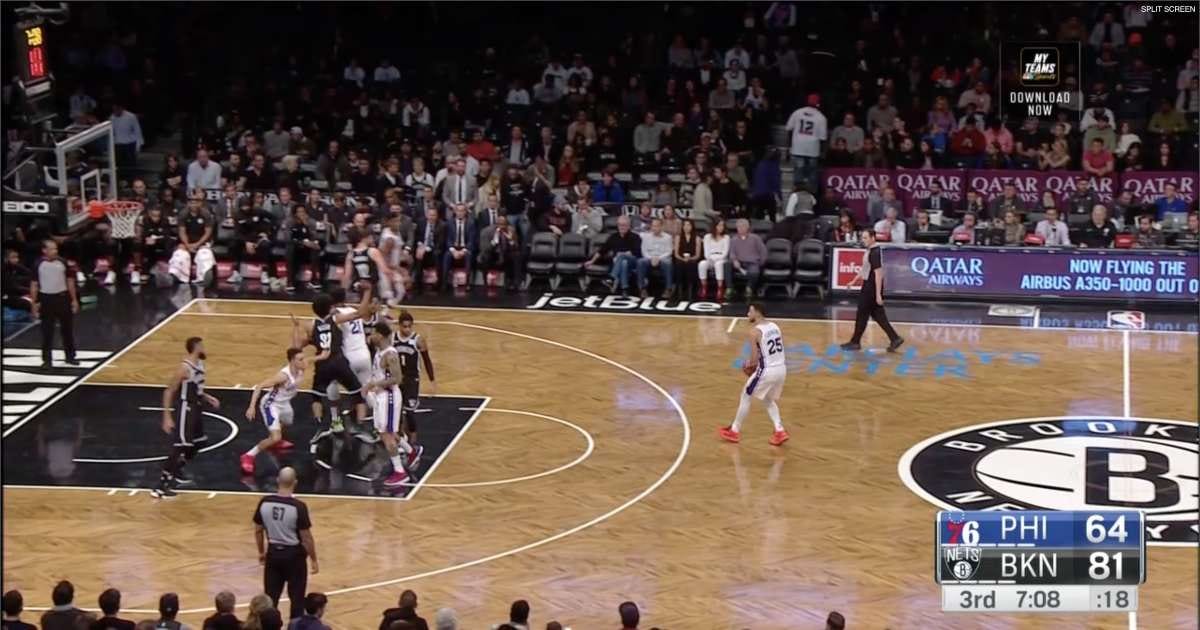 Just as we touched on with the Sixers defensive challenges, Simmons knows exactly what will come his way. This is Simmons' second postseason facing defences designed to limit his effectiveness and the team has had an entire regular season to prepare.
Simmons' usage away from the basketball has been more pronounced since the All-Star break – the most recent game against Boston comes to mind, where he operated from the dunkers spot as Embiid and Butler took over late game offence. Brooklyn will try to exploit Simmons' lack of shooting skills, but greater challenges await in the second round should Philadelphia progress.
The Sixers don't need Simmons to dominate the offence in this series. Excelling as a multi-positional defender should be his primary focus.
Series prediction
Talk of schematic advantages and challenges is one thing, but the harsh reality is that the best four players in the series will be wearing Sixers uniforms.
Brooklyn's strengths match up very well with Philadelphia's weaknesses. That will ensure most games in this series are competitive, but if we assume full health, Brooklyn will be overmatched. Philadelphia's healthy starting lineup of Embiid, Simmons, Harris, Redick and Butler has a plus 22.4 net rating in 353 possessions this season.
This series boils down to one simple question for me: does Embiid play in every game? If he does, then this series will be over in five games. If he misses time, then all bets are off and Brooklyn has the personnel to pose significant problems for Brown and the Sixers coaching staff. In a hypothetical world where Embiid misses the entire series, I would still favour the Sixers albeit with a very slender advantage.
A good comparison for this series is the 2012 NBA Finals. A young Thunder team played Miami very tough but in the end they were outworked by a more polished opponent. I see a similar story unfolding here.
Sixers in five.