Discover more from The Pick and Roll
We're all about Aussie hoops. Independent, objective analysis and commentary. Insightful narratives built around Australian basketball. Read about our men and women in the NBA, WNBA, NCAA, Europe, national teams, NBL, WNBL, NBL1, prospects and more.
Over 2,000 subscribers
The Simmons Showcase: shooting woes, posting up and triple-double watch
Ben Simmons entered his second NBA season with lofty expectations. The same could be said of his Philadelphia 76ers.
Both player and franchise exploded onto the scene in the first half of 2018, and created a groundswell of optimism entering the 2018/19 season. The Sixers are currently 3-3 through six games, and those wins have been enough to keep them afloat through minor injuries and integration issues stemming from rotation changes.
As for Simmons, there have been moments of dominance, littered with the customary mistakes that come from adjusting to the speed of NBA games proper. A lower back ailment forced him to miss the majority of two full games, and this been a complicating factor.
While the obvious caveats regarding sample size apply, there are early trends developing, both on the positive and negative side of the ledger. Here are some observations from watching Simmons up close during the first fortnight of NBA action.
Shot distribution
Two things stand out when looking at Simmons' early season shot distribution.
The first: where they are coming from. Through five games, 77% of Simmons' shots have come inside of five feet. That is up from 58% as a rookie. All the talk concerning outside jumpers has remained just that, talk without on-court evidence. There has been no proof of an improved stroke, or even a tendency to try.
As a whole, the NBA is taking 35% of their field goal attempts from three-point range.
Simmons is naturally the ultimate zig to the NBA's zag. He is doubling down on his perceived strength through the season's opening stretch. His shot chart is unparalleled for perimeter players.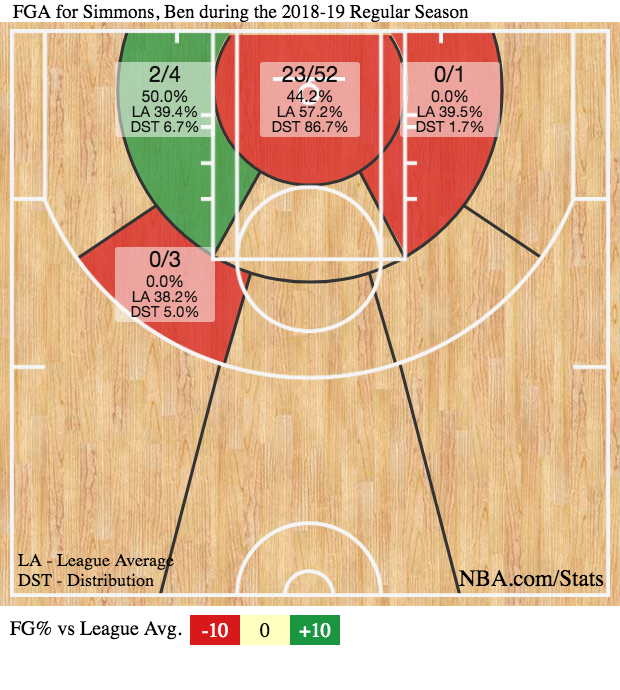 Simmons has only attempted three field goals from outside of 14 feet. Fittingly, two occurred on opening night against the cagy Celtics defence, while the third came over the weekend during Simmons' career-worst performance against Charlotte. According to the NBA's shot tracking data, this is the longest field goal Simmons has made during the early season.
https://gfycat.com/gifs/detail/DefiantCourteousKawala
Saturday's game against Charlotte is instructive because it was a disastrous night at the office. No one should ever be judged on their worst day, although the Hornets brought all of Simmons' improvement areas to the surface. His touch was severely lacking. With each additional miss, his frustration grew. It was rare that Simmons became the one forcing his personal offence, and that created a series of adverse outcomes for the Sixers.
https://gfycat.com/gifs/detail/craftyfantasticairedale
The silver lining is that Simmons took 20 attempts from the field, the third highest total of his NBA career. Brett Brown has been emphasising the need for Simmons to remain aggressive. It was his key message following the Hornets game.
"It wasn't one of his better games," Brown noted. "But I think his mindset to attack is something that we want to encourage. Just in the right environment."
Exactly what the right environment looks like, is something Brown must dictate. Simmons is shooting 50% on his attempts inside of five feet. That is the worst mark in the NBA for all players with a minimum of 40 attempts.
The impact of Markelle Fultz alongside Simmons is something to watch. Anecdotally, playing Simmons and Fultz together would lead to more defenders packing the paint, and this could be attributed to Simmons' slow start. He converted 69% of his attempts inside five feet as a rookie. If his conversion doesn't improve, then it could be worth asking whether Fultz's presence is stunting the sophomore's growth.
The high post
Simmons isn't necessarily spending more time operating out of the high post – his post possessions are slightly down on last season – but he is flashing improvements with his effectiveness in isolations. This largely comes in the form of better footwork, and a more aggressive disposition. Plays like this drive and score against Al Horford were seldom seem last season.
https://gfycat.com/gifs/detail/GrizzledSaltyBedlingtonterrier
Horford does a very good job of forcing Simmons into a difficult shot, an expected feat given he is one of the best defensive big men in basketball.
Simmons' versatility provides him with all the tools needed to become a dominant post player. His vision, coupled with elite passing talents, have the potential to create major stress for opponents. Chicago Bulls head coach, Fred Hoiberg, raised this very point when speaking with The Pick and Roll last week.
"Simmons has got as tight a handle as any player in the league," Hoiberg explained. "With both his right and left hands.
"His post moves, too. We saw the post move with the right hand, where he got fouled against Marcus Morris the other night, it shows he is every bit as comfortable with his right as he is his left hand."
The play Hoiberg references is this finish from opening night.
https://gfycat.com/gifs/detail/PartialThirstyDuiker
It's unrealistic to expect Simmons to consistently convert spinning fadeaway attempts, but there are notes to be taken here.
Morris' contact doesn't faze Simmons. Everyone, including Simmons himself, knows how physically imposing his advantages are. Learning to harness these at the NBA level takes time. This is something we touched on last season. As Simmons gets more comfortable, he is being more aggressive and is more willing to throw his weight around. We saw glimpses of what this could look like against Miami in the playoffs.
Talk of Simmons developing an outside jumpshot is somewhat overblown. Getting more efficient inside 10 feet is the important first step. It could also unlock Philadelphia's offence as opponents scramble to send help. That is most noteworthy impact of the above play. Sixty seconds after Simmons drove through Morris, he drew eyeballs from every Celtic and created an easy basket for Fultz.
https://gfycat.com/gifs/detail/adventurousadorablegrebe
This is an incredible pass, and yet, it feels almost pedestrian, given what Simmons is capable of. With Fultz seeing more time alongside the Sixers' starters, he must find ways to impact the game given his shooting woes. Slashing and cutting away from the basketball is one easy way of doing this. More time in the post for Simmons can create offensive advantages for Philadelphia, albeit in ways that aren't too common in the current day NBA.
Triple double chase
Below is Simmons' statistical output from his first three full games:
Boston: 19 points, 15 rebounds, 8 assists, 4 steals, 2 blocks and 3 turnovers.

Chicago: 13 points, 13 rebounds, 11 assists, 1 steal, 2 blocks and 3 turnovers.

Milwaukee: 14 points, 13 rebounds, 11 assists, 1 steal and 3 turnovers.
If not for leaving the Orlando Magic game after eight minutes, Simmons would be averaging a near triple double, and a very hefty one that.
Triple doubles are an arbitrary accomplishment. Russell Westbrook's flirtation with the milestone seems to have rightfully devalued its prestige over the proceeding years. That aside, Simmons could very easily replicate Westbrook and average a triple double throughout an NBA entire season.
The pace of play around the league has skyrocketed to 102.9, per NBA.com. If this maintains, it will be the fastest NBA in over thirty years. Last season only five teams finished with a pace over 100 (Pelicans, Suns, Lakers, 76ers, Warriors). This season there are only four teams under 100 (Grizzlies, Nets, Pacers, Spurs), and none are below 98. This is a league wide phenomenon.
A greater pace creates more opportunities for Simmons to reach double digits in each category. As he piles up the statistics, expect this to become a major storyline as the season progresses.
"He took eight shots and had a triple double," Brown explained, following the Bulls game. This is sentiment Brown could be repeating many times over this season.
Unforgivable mental lapses
One final note: Simmons has committed three fouls on three-point shooters in the past two games. Khris Middleton got Simmons to bite twice in Milwaukee, while Kemba Walker drew this foul in the final minute of Saturday's game.
https://gfycat.com/gifs/detail/NearCloudyDesertpupfish
Robert Covington's reaction at the end of this clip says it all. Ultimately, Walker missed his free throws and Simmons' blunder was washed away in a vital victory. But this one play is a perfect representation of Simmons' start to the season. And the Sixers, too.
There is plenty to clean up as Simmons looks to elevate his game from the lofty standard set as a rookie.