Discover more from The Pick and Roll
We're all about Aussie hoops. Independent, objective analysis and commentary. Insightful narratives built around Australian basketball. Read about our men and women in the NBA, WNBA, NCAA, Europe, national teams, NBL, WNBL, NBL1, prospects and more.
Over 2,000 subscribers
Shyla Heal's set to catch fire in Townsville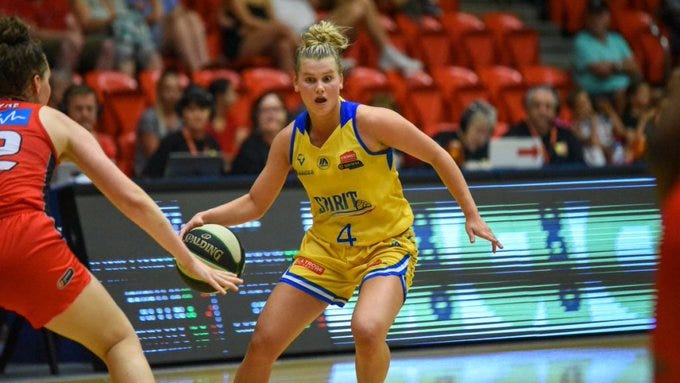 Credit: Jacob Crook / JCB Studios
---
One season removed from a WNBL championship, the Townsville Fire were looking to make a big splash in free agency to help return to contention after a disappointing campaign in 2019-20. It's fair to say they're well on their way after landing rising star Shyla Heal last week, with more signings expected to follow.
Welcome to the JCU Townsville Fire Shyla 👏🏽
🔥
#fireup
As a member of the Bendigo Spirit, Heal quickly became a force to be reckoned with, averaging 12.1 points, 4.1 rebounds, 1.6 assists and 1.1 steals coming off the bench.
She'll find herself surrounded by a lot of new faces as she heads for Queensland, but one particular reunion was a major driving factor behind her decision; Fire head coach, Shannon Seebohm.
"I played for Shannon at the under 17 worlds for the Australian team, and that's really where I played my best basketball," Heal told The Pick and Roll. "I made the all-star five and we got bronze. That's definitely one of the highlights so far in my basketball journey.
"I'm just so excited, because I already know he's going to make me develop. Obviously I'm trying to make the WNBA draft, go high in that, so this year's really just about development and getting a chance to hopefully win a championship."
Heal's lone season in Bendigo proved an opportunity to display her skills, and though the Spirit was hampered by setbacks and heartbreaking defeats, there were still lessons to be learnt.
"For me personally, last season, I think it was a good step in the right direction to find my feet in the league." Heal reflected. "[To] get more experience playing against players like Leilani Mitchell, taking little things from her game, adding it to mine, and playing behind Tessa Lavey, who's on the Opals. Just really gaining more experience in the league as a young player.
"And also, getting respect from other players. I was injured in Perth, so I didn't have a lot of respect. I think last season I really started to earn people's respect, but this year, I need to take it to another level."
Back in March, Heal mentioned how logging more minutes at point guard helped to highlight her strengths, and it seems as though she'll be able to take those abilities even further with Townsville.
"I've spoken with Shannon a lot," Heal revealed. "I'm going to be the starting point guard in Townsville, which is what I was after. I can play the two spot, but my priority is one. Shannon's going to have me coming off on-balls, which is my strength, and really just controlling a team.
"Getting my stop-start game, getting two paces, reading the defence, I think little things like that, Shannon's going to help me with this year. ...It will just make me harder to defend, really."
On the court, Heal will be able to learn from two-time WNBL champion Mia Murray, who is returning to the Fire roster after a two-year absence, as well as the younger crop of emerging players.
"We're going to have a few. Zitina [Aokuso]'s coming off an injury so I'm really excited to play with her," Heal said. "I went to a few Australian camps with her when we were younger, and now it's pretty cool that we're playing together again.
"I'm just excited to compete, get back into it."
The 2020-21 WNBL season is scheduled to tip off on 20 November.