Discover more from The Pick and Roll
We're all about Aussie hoops. Independent, objective analysis and commentary. Insightful narratives built around Australian basketball. Read about our men and women in the NBA, WNBA, NCAA, Europe, national teams, NBL, WNBL, NBL1, prospects and more.
Over 2,000 subscribers
Tasmania to Canberra: How Sejr Deans quietly chases success through his thirst for improvement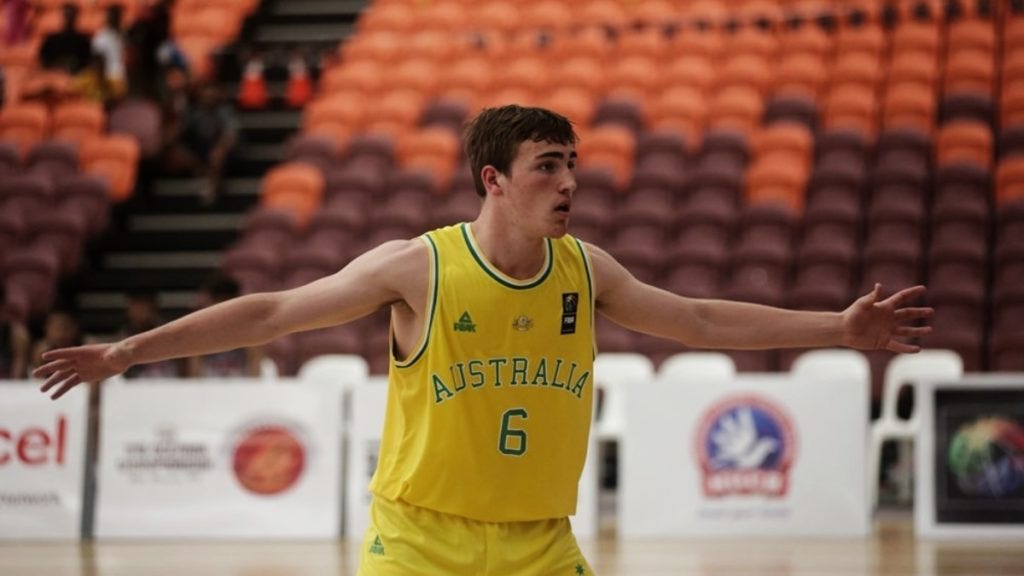 Credit: FIBA
---
Tasmanian guard Sejr Deans has been going from strength to strength in recent years.
His pivotal role on a 2018 Australian team that won gold at the Under 15 Oceania Championship has earned national recognition. By February 2020, he was representing the NBA Global Academy and playing in the Under 20 Australian Junior Championships.
Not that it has surprised Mark Radford, who's the current basketball development manager at Basketball Tasmania.
"Out of all the athletes we've had, I don't think I've met a more level-headed, disciplined kid," Radford shared. "He's not flashy or one of those kids that just stands out, but he's just successful. He's the guy you want on your team."
Radford has overseen Deans' development since an early age, and coached him at a number of Australian Junior Championships. You'd be hard pressed to find someone speak more glowingly of a player.
"He's been an athlete who has continually been able to go up levels. You challenge him, he finds a way to either improve his skill level, improve his shooting, improve his defence, and just his ability to keep finding ways to play against the next level of competition."
Radford puts Deans at 6'1 'on a good day', and the guard might lack the imposing physical stature some of his peers might have. His motor, skillset and feel for the game however, sets him apart. When asked to describe his own game, Deans was firm in his response: "Good IQ'.
The basketball intellect is a sentiment Radford concurs with.
"He makes other players better.
"He's a very good pick and roll player. Because he's nice and strong, he can hold his ground on pick and roll plays. He keeps his defender on his back which allows him then to put himself in really good positions going to the rim, playing that two on one with his defender the whole time, and he makes good decisions out of that.
"One of his other attributes is, he is a very good finisher going left for a right-handed player, and I think that allows him to do some different things for his size. Because he's not an on the rim guy, he's not going down the lane and throwing it down or finishing right over the front of the rim, he's got to be crafty, and he's got to finish outside of his body and over tall defenders, so he does a great job of using the glass on his finishing."
Life with the NBA Global Academy is a new level of exposure for the guard who, at least in the eyes of casual observers, may have been overshadowed by fellow Tasmanian guards Taran Armstrong and Reyne Smith, but for those closer to the situation, Deans' value has always been apparent. As a bottom age player, Deans plays third wheel to Armstrong and Smith - both star juniors holding residence at the Basketball Australia's Centre of Excellence (CoE) - but still makes a pronounced impact. In 2019, Deans averaged 14.7 points a game for Tasmania.
His ability to meld seamlessly alongside other talent and spend time both on and off the ball is another strength, something that's also remarked on by Radford.
"If you watch The Last Dance, [Deans is] your John Paxson, he's your Ron Harper," says Radford. "In a lot of his teams he is Batman. He's Batman every second year, but he's Robin as a bottom ager, because he plays with Reyne [Smith] and Taran [Armstrong] in that group, and when he's a top age player he's Batman and takes his team to another level."
"He'll play as a top ager predominantly at the point, a little bit off the ball, then as a bottom age player he's predominantly off the ball and a little bit as a PG. He can play both spots [point guard and shooting guard]."
At the end of last year, Deans' hard work was rewarded with an invite to the NBA Global Academy Camp, where he was able to compete against elite junior talent from around the world. For Deans, it represented a chance to level up once again.
"[The biggest thing I gained from that time was] the experience of playing against real length and athleticism, which I don't get to play against in Tasmania very often," Deans said. It's a new challenge for him, though something that's not obviously insurmountable.
"When you start playing against the international guards, the athletic guards, physically he'll be fine but in terms of strength, agility and being able to stay in front of dynamic athletic guards, and he's working on that as we speak," Radford said.
That said, Deans did well. So well, in fact, that he was chosen to represent the NBA Global Academy in February as part of the 2020 Under 20 Australian Junior Championships. He was even able to compete against an all-too familiar opposition, Tasmania - a game which would see the the Global Academy win 92-60.
"His opportunity to go up and play with the guys from the Academy shows how they view him, from taking him [as an] Under 18 to go and play in the Under 20 tournament. The respect that Marty [Clarke] and Robbie [Mckinlay] and the NBA guys have for Sejr to go to that tournament speaks volumes for him," said Radford.
Part of Sejr Deans' growth has been on the leadership front, and it's something Radford's noticed.
"He's an outstanding kid. All class.
"He is confident, and outwardly growing in confidence. The kids here, they idolize him, one because he's an unbelievable person, and has great upbringing, and two, because I don't know that we've had an athlete that plays so hard so consistently, which then lends to his teammates respecting him and wanting to follow in his footsteps."
"He's very respectful of other people and his teammates and they respect him for that. He's not a loud, verbal leader, but he does talk and people trust him and that's great qualities to have as a young player."
"As with a lot of young players, leading is more through doing than by saying, so other kids look up to him, and then when he actually does give information out it becomes very powerful because they respect him for what he has done and how he treats people. He's a great kid."
Like many other athletes who have been confined by the limits imposed upon them by the coronavirus lockdown, Sejr Deans is making do with what's available at hand. Life needs to go on, in preparation for what's ahead. For Deans, training has come to be defined by a set of loaned weights, and a hoop at home. He's not alone however - his family and coaches are always at hand to lend support.
"My mum helps so much. She really does everything for me, she takes me to training, she always supports me, helps me eat right," Deans said.
Deans is constantly trying to better himself, and is far from being a finished product. Radford has pointed out defence and shooting as two areas that need further work, as he progresses to higher levels of play. But repetition, training and self-improvement isn't a new concept to Sejr Deans. It's part of the process, and it's what will take him towards the next step in his basketball journey.
"He's been working on a couple of different individual skill developments during this break, and you can give it to him and he'll come back to you a week later with video and say 'can you assess this', 'how are you going with it', and I'll give him some feedback. He goes away and he comes back again and he just keeps improving, he has that thirst."
"[Deans is] a seeker of knowledge, and has a thirst to want to get better."
Deans' future plans for 2020 involved playing for the North-West Thunder in NBL1 South - a goal Deans plans on following through with in 2021. It was an arduous process to get Deans eligible, and given the unfavourable logistics, both Deans and Radford hope that he'll be able to play with no restrictions next NBL1 season.
In the mid term, Deans has his eyes set on college. Beyond that, a professional career likely awaits. With dual citizenship as a Danish-Australian, he'll have options available, that will allow him to achieve his goals.
With his focus on consistent effort and character, it appears failure, if it ever happens, will not be from a lack of trying. Sejr Deans is up for the challenge.