SEABL Round 18: South Conference Front Runners Stumble While The Lady Chargers Aim For Top Spot
SEABL MEN
The Mt. Gambier Pioneers were officially crowned South Conference champions as they defeated second placed N/W Tasmania Thunder, 79-87. Despite scoring 20 points off turnovers and getting within 4 in the final term, a 14-23 third quarter proved the Thunder's undoing. Damian Johnson (21 points, 14 rebounds, 7 blocks) was a beast at both ends for Mt. Gambier while Erik Burdon top-scored with 24.
N/W Tasmania's second placing was suddenly put in jeopardy the following night with an 86-94 loss to the Sandringham Sabres. Rayshawn Goins led the charge, shooting 8-9 for 22 points and 15 rebounds as his side hit 57% from the field. Nathan Crosswell added 19 and 9 assists with the win keeping the Sabres faint finals chances alive. The Thunder had little contribution across the weekend outside of Tyrone Lee (who averaged 26 points and 8.5 rebounds) and BJ Jenkins (26 points, 5.5 boards, 3.5 assists and 2.5 steals).
Their only saving grace was that third placed Kilsyth also went 0-2 for the round, losing to the Dandenong Rangers and Ballarat Miners. The Cobras just couldn't execute down the stretch against Dandenong, giving up a 7 point lead in the final term as the visitors finished the game on an 11-2 run. Tony Lewis (21 points, 15 rebounds) held his own as he took on Auryn MacMillan (13 and 10), Tim Lang (24 and 5 with 7 assists) and Joel Naburgs (17, 7 and 6) while Brent Hobba's 13 points off the bench also proved integral.
Kilsyth were unable to atone for the loss on Sunday, falling 79-92 against Ballarat. Despite sitting third in the South, their awful weekend has them just two wins ahead of fifth placed Frankston, meaning they could still miss out on the playoffs. Lang capped off a solid weekend with 21 points and 11 boards but he played a lone hand. The Miners were led by Nathan Sobey's 28 and 10 (including five three-pointers) while Dyricus Edwards joined him with 28 points.
Playing without their leading scorer and rebounder in Ken Horton, Ballarat's weekend was even more impressive as they overcame a 13 point quarter-time deficit to finish the game on a 24-10 run in a 7 point win. Sobey collected another 28 points and 10 rebounds while Chris Smith added 16 and 12. Justin Brown (12 and 10) and Delwan Graham (15 and 13) were responsible for Knox's lead but a 6-15 discrepancy in second chance points hurt them. Ballarat cannot move from the East's fourth position but this round will give them a major confidence boost heading into the finals as they have proved they're a force even without Horton.
The Raiders were the third side to go 0-2 for the round, losing 74-88 as the Dandenong Rangers cruised to a 12th straight victory. The lead reached 22 in the last quarter as Daequon Montreal tallied 20 points and 7 rebounds while Lewis averaged 25.5 and 13. Robbie Linton was impressive for Knox, nailing four triples but Dandenong were comprehensive as they kept a hold on the East's top spot.
The Nunawading Spectres sit just a loss behind Dandenong, overcoming a sluggish 21-32 opening term against the Brisbane Spartans to win 100-85. The teams combined for 18-42 shooting from the three point line with Izzy Tueta (12 points, 6 rebounds, 6 assists) and CJ Massingale (21 points) hitting three apiece. Tommy Greer proved too strong inside though, collecting 17 and 16 boards while Shane McDonald ran the point to perfection with 25 points, 9 assists and 2 steals.
In a mini elimination final between fourth and fifth place in the South Conference, the Frankston Blues recorded a massive 83-82 overtime win against the Bendigo Braves. The combination of Brandon Polk (30 points) and Chuck Long (22) was enough to overcome 24 from Zack Atkinson as the Blues nabbed the important head-to-head result which could play a factor by season's end.
Despite that defeat, a 1-1 weekend was enough for Bendigo to re-take fourth position as they took care of the Hobart Chargers the following day, 91-83. Led by Khalil Hartwell (18 points, 21 rebounds), four Chargers starters scored 14+ while Dustin Salisbery had 20 and 11 for the Braves. Josh Wilcher proved the difference though, out-scoring Hobart's bench by himself, 21-3.
Hobart are the first side to be ousted from the extremely tight South Conference playoff race after the Geelong Supercats also beat them 99-83. Anthony White Jr. (31 points) and Eric Gaff (12 and 12 rebounds) controlled the game as the home side recorded a 27-4 advantage in second chance points. Deba George had 28 in the loss while Hartwell averaged a huge 21 and 17.5 rebounds for the weekend. Geelong's victory keeps them in the race for top spot in the East but having played two more games than Dandenong, they may have to settle for third.
With a second game winner this season, Dan Joyce has kept the Canberra Gunners' finals hopes alive as they escaped 81-79 against the Albury/Wodonga Bandits. Alex Opacic (18 points, 10 rebounds), Nick Payne (14 and 10) and Lamar Mallory (10 and 10) all grabbed double-doubles for the Bandits but Joyce's lay-up with 4 second remaining proved the difference while Garlon Green added 26 points, 6 rebounds and 5 assists. Canberra will probably need to win all three of their remaining matches but as Joyce proved, where there's a will there's a way.
---
SEABL WOMEN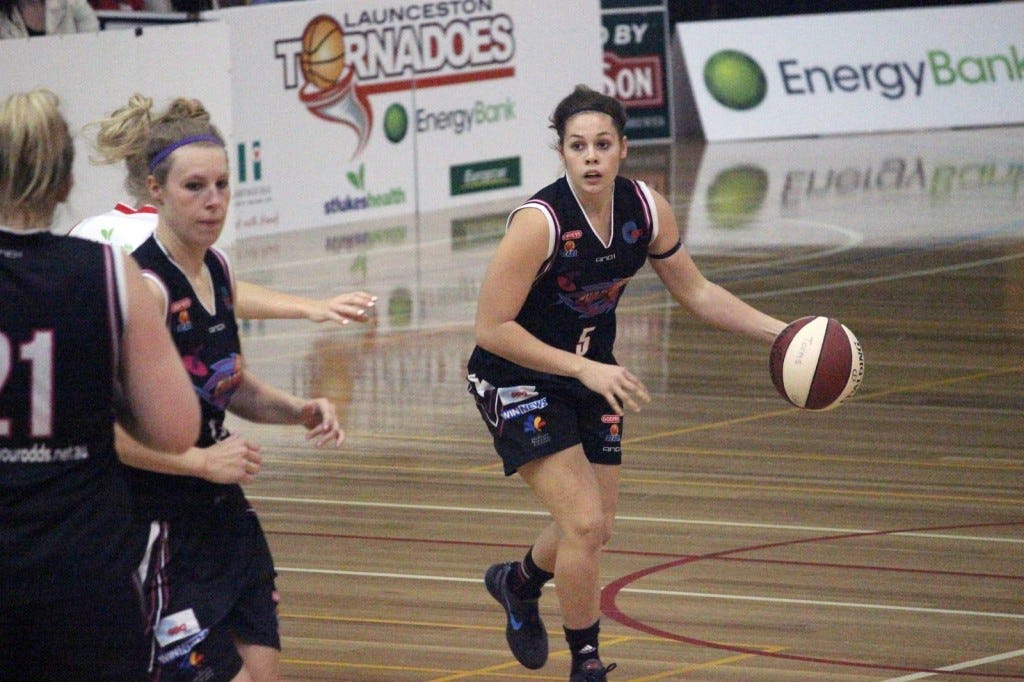 Photo Credit: JimmyJamJar (Birdman)
The addition of Cayla Francis has turned the Hobart Lady Chargers into a championship contender, recording two victories this weekend to move one game away from top spot in the South Conference. A 28-7 second term blew the Geelong Lady Supercats away as Hobart recorded an 87-64 blow-out. Alex Duck's 15 points was a rare highlight as her side had no answer for Francis (27 points, 19 rebounds) or Kathleen Scheer (18 and 10).
A huge clash then loomed for the Lady Chargers on Sunday as they faced the ladder leading Bendigo Lady Braves. A 25-12 second quarter again proved the difference as Hobart went on to win 79-69. Alex Bunton (19 points, 16 boards) did a solid job on Francis (20 and 14) but the contributions of Izzy Chilcott (18 points) and Katie McCauley (12.5 point average for the round) carried Hobart over the line.
That performance ended a miserable weekend for Bendigo as it followed a 61-67 loss to the Frankston Lady Blues the previous night. LaSondra Barrett hit a game high 20 points but shooting 17% from the beyond the arc did not help their cause. Nicole Romeo's 19 and Kelly Bowen's 18 helped move Frankston into third place in the South and along with Hobart, they are now nipping at the heels of Bendigo.
With the ladder leaders dropping both their games, the Kilsyth Lady Cobras had a chance to move into first place against the Dandenong Rangers and Ballarat Rush. They were out-muscled against the Rangers though, finishing -11 in second chance points while giving up 19 offensive boards. Lauren Scherf (36 points, 9 rebounds), Amelia Todhunter (14 and 10) and Jacinta Kennedy (19 and 13) dominated against Louella Tomlinson (21 and 7) and Rosie Moult (17 and 7).
Kilsyth then hit a major bump on their road to the finals, losing 80-85 to the Rush who stunned the Lady Cobras with a 19-10 final term. Abby Wehrung (30 points) and Steph Cumming (26) lit it up from the field as their side shot 51% overall. Tomlinson capped off another impressive round, averaging 26.5 points, 11.5 boards and 2.5 blocks but instead of grabbing first position, they are now dwindling in fourth.
Having defeated Kilsyth, Dandenong then backed up that performance with an easy 77-50 win over the Knox Raiders. It was their ninth consecutive victory, taking their home record to 12-0 as well as cementing their place as East Conference champions. Todhunter was clinical, collecting 12 points, 11 rebounds and 7 assists while Tenaya Phillips had 17 points in just 19 minutes.
Alongside the Rangers, the Rush also went 2-0 for the weekend as they heaped more pain on the Raiders with a 74-67 win. Averaging 20 points and 12.5 rebounds, Shanae Greaves was exceptional all round and helped Knox tie the match twice in the final period. The cool heads of Cumming (22 points, 8 assists) and Nya Mason (14 points, 9 rebounds) prevailed though, combining for 14 points in the last quarter.
In a battle of second vs. third in the East Conference, the Brisbane Lady Spartans moved just one game away from the Nunawading Spectres with a well earned 68-66 win. They also own the head-to-head result over Nunawading, surviving a late comeback as the Spectres trimmed a 9 point lead to 1 in the final 30 seconds. Sarah Graham (18 points) and Odette Andrew sealed the victory from the free throw line, overcoming 19 points and 14 rebounds from Hanna Zavecz and 21 off the bench from Alanna Smith.
The Launceston Tornadoes are enjoying a very strong finish to the season, recording a third straight victory over the Sandringham Sabres, 82-51. The win moves them above the Sabres into the South Conference's fifth spot with Abby Bishop (26 points, 18 boards) the catalyst. She was aided by Alex Wilson (19 and 10) and Lauren Mansfield (27 and 5 with 6 assists) with Micaela Cocks (14 points) the only Sabres starter to reach double figures.
Finally, the Canberra Capitals enjoyed their first thrashing of the season, taking care of the Albury/Wodonga Lady Bandits, 83-37. They scored 15-0 in second chance points, 28-8 in points in the paint and 10-0 in fast break points while holding the visitors to 18% shooting. Emilee Harmon's 16 points and 9 rebounds was no match for Ellie Junod (23 points), Alice Coddington (20 points, 5 rebounds, 8 assists) and Alyce Shearing (7 points, 12 boards).
---
For more info, visit the official SEABL website at www.seabl.com.au