SEABL Round 11: Frankston Causes Two Upsets while the Rangers' Streak Comes to an End
SEABL MEN
Coming into the round, the Frankston Blues had lost six straight and were facing the Nunawading Spectres and Mt. Gambier Pioneers, both sides in the top two of their respective conferences. However, an incredible weekend from the Blues saw them win both matches and perhaps get their season on track. Nunawading fought back from an 18-30 opening term to grab a lead with 1:30 remaining but Frankston held on for a well deserved 90-83 victory. The Spectres' Simon Conn (38 points on 16-20 shooting, 9 rebounds) was brilliant but he had little support, with only Mitch Creek (17 points) making an impact. Frankston shot 49% from the field with Brandon Polk (29 points) and Mitch Chapman (19) leading the way while their perimeter defence restricted the home side to 3-16 long-range shooting. The Blues then hosted Mt. Gambier on Sunday, keeping the South Conference leaders to 67 points in a 7 point win. The Pioneers shot just 34%, blowing a 3 point quarter-time lead. Ben Allen (21 points, 10 rebounds) and Brad Hill (21 points) were productive but uncharacteristically, their side were unable to punish mistakes, scoring just 4 points off 15 turnovers. Frankston's Polk (18.5 points, 10 rebounds) and Chuck Long (10.5 and 11.5) both averaged double-doubles for the round and Chapman was also integral, scoring 20 points against Mt. Gambier as his side moved to just a game outside the South Conference top four. With the Pioneers losing, the N/W Tasmania Thunder drew level with them on the ladder after victories over the Hobart Chargers and Knox Raiders. Hobart trailed by 10 at quarter-time but were able to reduce the deficit to 2 in the final term before the Thunder's Tyrone Lee took over. He scored 9 of his 26 points in the last quarter and collected a huge 18 boards as the Thunder won 92-88. Hobart received a season high 29 points from captain Tom Wright and 25 from Deba George. After biting the bullet and replacing import Jerrah Young with Zac White, the debutant had 7 rebounds and 4 blocks but he is there to score points and 1-9 shooting was a shaky start. N/W Tasmania won every quarter the following night against Knox in a 106-80 demolition. They finished 24-14 in points off turnovers, 22-9 in second chance points, 40-26 in rebounds and 62-38 in points in the paint. The Raiders did score 33 bench points while Delwan Graham finished with 22 and 11 rebounds but Nathan Wilson's 31 and 8 was the dominant performance of the game. Lee averaged 23 and 14 for the round while Robert Jenkins' two 20 point efforts helped the Thunder to a 12-3 record. The Sandringham Sabres took a 5 point lead into the final term against the Kilsyth Cobras. Their poor shooting for the game (39%) caught up with them though as they managed just 8 points in the fourth quarter to lose 63-68. Kilsyth also shot poorly at 36% but were aided by 13 more free throws and double-doubles from Tim Lang (13 points, 11 rebounds) and Joel Naburgs (24 and 13). The win takes the 8-5 Cobras to outright third in the South Conference. Over the Queen's Birthday break, the Sabres took a chance by removing their leading scorer in Mike Moore and replacing him with Junior Hairston, a forward who would help their interior game. That decision looked to be a good one on Sunday afternoon as Sandringham salvaged their round with a 104-91 win over the in-form Ballarat Miners. Hairston poured in 25 points and 17 rebounds (8 offensive) as his side's shooting woes from the previous night were forgotten with a 57% effort. Three starters reached 20+ points with Rayshawn Goins averaging 16.5 for the weekend and Alister MacDonald (17 points) recording his best round of the season. Ballarat were led by Ken Horton (17 points and 16 rebounds) and 27 and 10 assists from Roy Booker who also had a season low 2 turnovers. The Miners have had a fairytale year so far but their 2-4 home record is of serious concern. The Brisbane Spartans were within touching distance of the Dandenong Rangers at three-quarter time but a 31-14 final term gave Dandenong a 99-79 victory. Zach Henifin has returned home to the US for personal reasons and is a big loss for the Spartans as he was averaging 15.2 points a game. All five starters did reach double figures with CJ Massingale's 16 points and 10 boards leading the way but with the game up for grabs, Dandenong's Tony Lewis proved too strong. His 33 points and 15 rebounds led the Rangers to a 50-24 advantage in the paint. After a slow start to the season, Dandenong is beginning to make a push for back-to-back championships. The Bendigo Braves exacted revenge for their Round 10 loss to the Canberra Gunners with a 99-81 road win on Saturday night. Canberra led by 8 in the second term but Bendigo finished the half strong and then powered away with a 27-13 fourth quarter. Dustin Salisbery had a game high 36 on 12-17 shooting while Zack Atkinson (17 points, 10 rebounds) and Michael Vigor (13 and 10) were a dynamic duo inside. Matt Staff (21 and 12) fought hard for the Gunners but the loss drops them back to second last in the South Conference. Finally, the Geelong Supercats proved too classy for the Albury/Wodonga Bandits, grabbing a ridiculous 60 rebounds on their way to a 91-68 demolition. They finished +14 in second chance points and +32 in points in the paint as Nathan Herbert (24 points, 10 rebounds), Nick Owusu (14 and 10) and Ash Cannan (7 and 11) did as they pleased. Lamar Mallory has been introduced into the Bandits side, taking the place of Mohamed Ntumba, but his 2 points on 1-8 shooting was a disappointing debut.
---
SEABL WOMEN
An East Conference showdown on Saturday night saw the Brisbane Lady Spartans put an end to the Dandenong Rangers' 9 game winning streak with a 74-55 display. Leading by 3 at the main break, the Rangers could not find the bucket in the second half, shooting 7-27 for 18 points. Sarah Graham (18 points, 6 rebounds, 4 assists) and Olivia Thompson (10 points, 8 boards) impressed while Tia Mangakahia put in 14 and 8 off the bench. Dandenong were led by 16 and 10 from Jacinta Kennedy but she couldn't stop her side falling to 10-2, just a win ahead of the Lady Spartans. A knee injury has cut down Launceston's leading scorer and rebounder in Nadeen Payne and the Tornadoes suffered more pain this week with a 62-82 loss to the Hobart Lady Chargers. Hobart's Eliza Chilcott (30 points, 13 boards) and Klara Wischer (8 and 14) dominated as their side finished +18 in the paint. Kathleen Scheer's 23 points was also instrumental as they did not lose a quarter. Payne's replacement, Abby Bishop, settled in quickly and led Launceston with 22 points and 9 rebounds. The following day saw the Tornadoes push the Knox Raiders all the way, grabbing a lead in the final term before succumbing 83-90. Knox needed their two stars, Kelly Wilson (29 points, 9 rebounds, 6 assists) and Gabe Richards (24, 12 and 5) to play the full 40 minutes as they shot 56% as a team. Bishop finished with a double-double average for the weekend of 16.5 points and 10 rebounds while Lauren Mansfield poured in 27 against the Raiders. Her 5 three pointer's helped Launceston to a +18 advantage beyond the arc but their two losses have dropped them to a 3-11 record. The Sandringham Sabres also came up empty on the weekend, beaten soundly by the Kilsyth Lady Cobras before falling to the Ballarat Rush with a much improved effort. Turnovers have been the biggest problem for Sandringham and they were again their downfall against Kilsyth, giving up an astounding 28 points off 21 errors. Six Lady Cobras' reached double figures with Yvonne Anderson (22 points, 9 rebounds, 6 assists) and Rosie Moult (15, 6, 3 and 3 steals) leading the way. Louella Tomlinson chimed in with 19 points but her run of three games with at least two blocks ended.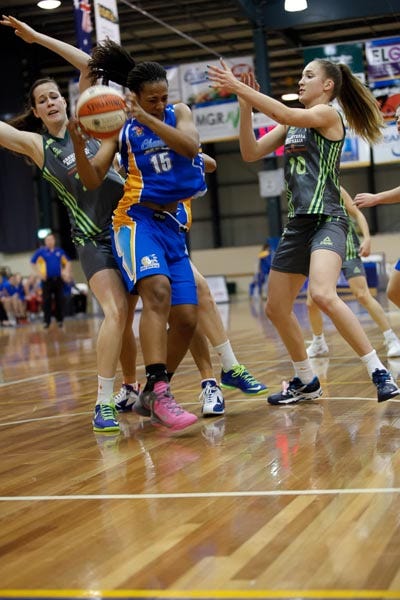 Credit: Photo Credit: Akuna Photography (Digital Media Bendigo)
The Sabres came out fired up against the Rush the following day, with Georgia Stott's 8 points and 18 rebounds perhaps a sign that their frustrating season is taking its toll. She averaged 10.5 points and 13 boards for the round, a vast improvement on her season average of 4.3 and 6.1. An 11-22 third term was enough for Ballarat to pick up the win with Sandringham's 21 turnovers handing Ballarat 16 points. Steph Cumming's 19 was a team high while for the Sabres, Hope Walker averaged 21 for the round and Micaela Cocks was tireless with 12 and 7.5 rebounds. For the second time in as many rounds, the Bendigo Lady Braves proved too good for the Canberra Capitals, winning every quarter on their way to an 86-66 win. Canberra have brought in Nat Hurst to boost their offence and her WNBL calibre play shone through, scoring a team high 15 points. Sarah McAppion (12 points, 2 steals) was also strong but they were out-run (6-0 in fast break points) and out-muscled (38-24 in the paint). Alex Bunton (6 points, 14 rebounds) and Lauren King (18 points, 3 blocks, 2 steals) did the damage as Bendigo remain atop the South Conference. Despite being on the road, the Geelong Lady Supercats were far too good for the Albury/Wodonga Lady Bandits, winning every quarter in a 90-58 smashing. Emilee Harmon (26 points, 9 rebounds) was the only one to provide resistance but all five Geelong starters reached double figures in less than 30 minutes of game time. 24 more rebounds and a whopping 18 more offensive boards led to 14 second chance points and has placed the Lady Supercats equal fourth in the East Conference.
---
For more info, visit the official SEABL website at www.seabl.com.au