SEABL Grand Finals: Pioneers and Lady Spartans Earn 2014 Championship
SEABL MEN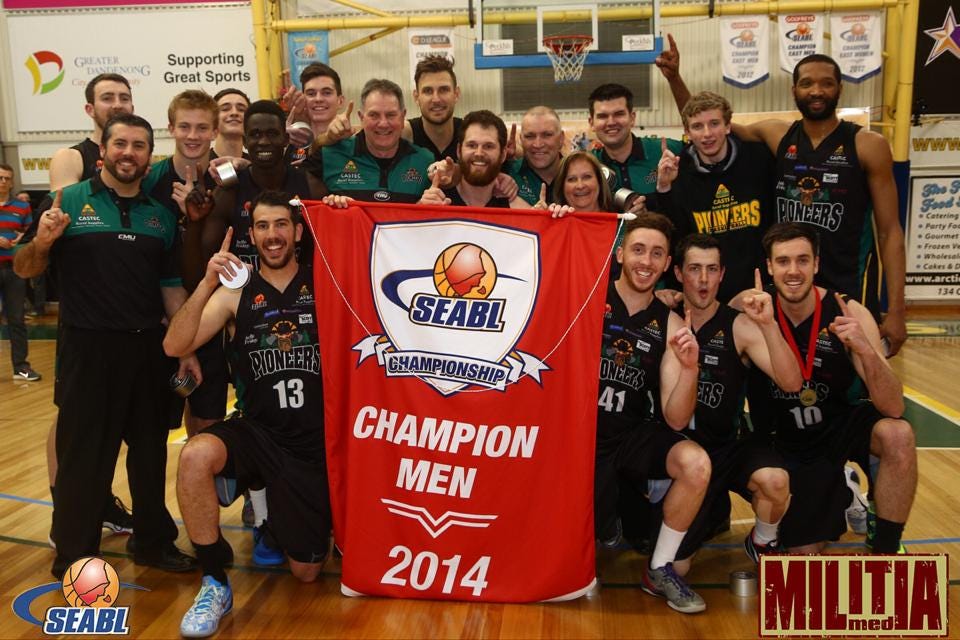 Photo Credit: Militia Media
Following their loss in the 2013 Grand Final, the Mt. Gambier Pioneers have achieved redemption with an 85-71 victory over the Nunawading Spectres. Simon Conn scored 8 of his 12 points in the opening term in a handy start for Nunawading but Mt. Gambier's response was swift as they took an 11 point lead into half-time. Foul trouble then caused Conn to sit early in the third quarter and it looked like the Pioneers would run away with the game. However, moving into a zone defence plugged Mt. Gambier's scoring and the Spectres reduced a 15 point deficit to 4 at the final change. Tom Daly was not to be denied in the fourth period though, scoring the first 10 points of the quarter for his side before Brad Hill (in an MVP performance) added 7 in a dominant 25-15 last term. Daly (19 points, 5 rebounds, 7 assists) got the better of the veteran Shane McDonald (12, 4 and 4) in the battle of the point guards while Hill (20 points, 11 rebounds) and Damian Johnson (20 and 11 with 4 blocks) were stalwarts at both ends of the floor. Nunawading's Mitch Creek (26 and 9) was the game's leading scorer and Tommy Greer's 15 and 11 helped them to 9 more offensive rebounds but their defence couldn't stop the Pioneers shooting 51%. The Championship is the second for Mt. Gambier since their debut in 1988 while Nunawading can be proud of contesting their second Grand Final in the past four years.
SEABL WOMEN
Photo Credit: Militia Media
An exceptional defensive effort from the Brisbane Lady Spartans has earned them the 2014 Championship, holding the Hobart Lady Chargers to their lowest total of the season in a 75-59 victory. Hobart jumped out of the blocks with a 10-0 run to start the game but moving into a full court press kicked Brisbane into gear and they took a 2 point lead into the first change. It was a close contest for the next two quarters but the Lady Spartans always held the ascendancy and they eventually ran away with the game in a 19-9 fourth quarter. Odette Andrew (16 points, 12 rebounds) and Olivia Thompson (12 and 12) led the way, Sarah Graham added 15 while Holly Smith (13 and 9) was brilliant off the bench. Normally a dominant interior team, Hobart could not find a lane to the basket all game and resorted to a barrage of missed three pointers, finishing 4-30 from beyond the arc. Kathleen Scheer (9 points) went 0-10 while Cayla Francis balanced 17 boards with 2-9 long range shooting for a season low 14 points. That suffocating defence carried Brisbane to a second Championship in nine years while Hobart will learn from their first taste of Grand Final basketball.
---
For more info, visit the official SEABL website at www.seabl.com.au