Discover more from The Pick and Roll
We're all about Aussie hoops. Independent, objective analysis and commentary. Insightful narratives built around Australian basketball. Read about our men and women in the NBA, WNBA, NCAA, Europe, national teams, NBL, WNBL, NBL1, prospects and more.
Over 2,000 subscribers
San Antonio's spiritual leader: How Patty Mills rode the rollercoaster and kept his Spurs afloat
On Mills' ascension as the veteran leader.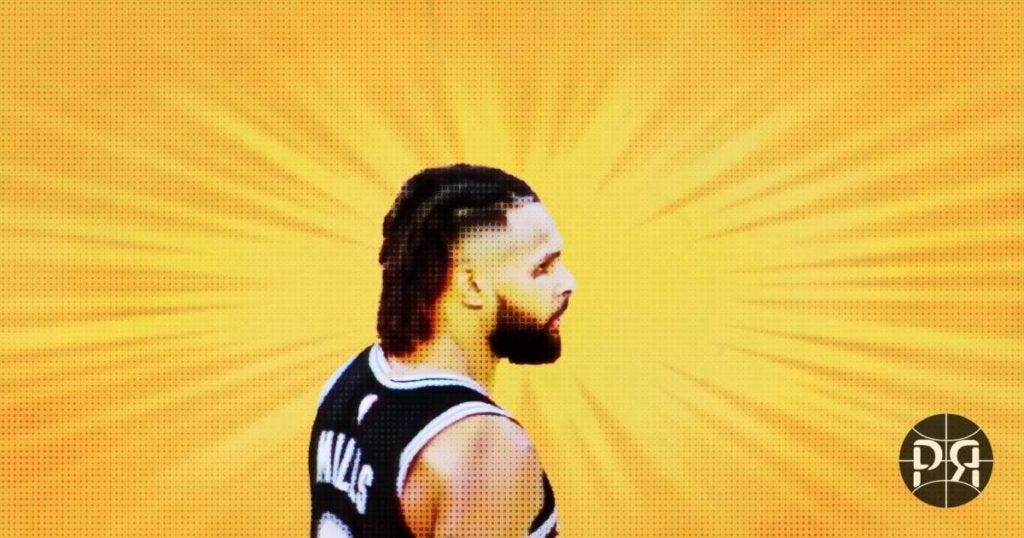 It's a painfully frosty February afternoon in New York City.
The San Antonio Spurs had just slumped to 1-6 on their annual 'rodeo' road trip, and this specific loss stung more than the rest. The Knicks, who themselves had lost 18 straight games at their alleged home fortress, Madison Square Garden, pulled off one of the season's biggest upsets by defeating San Antonio. That made the mood inside the Spurs locker room just as frigid as the harsh conditions outside.
Gregg Popovich, who with trademark brutality excoriates the performance, labelled San Antonio's showing as "soft" while lamenting the lack of resistance shown by his team. "Pathetic performance defensively," Popovich added. His thoughts were clear.
DeMar DeRozan and LaMarcus Aldridge echoed Popovich's sentiment, as they zoomed through their media obligations. As San Antonio's two most distinguished players, the pair were called upon to offer insights on what went wrong. A mandate they achieved, albeit drawled out with benevolent clichés that allow athletes to say everything and nothing at the same time. A distinct negativity permeated the room. "It's really hard to find positives," DeRozan said of the Spurs defeat, as he departed for a rare night off in the biggest city on earth.
DeRozan's teammates quickly followed his lead and vacated the visitor's quarters with deliberate efficiency. Some 45 minutes after the final buzzer sounded, not a single player could be seen. All that remained were a handful of resourceful back office staff from the Spurs organisation, a pair of reporters gleefully watching the clock and a set of pristine street clothes hanging within the #8 locker.
Then Patty Mills strode in.
While his teammates rushed to satisfy the fourth estate and escape the world's most famous sporting arena, Mills was tucked away inside a dimly lit training room, treating his body and continuing the incessant work that has underpinned his evolution within the NBA. It's a literal representation of Mills' progression from cheerleader to franchise leader.
There is a perpetual motion to Mills. It depicts endeavours to improve his playing situation. It starts with utter devotion to his own craft, his personal obligations as a basketballer. Time spent buried inside a New York City arena is just the prototypical example; the moment in time observable to the outside world. But Mills' efforts run much deeper than what is identifiable to prying eyes. They extend wider, too, and divulge into a communal undertaking.
Days of Mills being able to carry a singular focus within the Spurs ecosystem are over, for he is now the longest tenured member of the franchise. Gone are Tony Parker, Manu Ginobili and Tim Duncan, the triumvirate who oversaw San Antonio's dynastic run under Popovich. Kawhi Leonard, Duncan's heir apparent as San Antonio's MVP-calibre leader, was jettisoned to Toronto last July. That leaves Mills as the most experienced Popovich disciple, and such a distinction doesn't just offer a ceremonial designation. The prestige conveys seniority, which itself bestows expectations of leadership and culpability, especially in trying times.
"I definitely feel a lot of responsibility for a lot of different situations on our team, both good and bad," Mills explained. "More so the bad stuff."
An added responsibility now rides shotgun to Mills' basketball routine. Popovich is certainly relying on him more than ever, and the stakes couldn't be higher. San Antonio's playoff mortality is at stake.
---
An unwavering bluntness characterises Gregg Popovich's media persona.
Depending on your perspective, this is either part of Popovich's charm, or something that makes the 70-year-old head coach the NBA's ultimate curmudgeon. Regardless, it's hard to argue against Popovich being the NBA's most efficient public speaker. His quotes are direct, even monotonous, drowned out with a sarcastic undercurrent. Benign platitudes, those that have infiltrated coaching appraisals of a millennial generation of millionaire athletes, are scarce. Popovich doesn't waste his words, and he doesn't mince them either.
Dogged honesty has come to define Popovich's reign in San Antonio. If a Spurs player executes a pick and roll incorrectly, Popovich's wrath inevitably follows; ditto for a bad pass. It only gets more direct, when a player enters the Spurs program ill-equipped to meet established standards.
When the Spurs acquired Boris Diaw in 2012, Popovich overtly lamented the Frenchman's lack of fitness. "Boris has never been in shape," said Popovich at the time. "He won't agree with me but just trying to keep it real." Tony Parker, a four-time NBA champion under Popovich, was once brought to tears by his head coach's remarks as a rookie.
The famed 'Spurs culture' – yes, that spiritual force that hovers over the NBA's most success franchise of the past 20 years – is the reason Popovich gets away with what, in certain NBA markets, would be a reason for termination. It works, because he isn't always the killjoy he positions himself as. Search for Popovich's commentary on Diaw in the aftermath of the 2014 Finals, or his praise of Parker as a Spurs leader for most of this decade - compliments are delivered in equally graphic detail, as criticisms that came before.
For players who stay around Popovich long enough, the public commentary of their head coach will serve as the soundtrack to a career's journey. It articulates early foibles and, for the truly elite, expound in astonishing detail the characteristics that allow 'player X' to become a Spurs veteran.
This is certainly the case for Mills, who was an afterthought to the Spurs' success, when he first arrived in San Antonio. For all his swagger and precocious talent, Mills was a glorified spectator during his early seasons in the Alamo City, best known for mastering of the art of towel waving whilst watching games from the bench. Mills simply wasn't prepared for the rigours of NBA basketball and, as you can guess, his head coach gave voice to such shortcomings.
"He was a little fat ass," Popovich once said of Mills when he arrived in San Antonio. "He had too much junk in the trunk. His decision-making wasn't great, and he wasn't in great shape."
These comments, which Popovich made in 2014 after the Spurs had claimed a fifth NBA championship, are certainly the most clickbaity threads to Mills' early NBA career, although this wasn't the first time Popovich had explained such a concept to the media. Nor was it the last time this theme of 'Fatty Patty' was thrust into the public sphere. The anecdote has come to represent the emergence of Mills' NBA career.
Mills worked relentlessly on his body to address those early shortcomings. He had always been able to shoot the basketball and act as a jitterbug on offence, but an understanding of how to make better decisions, those point-guard type decisions, was needed. Mills improved and his NBA career blossomed.
https://pickandroll.com.au/speed-kills-patty-mills-slow/
Flash-forward to the present, and Mills is an NBA veteran. Owner of a decade-long NBA career, he is the proprietor over a $50 million contract signed in 2017. Mills is also a bridge to the past; the last piece of connective tissue to San Antonio's championship era. The Australian is the only player who has remained with the Spurs franchise following their Finals victory over LeBron James and the Miami Heat in 2014. That makes the current season a foreign experience for Mills, who, for the first time since arriving in San Antonio, is devoid of a Hall of Fame calibre running mate.
"It's been a roller coaster of a year," Mills told The Pick and Roll. "A lot of ups and a lot of downs."
In a quarantined universe like the NBA, success and failure is all relative. For some like the Sacramento Kings, who are currently ninth in the West and chasing the Spurs' playoff position, the act of playing relevant basketball games in March is a quantum achievement. Standards in San Antonio are placed much higher. Consider: The Spurs' winning percentage on the current season is the second lowest the franchise has known since the 1996-97 season, a year that also marks the last time San Antonio missed the NBA postseason.
As the Spurs battle through one of their toughest seasons in three decades, Popovich has a different designation for Mills. It's a special descriptor, one that speaks to how the Bala has evolved during his own career.
"Patty has become the spiritual leader of our team," Popovich told The Pick and Roll. "He is the greatest teammate and he is always positive."
Popovich's praise came at a point of adversity, something that has avoided the franchise this century. Following their setback in New York, the Spurs sat eighth in the Western Conference, owners of a 33-29 record. They were firmly entrenched within a dogfight to extend their postseason streak into a 22nd season. The cause of the Spurs' dissention into the NBA's middle class was clear: their talent base had eroded, and drama arrived.
The Leonard melodrama, and his subsequent departure introduced DeRozan into San Antonio's ecosystem. On paper, the Spurs swapped one All-Star for another, although every All-Star isn't made equal; in reality, San Antonio had made a downgrade. Aldridge's own contract dispute is less than 18 months in the rear-view mirror. Pau Gasol, a recent Spurs acquisition but an established veteran presence nonetheless, was recently released. Dejounte Murray, whom the Spurs hoped would be one of the NBA's most improved players, suffered a season ending ACL tear without playing a single game.
Pushed and fractured more than ever, the Spurs are battling roster upheaval and the realities of a modern-day NBA. They are, for the first time in Mills' basketball lifetime, just like every other franchise.
"Definitely," Mills said, when asked if this season has had a unique feeling. "We are trying to close the gap between what [the Spurs] have built and how we are going to move forward as an organisation and as a group so there definitely is that challenge there, as well as the other challenges of having a new team and trying to go about business, so it has definitely been tough."
The days of Fatty Patty are long gone. Instead, the Spurs need Mills, their spiritual leader, like never before.
---
How does one define the intangible spirit that is 'Spurs culture'? The franchise has long been lauded for the environment fostered under Popovich. People around the NBA reference it; they cite the five NBA championships and 21 straight playoff appearances as the gold standard. It has sprung imitations from former Popovich disciples all around the league. But what does 'Spurs culture' actually entail?
For Mills, it is an all-encompassing philosophy that governs everything San Antonio has achieved over the past three decades, and hopes to attain in the future.
"It means understanding what has been built to get to this point," says Mills. "All the hard work, the tears, the sweat, the sacrifice and the loyalty to be in an organisation that is known right throughout the world in any sport."
"We have had great leaders, great coaches and great players that have led that way. Now that we are in that point where there is a transition between that prior era to this new era that we are transitioning to, it is about teaching that culture to these new guys so that they know this is how we do it here and that we aren't going to change for any player, because we haven't done that in the past."
What the Spurs have done in the past is win, and win at levels that defy the NBA's egalitarian principles. The likes of Duncan, Parker, Ginobili and Leonard are rightfully recognised as the impetus for their ultimate success, but that famed culture empowered San Antonio to assimilate new players into their team, athletes like Mills circa 2012, who entered their system unaware, ill-prepared, for everything the silver and black jersey represents. In 2019, that spirit remains in San Antonio, albeit with a new guardian leading the way forward.
"I breathe, eat and sleep the Spurs way and Spurs culture," says Mills. "Having done that so consistently for eight years, it is a part of who I am now and understanding that you play for more than just the team; you understand the legacy that you are playing for."
The Spurs aren't just Mills' employer, and they aren't just his franchise. The bond runs much deeper. After spending the majority of this decade in San Antonio, Mills has come to signify the organisation and the very best of what it stands for.
"I see Patty talking about the purpose of the Spurs uniform and being the gatekeeper to their program," says Brett Brown, a former Spurs assistant coach. "That the jersey is deeper and bigger than us, and when I read that, it is very Patty."
---
Mills speaks freely on a desire to ensure his Spurs are always running correct offensive sets, also the constant communication needed to guarantee correct defensive schemes are being deployed at all times. It doesn't matter whether he is actually on the court or not, these thoughts never leave his mind. Maybe that is a hidden benefit of those early days in San Antonio. Living life on the bench, where playing time was scant, Mills observed the Spurs quest for integrated basketball nirvana. It's glaringly clear that those lessons help subsidise his impact in 2019.
"You have to learn the Spurs way," says Mills. "You have to understand it and make yourself fit within in, that has always been how we've handled things here."
Mills is currently gallivanting through the NBA with the most lethal basketball of his career, although he still spends more time watching than playing. Mills isn't San Antonio's best player. Nor is he their most talented or physically imposing. He stands at 183cm, a relative minnow in a land of giants. Six Spurs play more minutes each night. Seven score more points. His averages on the current season - 9.9 points in 23.6 minutes per game – articulate the resume of just another guy, not the guy. In an NBA that has been overrun with analytics, Mills' quantifiable impact caps out at that of a role player. If only numbers could tell the full story.
Speaking after defeat in New York, within a room that was demarcated with pessimism just minutes earlier, Mills is forced to answer another question about San Antonio's meandering season. He does so, with a response that illustrates how no mathematical equation can encapsulate his impact on these Spurs.
"You take these little mishaps like tonight and put it in the bank for us to be able to grow stronger as a whole organisation," Mills explained. "It's all about representing the Spurs the right way and tonight wasn't an example of that, but I think these are opportunities that we learn from and move forward."
Even in the aftermath of a disparaging loss to the lowly Knicks, Mills voices optimism. It's that constant motion being synthesised once more. A commitment to what's next endears Mills to those within the Spurs ecosystem.
"You need people like Patty," says Rudy Gay. "When you are going through a tough patch, with a couple of losses, you need people like Patty who are always positive and always ready to go out there and give it his all."
Aldridge explains that Mills is always a positive influence and brings an infectious spirit into a room. "He's always happy," says Aldridge. Marco Belinelli credits Mills for nurturing the Spurs' energy. Gay adds that Mills is a positive person who always thinks about answers, not just for his personal benefit but rather that of the team. In moments where San Antonio's resolve is tested, say after a disparaging defeat to a lottery team in New York City, those within the Spurs locker room rely their Australian point guard more than they know.
"It is important to have a positive person like Patty because, when you are on a back-to-back or on the road, which we are most of the time with things like the rodeo trip, it's nice to have that guy with that energy and that spunk that is going to try and get guys going," Aldridge said.
When adversity comes calling, Mills is that person everyone knows. The eternal optimist, who roots his mind the positive outcome being chased. It is unquestionably a gift, and something that serves as a rallying point to his teammates.
"Patty exudes a lot of wisdom for everybody else," says Popovich. "He's really important for continuing the fabric of what we've had in the past."
The Spurs have won nine of ten games since their Knicks debacle. More importantly, San Antonio has confirmed their place within the Western Conference's playoff race. Barring unforeseen circumstances, the playoff streak will continue. With the passing of time, recent results make Mills' final comments in New York appear prophetic. Talk of adversity and challenges was washed away with a simple mandate, one branded with a familiar upbeat tone.
"We still have a great opportunity to make the playoffs, so I am going to focus on keeping the boys together so we can make a big push," Mills said, as he left Madison Square Garden that evening.
As the last member of the Spurs team to get changed, Mills was holding up the team bus. All his teammates, those who sprinted out of the arena, were waiting on him to complete their finishing move and escape into the night. They would not get to their final destination without him, for Mills is the last remaining Spur, in more ways than one.