Sami Whitcomb's looking forward to her homecoming with the Perth Lynx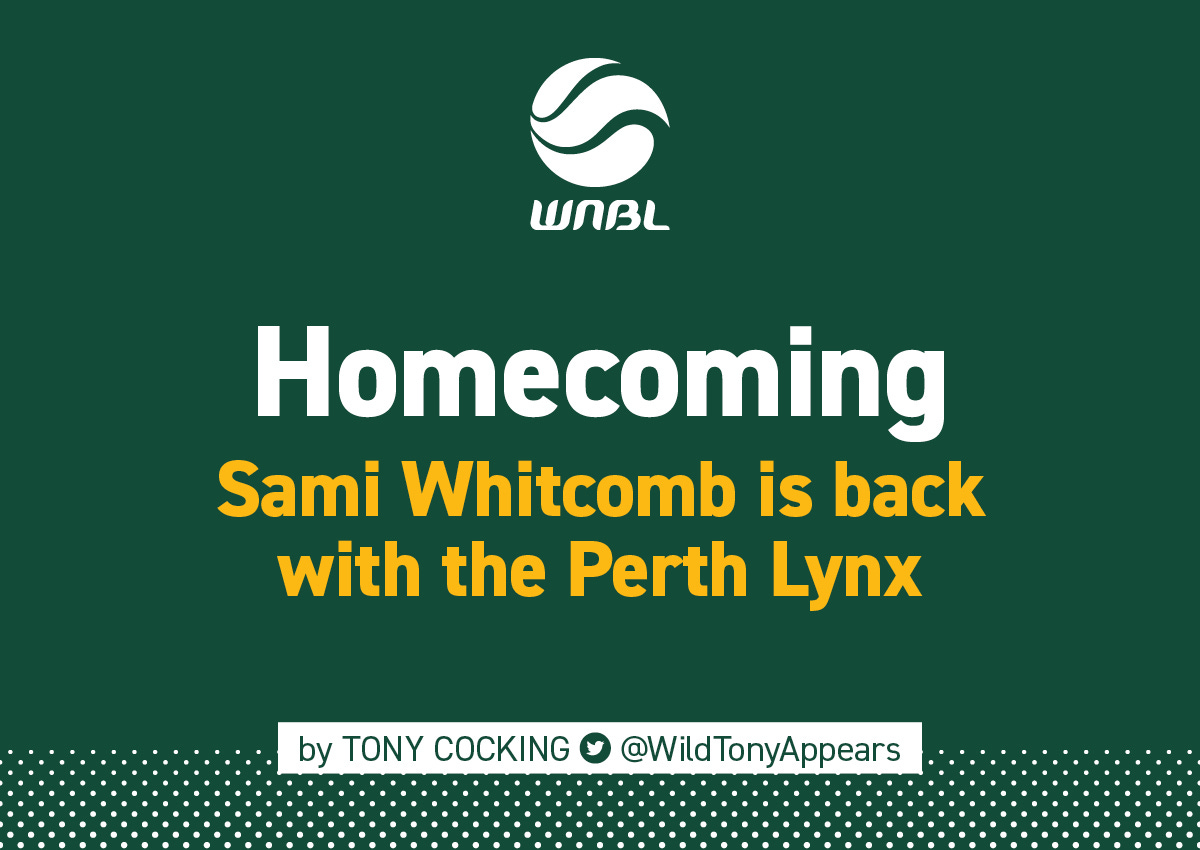 What a whirlwind couple of months it's been for Sami Whitcomb.
In June, the Perth Lynx revealed that the 3x WNBL All-Star Five recipient was returning for a second stint with the team after a two-year absence.
She's definitely been keeping busy during her sabbatical, highlighted by a WNBA Championship in 2018 as a member of the Seattle Storm and playing in the EuroLeague Women with BLMA, and has headed Stateside for the upcoming season.
Once she's back on Aussie soil for the 2020-21 WNBL campaign, it'll be with a Lynx squad that will look completely different from the previous edition.
We got the chance to speak with her before her departure, and she described what could be called — if you'll pardon the pun — the calm before the Storm.
"Got to come home to Perth, which is really nice, and be with family here, but obviously still trying to stay ready and prepared for a WNBA season," Whitcomb told The Pick and Roll. "We weren't sure until just a week ago if it was happening, so there's been a lot of uncertainty around that.
"But of all the places to be, I was very fortunate that I could be in Perth during this time."
Whitcomb's love for the City of Light played a major factor in her decision to reunite with the Lynx, though at this point the final roster is still something of an enigma — she was the first player officially announced.
"Being in Perth obviously was a big thing," Whitcomb described. "My wife's pregnant so, I think being here with her and all that is probably the biggest thing, but you know, really just love the WNBL as well and excited to be back.
"It'll be an interesting experience. I'm not really sure exactly how it's going to go, I think it'll be something that we'll all kind of experience together and work through. Looking forward to seeing the girls and to being with them and participating in the season."
Perth Lynx welcomes the return of WNBA star ⭐️Sami Whitcomb! 🐯
bit.ly/3d8HNKf
#WNBL
#Basketballwa
@SamBam32
One of the familiar faces in a new role will be head coach Ryan Petrik, who had served as the Lynx assistant coach since June 2015. Petrik also guided the Rockingham Flames of the SBL to back-to-back championships in 2014 and 2015, with 3x league MVP Whitcomb dominating on a nightly basis.
"He's pretty good at utilising the players that he has, and he's a very good in-game coach as well," Whitcomb said of Petrik. "I think those types of things are the things that you'll see. It's exciting to see, so far, who's coming together as part of the team."
Shortly after announcing Whitcomb's addition, Perth began to bolster their numbers, re-signing Katie Ebzery and Maddie Allen. They also netted hometown hero Darcee Garbin alongside Alex Ciabattoni, who previously played with the Lynx in 2017-18 and had most recently played in Italy.
"With the signings that we have so far, we've got some fantastic ones, and hopefully I can come in just work really well with them," Whitcomb said. "I'm obviously a shooter, so I'll bring that, and a bit of leadership, and hopefully we'll play off of each other nicely.
"I've played with Darcee before in Rockingham, and Katie's such a fantastic player, that hopefully we'll be able to create for each other as well.
"It's early, so not entirely sure how it'll look, but I'm sure we'll just be out there working hard together."
Such uncertainty is commonplace across the WNBL at present, with the 2020/21 season scheduled to take place without restricted players. This comes one season removed after Canberra's Kia Nurse (of Ontario, Canada) became the first import to claim league MVP honours.
"Obviously no imports is big, but I think it'll just give the other Australians an opportunity to step up," Whitcomb said. "Some players that you already know, but certainly players that maybe have had a smaller role previously, I think it'll be great for them to get a chance to step into that, and maybe even players that have come back from college and haven't played in the WNBL either before or recently. I think it'll be a great opportunity for them as well.
"But look, I think there's still a ton of talent in the league, and I'm sure that'll be on display."
Such opportunities can lead to unfathomable heights, and this fact isn't lost on Whitcomb. She felt as though her previous tenure with the Lynx was instrumental in securing a spot in Seattle, after the California native took a circuitous route to the WNBA.
"It was the driving force, I think, for the interest that I got from Seattle," Whitcomb opined. "They had had Australians on their team before, and I think they had a lot of respect for the WNBL and the quality of play there.
"Playing well in the WNBL took a long way towards me getting into the WNBA and just having an opportunity. The way that the league was able to help me to develop, and the ways that it challenged me was a really good precursor to the WNBA as well."
"Sport in general teaches you to be resilient, but the specific route that I have taken has really reminded me of that every day. You have to be willing to work hard, and work for something — I think opportunities will come up and you just have to be ready for them.
"Overseas is like that, obviously. I had to play overseas for a long time, and kinda all over the world before I was able to get that opportunity. There's probably lots of similar stories like that, and I just think that's what you can take away from sport in general."