Discover more from The Pick and Roll
We're all about Aussie hoops. Independent, objective analysis and commentary. Insightful narratives built around Australian basketball. Read about our men and women in the NBA, WNBA, NCAA, Europe, national teams, NBL, WNBL, NBL1, prospects and more.
Over 2,000 subscribers
Sam Tomlinson: helping Aussie girls achieve their US College aspirations
Passionate about player development, Sam Tomlinson is both knowledgeable and experienced in helping talented Australian girls discover and experience the US college pathway.
Basketball is in her blood. Born to two Olympians in Ray and Sandra, Sam was seemingly always destined to play basketball from a very young age. She grew up in basketball stadiums, clinging to her parents as her mum hit the court to play and with her dad on the sidelines coaching.
With a basketball always in her hands, she started out with the Melbourne Tigers Girls Basketball Club which her parents originally started and has since become one of the most famous basketball programs in the country. With experience in competing at state level and achieving club success finals and tournaments as a junior, she ventured to the USA to commence her college mission, soon after followed by her two younger sisters Clarissa and Louella who followed in her footsteps.
With Ray and Sandra's support and approval, Sam's first stop in the US was at NAIA level in Auburn-Montgomery which provided her with the exposure that allowed her to transfer to a small college town in Alabama called Troy State University. Alabama and Georgia were to be her states of choice to reside for the next ten years.
Once she hit the plains of Troy State University, it was here where her team made school history, going on to win the conference championship and earn a spot in the first round of the NCAA Tournament. Following her team's success, Sam was selected for the WNBA Draft followed by a national an invitational combine as 1 of 18 selected to the Utah Starzz for the WNBA.
A two year scholarship holder at the Australian Institute of Sport, now recognised as the Basketball Australia Centre of Excellence, this was where she was selected to play on the Australian women's junior team. She helped create history with the Gems who would go on to win a first ever World Cup gold medal for Australia in basketball in 1993.
Sam spent a number of years with the Melbourne Tigers in the WNBL and a shot playing stint with Nice in France before returning back home to Australia.
After her playing career and following her graduation with a degree in Psychology, she took up coaching and an administrative path at three major Division I colleges during the early 2000's at Auburn, Georgia Tech and Kennesaw State Universities.
"Following my playing career, I can now fully appreciate the value of the contribution it has made to my life," said Tomlinson. "I want to show our Aussie junior girls of today how they can too can achieve great heights, along with the potential opportunities could be generated in their own lives through basketball."
"Being the eldest of four daughters who have all been basketball professionals at one time or another, it has given me a sense of responsibility in nurturing and mentoring young female basketball players of today, and I would like to include other young exciting female players in this mentoring through these pathways."
Knowing that the Tomlinson name is synonymous with success in basketball in Australia and abroad Sam simply wants to create a pathway Australian girls so they too can experience what she has been able to.
Being knowledgeable and familiar with basketball on both sides of the globe in Australia and the US College system, she boasts a wealth of knowledge and experience, as well as being a friendly, encouraging individual that knows and has worked in the game in various levels in both countries.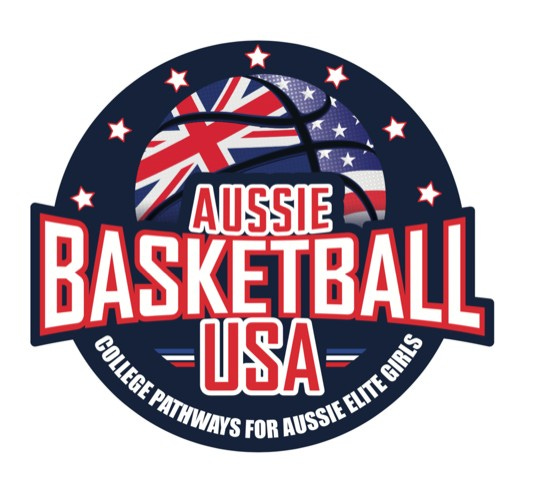 Subsequently Sam has established Aussie Basketball USA to help young girls realise their potential and fulfil their basketball aspirations in America. She has also recently joined forces with Premier Basketball to be able to provide a once-off opportunity for elite Australian girls to showcase their skills on the court across Australia and New Zealand in front of NCAA Division I college coaches and scouts who are travelling down under for this special event being held on Saturday, 27 April at the Melbourne Sports & Aquatic Centre.
"I'm so excited to be able to provide an opportunity for Aussie girls to showcase their talent and ability in front of college coaches," said Sam. "This is a great way for our elite girls who have aspirations of going to college in the USA to put their best foot forward."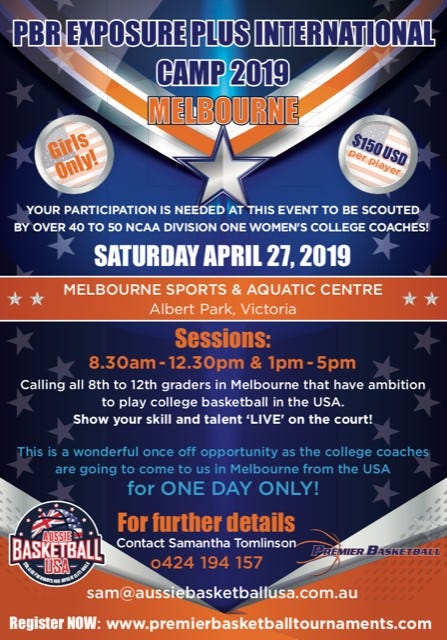 Sam offers a database of talented Australian high school and junior athletes, professionally assessed and screened by herself, who are interested in pursuing a sports and academic career with USA scholastic institutions abroad in the USA. This is where Sam has lived the pathway and is now giving back through helping provide opportunities and pathway for others.
For more details on the Aussie Basketball USA pathways for girls, please refer to the official website: www.aussiebasketballusa.com.au