"One day you're good, one day you're gone": Ryan Broekhoff on life in the NBA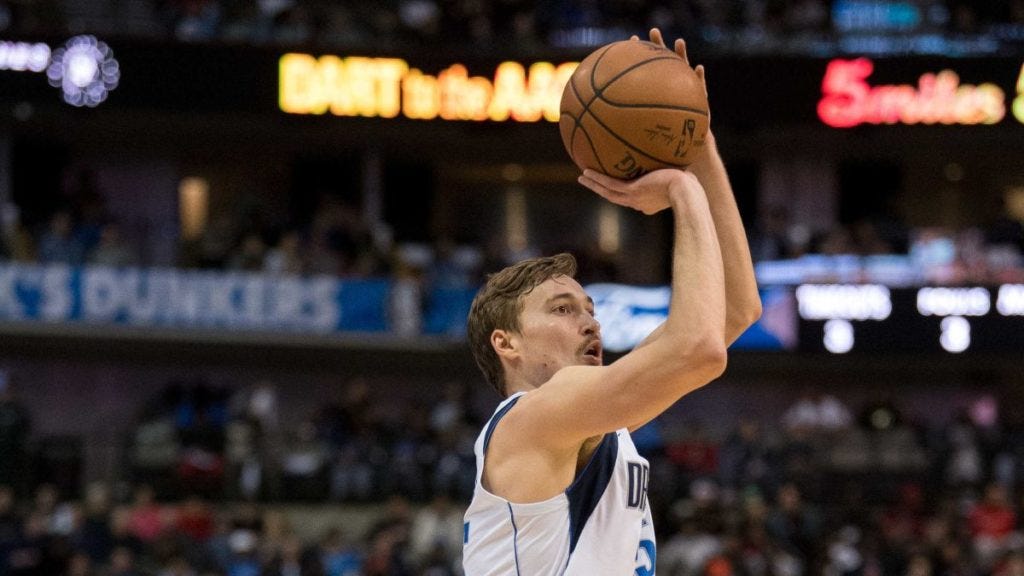 Ryan Broekhoff's NBA career so far, has been criminally short. 59 career games --with just one start-- is way too few for 6'6″ wing who shoots just over 40% from behind the arc.
Not to mention his proven ability to shut down the likes of James Harden.
"It's one I'm definitely showing the kids," he says. "This is how it was back then, guarding the best players and blocking shots."
Count me in as one of the many Dallas Mavericks fans who lamented his departure.
In a recent chat with Jarrad Grant on Mic on the Mic, Broekhoff detailed how the night he got waived played out.
"It was a game day, and I felt like there was a chance for me to get on [the court] that night - I'd been playing a bit the few games before, and I think we had an injury or two."
Unfortunately, that didn't come to pass, as he logged another DNP-CD, and the worst was yet to come.
"As I was about to leave the arena, GM [Donnie Nelson] pulled me aside for a chat. We went to the coach's office and coach [Rick Carlisle] was there as well. They said that they were going to let me go, thanking me for my time and that they appreciated the effort that I'd put in."
From expecting to play and not getting a minute, to now being told he was out of a job, you can only imagine how he was feeling at the time. And there was still another twist in the emotion rollercoaster - but, this time, one that provided some perspective. Walking out of the meeting feeling down, Mavs staffers came up to Broekhoff asking him to speak with a Make-A-Wish kid.
"He had cancer. I thought to myself, it's just a job I lost, that's all. This kid is fighting for his life. I had a chat with him and that calmed me down a little bit."
He left the arena with his wife and mother, and they could tell then that something was up, but he refrained from saying what had happened till they were about to get in the car. "If I tell [my mum now] she's gonna run back and start swinging at people," he recalls, with a laugh.
Taking the long way home, Broekhoff took the time to collect himself and to try to figure out what was going to happen next.
"Yeah, it was a tough moment and something I had never experienced before, and I guess over here it's very much part of the business. One day you're good, one day you're gone."
Playing with Dirk and Luka
It wasn't all doom and gloom, though. In his one and a half seasons with the Mavericks, Broekhoff got to experience playing alongside Dallas legend Dirk Nowitzki in his 21st and final season, as well as witness the dawn of Luka Magic.
"Dirk's awesome. He's just one of those guys that everyone looked up to. He stayed really level headed and down to earth, and welcomed everyone from the first day. We had a couple shooting competitions and I definitely won those so make sure to make a note of that. I think he owes me some money for it too."
Broekhoff remarked on how surreal it was to go to opposition arenas and hear fans cheer for Nowitzki. "It was something that I'd never experienced before, to be able to travel everywhere and have opposition teams' fans cheering for us - well, Dirk - during the game."
"I wish we'd had a better season, winning-wise, but he got to go out on his own terms."
On Luka Dončić, Broekhoff says that he's "something else."
"He was 19 when he came into the league - this kid comes in and takes over the NBA. He makes the game pretty easy for everyone else. It's special to see."
"We had a pretty good connection - he would drive, and everyone would get to him, he'd find me and I'd hit a couple threes."
Looking ahead
Broekhoff intends to head back to Australia in a few weeks' time, presumably once the lockdown measures ease up a little, to see friends and family. He still harbours hopes of being picked up by an NBA team in time for the playoffs (if they even take place), but as with almost everything in the world in this uncertain time, it's still all up in the air.
"At this point, we're just waiting and seeing," he says. "Most of the leagues over in Europe are on hold at the moment, the NBA is on hold at the moment, no one exactly knows when things will start up again for this season, or even for next season. So we're playing the waiting game and keeping all options open."
He does hope that he'll be able to stay in the NBA, and guess what: we do too.
---
Broekhoff also chatted with Jarrad Grant on the episode about his basketball journey, including the Valparaiso days, his seasons in Europe prior to the NBA stint and more.
Mic on the Mic can be found on their official Facebook page, Spotify and more.