Round 13 NBL award leaders: Bryce Cotton is ridiculous
Round 13 of the NBL 2019/20 season was headlined by a battle for the ages in Sydney, as the MVP race was seemingly played out in front of our eyes. Casper Ware and Bryce Cotton put on a show, with Cotton's Wildcats ultimately prevailing on the back of his 39 points. Single games don't define a season, but it's hard to watch Cotton at his best and argue that he isn't the best in the league.
That doesn't mean the door is shut, though. Ware fought bravely with 33 points of his own, and a host of other stars continued to shine just as brightly. With plenty of upsets and the ladder in flux, it's hard to remember a more intriguing season of NBL basketball than this as we head into 2020.
MVP: Bryce Cotton
Vs SYD: 39 PTS, 4 REB, 3 AST, 2 STL, 13-24 FG, 8-13 3PT
Vs ADE: 22 PTS, 5 REB, 4 AST, 4 STL, 8-21 FG
Per-game stats: 21.9 PTS, 4 REB, 3.7 AST, 1.7 STL, 43.2% FG, 39.9% 3PT
https://www.youtube.com/watch?v=I27l0zKMWX8&t=10s
Bryce Cotton is ridiculous.
It's tempting to leave it at that and move on, because it's hard to describe just how good Cotton is in games like the one he had against the Sydney Kings. When he's hitting shots from deep he's almost unstoppable-- when defenders close out too hard, he's past them in an instant with an array of ball fakes and hesitation dribbles. It's that in-between game that lifts Cotton to another level, above the plethora of superstar guards that the league currently has.
Locked in a head-to-head battle with Casper Ware, he continued to lift as the moment grew. A 14 point first half was fine, particularly as his side hung in against the ladder leaders on the road, but he wasn't content to be "fine". It all came to a head in a stunning final term, a quarter that sums up Cotton's brilliance as well as any one stretch can. With the game still in the balance until the final minute, he scored 18 points including seven in the last minute to ice the contest and draw the Wildcats level on the top of the table. As always, they weren't easy shots; stepback threes, contested floaters and tough layups have become staples of his game.
The New Year's Day loss to the Adelaide 36ers was a little more underwhelming, as the Wildcats missed their chance to overtake the Kings and move into top spot. Cotton's game mirrored that of his team-- he had 17 points combined in the first and fourth quarters, but just five points in between as Adelaide built a huge lead. A late run wasn't enough to steal the game, but Cotton was still his team's best once again.
MVP honourable mentions
Casper Ware
Vs PER: 33 PTS, 1 AST, 10-22 FG, 6-14 3PT
Vs ILL: 8 PTS, 5 REB, 4 AST, 1 STL, 3-15 FG
Per-game stats: 20.8 PTS, 2.8 REB, 3.8 AST, 39.2% FG, 29.7% 3PT
https://www.youtube.com/watch?v=k9iA_2qDZvU
It was another rotten round for the Kings, and they are now 2-5 in their last seven games. On an individual level, Casper Ware had more of a mixed bag, as he was excellent in his dual with Cotton but barely sighted in the shock loss to the Hawks.
That second loss was his first game shooting under 40% since early December, which shows just how much his season shooting numbers are dragged down by his slow start. During the early weeks of the season, the Kings were winning despite his struggles; now, they're stuck in a slide despite his improvements.
Even in his strong showing against the Perth Wildcats, he stalled as Cotton went into another gear. As the Perth superstar caught fire late, Ware missed four of his last five shots as the game slipped away. That shouldn't take away from what was still a brilliant performance, but his week would look a whole lot different if they had pulled the win off.
Scott Machado
Vs MEL: 20 PTS, 6 REB, 5 AST, 2 STL, 7-16 FG
Vs SEM: 29 PTS, 2 REB, 8 AST, 1 STL, 11-18 FG, 5-7 3PT
Per-game stats: 16.1 PTS, 3.3 REB, 8.5 AST, 1.4 STL, 43.6% FG, 40.9% 3PT
https://www.youtube.com/watch?v=vGlOMLSEHC8
This is not the Scott Machado we expected to see in the NBL. From all previous reports, it's a version that's never been sighted at the top level. Machado has always been an elite passer, but round 13 showed his capability as a go-to scorer.
His 49 points across the two games mostly came off the dribble, as he attacked defenders that seemed happy to let him shoot. The scouting report would surely say to stifle his playmaking for others; he took that scouting report and made it look foolish. With seven made threes across the round and a 40.9% clip from deep on the season, it's safe to say that concerns around his shooting weren't well founded. When defenders start to close out harder, he has the shifty handle and soft touch to finish around the defence at the rim.
Opposing teams are now forced to pick their poison with Machado, and with the complementary players in the Cairns Taipans improving every week, that's fast becoming a lose-lose proposition. The Taipans are suddenly sitting one win clear in the top four, and that wouldn't be possible without his constant improvement.
Mitch Creek
Vs ILL: 25 PTS, 5 REB, 2 AST, 1 STL, 1 BLK, 9-14 FG, 3-4 3PT
Vs CAI: 16 PTS, 7 REB, 5 AST, 2 STL, 6-18 FG
Per-game stats: 22.2 PTS, 7.3 REB, 3.7 AST, 1.2 STL, 50.2% FG, 37.1% 3PT
https://www.youtube.com/watch?v=pPGBqhovgL4
For the second straight week, Mitch Creek was impressive in a South East Melbourne Phoenix win and a little shakier in a tough loss. It's hard to get a read on the team as a whole as they continue to hover just below .500, but it feels like Creek still deserves plenty of leeway as the good continues to outweigh the bad. After all, when a 16-7-5 statline feels like a "down" game, that says a lot about the quality of the player.
Despite strong showings from John Roberson and Tai Wesley, there's no doubting that Creek was the match winner against the Illawarra Hawks. With the game tied at 58-58 at half time, Creek was unstoppable in the third as his side built the ten point lead they would finish with. He scored eight points in a minute early, and finished the term with 18 of his 25 total points.
That scoring dried up against the Taipans, as he shot 6-18 from the field and 1-6 from deep in a much tougher outing. The Phoenix still managed to stay in the game, though, even with a 3-16 night from Wesley and some concerning defensive issues on the perimeter. That was largely due to Creeks efforts in other areas, and even when his scoring is down his well-rounded game generally remains effective.
Scotty Hopson
Vs BRI: 27 PTS, 6 REB, 4 AST, 2 STL, 1 BLK, 8-17 FG, 2-4 3PT
Vs ADE: 31 PTS, 7 REB, 3 AST, 1 STL, 1 BLK, 12-20 FG, 3-7 3PT
Per-game stats: 18.8 PTS, 6.3 REB, 3.5 AST, 0.9 STL, 49.1% FG, 40.5% 3PT
Since returning from a knee injury suffered in late October, Scotty Hopson has played six games. In those six games, the New Zealand Breakers are 5-1. Coincidence? Not a chance.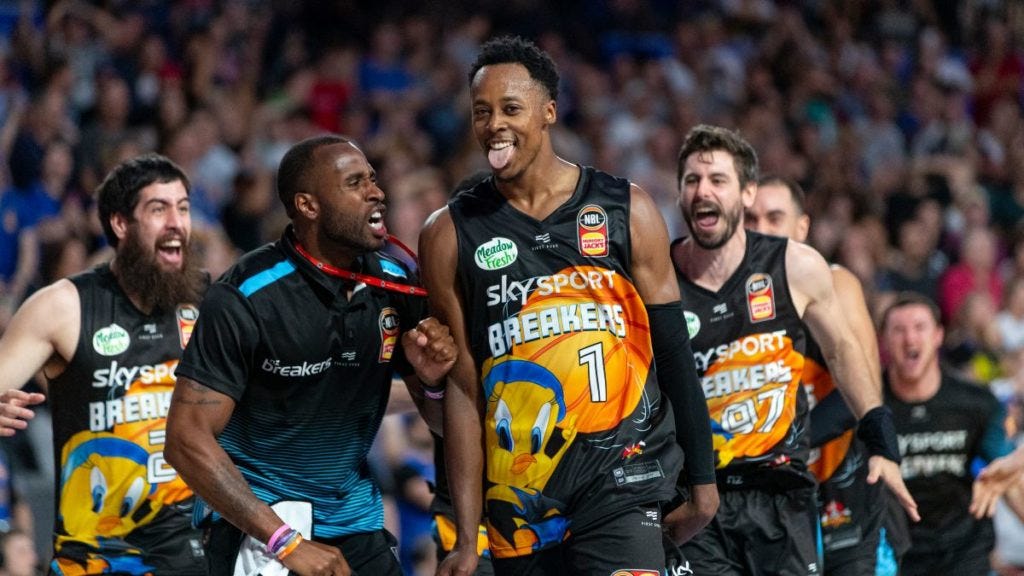 Credit: Russell Freeman Photography
Hopson's return has reinvigorated a Breakers team that looked set to totally crumble. Glen Rice came and went, RJ Hampton picked up and injury and Corey Webster was shipped to China on loan. He hasn't been the sole reason for that renaissance, but Hopson has been close to the best player in the league over the last few weeks. Averaging 25.8 points per game over the Breakers' current four-game winning streak, he's also dropped game-winners against the Hawks and the Bullets. With Sek Henry now running the point, Rob Loe and Finn Delany at 100% fitness and, most importantly, Hopson back leading the way, New Zealand could genuinely make a run at a top-four spot.
Rookie of the Year: LaMelo Ball
Per-game stats: 17 PTS, 7.5 REB, 7 AST, 1.7 STL, 37.3% FG, 24.4% 3PT
Did not play in round 12 (foot injury).
Rookie of the Year honourable mentions
Kouat Noi
Per-game stats: 11.4 PTS, 6.8 REB, 1 AST, 42.9% FG, 34.8% 3PT
Did not play in round 12 (ankle injury).
RJ Hampton
Per-game stats: 9.5 PTS, 4.2 REB, 2.5 AST, 1.2 STL, 42.2% FG, 32.4% 3PT
Did not play in round 12 (hip injury).
Most Improved Player: Dane Pineau
Vs ILL: 3 PTS, 4 REB, 1 STL, 1 BLK
Vs CAI: 10 PTS, 9 REB, 2 STL, 1 BLK, 4-6 FG
Per-game stats: 7.8 PTS, 7.3 REB, 1 AST, 1 STL, 1.1 BLK, 66.3% FG
Among South East Melbourne's recent spotty form, it's become harder and harder to evaluate Dane Pineau's contributions. He's generally judged by his impact on the team's defence, but he's now the anchor of a team with a league-worst defensive rating of 121.4 points per 100 possessions. The Phoenix have also given up more than 100 points in five of their last seven games, and they're 2-5 over that time.
Ultimately, though, it feels harsh to place too much blame on Pineau's shoulders. His team have been consistently torched by opposition guards, as the undersized point guard rotation of John Roberson and Kyle Adnam has struggled to contain the likes of Scott Machado (29 PTS in round 13). As opposing teams target those players, Pineau is often forced to defend a high number of pick-and-rolls which sees him stuck on the perimeter rather than protecting the rim.
In terms of individual contributions, he has been as consistent as ever. He's third in the league in field goal percentage (min. 20 attempts), and his touch around the rim seems to be improving every game. He's inside the top ten for blocked shots and second in offensive rebounds, and he sits alongside Shawn Long as the only players averaging more than one steal and one block per game.
Most Improved Player honourable mentions
Will Magnay
Vs NZ: 7 PTS, 8 REB, 4 BLK
Vs MEL: 2 PTS, 3 REB, 2 AST, 1 STL, 2 BLK
Per-game stats: 7.7 PTS, 5.2 REB, 1.1 AST, 1.4 BLK, 46.2% FG
His wasn't able to repeat his offensive outburst from round 12, but Will Magnay continues to block shots at a remarkable rate. Now entrenched in the Bullets starting lineup alongside Matt Hodgson, the young gun swatted six shots over their two games and continued to build an impressive defensive highlight reel.
As well as sitting fifth in the league in blocked shots per game, Magnay is also first in block percentage (min. 80 minutes) and fourth in blocks per 36 minutes, per Spatial Jam. High-scoring games are an added bonus, but Magnay's bread and butter is his ability to protect the rim. As long as he can continue to do that, he should hold his place in the Bullets rotation and in award contention.
Sunday Dech
Vs SEM: 20 PTS, 6 REB, 8-16 FG, 3-7 3PT
Vs SYD: 3 PTS, 4 REB, 2 STL, 1-5 FG
Per-game stats: 8.1 PTS, 3.6 REB, 1.4 AST, 0.9 STL, 38.5% FG, 31.8% 3PT
The hot-and-cold scoring of Sunday Dech continued in round 13, but even on his quieter night he put in a mature performance against the Kings. Three points marked his lowest total since moving into Illawarra's starting lineup, but he took just five shots and didn't force the action. On the other end, he played a huge role in holding Sydney star Casper Ware to just eight points on 3-15 shooting.
In the earlier game against the Phoenix, Dech showed his full offensive arsenal and topped 20 points for just the second time this season. Both off the catch from Emmett Naar's pinpoint passes and off the dribble, he scored from all three levels and showed plenty of well earned confidence. Even when he misfires he never quits on the play, and he often seems to find second chance opportunities from his own missed shots. That energy and effort is a constant, and it's why he is still a valuable player even in his quieter moments.
Emmett Naar
Vs SEM: 11 PTS, 2 REB, 6 AST, 2 STL, 5-9 FG
Vs SYD: 16 PTS, 3 REB, 8 AST, 2 STL, 6-12 FG, 1-1 3PT
Per-game stats: 5.8 PTS, 1.3 REB, 3.4 AST, 51.9% FG, 44% 3PT
https://twitter.com/NBL/status/1211928302677446657
With the path to consistent minutes cleared, Emmett Naar has been thriving in an expanded role. What looked like a doom-and-gloom scenario for Illawarra, with LaMelo Ball and Aaron Brooks injured, has turned into what could be the birth of a future star of the NBL.
With a pass-first point guard like Naar, the performance of his team tells as much or more than his individual numbers. Since Ball's injury at the end of November, the Hawks have beaten the ladder-leading Kings and the 36ers, along with a handful of competitive losses. The win over Sydney was Josh Boone's best game for the club, while Todd Blanchfield has looked more like his old self in recent weeks. There's no denying that Naar's emergence has played a part in all of those developments.
It was clear during his time at Saint Mary's that he was an excellent playmaker, but his patience and precision when running the offence is impressive for such a young player. Over the past five games he's averaged 13.4 points, 6.8 assists and just 1.8 turnovers per game, while shooting 62.2% from the field and 75% from three. Those numbers aren't necessarily sustainable, but what is sustainable is the impact Naar has had on his teammates and the winning habits they are starting to develop.
Best Sixth Man: Eric Griffin
Vs NZ: 12 PTS, 6 REB, 2 BLK, 4-10 FG
Vs PER: 24 PTS, 6 REB, 2 AST, 2 BLK, 9-15 FG, 2-3 3PT
Per-game stats: 15.4 PTS, 6.7 REB, 1.3 AST, 0.8 STL, 1.4 BLK, 55.2% FG, 36.8% 3PT
https://www.youtube.com/watch?v=Lt25_aiVV_4
It may not have been his biggest game stats-wise, but Eric Griffin had his most impactful game as a 36er against Perth. As skills continue to blossom with every passing week, he looks more and more like Adelaide's most important player as they fight for a finals berth.
His all-around scoring game has been the biggest development, and against the Wildcats it looked more complete than we had previously seen. With the confidence and ability to attack off the dribble and spot up from three, Griffin is more than just the lob threat that he seemed limited to being in the early rounds. Defensively, he's always had the tools to be among the league's elite, but he's starting to show that ability more and more consistently. One play against Perth highlighted his value; switched onto the dynamic Bryce Cotton, he was able to slide his feet and stay close enough to effect the shot with his length. The result? A rare airball from the former MVP.
He was quieter in a loss to New Zealand, but still had an impact on both ends. A pair of buckets at the end of the first quarter kept the Breakers from pulling away early, but he couldn't find a groove like he had later in the round. Overall, though, it was another impressive outing for the league's best reserve.
Best Sixth Man honourable mentions
Jason Cadee
Vs NZ: 5 PTS, 3 AST, 1-1 3PT
Vs MEL: 21 PTS, 2 AST, 7-11 FG, 6-9 3PT
Per-game stats: 11.5 PTS, 2 REB, 2.3 AST, 44.7% FG, 44.4% 3PT
https://www.youtube.com/watch?v=BeuklTl1o_0
Jason Cadee's biggest asset this season has been his flexibility, and round 13 showed that perfectly. Even on his quieter nights, such as Brisbane's first game of the round against New Zealand, he plays largely mistake-free basketball by playing within himself and making smart decisions. In that game, he made his only field goal attempt and didn't commit a turnover. He was limited by three early fouls, though, and played just 15 minutes.
Compare that to Sunday's win over Melbourne, where Cadee was gunning from start to finish en route to his highest scoring game of the season. It was as good a display of perimeter shooting as you'll see in the NBL, with plenty of his six triples shot with a hand in his face. In the space of 1 minute and 39 seconds in the second quarter, he poured in 11 points to single-handedly drag Brisbane into the lead. It's that ability to catch fire at a moments notice that lifts Cadee a notch above most of the league's other reserves.