Discover more from The Pick and Roll
We're all about Aussie hoops. Independent, objective analysis and commentary. Insightful narratives built around Australian basketball. Read about our men and women in the NBA, WNBA, NCAA, Europe, national teams, NBL, WNBL, NBL1, prospects and more.
Over 2,000 subscribers
Rosanna Jennings overcomes adversity in committing with Dartmouth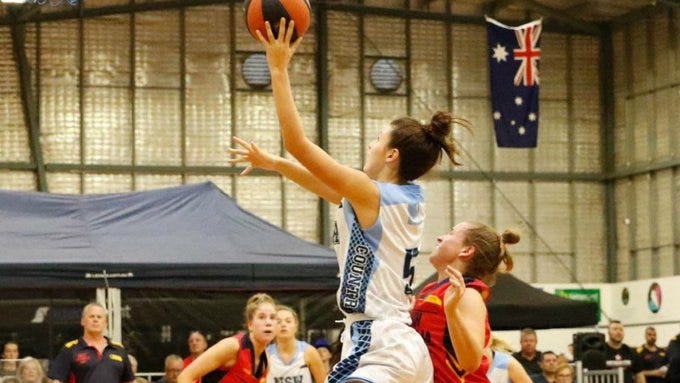 Source: Supplied
---
Having successfully overcome injury, talented forward Rosanna Jennings has announced her commitment to Ivy League school Dartmouth.
A 6'1 versatile forward that likes to play physical, Newcastle product Jennings will join fellow Australian Allie Harland in Hanover, New Hampshire to increase the presence from down under at the Big Green.
Jennings not only had to overcome injury in securing a scholarship with the Big Green, but also the adversity posed in missing out on both the 2019 and 2020 Australian national championships with New South Wales Country. Her absence from the court meant she had little opportunity to showcase her talent to prospective schools, and very little game tape to provide either.
"I think my recruiting process was quite unique compared to others in that I was attempting to sell myself to colleges amidst a season-ending ACL injury," outlined Jennings in explaining her college recruitment challenges. "I struggled to compile recent footage of myself playing, and I live in a family who were completely oblivious of the US college basketball path.
Jennings credits the help and support of good friend Isabel Palmer (Texas) for helping provide some advice and support which ultimately led to her to getting in touch with Basketball Australia Pathways to assist with her recruitment.
"In October 2019, the college route was seeming pretty hopeless – I still had no footage, was about to sit the HSC (final year of high school) and was not going to be cleared to resume playing until February 2020. I was lucky enough to have Issy [Isabel] Palmer compile a highlight mix for me and refer me to Darren Smith from Basketball Australia Pathways. From there, I think 'rushed' is an understatement [in describing my recruitment], but things definitely started to pick up. I was fortunate enough to have numerous schools reach out to me and I was beyond relieved… my mum cried when I got my first contact!"
Jennings spoke with a number of schools and coaches, but only one stood out for her, making it an easy decision on where she was going.
"After my first call with the Dartmouth College coaching staff, it was clear to me that they had sparked my interest over any other school. Coach Belle and her assistants recruited me hard and really made me feel valued. On top of that, attending an Ivy League school had always been an aspiration of mine since I was a kid.
"On my visit, the Dartmouth community welcomed me with open arms; it really felt like a second home, and more importantly, a second family. I am so excited to be attending Dartmouth College in the 'fall' and hope that I can serve as an example to other young Aussies who wish to play basketball at the collegiate level. No matter how hopeless their circumstances seem, so get in touch with the team at BA Pathways today!"
Basketball Australia Pathways CEO Darren Smith was pleased to be able to help someone like Jennings whose family had little to no awareness of the opportunities available to combine studies and playing basketball at an elite level in US College. He suggested that Jennings may well be able to help her school on the court from day one.
"Rosanna is a great fit for a quality school like Dartmouth," explained Smith. "She is a focused multi-skilled athlete who has size and grit and just gets it done when you need it. She's a super reliable player who leads with her work ethic.
"At 6'1, Rosanna plays a very physical style of basketball and can play effectively from both the post and wing positions. She could have an immediate impact in the Ivy League."
Dartmouth finished the season with a 10-17 overall record and with 4 wins in the Ivy League before placing sixth. They will be hoping the additional of a second Australian will hope emulate the success of other programs who have garnered great success in tapping the talent pipeline down under.