Roar of Redemption: The story of the 1997 NBL Melbourne Tigers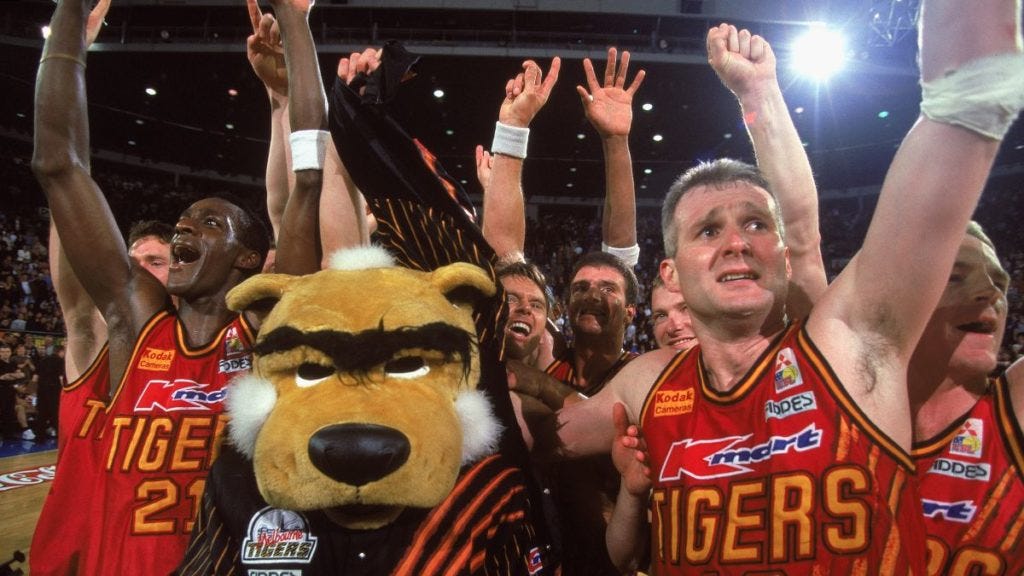 Credit: Getty Images / Staff
---
Look through the NBL record books, and you'll find the Melbourne Tigers next to the year 1997. That season was their second championship in five years, and evidence to them being one of --if not the-- dominant team of the 90s.
It wasn't all that simple, and it did not look like it was going to play out that way in the early '97 season, when they slipped to a 3-9 record.
"You could have written your own ticket on us winning the championship at 3-9," Andrew Gaze shared, when I spoke to him about that famous year.
"In fact, you would have got pretty good odds on us just making the playoffs."
But like most great sporting stories --which is probably why it sounds so cliché-- a brilliant ending needs one hell of a journey. There were plenty of moving parts, and lots of luck, some of which, interestingly involved current Philadelphia 76ers head coach Brett Brown. But eventually, it resulted in the Tigers being crowned champions of the NBL.
The Fall
Melbourne entered the 1997 NBL season, having finished runners-up to their crosstown rivals the year before. What stung most about that '96 Grand Final series, was the blowout loss they were handed in the deciding Game 3.
"I remember, it was almost like we went down meekly in the last game and we surrendered. We were that far down," said Giddey.
The result of the loss was management deciding that they needed to pivot, which saw the Tigers part ways with long-time import Dave Simmons - some of you might know him today as the father of Australia's first NBA All-Star, Ben Simmons. The power forward had joined the side back in 1989, helping them to their maiden championship in 1993 and building a culture that led Melbourne to being one of the premier sides in the competition.
But as Andrew Gaze explained, the decision was purely basketball.
"I remember it was one of the toughest decisions that the administration --and in particular my dad-- had to make because Dave Simmons had been with us for a long time and was part of the transformation of the club.
"But it was felt that to get to the next stage, we needed a bit more of an outside presence as well, and it was not actually a blight on Dave or where he was at. It was more of just a personnel decision, based on what the missing pieces were."
The Tigers went on and signed Jarvis Lang, who had never played in the NBL, but at 6'7", was the athletic wing player the team thought they needed. The season began poorly for the eventual champions, and there were a number of contributing factors. Lang was a good player when he was on the floor but was battling knee problems, which limited his playing time. Meanwhile, star centre Mark Bradtke ("Hoges") had been in the United States spending time with the 76ers.
Eventually, the Tigers did welcome Bradtke back, but even that didn't go to plan. A victory over the Adelaide 36ers in his first game was stripped from the team, due to the proper paperwork not being lodged for his clearance.
"That was another reason that we felt that the world was against us. We got a win but it still got taken away," said Gaze.
At 3-9, '97 looked like a lost cause for the Tigers, and the blame was seemingly pointed at head coach Lindsay Gaze. According to Copeland, the playing group knew who was really at fault.
"We sat down and talked about it. It was unfair, Lindsay didn't have anything to do with us being poor," Copeland explained.
"Lindsay is the kind of coach who will do all his coaching in training, but he would lay back and let you play your game. 100% it wasn't Lindsay, it was us, and we knew that and that's why everyone galvanised and got themselves together."
It was a sentiment that Warrick Giddey echoed, along with an insight into how much attention the man in charge gave those critics.
"We just sucked. We couldn't buy a break, we lost a couple of close ones, and then they wanted to come out and sack Lindsay," he said.
"The only good thing about that was that they weren't calling for our heads, which they probably should have been," Giddey laughed. "But Lindsay was great. He was happy to take any criticism; it was water off a duck's back for blokes like Lindsay."
Although the eventual turn around cannot be boiled down to just one thing, the signing of Marcus Timmons was clearly crucial. Remarkably, it only happened thanks to a chance sighting in a hotel lobby.
The Missing Piece
Some events are luck, and some just happenstance, but by the end of the season it appeared as though the signing of Marcus Timmons was just meant to be.
With Jarvis Lang's knee problems causing too many headaches for the Tigers, they were on the lookout for a new import. Considering how they were floundering in the bottom half of the NBL table, they needed to act quickly.
Enter Brett Brown.
"I was and still am very good friends with Brett Brown, and he was actually coaching the North Melbourne Giants," Andrew Gaze told me.
"At the time we had decided to find a replacement for Jarvis, and [Brown] called me up, they were actually playing a game in Illawarra, and we were just having a chat, just as mates.
"They'd just finished a game and he said, 'I've just been in the lobby at the hotel and Marcus Timmons has just walked by, and if you're looking for someone quick at least you know he is in the country'."
Timmons wasn't just any import. In 1996 he averaged 21.9 points per game, was third in the league for rebounding with 12.3 boards per game, a number that was better than Bradtke's, and also was ranked inside the top 10 in the league for average steals.
"Brett knew talent when he saw it," said Giddey. "The Hawks wanted to run his life and they couldn't so they booted him out, he was probably one of the greatest imports to come into the league off those one year statistics, but the coach didn't want him, and we were the beneficiaries as it turned out."
After one trial practice session, the Tigers signed Timmons and everything began to click. He was without a doubt, the missing piece to their early season puzzle. With him fitting into the system, they started to look like the Melbourne side that had been to three of the last five Grand Finals.
"We got him in there and he made the difference. He was that missing link," explained Copeland.
"Andrew and myself did a lot of the heavy lifting when it came to scoring, Bradtke was a rebounder who could score, but everyone else [were] role players.
"But Marcus could do it all. He could rebound, he could bring the ball down the court, he could shoot from outside, he could defend better than anyone we had on the team."
From 3-9 the Tigers went on to end the regular season with a stunning 19-11 record, placed second behind the South East Melbourne Magic. They would enter the playoffs on an incredible 13-game winning streak.
They extended that streak to 15 games against North Melbourne in the semis, ironically sweeping the team that was coached by the man who helped them find their missing piece.
The Magic did their part against Perth, which meant a Grand Final rematch was on the cards.
Revenge and The Hidden MVP
Revenge in sports is a funny thing. Let's be honest, with teams and players these days having so much history, a revenge storyline can be found just about anywhere.
For the 1997 Tigers, revenge fuelled some, but not all.
Lanard Copeland looked at it in his own fashion.
"Absolutely [revenge was on the mind]. They were the champs, they had beaten us, and there was no messing round, when we got there we knew we had to go at them."
Meanwhile, Warrick Giddey had a different mindset.
"It definitely wasn't [on the mind]. Revenge isn't the right word, it was probably making up for what had happened the year before."
Either way, the Tigers seemed to have a point to prove in Game 1 of the Grand Final series, blasting the Magic off the court to the tune of 37 points.
South East Melbourne coach Brian Goorjian swung some changes ahead of Game 2, and they paid off, resulting in a much more physical game which the Magic won. It meant it all came down to a Game 3 to decide the champion of 1997.
It seemed only fitting that these two teams were going to a deciding game yet again as they fit the perfect storybook rivalry. The Tigers were a free-flowing offensive team that loved to entertain and were led by a relatively relaxed and laid back legend of the game in Lindsay Gaze. The Magic, on the other hand, personified the villains. Dressed in black, they played hard and mean and had a charismatic leader in Brian Goorjian.
"They were the black cats and we were the white knights by design," Gaze explained.
"They were the men in black, that was their narrative that internally they were promoting, and that was their signature. It was the drawcard of these games, not just because it was a cross-town rivalry, but it was the way in which both teams were presenting themselves."
The sides were evenly matched through the opening term of Game 3, but an excellent run from the Tigers in the second quarter set them apart. They didn't look back from there, claiming the win 93-83 and their second championship in history.
Lanard Copeland was awarded the Grand Final MVP for his sensational play, but it was one of the lesser-known Melbourne players that proved to be the X-factor.
In Game 3, Warrick Giddey recorded zero points, four rebounds, three assists and one block, and if you hadn't seen the game you'd probably question why he even bothered showing up. But Giddey was a different breed of player and did everything that didn't show up on the stat sheet.
There were three crucial plays from the Tigers legend in the decider, and they are the ones that stick in the memory years later.
Firstly a hard foul on Sam McKinnon, which broke the Magic star's nose.
"I remember the Sam McKinnon one, I've got vivid memories of that," said Giddey.
"I was watching him and he was kind of looking for someone to pick him up and I was looking at my teammates saying someone grab him and nobody was and then he started picking up speed and so I started racing down the right sideline and just started coming along under the baseline because I knew exactly what he was going to do, so I was like 'okay I'm going to meet him at the rim'."
The second was a huge block on Frank Drmic.
"I couldn't script it any better. It was one of those moments that if you tried ten of those through the year, you'd only get one or two and that one was absolutely perfect."
And finally a mid-court screen on Defensive Player of the Year Mike Kelly, that rocked him into another stratosphere.
"I was quite critical of Drewy, 'cause he was always too nice," Giddey explained.
"He'd run up to the screens and then he wouldn't use me. He'd go around me and it was like he felt almost sorry for the defence, but this time I saw Drewy change direction and he accelerated when he saw the screen set and it was perfect timing."
He may not have been given the praise he deserved from the rest of the basketball world, but his teammates knew how important he was.
"Warrick was very much the heart and soul of the team. He personifies blue collar," said Andrew Gaze.
And he wasn't the only one to show love to Wazza.
"Warrick Giddey was the glue for us for the whole year," Lanard Copeland told me. "He is the most unselfish basketball player I've played with in my entire life and I've played with a lot of guys."
When I repeated this praise back to Giddey himself, he played it off in typical fashion and also had a laugh at the expense of one of his superstar teammates.
"It's great hearing that from Copes, or any teammate," he said.
"I was probably never that great at [shooting] so I focused on things like defence and passing. I was passing to two of the greatest ever. If you pass it to Michael [Jordan] or LeBron [James], you will look good.
"My big theory was if I'm going to shoot it, there's not much chance it's going to go in and there is going to be absolutely no chance that Andrew Gaze will get the offensive rebound. But if he shoots it there is way, way more chance of it going in, and if it misses - way more chance of me getting the offensive rebound."
One of a Kind
So a championship that was predicted by many prior to the season, and then could not have looked further away, somehow came to fruition. In doing so, the 1997 Tigers cemented themselves as one of the great teams and arguably the best comeback story in NBL history. Their fast-paced and high-scoring style of play was a standout of the 90s, an era of popularity that is only being matched now.
"The biggest takeaway from it was the overcoming of adversity and the belief," Andrew Gaze said.
"To give up a 3-9 start and to have to deal with losing an iconic figure like Dave Simmons, having to make an import replacement at the start of the season all those things make for really challenging circumstances.
"The scrutiny, the media calling for people to be sacked, and then to play your way through it and have success is something really special."
The '97 Melbourne Tigers were an incredible team. One that went through a stunning journey of redemption, and came out the other side of it as champions.
Special thanks to Andrew Gaze, Lanard Copeland, and Warrick Giddey for taking time to reminisce about the 1997 Melbourne Tigers' season.