Discover more from The Pick and Roll
We're all about Aussie hoops. Independent, objective analysis and commentary. Insightful narratives built around Australian basketball. Read about our men and women in the NBA, WNBA, NCAA, Europe, national teams, NBL, WNBL, NBL1, prospects and more.
Over 2,000 subscribers
Rising Stars in US High School: Thon Maker to Canada, Kouat Noi to attend Montverde Academy
We've reached the end of the summer. That means no more AAU circuits as it's time for the academic year to begin. With the start of a new term, a number of Australians are making headlines - no more than Thon Maker, who's made the decision to head north of the border. We also see another one of Australia's top prospects make their way over to the US to play high school basketball as Kouat Noi has decided to transfer to Montverde Academy.
---
Thon Maker | Athlete Institute | Class of 2016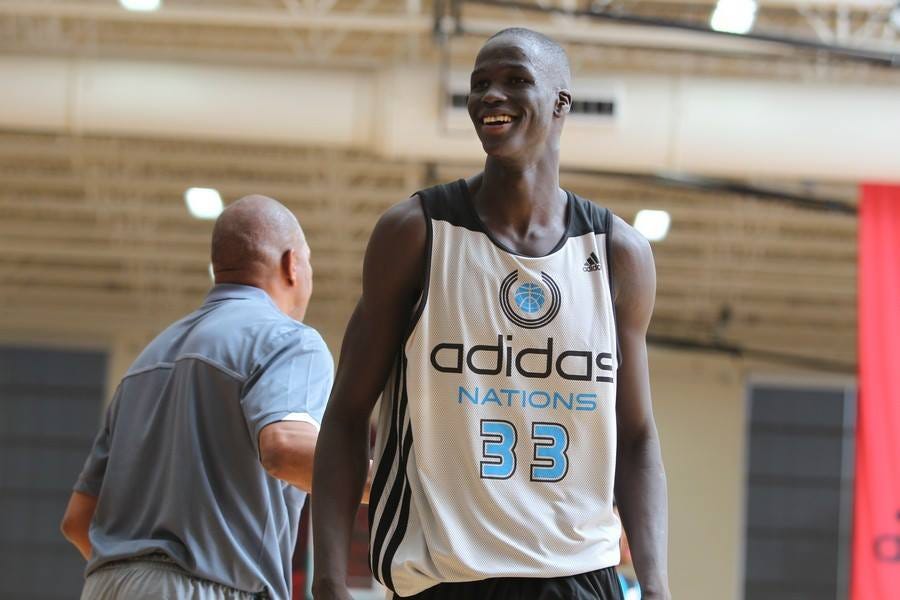 Thon Maker | Credit: adidas
Thon Maker, the 7'1 centre out of Sudan, by way of Sydney, Australia, has withdrawn from Carlisle School (VA) and will attend Athlete Institute in Ontario, Canada for his junior year. Matur Maker, Thon's younger brother, will also make the move for the beginning of his sophomore year.
The Maker brothers' legal guardian, Ed Smith, explained the move to ESPN.
"After an excellent academic year and state championship season at the Carlisle School, followed by a great AAU season on the Adidas circuit with Team Loaded VA, the common theme for Thon and Matur to optimize their potential has been core strength development with additional muscle gain."
Although the move has been advertised as one where the primary focus is to prepare the Maker brothers physically and academically, there are suspicions that incentives were used to 'lure' the athletes - hence an investigation from the NCAA is expected to take place.
https://twitter.com/australianbball/status/507345480460677120
Ed Smith, who has been the Thon's legal guardian since he was 14, has a less than ideal reputation amongst the Australian basketball community. Many have accused Smith of using Thon as his 'free ride' to a division 1 college coaching position - something that is seemingly coming to fruition as Smith is reportedly becoming an assistant coach at Athlete Institute.
https://twitter.com/GoodmanESPN/status/507340044886351872
For the immense talent that Maker possesses, the stability of his support system has come into question - something that could derail his potential playing future. Athlete Institute will be the Makers' 3rd school in as many years and, with the likelihood of Thon's reclassification to the class of 2015, it may be his last.
Amongst all of drama surrounding Thon Maker's transfer, he has risen to the #1 spot on the updated Rivals 2016 Rankings. Already having been the #1 prospect on ESPN's 2016 Rankings, Thon is now undoubtedly considered the most talented 2016 prospect in all of North American basketball.
I caught up with the guys from The Flag Flyers on SEN America to discuss Thon Maker's situation, as well as some of the other Aussies playing high school basketball in the US. LISTEN to the interview here.
Kouat Noi | Montverde Academy | Class of 2016
Kouat Noi, a key member of the silver medal winning Australian U17 men's squad, will be transferring to Montverde Academy for his junior year.
A number of prep schools in the US had expressed interest in Noi, including Mercersburg Academy, Roxbury Latin and Waldorf. Noi decided on Montverde this past week and will begin his stint there next month.
Noi averaged 9.1 ppg, 4.3 rpg & 1.3 apg on 48% FG as the starting power forward on the Australian U17 men's squad at the FIBA U17 World Championship in Dubai last month. He was a key member of the squad, with his unique skill-set being a key contributor to Australia's impressive run.
He will be joining fellow Aussie, and ESPN's #1 2015 prospect, Ben Simmons. Noi isn't expected to receive significant minutes initially, with the expectation that he will earn his spot in the rotation over time.
Isaac Humphries | La Lumiere School | Class of 2016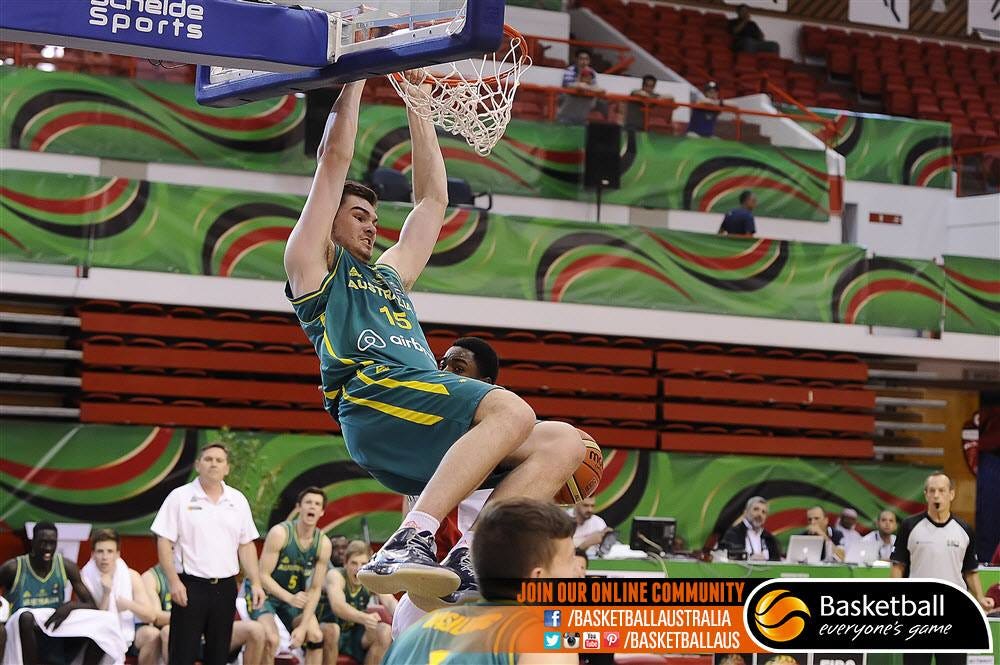 Isaac Humphries | Photo courtesy FIBA - via Basketball Australia
Isaac Humphries, the 7'0 centre out of Sydney, Australia, has seen his recruitment take yet another leap - this time in the form of an offer from the University of Kansas.
Humphries averaged an impressive 18.9 ppg, 11.6 rpg, 1.6 apg & 3.3 bpg on 58% FG & 83% FT at the FIBA U17 World Championship in Dubai last month, en route to an all-tournament team selection.
Although he won't begin his stint at La Lumiere until December, Humphries has been placed on the Rivals 2016 Rankings - already the 27th ranked player in the nation.
The squad at La Lumiere is currently preparing for the upcoming season, with the anticipation of Humphries' arrival later this year a big talking point.
https://twitter.com/JeffRabjohns/status/509104400087121920
Ben Simmons | Montverde Academy (FL) | Class of 2015
Ben Simmons is, without question, the #1 player in all of high school basketball. His senior year at Montverde is coming with much anticipation after his outstanding AAU season, and even Ben can't wait for the season to begin.
https://twitter.com/BenSimmons25/status/507700469998034944
Simmons will wear the No. 20 this season after donning the No. 22 jersey last season.
The team at Home Team Hoops put together a documentary of Simmons' AAU team, E1T1. The feature, entitled "Each 1 Teach 1: Road to Peach Jam" provides an interesting insight into how AAU squads prepare themselves for tournaments, as well as a behind-the-scenes look at what some of the top prospects in the world get up to in their down time.
https://www.youtube.com/watch?v=MX7mflATgSU
Robert Colton | Archbishop Riordan High School (CA) | Class of 2015
Robert Colton has been a borderline junior national player for a few years, having attended a number of Australian development camps and just missing the cut when it comes to the final team selections.
Colton, who is a 6'6 perimeter player out of Canberra, will now be taking his talents to Archbishop Riordan High School in San Fransisco.
Colton told Prep 2 Prep's PrepCat:
"I'm very excited to be at Riordan, it's a great school with a great tradition!"
At this year's U18 Australian Junior Championships, Colton averaged an impressive 22.4 ppg, 8.1 rpg & 1.8 apg on 40% FG and was deadly from 3-point range.
Daniel Mading | The Rock School (FL) | Class of 2017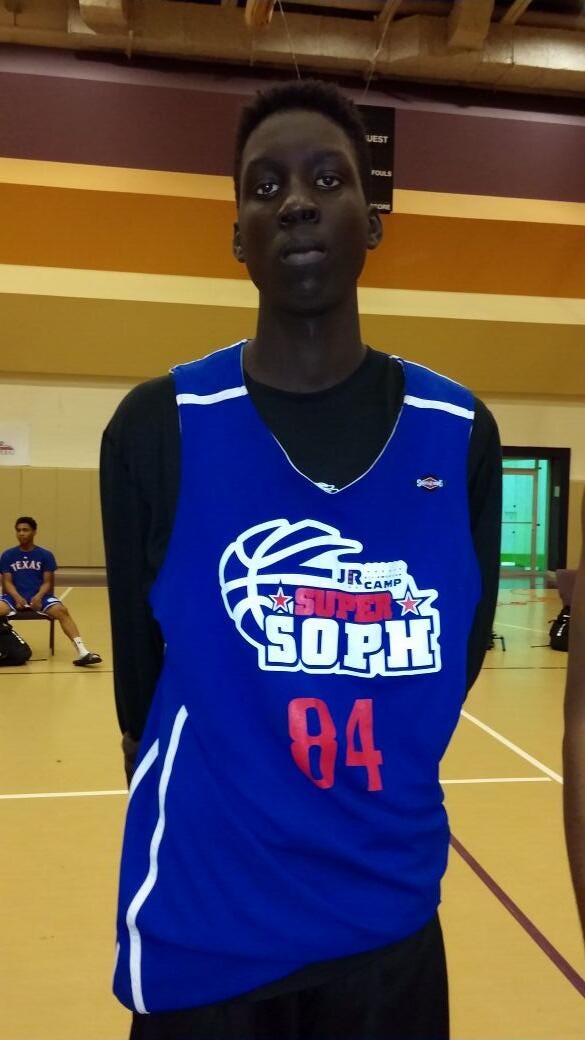 Daniel Mading
Daniel Mading, the 6'9 forward out of Perth, has received offers from Kansas State and LSU. These offers are coming after his impressive showing at the Super Soph Camp and the subsequent AAU circuit as a member of Team Belief.
Mading will be entering his sophomore year at The Rock School in Gainesville, Florida.
Austin Treweek | Logan High School (WV) | Class of 2015
Austin Treweek has had a hectic time moving from school to school, searching for the one that best suits his needs both academically and athletically.
The 6'1 PG out of Melbourne looks to have finally ended his search, deciding to attend Logan High School in Logan, West Virginia for his senior year.