Discover more from The Pick and Roll
We're all about Aussie hoops. Independent, objective analysis and commentary. Insightful narratives built around Australian basketball. Read about our men and women in the NBA, WNBA, NCAA, Europe, national teams, NBL, WNBL, NBL1, prospects and more.
Over 2,000 subscribers
Rising Stars of US High School: Simmons begins senior year with a bang, Humphries arrives at La Lumiere
This season's high school basketball action is well underway and there has already been some amazing performances by some of Australia's best prospects. Ben Simmons capped off a great stretch of basketball with an impressive triple-double, while La Lumiere is expected to lift as Aussie 7-footer Isaac Humphries joins the squad.
Ben Simmons | Credit to Max Preps/Jim Redman
---
Ben Simmons | Montverde Academy | Class of 2015
Ben Simmons continues to show why he's widely regarded as the best high school prospect in the world, capping off an undefeated streak for Montverde Academy with an incredible triple double performance against the nationally ranked Bishop O'Dowd - posting 22 points, 10 rebounds and 10 assists in the 78-64 win, a game that was an ESPN-televised event.
Simmons opened up this high school season by officially signing with LSU, a move that shut-down the speculation that he might forego college and enter the NBA draft as an international prospect.
"We are thrilled to have Ben Simmons and his wonderful family officially join the LSU basketball family," said LSU Head Basketball Coach Johnny Jones. "His talent level, hard work and passion for the game will allow him to make an immediate impact on the program."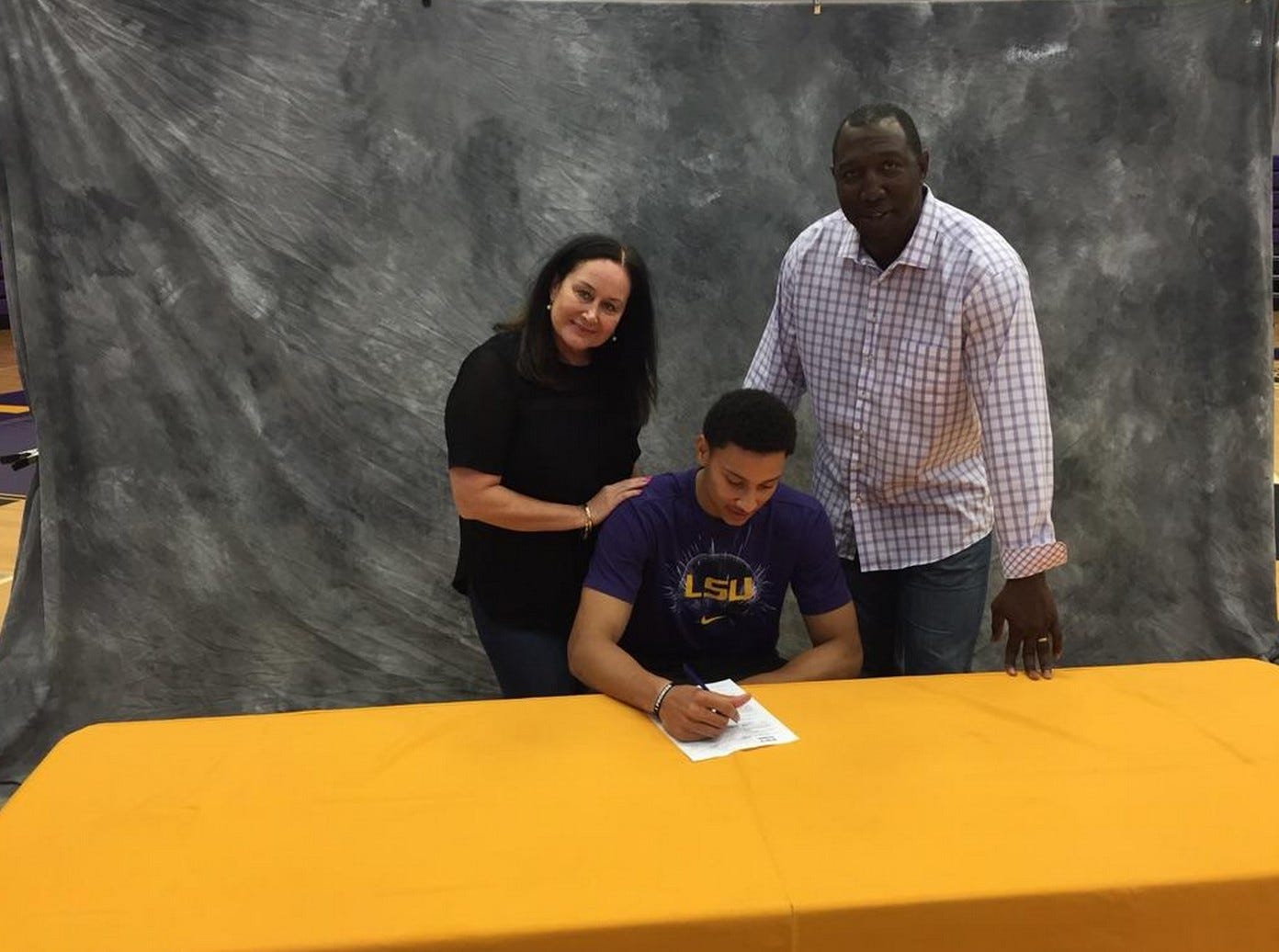 Ben Simmons signs his NLI to LSU
Entering his senior year with immense hype, Simmons was eager to come out of the gates strong - and he did that in his first 2 games of the season.
Simmons' senior debut was a 35 point & 10 rebound performance in a 73-34 win over Berkmar, following that up with 37 points & 8 rebounds in a win against Jonesboro.
---
Montverde Academy, who began the year as the pre-season #1 team, have retained their spot at the top of the rankings, remaining above a talented Oakhill Academy team.
Simmons' endeavours exceed just his on-court exploits, with his insistence to don an "I can't breathe" shirt during warmups of Montverde's ESPN-televised game on Friday night.
Simmons dons the "I can't breathe" shirt
Simmons followed the lead of Kobe Bryant, Lebron James, Derrick Rose and other athletes across American sports by wearing the shirt in support of Eric Garner and his family.
Garner died as a result of a non-regulation chokehold, applied by New York City policeman Daniel Pantaleo earlier this year.
The shirts were made in response to a Staten Island grand jury's decision not to indict New York City policeman Daniel Pantaleo in relation to the chokehold death of Eric Garner, which was caught on video. A recording of Garner's arrest showed him gasping "I can't breathe" during the fatal encounter, and many have protested a grand jury decision not to indict the officer.
Simmons told USA Today, "When I feel really strongly about something I act on it. I just feel like I've been blessed with the platform and what I want to do is show support for the family and raise awareness."
It's also note-worthy that Simmons has the option to represent Australia at the FIBA U19 World Championship next year, if he so chooses. The Australian U19 Emus qualified for the World Championship after a thriller against New Zealand. Simmons' inclusion in that squad, although unlikely, is very possible as he'd be preparing for his freshman year at LSU.
---
Key Performances
Montverde Academy 73, Berkmar 34
35 pts | 10 rbs
Montverde Academy 92, Jonesboro 72
37 pts | 8 rbs
Montverde Academy 79, IMG Academy 63
27 pts | 13 rbs
Montverde Academy 78, Bishop O'Dowd 64
22 pts | 10 rbs | 10 asts
---
Thon Maker | Orangeville Prep (AI) | Class of 2016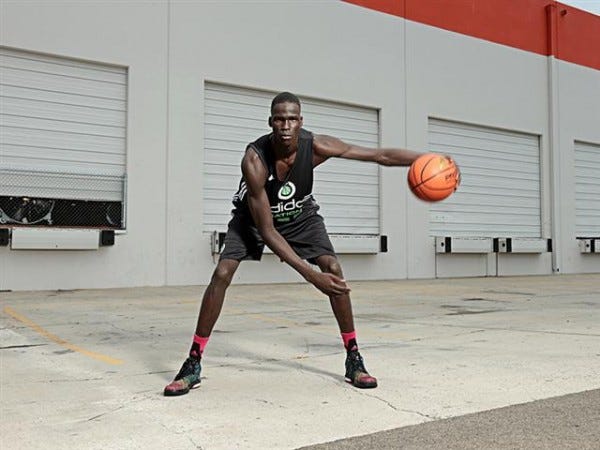 Thon Maker - Courtesy adidas
Thon Maker's move to Orangeville Prep didn't come without controversy, but the suspicions behind his move have taken a back seat as the team has begun their season with a bang - albeit with a few struggles against US competition.
Orangeville Prep had a successful season opener, defeating the D'Youville Panthers 73-52 - Maker with 16 points & 9 rebounds.
In the middle of November, Maker had the privelge of having a feature in Sportsnet Magazine - one of Canada's biggest sports magazines, run in conjunction with its sports television channel.
Thon Maker's feature in Sportsnet Magazine
Toward the end of November it became known that Maker was also to be featured in one of ESPN's '30 for 30' documentary films. '30 for 30' is the umbrella title for a series of documentaries and short films by ESPN Films.
After an impressive 6-0 start to the season (all against Canadian opponents), Orangeville Prep was set to come up against some of the top US teams at the Bluegrass Showcase in Lexington, Kentucky. As expected, Kentucky head coach John Calipari, who is known to be one of the front-runners for Maker, was in attendance at the tournament.
Orangeville Prep opened up the tournament with a statement 72-58 win over Prime Prep, Maker winning the MVP award for the game with 23 points, 13 rebounds and 6 blocks.
Unfortunately, they weren't able to keep their streak rolling - losing 63-60 to a veteran Quality Education squad.
During his time in Kentucky, Thon was able to make unofficial visits to a few nearby schools - notable Kentucky and Louisville. The Maker's first attended Kentucky's game against Providence, following that up the next day with a visit to Louisville's campus to watch a practise and attend their game that evening against Ohio St.
Thon and Matur Maker sit behind Kentucky's bench
With Australia now qualified for the 2015 FIBA U19 World Championship, the question is again whether Thon Maker will play for the squad come next June.
The Maker brothers have re-iterated their intent to wear a green and gold jersey, so it'll come down to Basketball Australia being proactive and getting them both involved in the program. Sonny Bairos of Hoops Hype Canada interviewed Thon, and his guardian Ed Smith, to discuss his international playing prospects and more.
Key Performances
Orangeville Prep 73, D'Youville Panthers 52
16 pts | 9 rbs
Orangeville Prep 110, SJK 44
23 pts | 7 rbs | 2 blks
Orangeville Prep 72, Prime Prep 58.
23 pts | 13 rbs | 6 blks (MVP)
Orangeville Prep 85, Callaway 71
19 pts
Orangeville Prep 72, Montrose Christian 55.
17 pts | 6 rbs
---
Isaac Humphries | La Lumiere School | Class of 2016
Isaac Humphries has arrived in the United States as he joins La Lumiere School for his junior year.
Isaac Humphries | Photo credit to FIBA, via Basketball Australia
Humphries was unable to be a part of the Australian U19 Emus at the FIBA U19 Oceania Championships in Fiji earlier this month due to a quad injury. He arrived in the US on Friday night and is expected to make his debut for La Lumiere School on December 21st at the City of Palms Classic.
La Lumiere has begun their season 9-0 and have been listed by MaxPreps as the #4 ranked team in the nation. The addition of Humphries is of Arizona, California, Duke, Florida, Illinois, Kansas, Kentucky, New Mexico, Oregon and UCLA recruiting the Aussie 7-footer.
---
Matur Maker | Orangeville Prep (AI) | Class of 2017
Matur Maker, brother of Thon Maker, is one of the Class of 2017's top prospects, and is making a name for himself.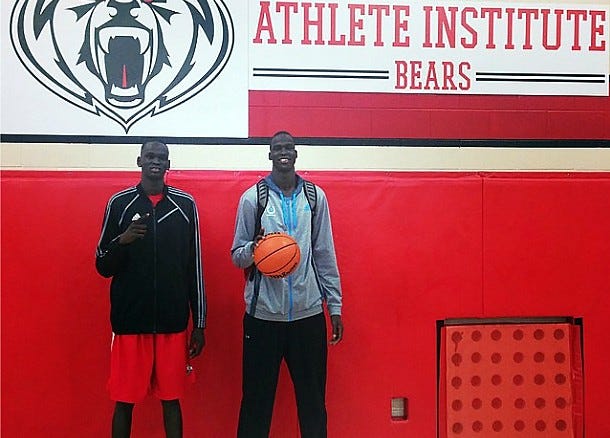 Nicknamed 'Baby Maker', Matur is also at Orangeville Prep and has had an impressive start to his sophomore year.
Maker opened up his sophomore season with a 9 point, 4 rebound effort in Orangeville Prep's win over the D'Youville Panthers. He posted one of his best performances of the young season with 14 points, 4 assists and 3 blocks in Orangeville Prep's 89-54 victory over MacNab a few weeks later.
Matur Maker also accompanied his brother, Thon, during visits to Kentucky and Louisville during their time playing in Lexington, Kentucky.
Key Performances
Orangeville Prep 73, D'Youville 52
9 pts | 4 rbs
Orangeville Prep 86, Pine Ridge 35
23 pts
Orangeville Prep 89, MacNab 54
14 pts | 4 ast | 3 blks
Orangeville Prep 72, Montrose Christian 55
14 pts | 6 rbs | 3 stls | 2 blks