Rising Stars in US High School: Adel commits to Louisville; Simmons, Maker continue to impress
The July recruitment period has been huge for the Australians playing high school basketball in the US. In June we saw another addition to the growing list of talent choosing to move to the US as big-man Isaac Humphries (2016) announced his decision to transfer to La Lumiere School. Ben Simmons (2015) and Thon Maker (2016) continued to dominate their respective classes while Deng Adel closed out the month by committing to Rick Pitino's program at the University of Louisville.
---
Deng Adel | Victory Rock Prep | Class of 2015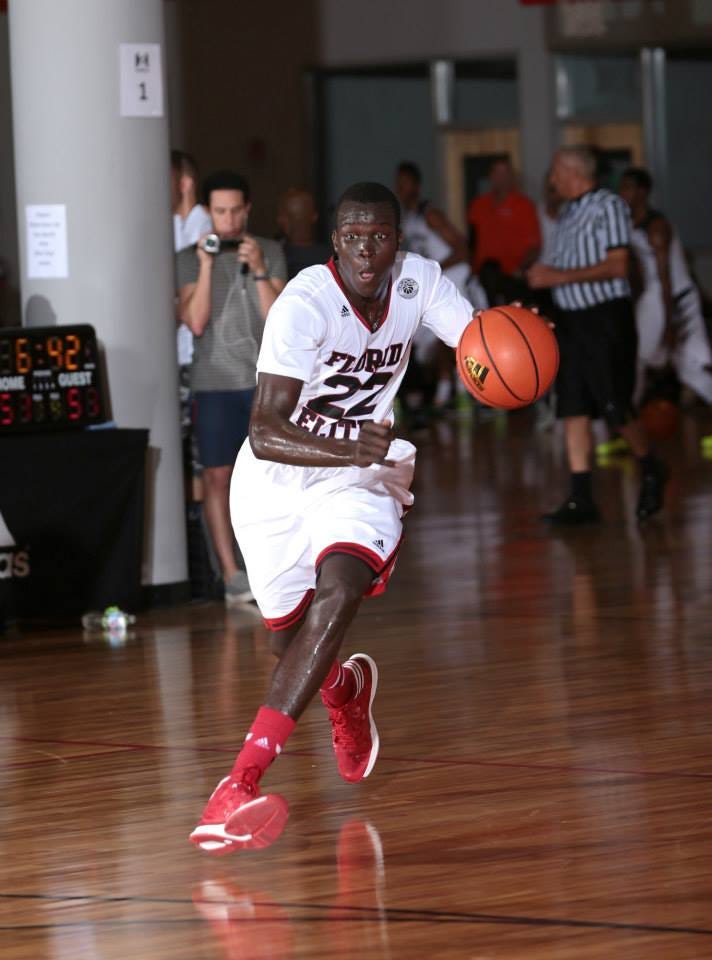 Deng Adel | Credit: adidas
Deng Adel, the 6'7 small forward out of Melbourne, Australia, has committed to the University of Louisville. Adel, who visited Louisville in June, had emerged in recent weeks as Rick Pitino's primary target in the 2015 class. He is rated as a five-star prospect by Scout.com, and the No. 18 overall player in his class.
Adel was extremely impressive on the AAU circuit during May and June, starring for Florida Elite on the adidas Gauntlet circuit. He's been described as a player who could end up being a 5-star prospect by the time his senior year begins.
A Sudanese native who grew up in Australia, Adel averaged 22 points and eight rebounds in his first season at Victory Rock Prep. He's currently with the Asia Pacific squad at the adidas Nations Global event.
Isaac Humphries | La Lumiere School | Class of 2016
Isaac Humphries emerged as one of the nation's top prospects entering 2014, having had a very impressive end of 2013. Humphries began his stint at the Australian Institute of Sports (AIS) in January but it will be short-lived; he has decided to transfer to La Lumiere School in La Porte, Indiana, beginning in early January.
La Lumiere School is ranked #5 in the nation in the USA Today High School Basketball rankings. The addition of Humphries, along with the return of a number of key players, sees La Lumiere remain as one of the favourites to win the 2014/15 National Championship.
Huntington Prep and Brewster Academy were among those also interested in Humphries before he eventually decided on La Lumiere.
Jason Hickman, a recruiting analyst for MaxPreps.com, puts La Lumiere as a potential preseason number 1 ranked team in the nation.
https://twitter.com/Jason_Hickman/status/492386866591563776
Humphries' recruitment is also in a boom, recently receiving an offer from Arizona, with further interest coming from Kansas and Texas.
The 7-footer out of Sydney, Australia is currently with the Australian U17 squad that begins their FIBA U17 World Championship campaign in less than a week.
Ben Simmons | Montverde Academy | Class of 2015
Ben Simmons used this Summer to solidify his position as the #1 player for the Class of 2015. The 6'9 forward out of Melbourne, Australia had an extremely impressive showing at the Lebron James Skills Academy, even guarding the Cavaliers star himself in stretches.
Ben Simmons @ Lebron James Skills Academy
Simmons' strong play carried over to the Nike EYBL Peach Jam, where he averaged 17.8 points, 9 rebounds, 3.8 assists and 1.8 steals per game for E1T1. The most memorable performance from Simmons' at Peach Jam was when E1T1 faced Team CP3, posting an impressive 21 points (8/11 FG), 7 assists and 4 rebounds enroute to a 77-64 victory.
With the busy schedule that Simmons had during the July recruitment period, the future LSU Tiger still managed to arrive back in Australia in time for day 2 of the Australian Boomers camp - where he would fight for a position in the squad that will play at the 2014 FIBA World Championships next month. Unfortunately, and somewhat controversially, Simmons wasn't selected to the squad.
Although it's unfortunate that Simmons wasn't selected for this year's Boomers team, he has still registered an incredible July. He's recently been ranked as the #1 player for the Class of 2015 in the new Rivals150 Rankings and is expected to rise to the #1 spot on the ESPN rankings by the time he begins his senior year. He's solidified his place, not only as the best high school prospect in the US, but the best high school prospect ever to come out of Australia.
Thon Maker | Carlisle School | Class of 2016
Thon Maker was one of the most talked about prospects heading into the July recruiting period. He managed to lead Team Loaded (VA) to the NY2LA Sports Summer Jam championship - winning MVP honours. His efforts were highlighted by an impressive 20 points in the championship game, including the game-winning dunk.
Thon Maker - MVP @ NY2LA Summer Jam
A big story heading into the Summer was whether or not Maker would choose to reclassify to the Class of 2015. The concensus around the US was that reclassifying seemed like the road Maker would take, however Ed Smith, Maker's guardian, quickly quashed those rumours - speaking with SNY.tv;
"It would be unlikely at this stage... It depends how heavy the academic load would be. Also, Thon has to be physically prepared for college ball."
The 7'1 center out of Sydney, Australia holds offers from Kentucky, Kansas, Louisville, Duke and Memphis, among others. Maker will be entering his junior year at Carlisle School this coming year but he hasn't ruled out the possibility of changing schools if it will be advantageous in regards to his potential reclassification.
Damien Rance | Pope John XXIII High School | Class of 2015
With all of the success of Australian prospects playing AAU basketball, Damien Rance is possibly the biggest winner. Rance, a 6'6 forward out of Melbourne, was fortunate to be member of the NJ Playaz squad that won the Nike EYBL Peach Jam Championship.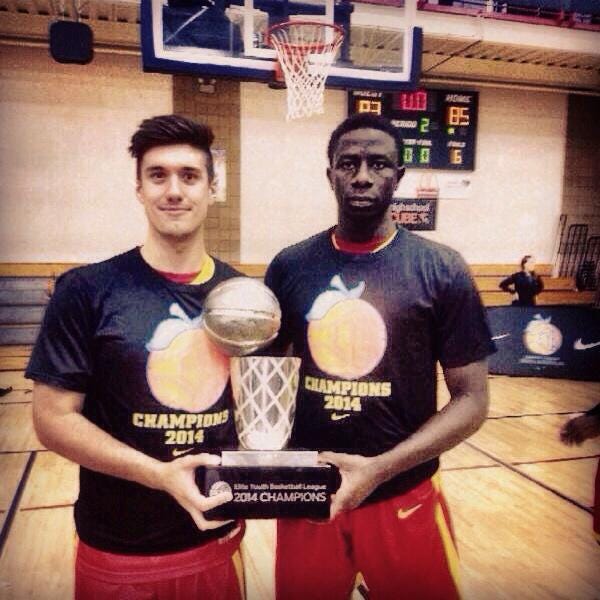 Rance has received an offer from Fordham University and will be entering his senior year at Pope John XXIII High School this coming season.
Deng Riak | Victory Rock Prep | Class of 2015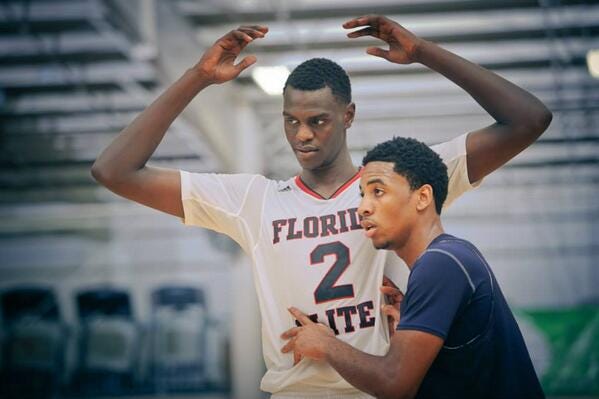 Deng Riak
Deng Riak has emerged as one of Australia's most promising prospects playing high school basketball abroad. The 6'10" forward out of Melbourne is a teammate of Deng Adel at Victory Rock Prep and played on the AAU circuit with Florida Elite.
The athletic big man has already managed to secure offers from Florida and Virginia Tech, with many more mid-major interest likely on the horizon as he enters his senior year at Victory Rock.
He is currently with the Asia Pacific squad at the adidas Nations Global event.
Austin Treweek | St Michaels (TX) | Class of 2015
Austin Treweek, a 6'1" point guard out of Melbourne, Australia is another prospect that has decided to transfer. He'll now be attending St Michael's (TX) where he'll enter his senior year.
As he enters his final year of high school basketball, look for Treweek's recruitment to pick up. As we mentioned in our previous 'Rising Stars in US High School' feature, UNCG and NC State are among those interested in the talented guard.
Daniel Mading | The Rock School | Class of 2017
After a breakout performance at the Super Soph Camp in June, Mading's recruitment picked up over the July period. He's managed to gain offers from John Madison and Boise State, while receiving a lot of interest from Maryland with whom he will unofficially visit next week.
Standing at an imposing 6'9", Mading is a member of Team Belief on the AAU circuit, helping them to a 2nd place finish at the Big Shots Tournament in Washngton DC. He will attend the West Virginia Elite Camp this weekend, the HG Future All American Camp a few days later, before then finishing the week with the Loyola Maryland Elite Camp. Mading has also been fortunate enough to be invited to the John Lucas 40/40 Camp in September that will complete a very busy summer for the Perth native.
https://www.youtube.com/watch?v=BrhhWRJryMc