Rising stars named in Australia's squad for 2015 World Uni Games
Basketball Australia has named a men's squad of 16 players for a selection camp to be held in Canberra commencing on 14 June ahead of the 2015 World University Games hosted in South Korea from 3-11 July.
Head coach Andrej Lemanis has been able to assemble an amazing array of talent, consisting of a tantalising blend of rising NBL and US collegiate stars. The squad is headlined by the likes of US college based players such as Hugh Greenwood (New Mexico - All-Mountain West Third Team) and Albany's America East tournament hero Peter Hooley (All-America East Second Team). Joining the bevvy of US-based college talent includes rising talents with NBL links; Mitch Creek (Adelaide 36ers), Cairns Taipans duo Shaun Bruce and Corey Maynard, Mirko Djeric (Townsville Crocs) and Matthew Hodgson (Melbourne United).
After earning silver behind tournament hosts Russia at the 2013 edition of the World University Games in Kazan, Andrej Lemanis was quick to recognise the importance of the event in developing the next wave of Australian basketball stars against opposition that bring their best available players and teams in speaking exclusively with The Pick and Roll.
"Heading into the 2013 event, I did not realise how strong the level of competition actually was," shared Lemanis.
"This is a high quality event with teams featuring some of their best available players, many of whom go onto the NBA and top leagues of Europe. Cam (Bairstow) was outstanding for us last time around, launching himself onto the international stage. Ryan Broekhoff was also sensational. We are really looking to assemble the best possible team we can with a view to win."
A gauge of the potential strength of any team is looking at the players that missed out. It was those players who could not be included in the squad that had Lemanis excited about the prospects for the team.
"The pleasing thing is it was a difficult decision to get down to 16 players," added Lemanis.
"There are some quality players that missed out which is indicative of the strength of basketball currently in Australia."
While it is unconfirmed that they were available for selection, a number of notable players were not named to the team. Some players that would have been eligible include 2015 All-Conference USA First Team member Jeromie Hill (Texas-San Antonio), Eastern Washington's All-Big Sky First Team member Venky Jois, and Boise State's Anthony Drmic and Igor Hadziomerovic to name just a few.
While some top-level talent are not part of the squad, there is plenty to get excited about.
Lafayette graduate Dan Trist had an amazing final year of college in being named All-Patriot League First Team, while Louisville's Mangok Mathiang had a big sophomore year that culminated in a starting role on a team that went all the way to the Elite 8 in the NCAA Tournament. Boise State's sharp-shooting big man Nick Duncan capped off a great year by being named to the Mountain West All-Tournament team, Xavier Cooks (Winthrop) was selected to the Big South All-Freshman Team, while arguably the biggest performer of the year was Mitch McCarron of Metro State Denver who earned Division II Player of the Year honours. When you throw in Baylor's imposing forward Deng Deng and Louisiana State's 7-footer Darcy Malone, Lemanis has a selection headache ahead of him before you even consider the likes of Keanu Pinder and Emmanuel Malou are also part of the 16-man squad.
With many of the squad having already tasted experienced in representing Australia on the world stage at junior level, the World University Games is another step up in level and a chance for these rising stars to make the transition to senior ranks.
Having been drawn in Pool C, Australia is set to commence their campaign against Chinese Taipei on 4 July followed by an outing against European powerhouse France. Lithuania are also likely to pose a challenge, while Finland and Japan round out the group.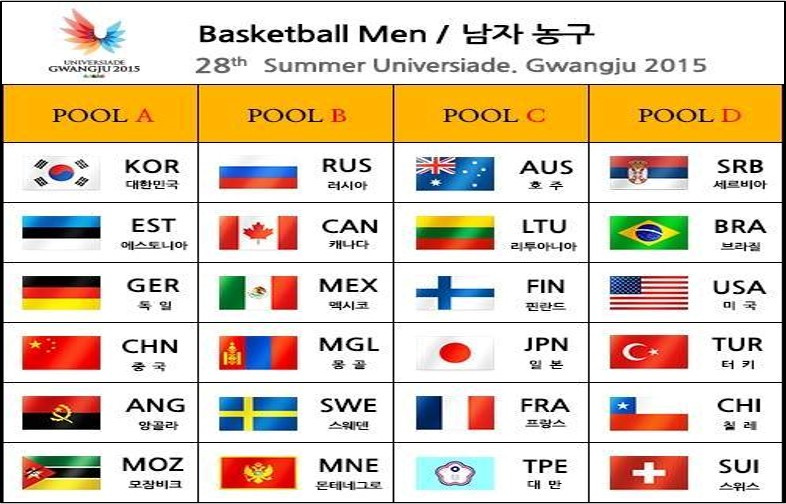 First things first, Lemanis will put the squad through a rigorous training camp following which the final team of 12 will be named. With the blend of experience and talent available, the final team selected could well be the strongest yet to represent Australia at this level. That thought is even more encouraging given that Australia won silver last time around.
Australia men's squad for the 2015 World University Games: Shaun Bruce (Qld), Xavier Cooks (NSW), Mitchell Creek (Vic), Deng Deng (Vic), Mirko Djeric (NSW), Nicholas Duncan (NSW), Hugh Greenwood (Tas), Matthew Hodgson (Qld), Peter Hooley (SA), Mitchell McCarron (Qld), Darcy Malone (ACT), Emmanuel Malou (Vic), Mangok Mathiang (Vic), Corey Maynard (SA), Keanu Pinder (WA), Daniel Trist (NSW).