Discover more from The Pick and Roll
We're all about Aussie hoops. Independent, objective analysis and commentary. Insightful narratives built around Australian basketball. Read about our men and women in the NBA, WNBA, NCAA, Europe, national teams, NBL, WNBL, NBL1, prospects and more.
Over 2,000 subscribers
Remember the Taipans?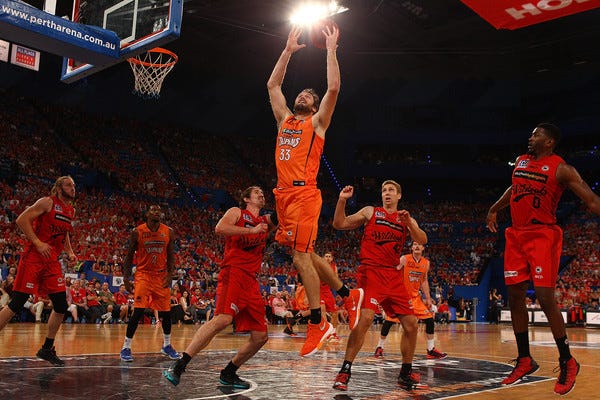 According to the NBL's Official Sports Betting and Wagering partner, Ladbrokes, the Cairns Taipans are the odds on ($1.70) favourite to win the wooden spoon in the upcoming season.
At a whopping $41, they are considered the least likely team to win the 2016-17 NBL championship. By a long, long way (the Hawks, at $15, are next in line).
This is a list of things that, according to various bookies, are as likely to occur as the Cairns Taipans hoisting the Dr John Raschke Trophy in 2016-17:
Milwaukee Bucks become 2016-17 NBA Eastern Conference Champions (Delly's good, but not that good);

Richmond Tigers win the 2017 AFL premiership (yeah, that's not happening);

Theon Greyjoy sits atop the Iron Throne at the end of season 7 of Game of Thrones (full disclosure: I don't watch the show. I have no idea what this means, but it sounds like a long shot).
And here's the kicker: a bet on Cairns to merely make the top four is paying more than twice as much as a bet on Donald Trump becoming the President of the United States of America.
Either we should all be truly terrified, or the Cairns Taipans are being dangerously underrated.
Not last season but the season before
Rewind to 1st March 2015, and the Taipans are within touching distance of the summit. They're minor premiers. They've just swept the defending champion Perth Wildcats in a semi-final series, with a convincing closeout performance in the hostile environment of Perth Arena. They have home court advantage in a grand final series. The Taipans are on the brink of something very special.
Then, this happens.
https://www.youtube.com/watch?v=1Ch9PlvRihM
Things didn't quite go to script for the men in orange. Still, there were plenty of positives to take out of their 2014-15 campaign.
The Taipans' 2014-15 minor premiership was built on a dominant home court record (12 wins, 2 losses), excellent perimeter defence and fundamental care for the basketball. They restricted opposition teams to 30.3% from the three-point line and limited themselves to a turnover percentage (TOV%) of 11.6, both easily ranking first in the league. Their slow pace (87.3 possessions per game) took opposing teams out of their rhythm, and their precise offensive execution resulted in a league-leading assist-to-turnover ratio of 1.5.
While they couldn't get past the Breakers when it mattered most, they had every reason to look to season 2015-16 with optimism.
Where did it all go wrong?
It didn't ALL go wrong for the Taipans last season. The Cairns Convention Centre remained a fortress (11 wins, 3 losses). They were still the best team in the NBL at looking after the ball (11.1 TOV%). But their defence fell off a cliff, with a sieve-like 1.19 points conceded per possession. Having locked down the perimeter the previous season, they allowed opposing teams to light them up to the tune of 37.9% from beyond the arc, crashing from league-best to league-worst.
The most baffling part of this defensive collapse; this was pretty much the same team that won a minor premiership the season prior. The major changes were Mitch Young making way for Mark Worthington, unquestionably an upgrade. And, of course, the departure of point guard Scottie Wilbekin, replaced by Markel Starks.
Wilbekin was a better defender (1.09 points conceded per possession) than Starks (1.21 points conceded per possession). But it's just not enough to explain such a dramatic team decline at that end of the floor. Something doesn't add up.
The chip on the shoulder
When recently quizzed by Dan Boyce of Aussie Hoopla on the low external expectations for Cairns in the upcoming season, Mark Worthington offered this:
I think we've got a real chip on our shoulder this year. We didn't have a chip last year. The guys that just lost the championship almost sort of expected it to happen again, to make it back to the top... The season just got away from us too early and we couldn't reel it back in.
It might be somewhat clichéd, but it rings truer than heaping all the credit on Wilbekin, and blame on Starks. It's a much more comprehensible explanation for a team with the same coach, and largely the same personnel, dropping off such a cliff.
So, do they really have the chip on the shoulder this time around? Time will tell, but early signs are good. Cairns kicked off their preseason with two impressive wins against Perth over the weekend. Yes, it's only preseason, and the Wildcats were undermanned, but it was enough to make Fox Sports commentary team MVP Derek Rucker stand up and take notice:
https://twitter.com/derekrucker5/status/772043828983246848
The bookies say the Taipans don't stand a chance this season. Well, nothing breeds team unity, focus and resolve quite like the feeling that everyone has written you off. That could generate just the chip on the shoulder that the Taipans need to rediscover the basketball that took them to a grand final.
The more things change, the more they stay the same
There are fresh faces galore on the 2016-17 Taipans roster. Starks, Torrey Craig, Matt Burston, Cam Tragardh and Shaun Bruce make way for Travis Trice, Fuquan Edwin, Nate Jawai, Nnanna Egwu, Mitch McCarron and Jarrad Weeks. It's a big roster overhaul for a team that has tended towards stability and continuity. But it's clear that the formula for success remains the same for coach Aaron Fearne as it did in 2014-15. Look after the ball, defend the perimeter, slow the game down and execute offensively.
Credit: Cairns Post
In Travis Trice, he has recruited a high-IQ point guard who values possession. Running the iconic/archaic triangle offence with the Westchester Knicks in the D-League last season, Trice had an excellent 2.4 assist-to-turnover ratio. He seems a better fit for Cairns than Starks, who often looked handcuffed by Fearne's system. Trice is regarded as a solid on-ball defender, with the biggest knock on him being his lack of size - more likely to be exploited in the NBA than the NBL.
The comparison to Scottie Wilbekin is inevitable, so let's get it over and done with. Here's how their senior college seasons stack up:
[table id=121 /]
Predicting an import's translation to the NBL is no exact science, but there's every reason to believe Trice can be a very good player in this league.
To return the Taipans perimeter defence to 2014-15 minor premier-level, Fearne has enlisted Big East Defensive Player of the Year and D-League All Defensive First Team member, Fuquan Edwin. His 6' 8.25" wingspan and athleticism should mitigate Torrey Craig's departure.
Nate Jawai's return certainly won't encourage Aaron Fearne to lift the Taipans off the bottom rung of the ladder in terms of pace. Conditioning has never been a strength of Nate's, so a slow game will help him to stay on the floor longer. But what Jawai lacks in conditioning, he makes up for by bringing a more potent, defence-bending post threat that will help create looks for his teammates. As Coach Fearne told taipans.com:
Obviously with Nate being the focal point for us in the paint we need guys around him who can make plays from the perimeter.
Offensive execution in the half-court will only become easier with Jawai's magnetism. He'll be surrounded by capable shooters, constantly forcing opposition defences to make difficult decisions (and if Wortho can bounce back from an NBL career-low 24.4 3P% last season to something close to the 32% he shot in 2014-15, that could really stretch opposition defences to breaking point).
Wanna make a bet?
There's no doubt Cairns need some things to break right for them, but they appear to have all the necessary ingredients to be taken seriously in 2016-17.
I'm not saying they should be championship favourites. All I'm saying is give me a Taipans finals appearance over President Trump any day of the week.