Reliving the South Dragons championship and how it ended all too soon
"I knew if we had kept that team together, we probably would have won back to back titles."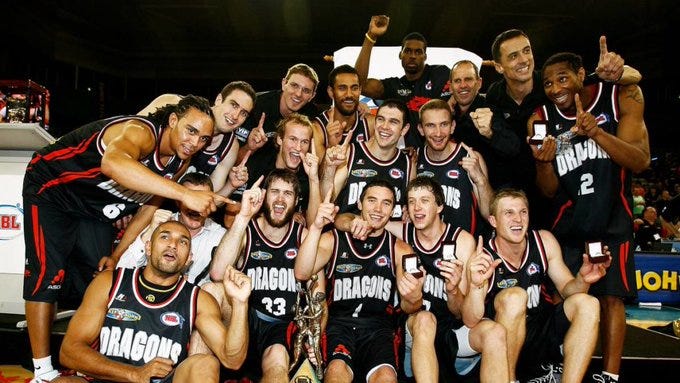 Credit: Quinn Rooney / Staff
---
"I knew if we had kept that team together, we probably would have won back to back titles."
Adam Gibson recalls the 2008/09 NBL season with conflicting emotions.
It was one that featured an NBL title with the Crazy John's South Dragons, and recognition as the league's best defensive player. Despite the success, it was also an unsettling period in his career. The NBL was unstable and, for the second year in a row, Gibson's club had folded.
"It just seemed like another day almost," reflected Gibson. "It was brutal. For probably eight of my 15 years, I've had teams coming in and going out of the league. Three of my teams folded. It went from 13 teams to eight, and then almost having no league at all."
Fellow Dragons guard, Rhys Carter shared an eerily similar experience, with his first three NBL clubs all closing their doors.
"I went through the [Victoria] Giants folding after my first two seasons in the league. I had to go and look elsewhere, and then West Sydney I left one year before they folded. Then the Dragons pulled out."
Before their demise, the South Dragons had completed an extraordinary run. The team had ascended from last place in year two of their existence to first in the following season. The exclamation point on their season came in the form of a Grand Finals series win over cross-town rival, the Melbourne Tigers. A legitimate rivalry was established, and it should have been the rebirth of something meaningful for professional basketball in Melbourne.
The Dragons roster was talented, featuring personnel who would go on to have lengthy and impactful careers, but all hope of building on such a successful season was eventually dashed.
---
Rewinding back to 2006/07, the Dragons' inaugural season (and two years prior to Gibson and Carter's arrival), a high-profile coach in Mark Price was signed, along with teenage prodigy Joe Ingles. Price was a 4-time NBA All-Star, and Ingles a unique Australian prospect that was set to make an immediate impact at the professional level.
"He can shoot from range, play all positions, and he has a great knack for finding open players," said the Australian Institute of Sport's Marty Clarke at the time. "He's got all the tools to be a Boomer."
Ingles would quickly live up to the hype and claim the league's rookie of the year award, but Price would not be around to see much of it. He departed, after starting with a 0-5 record. Interestingly, Price was replaced by Shane Heal, who would juggle both playing and coaching duties. The renowned star Australian guard had only just come out of retirement in the offseason to play for the league's newest club.
Despite admirably recovering to make the playoffs in year one, the team's results took a nosedive in 2007/08 and drama resurfaced. Assistant coach Michelle Timms left in January, Heal was sacked at the start of February, and import Nick Horvath was deactivated and replaced as he waited on New Zealand citizenship. The team finished in last place with a 5-25 record.
The Dragons retained five players heading into year three; Ingles, the blue-collar Matt Burston, wing Nathan Herbert, the naturalised Horvath, and import Cortez Groves. The key factor in the turnaround in results though, stemmed largely off the back of the demise of the Sydney Kings and Brisbane Bullets. The star power of Brian Goorjian and Mark Worthington arrived from the Kings, as well as Gibson from the Bullets.
"I was going through the Bullets going under, so me signing with the Dragons was really pushed back," recounted Gibson. "I really wanted to stay in Brisbane and [South Dragons co-owner] Mark Cowan and the guys were really supportive of me wanting to stay. They allowed me to extend deadlines and wait as long as possible, to see if the Brisbane thing actually happened.
Two other recruits helped to forge a strong identity for the local portion of the team; the relentless Mika Vukona, and the energetic Carter.
"I was out of a job and called Guy Molloy, who was assistant coach, and I just asked him if I could come train and try out essentially," recalled Carter. "I was getting nervous about things and thought the career might have been coming to an end. A few more weeks passed and I was starting to get into some pretty good shape and a spot opened up. I sort of fell onto the roster just by turning up and training. It was a really lucky situation."
Despite the haphazard offseason with uncertainty surrounding the league, the Dragons had found a clear direction on how they would reverse their results. The playing group assembled had a notable component of toughness, as well as individuals who were entering or already in their prime age bracket.
"When we put this together, we wanted to bring some tenacity to the Australian content, and then have a couple of high-flying Americans that would put some points on the board," revealed Goorjian in 2008. Looking at the roster, his vision had clearly been achieved. Goorjian was an experienced and winning coach in the league, and someone who could achieve results in each aspect of his role.
"You had to play tough and you had to play hard, that was just non-negotiable with Goorjian," said Carter. "I think where I was able to find my spot in the team is just come in and bring a lot of energy. He's all about hard work and guys bringing that grit and toughness. I think we had a great mix of guys who were willing to do the dirty work."
"'[Goorjian] doesn't take any shit' is the best way to put it," added Gibson. "He made us work hard. There were a lot of times when it was one more drill. He would've said that probably three times every day at practice. I think we were definitely one of the fittest teams.
"He also had a funny side. He would always shoot after practice with our young guys and kind of talk shit to them and joke around. He obviously made you work hard, and his day to day stuff was awesome, but his humour was a lot of fun to be around as well."
---
The initial American imports on the roster to complement the local core were wings, Tremmell Darden and Cortez Groves. Groves had returned after the team's disappointing 2007/08 season, but an injury prior to Christmas meant that the club would move to replace him mid-season and solidify their title chances.
At the time, the Dragons were sitting at a remarkable 16 wins and 4 losses, a record that Goorjian himself would admit surprise at. The chemistry with the group was strong, but the fit and production from the imports was merely fine, rather than outstanding. The Groves roster change was going to be a crucial factor in a playoff run.
"[Bringing Donta Smith in] is a gamble. We'll roll the dice and see what happens," said Goorjian at the time, whilst admitting that he had no background on Smith at all outside of some phone calls. "We had an opportunity to either bring in someone who had some experience in this or take a gamble on a high-profile player. The jury is out [on Smith] but we're excited."
At the core of this decision was the coach's concern with scoring in a playoff setting, where tougher shot opportunities meant individual shot creation would be at a premium. Added scoring power was also mentioned as something that would help drive an increase in spectators.
"We felt like we needed that piece if we were to go on and do something in a best of three or best of five series," said Goorjian. "We needed somebody who can break down people off the dribble when you need a basket. Being deep in the playoffs in the last few years when we've won it, you've had that guy. We had Shane Heal, we had Ebi Ere, guys that could do that when the game was on the line. If that spot is missing, you can't get it done game in and game out in playoff basketball."
Smith was behind the rest of the group physically when he came in, having had injury issues previously. He also needed to adjust to the speed of the league and get in game shape. Over his first seven games, he averaged just ten points, a far cry from a difference maker on offence.
"He's certainly not in horrible shape or anything like that," noted Goorjian. "It's just that this league and the style in which the games are played is unique. It's different to what he's played in. It's more up and down, and physically he has to get used to that. The grind of this right now is taking his legs away a little bit."
Smith joined a squad that defended hard. The defensive aspect of the game was the Dragons' 'bread and butter', as Goorjian liked to say. Getting their new import to buy in on that end was key to all the parts meshing.
"When you get an ex-NBA guy, this is obviously down a level from what he's played in. Your issue usually is the tenacity, and that really points to the defensive side of the ball. That's what our team prides ourselves on, it's how we've gotten to where we are. He understands what's expected," said Goorjian.
---
Mixed in with the arrival and acclimatisation of Smith with the group was the most memorable game of the South Dragons regular season - an overtime victory over the New Zealand Breakers. It was the middle of January, with the Australian Open tennis set to soon commence at Melbourne Park, so the game was played out of the smaller venue of Melbourne's Sports and Aquatic Centre (MSAC).
This was somewhat similar to Gibson's South East Melbourne Phoenix team playing games at the State Basketball Centre in the 2019/20 season. Back in the 2009 fixture, MSAC was packed with 2,000 fans and, despite fouling out, Gibson remembers the experience fondly.
"The environment and atmosphere is so much better [in a smaller venue]," said Gibson. "That game was maybe one of the loudest crowds I've ever played in front of. I've watched it back on tape a few times. It was a lot of fun to be a part of"
The moment that truly made the game memorable though was the heroics of Rhys Carter, who was at his pesky best on defence. He was as ballsy as ever with his shot making as he helped force overtime with a free throw and then pulled up for the eventual game winning three-point shot.
"It was first versus second at the time where we were really playing for that top spot towards the latter part of the season," said Carter. It was a big game and for me it was my career best game, as far as numbers and with how I played the whole game. It was pretty cool, pretty special.
"I hit that shot but Nathan Herbert hit the shot to tie the game with one minute left. We were probably the ninth and tenth guys on the roster. There was a real confidence in every player on the roster to step up and have their moment."
---
After the dramatic win against the Breakers, Smith had only four regular season games left to find his best form. The timing proved perfect however, as he averaged 20 points per game over the final three. The Dragons had set up a semi-final series with the Townsville Crocodiles, one that they would win 2-1 as each team saluted on their home floor.
"I think [Smith] knew when he came in that we were already pretty much on top of the ladder," explained Carter. "He came off the bench and he thought he didn't have to do too much. He was one of those guys who could have had thirty every night, but he just decided to fit in and do what he had to until finals came along."
The prospect of an all-Melbourne Grand Final series is something that has recently resurfaced in the NBL with the addition of the Phoenix, and hyped during the regular season with the Throwdown moniker. Back in 2009, it was a reality as the Dragons met the Melbourne Tigers in a battle that went the full distance.
"It was huge," said Gibson. "It went to five games, so each team's home court was super tough. To be able to win on out home court in front of our home fans was pretty cool." Note that this was at a time when the Tigers were playing out of the State Netball and Hockey Centre (known as 'The Cage'), and the Dragons were at Hisense Arena, what is now renamed Melbourne Arena.
The Grand Finals Series was packed into a tight schedule with the five games spread out across just ten days.
"The pressure and the rivalry was building each game," said Carter. "Even though there were guys on the other team that were old teammates and friends of mine, when you got out there and put that jersey on it was like a genuine dislike in that on court sense. It was two great squads so it just made for great theatre and great basketball."
The tension of the Grand Final series reached its highest point when an altercation occurred between Tigers star centre, Chris Anstey, and fiery Dragons guard Rhys Carter. It featured a hard screen from Anstey, a follow up hip and shoulder from Carter, and then a 'classic shirt front' from Anstey (as Carter described it).
"He lifted his elbow a little bit because I was trying to get around him," said Carter. "It wasn't anything too bad but it clipped me enough that it got me angry enough to give him a little bit of a hip and shoulder, which again wasn't too much. It got him a little more excited. I thought to myself, I could get out of the way or I can stand here and we're going to get the ball back because he's going to run over me. That last step he sped up a little bit extra. It didn't hit me in the head, he didn't hurt me, but obviously he's a big man and he knocked me flat on my back and everyone jumped in."
Vukona was the first player to interfere as he wrapped Anstey up. Other players also closed in to flex their muscle and exchange words. The result was an ejection for both Anstey and Vukona, with the Dragons up double-digits. They would go on to record a comfortable Game 3 victory.
In the postgame press conference, Goorjian declared the series as officially on, suggesting that physicality was always going to rear its head at some point. Tigers coach Al Westover was unsurprisingly supportive of his player and deflected some blame onto Carter.
"I'm sure Rhys thought he got fouled on the screen but, if [the referees] don't call a foul on that, its play on," said Westover. "You can't allow Rhys to just go up and jump into Chris, and then Chris retaliates. They're bumping each other. I thought it should have been a tech foul on Rhys."
"Chris and I hadn't had a whole lot to do with each other at that point," said Carter. After that day we ended up catching up just after and having a bit of a joke about it. Now we get along really well."
After the drama and physical nature of Game 3, Smith continued to peak at the pointy end of the season. Goorjian's so-called gamble had paid off as the Dragons closed out the series on their home floor to claim the title. The American forward was named Grand Final MVP after averaging 18 points, seven rebounds, five assists, and two blocks over the five-game series.
"Donta was so talented and he saw the opportunity that we really needed that bit extra in the playoffs and he stepped up," said Carter. "He could do everything really. He was one of the best passers, if not the best passer, on our team and in the league. He shot the three, he could create off the dribble, he was athletic, and he drew a lot of attention. He'd get in the lane and kick it out and I'd just stand there and shoot easy threes.
"He's still for me the most talented import, if not top two or three, that I've ever played with in the league. He was special."
Fellow Dragons import Tremmell Darden also peaked at the right time with his signature moment coming in the third quarter of Game 5. He exploded for an unbelievable 21 points in that period alone. The game was blown open and the Tigers never recovered.
"The club really did well with those imports," said Gibson. They were really good people who fit into what we wanted. Tremmell was a great player. He could jump over the hoop, but he really bought in and played defence. In Game 5, he showed everybody what he could do offensively, but he didn't try to do that throughout the season. He didn't care if he was scoring a lot of points. He was the perfect bit of everything for us. Our Aussies were obviously super talented as well."
---
The opportunity for back to back titles would prove to be nothing more than a dream for this group though, with the club announcing their withdrawal from the NBL less than two months after hoisting the trophy.
The league's instability had reared its head again with Basketball Australia working towards re-modelling the NBL. It was not an environment that the Dragons felt comfortable moving forward in.
"The Dragons' board of directors believe that more time is required to develop the league as a commercially viable entity," said co-owner Mark Cowan at the time. "The Dragons aspire to play at the highest level, to the highest standards, in a fully professional league. This is a sad day for our club, but in many ways it's the only way forward for a sport which needs some time to reinvent itself."
Cowan further addressed the club's decision in a letter to Dragons members, outlining the testing time that it was for everyone involved across the league.
"The NBL is a mess," stated Cowan. "In the last two years, teams in Brisbane and Sydney have collapsed. Singapore pulled out of the league. Cairns and the Sydney Spirit had major financial crises. Fox Sports severely cut its telecasts, and mainstream media interest has waned. Crowds fall every year. Basketball Australia and the NBL owners decided something had to be done, so we handed in our licences on the condition that a reform process would be undertaken."
In the letter, Cowan further summarised a list of changes that he believed would be mandatory in a reform, including teams in each capital city, an improved television deal, a naming rights sponsor for the league, a review of the fixture, marketing improvements, as well as a sustainable business model plan. He then indicated that not one of these changes had been delivered, resulting in an environment that was unstable for clubs.
Whether some agreed or disagreed with the Dragons' decision at the time of their withdrawal, Cowan was proven correct about the league needing to reinvent itself and find its place in the country's professional sporting landscape. The NBL again failed to find answers after the Dragons left, with more clubs folding and calls for the league to take a year off being suggested by prominent figures.
In 2015, with the league close to breaking point, Larry Kestelman stepped in and took over ownership control. Kestelman provided stability, leadership, direction, and of course much-needed financial investment.
"I wish I was starting my career now because it's just so much better for players," said Gibson. "More money, more security, more exposure. I give a lot of credit to Larry and his team for what they've done for the league. For the guys coming through, it's pretty special to be a part of."
"A lot of the guys now are on multi-year deals and it's all pretty secure," added Carter. "It's been a few good years and it's been different. I had 12 one-year deals in my career. I never had a multi-year deal. The league never had that security and confidence that it was always going to be there. You never knew if every team was going to be there."
Despite the differences in the league dynamics across their playing days, Gibson and Carter both built long and successful careers. They've been winners in multiple places, and will always have the title winning memories from the 2008/09 South Dragons.