Discover more from The Pick and Roll
We're all about Aussie hoops. Independent, objective analysis and commentary. Insightful narratives built around Australian basketball. Read about our men and women in the NBA, WNBA, NCAA, Europe, national teams, NBL, WNBL, NBL1, prospects and more.
Over 2,000 subscribers
The power forward evolution: How will the Europe scene affect our Boomers?
Over the past decade, basketball analytics has had a profound impact on our game. The increased focus on shot efficiency brought about tactical changes to generate greater floor spacing. Teams play "open" pick and roll/slash and kick style basketball more than ever. Rule adjustments (particularly in the NBA) meant perimeter contact was less closely whistled than bumps in the post. It became inevitable, that the bigs were told to vacate the paint and venture outwards.
Thus was the stretch 4 born. Robert Horry and Dirk Nowitzki led the charge in this new era, and dragged their defenders out with proficient three-point shooting.
As this trend continued into the 2010s, coaches want their best ball handler/decision maker (usually point guards) in the majority of pick and roll plays. Shooting guards and small forwards - aka wings - are relegated to low-usage roles. Instead of manufacturing points from isolation plays, the wings are given a specific job: shoot corner 3s, or slash to the basket when greeted with long closeouts from a rotating defender. Spurs guard Danny Green, step right this way.
What happens when the point guard's pick and roll action stumbles, and systemic offense fizzles? Statistics tell us isolation basketball is not the answer. The Warriors had only one player who recorded an isolation frequency higher than 10%: Steph Curry. In contrast, the Minnesota Timberwolves had four players above this 10% threshold, and finished last in the West. Elite offensive teams spread the floor, move the ball and create rotations. But floor spacing is only as good as your ability to drive into it; someone else has to attack space and create rotations when things stops working.
The rise of the playmaking 4
Enter the playmaking 4s, who are fast replacing their predecessors. Not only are they deadly shooters, these big men are capable of creating plays off the bounce; look no further than Draymond Green.
Green made a significant impact during the Warriors' championship run. He was the team's secondary playmaker, logging the second highest touches per game on the team, right behind Curry. Green also averaged more drives per game (2.0) compared to some Golden State wings, including forwards Andre Iguodala (1.6), Harrison Barnes (1.7) and guard Shaun Livingston (1.9).
At the same time, Green made enough threes to stretch defenses. He trailed only the Splash Brothers in 3-point field goal attempts per game on the team, while making a respectable 33.7%.
Here are examples of Green's versatility, captured from the Warriors' playoffs series against the New Orleans Pelicans and Memphis Grizzlies.
Pick and pop, then driving off the catch
Watch Green (23) pick and pop to the "slot" (the space on the court if you drew an imaginary line from the elbows to the halfway line), then attack Pelicans guard Eric Gordon.
https://www.youtube.com/watch?v=BiaOc58GALI That's right – a power forward beating a shooting guard off the bounce, from the perimeter.
Screener, roller and playmaker
Green sets the on-ball screen for Curry, then "short rolls" (when a screener sprints out of a perimeter ball screen but stops around the foul line area) and catches the ball on balance without travelling. He reads the help defender in front, then throws a perfect alley oop to Andrew Bogut, who was lurking along the baseline, behind said help defender.
https://www.youtube.com/watch?v=F9Z8z71tcE8 It's clear Green's versatility as a playmaker transformed the team, and added a dimension that would otherwise have been absent.
---
Meet the playmaking forwards in Eurobasket 2015
At the recent Eurobasket championships, the playmaking 4's impact could not have been more evident than the star performers of Group B. The group featured Olympic silver medallist Serbia, Spain (winners of three of the past four Eurobaskets), host nation Germany, a talented and unconventional Italy, 2010 World Championship silver medallist Turkey, and a plucky and spirited Iceland.
It was no coincidence that the teams that advanced --Spain, Serbia, Italy, Turkey-– all featured a playmaking 4 as a significant part of their team: Nemanja Bjelica (Serbia/Minnesota Timberwolves), Nikola Mirotic (Spain/Chicago Bulls), Danilo Gallinari (Italy/Denver Nuggets) and Ersan Ilyasova (Turkey/Detroit Pistons).
---
A side note: there are a few "bucket list" events for a hoops junkie to attend in his or her life time, like the Olympics, World Champs, NBA Finals, NCAA Final Four, and Red Star vs Partizan in Belgrade to name a few. After my experience last month, I would suggest you add the Eurobasket to your list. I was fortunate enough to attend the event this year, Berlin being a "short" four-hour train ride from my home.
The championships were held at Mercedes-Benz Arena, the home of German Bundesliga club ALBA Berlin, a top three club in Germany that also plays in Europe's 2nd continental competition, the Eurocup. The stadium is a silver monstrosity located in front of the historic East Side Gallery (part of the Berlin Wall), which sums up Berlin really. It's a city of stark contrasts; imagine historical landmarks right alongside super modern buildings. With a seating capacity for 17,000 people, state-of-the-art LED lighting, a restaurant, ballroom, luxury suites and multiple bars, it definitely is an NBA-caliber arena.
When you add close, hard-fought games, massive upsets (Italy beat Spain), home crowd heartbreaks (Germany lost four games in single digits, including a single point loss to Spain in which the loser would be eliminated from the tournament) and some of the most passionate fan bases in European basketball, it made for a really special event.
---
Back to the X's and O's. Let us see how these forwards were able to exploit mismatches, and use both their skills and physical tools to help their teams create an advantage.
Danilo Gallinari - #6 Italy
Italian national team coach, Simone Pianigiani, used his versatile bigs (Bargnani and Brooklyn Nets forward/centre Andrea Bargnani) together in "pin downs", as well as the rarely implemented "4/5" (power forward and centre) pick and rolls.
The 4/5 pick and roll
Italy used this to great effect in their game against Spain. For those who ever wondered what Pau Gasol would have looked like playing Tom Hank's role in Cast Away... here is Pau Gasol on "an island": https://www.youtube.com/watch?v=ZQPmM4ifuSs
Attacking 5 man on switch
In this clip, Italy used a 5/4 pin down to get Gallinari open in their game against Turkey. Turkey switched their 5 (Semih Erden) onto Gallinari, so he explodes past the defender and is fouled. https://www.youtube.com/watch?v=6wMcLYvx9QE
Attacking a guard on switch
Even when teams play smaller, quicker defenders on Gallinari to take away his ability to penetrate, Galinari is still too quick and strong to be kept out of the paint. This time Turkey switched one of their bigger guards, Anadolu Efes' Cedi Osman onto Galinari. https://www.youtube.com/watch?v=Jgw1VuWUCAc Different defender, same result.
Play making off the ball screen
Putting in the final touches on Gallo's offensive game; watch how he makes accurate passes in the pick and roll when he is double-teamed, or if the screener's defender is slow to recover. https://www.youtube.com/watch?v=cW9sL9W4aMw BELLESSIMO!
---
Nemanja Bjelica – #8 Serbia
It's no coincidence that after Bjelica's performance at Eurobasket –-where a bunch of the NBA scouts I talked with thought he should be in consideration for tournament MVP prior to the semifinals-- the Timberwolves released a former #1 pick in Anthony Bennett, to find Bjelica more playing time.
Driving
Look at Bjelica showing off his entire package. The use of the 4-5 ball screen causes Spain's "5" (Real Madrid's Felipe Reyes) to switch on Bjelica, who then breaks him down off the bounce and gets to the rim.
https://www.youtube.com/watch?v=0Y3US4L_I8U
Passing
This time, Bjelica is the screener in the pick and roll play, causing Spain to switch their 2 guard (Fernando San Emeterio) onto him. Bjelica takes him down in the block, spins off him to the baseline, and just when you think San Emeterio has forced him out of court, and into a turnover, Bjelica whips a perfect bounce pass to a cutting receiver for the layup and foul.
https://www.youtube.com/watch?v=g4I-Soa3BQE A brilliant combination of vision, body control and poise.
Stepback jumper
THIS. IS .JUST. NASTY.
https://www.youtube.com/watch?v=MKJ5h265UMI
Nikola Mirotic #14 Spain
With FIBA only allowing for one naturalized player on national team rosters, the Spanish Basketball Federation faces a dilemma in choosing between Chicago's Nikola Mirotic and Oklahoma City Thunder's Serge Ibaka for next year's Rio Olympics. This year, Spain went with Mirotic, in part because Ibaka was recovering from a knee injury he sustained in March.
Two years ago, back when Ibaka was coming off his third straight All-Defensive first team nomination, and Mirotic had yet to step on an NBA court, this decision might have seemed straightforward. Now that Mirotic's ball-handling and playmaking have moved to an elite level, along with the championship success Spain had at this tournament, it will be tough for Spain's national head coach Sergio Scallario to leave Mirotic out.
Baseline stagger
On to the film. An interesting way that Scallario used Mirotic, was to work him off screens for catch & shoot or quick isolation opportunities, like a coach would normally do for a wing player.
https://www.youtube.com/watch?v=Up5OzAxoOqw This was similar to how the Turkish coach used Ilyasova, as seen here:
https://www.youtube.com/watch?v=KMwIxC51O7I
---
What does this mean for the Boomers?
Next year's Olympics will feature a host of teams with playmaking forwards. From Eurobasket, reigning champions Spain qualified, along with perennial European basketball powerhouse Lithuania, who used skilled, tall wings at the power forward alongside Toronto centre Jonas Valanciunas.
Serbia, France, Italy have all booked a place at the Olympic qualifying tournament next year, and I would not be surprised if two or even all three appear in Rio. Argentina has qualified by winning the FIBA Americas tournament, and they have two experienced, versatile bigs in their frontline: Real Madrid's Andreis Nocioni and Toronto's Luis Scola (who had 35pts and 13rebs vs Team Canada's front court, which featured a host of NBA players).
Nigeria, this year's Afrobasket winners, have two very athletic Aminu brothers at the power forward: Al–Farouq from the Portland Trail Blazers, and Alade, who plays in the Israel Super League. And let us not forget Team USA, who will have Kevin Durant and LeBron James playing at the same spot.
Who is the Boomers' ideal playmaking 4?
Now, let us consider the potential Boomers front court lineup for the 2016 Olympics: Andrew Bogut, Aron Baynes, David Andersen, Cameron Bairstow, Brock Motum and Nathan Jawai come to mind. They bring different skills to the mix, but it is tough to see a candidate who can step into the playmaking forward position at both ends of the floor.
During the recent Oceania Championships, Boomers head coach Andrej Lemanis was able to play various combinations of his bigs when matched up against New Zealand's version of the playmaking forward: Mika Vukona of the NZ Breakers.
This is because Vukona is a literal non-shooter from deep (0% in Oceania series and previous NBL season). Without the threat of an outside shot, Australia's big men did not have to play him tightly on the perimeter. Notice how far Bogut sagged off Vukona in this capture below.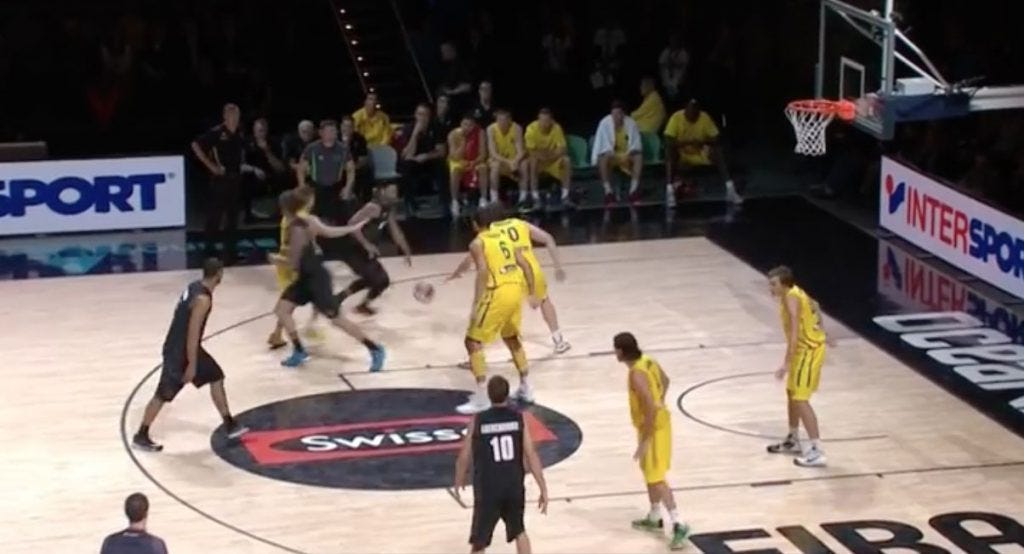 This will not be the case in the Olympics. The playmaking forwards in Rio will range from merely capable, to elite from the 3-point line. Needless to say, a defender with good foot speed at the perimeter is a must.
Bairstow defends well at an elite international level, and should see minutes at this position. I was at the NBA Summer League this July and saw a real focus in "Bear" stretching his shooting range to the 3pt line. He attempted almost 3 attempts from downtown per game and converted at a very respectable 35%. This newfound shooting improvement definitely helps the Boomers. The rest of his offensive skillset however is a work in progress, so Lemanis might need to shift some of the playmaking duties from Bairstow to either the 2/3 spot (Joe Ingles) and/or play two point guards (Matthew Dellevadova and Patty Mills) together.
Ben Simmons is another prime candidate for this playmaking 4 role. He has the size, speed, and ball-handling skills to play this position, but his shooting and lack of experience might make it hard to see him on the floor during big games.
Could the Boomers play small ball?
An interesting lineup might be Ingles at the power forward playing in a closing lineup of small ball. Think Delly, Mills, a low-usage/floor-spacing wing like Ryan Broekhoff or Brad Newley, and either Baynes/Bogut at the five.
[gfycat data_id="SpryFaintGuineafowl" data_autoplay=true data_expand=true]
Ingles is in the same mould as Bjelica and company; he has the size (6 ft 8") and playmaking abilities to take his defender off the bounce, and he shot the ball at 35.8% from the 3-point line in the NBA last season.
[gfycat data_id="MediumSparklingEquine" data_autoplay=true data_expand=true]
As seen during his season with the Utah Jazz in the NBA, Ingles definitely holds the ability to stretch the floor and create space.
This topic will be an interesting debate for coach Lemanis. Dre is an extremely successful and astute coach, and I have no doubt he has already begun consideration on this pivotal position for the Boomers, and what tactics he may employ to negate the opposing "playmaking 4s" of international basketball.
Who would you consider as a prime candidate for Australia's playmaking 4 spot?
*All NBA statistics were compiled via NBA.com/stats unless otherwise stated.