Discover more from The Pick and Roll
We're all about Aussie hoops. Independent, objective analysis and commentary. Insightful narratives built around Australian basketball. Read about our men and women in the NBA, WNBA, NCAA, Europe, national teams, NBL, WNBL, NBL1, prospects and more.
Over 2,000 subscribers
Resilience rewarded as Maddi Condron commits to Portland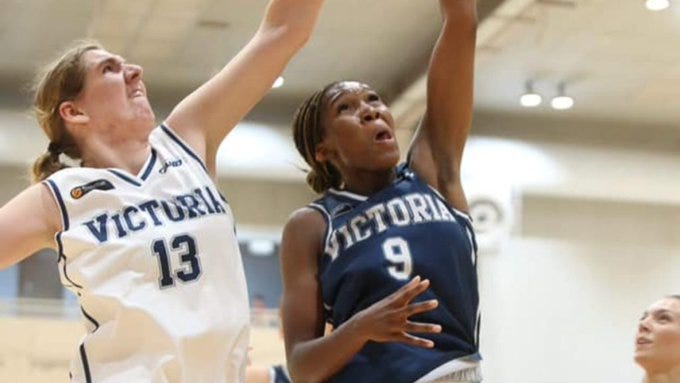 Source: Supplied
Portland's success in recruiting Australian basketball players is set to continue, with 6'7 centre Maddi Condron the latest to commit to the Pilots.
Already boasting three from down under on their roster, 2020 WCC Champion Pilots have added size in the addition of the talented Condron.
In her commitment shared on Facebook, Condron was clearly excited by the opportunity to not only head to US College on a scholarship, but in particular a Portland team that was the talk of the WCC this past season.
"This is an amazing opportunity for me to continue to develop my basketball in one of the best systems for student athletes in the world," shared Condron. "I am excited for my time at Portland and grateful for the opportunity to be working with the amazing coaching staff and players under Coach Michael Meek.
"I am so grateful to those incredible coaches and mentors who continued to support and encourage me throughout my junior journey, believing in me and so generously investing their time in a very tall uncoordinated player's development. Also to my family and friends who have and will continue to share my highs and lows with humour and love."
Condron's potential was on show at the 2020 Australian Junior Championships where she suited up for the bronze medal winning Victoria A team. She was one of six players on the team to average 6 points or more, doing so at a competition leading 66.67% from the field. Like many taller players, Condron's game has developed later than most but his currently on an exponential development curve.
Made to work hard for every opportunity she received, Condron progressed through the junior ranks having never made a state team. Yet her persistence, hard work and resilience paid off, finally breaking through for selection to the Under 20 Victoria A state side that eventually won bronze earlier this year.
"In February this year I was fortunate to have the opportunity to represent my state for the first time in the Under 20 A Victorian team under coaches Zoe Carr and Jenni Screen," shared Condron exclusively with The Pick and Roll.
"This experience not only taught me a lot as a player, it also solidified within me my love of the game and motivation to play basketball at the highest possible level that I can. In hindsight, missing out on earlier state teams helped build a resilience within and allowed me to develop in my own time. It also made my Under 20 experience at nationals, winning a bronze medal, so much more special.
"I never truly gave up on my dream, however I had to learn that instead of focusing on outward acceptance, I needed to focus on improving my own game. I was fortunate throughout my journey to be surrounded by some very special mentors and coaches that believed in me."
Sam Tomlinson of Aussie Basketball USA, explained she was happy to be able to help Condron find a home at Portland. She was also excited for what lay ahead for the talented centre.
"Players should never give up on their dreams to play in college," shared Tomlinson in reference to the challenges Condron had to overcome to fulfil her dream to play college basketball.
"Those who get overlooked for a state team should stick with it and not give up on their basketball ambition and college aspirations. A full basketball scholarship in the USA is valued at around US$250,000, and it's more than just about basketball as you get an education too. I'm a true advocate of the US College pathway for Australian girls, after all, it's the best competition in the world for university students.
"I'm here to help the girls achieve their dreams, and I want to help by being the bridge between under 20's and coming back to play WNBL, NBL1 or Opals - whichever comes first."
Condron joins a Pilots team on a high after they enjoyed a fairy tale season in 2019/20. Widely predicted to finish last in the West Coast Conference, they instead turned into Cinderella and did the unthinkable - they beat Gonzaga in the Tournament final and qualified for the NCAA Tournament for the first time since 1997.
A lot of the Pilots success came behind the brilliant play of their existing trio of Aussies. WCC Second Team recipient Haylee Andrews along with freshman duo Alex Fowler and Keely Frawley were nothing short of sensational in their WCC Tournament run. Fowler capped a brilliant freshman year with a host of wards, including being named to the All-WCC First-Team, as Newcomer of the Year and WCC Tournament MVP. She was also named The Pick and Roll's Player of the Year.
Portland and their growing Aussie presence are only just getting started, and with Condron now on board, will be looking to repeat their success in 2020/21 and hopefully this time get a chance to actually go dancing.