Discover more from The Pick and Roll
We're all about Aussie hoops. Independent, objective analysis and commentary. Insightful narratives built around Australian basketball. Read about our men and women in the NBA, WNBA, NCAA, Europe, national teams, NBL, WNBL, NBL1, prospects and more.
Over 2,000 subscribers
Pink Round 2023: An important cause for all NBL1 clubs
The NBL1's Pink Round will run between 12-14 May across all conferences. We asked NBL1 clubs about their reflections and personal connections to the league-wide cause.
The NBL1 Pink round has been held previously in 2019, 2021 and 2022. It will once again be held across Mother's Day weekend by all five conferences. The round is a show of support for Australians affected by breast cancer, highlighting the fact that more than 20,000 Australians are diagnosed with breast cancer each year, along with the vital role that Breast Cancer Network Australia (BCNA) plays in working to support, inform, connect and represent these men, women and their families.
"The NBL1 community understands and acknowledges the ripple effect that a breast cancer diagnosis has on family, friends and sporting communities," the league shared last season. "With one in seven Australian women diagnosed with breast cancer in their lifetime, it is important to share the message of awareness whilst helping to enable BCNA to ensure every Australian can access the very best support, information, treatment and care."
The Pick and Roll is a reader-supported publication. To receive new posts and support my work, consider becoming a free or paid subscriber.
Not only has this cause affected some players, personnel and staff personally, but some clubs have been already on the front foot about this in the past decade. The Casey Cavaliers in NBL1 South are an example of one that have been a big purveyor of this round before it even became league wide, starting way back in 2013 in the Big V competition.
Casey Cavaliers (South) | Ash Szalek
Marketing and Communications manager Ash Szalek has seen the impact breast cancer awareness can have, on a club like his. For just under a decade before the NBL1 Pink Round, they ran the "Ballin for Breast Cancer" match.
"We've been running the Ballin for Breast Cancer round through the BCNA since 2013. We had a couple of players with their mums that were affected by breast cancer so we took it on ourselves as a club to raise funds for the cause," Szalek shared with The Pick and Roll.
"We sold pink T-shirts, socks and dressed up in all sorts of pink-related things like fairy wings and tutus – it engaged so much with the community and helped us to have sold out crowds annually."
The Casey Cavaliers have been running a "Pink themed" Breast Cancer Awareness Round since 2013. Image supplied by Casey Cavaliers / Ash Szalek
Szalek has observed the rise of the Pink Round. As one of the original ball clubs that has raised more than $50,000 over the past decade, he's pleased to see it all continue for everyone. "It provides all teams that extra motivation when the event is bigger than the game, and for this year's round we are hoping to fill the stadium with close to a thousand as well as fundraising just as much as we've done in the past – if not more."
Suited in their 'Miami Heat Vice' style uniforms once again, the Cavaliers will take their pink round as an opportunity to continue to raise awareness for the public.
Another club in the East which started theirs in similar circumstances half a decade later, had someone much closer to the club stand for in their recognition in the round.
Central Coast Crusaders (East) | Jacinta Govind
Jacinta Govind has a personal connection to Pink Round, as does her club. It takes the legend of a place like this to pass away from something as devastating as this to have that kind of impact. The Crusaders —known as the Rebels according to Govind in the past— haven't been involved in charity rounds prior to 2018.  
"We actually started our Pink Round before the NBL in 2018, in response to someone that was very important to the club and also very important to me," Govind explained.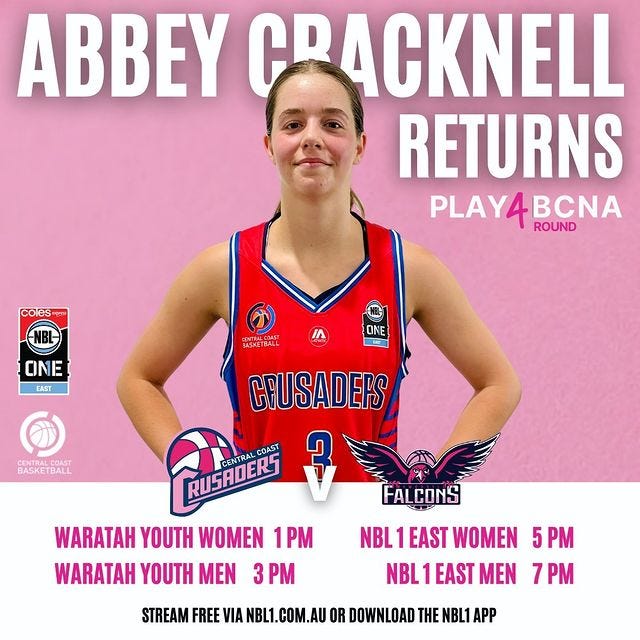 "Her name was Carly Casper. She was involved with the club since she was under 10."
Casper was involved with the club as a player. As she and Govind got older, she took a break from basketball, eventually finding her way back and started coaching juniors, making a massive impact on the community with her dedication and time put into coaching.
According to Govind, a lot of the young girls looked up to her, but Casper passed away from breast cancer at just 31 years of age in 2017.  
"Our Pink Round is a tribute to her, and especially because of some of the people who were working at the club at the time were also very close to her, [which is] why we originally decided to start a Pink Round for the Crusaders, just as a way of honouring her." Govind respects Casper's legacy so much at the club, that the introduction of the Pink Round she feels has helped secure it as well.  
In what was a very emotional and heartfelt Jersey introduction on Episode 28 of Throwback Hoops @s_squin paid homage to her sister Carly Casper - From Throwback Hoops Twitter 10:16 AM · Apr 20, 2022
"Having the round league-wide is important to me because it kind of made me feel a little bit more secure and confident knowing that the Crusaders are going to continue doing a Pink Round no matter [what].
"I did have a bit of a worry when we started the Pink Round in 2018 just as our own initiative, that once the people who had started the round to honour Carly had left the club. I was kind of worried it was going to be one of those things when we got a new GM or a new president or something, that they would decide to forego the Pink Round for whatever reason and our legacy to Carly would be lost."
Govind clearly feels relieved that the Pink Round is becoming a regular fixture annually. "It was actually a bit of a relief for me when NBL1 implemented it as a as a league-wide round because it meant that we could continue to honour Carly every year."
Honouring people of significance during these rounds have been crucial, but nothing has come more than personal than a player whose relatives have been affected by the dreaded occurrence, like Anthony Kopcikas of the Brisbane Capitals.
Brisbane Capitals (North) | Anthony Kopcikas
It doesn't get much more personal for NBL1 North's Anthony Kopcikas, whose family member passed away from breast cancer in 2018. His story is one with a touch of sadness and reflection. "I think we've done little things in the past for Mother's Day, but nothing formal," Kopcikas shared.
Picture Credit: Anthony Kopcikas
"My sister-in-law Lauren had breast cancer at 25 years of age and she had metastasised once and got through that and then it came back when she was 35 – she passed away in 2019."
Pink Round without a doubt, strikes an emotional chord for Kopcikas.
"It's pretty personal with that sort of connection and it's an emotional time for you. It's tough as it brings up all the emotions even though it feels so distant now – but it's been only less than four years and feels like it's been forever but not very long at the same time."
Kopcikas did take some action in response to the passing of his sister-in-law to help raise further awareness of what affected his family directly.
"After Lauren passed away, I grew my hair out to below my shoulders to then shave it off for charity and donated the proceeds and the hair to a couple of different foundations."
Picture Credit: Anthony Kopcikas
He'll be looking forward to getting involved once again in the new instalment of the round upcoming to further champion the cause.
"I'm like super excited that the other teams and other associations are getting involved in raising some money for an awareness, for a charity like this - that means so much to me."   
To have a relative pass away is tragic but to have one's own mother depart from breast cancer, it hits at another level altogether, as the Sturt Sabres' own Soriah Moon shares.
Sturt Sabres (Central) | Soriah Moon
Moon has found the league-wide recognition amazing, especially considering her story and impact the very cancer has had on her family.
"My mom passed away from breast cancer and before that happened, we didn't really run many Pink Rounds through our mom's treatment," Moon remembers.
Not only has Moon been directly affected by it, but she also works with it daily in her day job. "I work a lot with patients with cancer and the more we are becoming aware of it, the more it impacts us. There's going to be someone you know, who knows someone who's either impacted by it, or you know like an auntie or a family member or there's always someone that's going to have someone impacted by breast cancer.
"Sometimes you just go: it's more than basketball, and this is one of those times where you go, you know, like the opposition everyone''s sort of going to buy into recognising all of this."
"I think it's a really good way to raise awareness for breast cancer but also do a lot of fundraising with it as well. Everyone gets involved in the fundraising and people really start to think about it, and maybe just start to appreciate the women in their life while they're still around and that can be a huge impact on people."
The NBL and NBL1 creating a league-wide round has Moon feeling like her experiences and what she witnesses in her day job, will help to make more people aware.
"I think it's amazing and just really important that we hold these rounds to see with the more spectators every week, we're getting more people so it's just a way to really reach out to these people."
At this point, Moon has been a part of a couple of Pink Rounds for the Sabres, including sharing one with a former teammate who has also been impacted by the cause.
Lakeside Lightning (West) | Kylee Smith
Smith's been involved with Pink Rounds and breast cancer awareness almost her whole basketball career, stretching all the way back at college to the NBL1.
"We celebrated a breast cancer round back at my college of Belmont University in Nashville, Tennessee, so it's definitely something that brings a ton of emotions and reminds you that [what] you're always playing for - it's more than just a game, which is actually what we believe at Lakeside," explained Smith.
"It's always more than just a game but with the Pink Round, you're also reminded that it truly you're playing for more than just a game." 
Smith's Nanna, thanks to all of the fundraising and support put into the cause beat breast cancer in her lifetime. It's a very real thing for her number one supporter across her basketball career, who now has since passed from other causes.
"She beat breast cancer and she was a huge part of my life basketball career, and she never missed a college game. She watched —before she passed away— my first season in Australia playing in 2019."
Picture Credit: Kylee Smith
"I noticed she was very proud and she's one of the reasons I have such a tenacity, the fight in me just on the court because she's been a fighter her whole life."
The inspiration for Smith echoes the reasoning behind her club and any club she's been with since, to champion for fundraising and support for the BCNA.
"Pink Round is a great opportunity to not only just bring the awareness of and show support of everyone affected by breast cancer, but also fundraise for many causes and so many people that are affected by it they need you know.
"When you put your money where your mouth is right it's not just showing support but actually backing it with funds. Lakeside Recreation Centre and Lakeside Church as a whole has a massive community and breast cancer has affected a significant amount of staff, volunteers, players, families."
Smith's club along with many others are joining the cause in full support and have many ways they will recognise the league-wide round.
"Part of our fundraising for this year is, we ordered NBL1 Stronger Together Pink Round T-shirts. The message behind being stronger together is, no one has to fight alone and that we're all in this together. When we link up and become united and gather as one, then that's where we're stronger like you.
"It's not a bunch of individuals, it's together and so I think that's also what our mentality on the court we're always striving to be together because we're stronger together.
"It's about standing strong for all the warriors that have cancer that are still fighting, and [those] that are angels now as well."
The importance of Pink Round
Amidst these incredibly touching and emotional stories, a final thought from Govind hit me as to how real this all is, and why it's one of those causes everyone can identify with and embrace.  
"When they announced [league-wide Pink Rounds], I think it was a bit of a no-brainer. Considering how much breast cancer affects a lot of people and as we're learning more and more — a lot of women across the lifespan are now not necessarily over 55 which means this is the population most at risk."
We've barely scratched the surface here. We've touched on some personal stories from five clubs, but with over 75 clubs in the NBL1 that will be recognising Pink Round, there will doubtless be many more personal stories waiting to be shared between clubs and supporters in the coming weeks.
The Pick and Roll is a reader-supported publication. To receive new posts and support my work, consider becoming a free or paid subscriber.