Discover more from The Pick and Roll
We're all about Aussie hoops. Independent, objective analysis and commentary. Insightful narratives built around Australian basketball. Read about our men and women in the NBA, WNBA, NCAA, Europe, national teams, NBL, WNBL, NBL1, prospects and more.
Over 2,000 subscribers
Philadelphia 76ers announce Australian Heritage Night on 25 Jan
It's not the first time we've seen NBA teams celebrate Australia Day. The Milwaukee Bucks celebrated Australia Day last year, while the Cleveland Cavaliers had an Australia-themed game night in 2016. In 2018, with the approach of Australia Day once more, Ben Simmons' Philadelphia 76ers will be holding their own Australia-themed event.
The Sixers announced an upcoming Australian Heritage Night, presented by Four'N Twenty, on Wednesday, 25 Jan 2018 (AEDT), when they play the Chicago Bulls. The Sixers-Bulls game will be broadcast live by ESPN Australia, on ESPN2 from 1100hrs AEDT onwards.
All fans in attendance will receive a free limited-edition T-shirt, featuring a boxing kangaroo, with Australian Heritage Night overlaid in green and gold.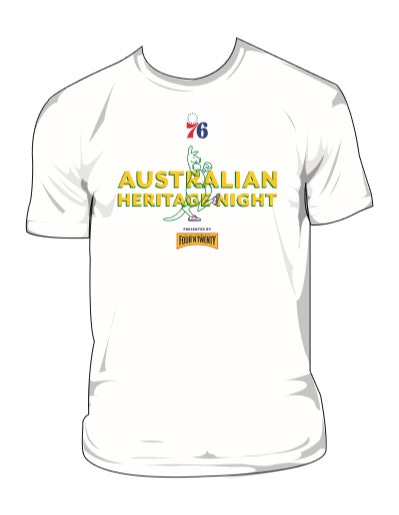 Other features include a foam boomerang giveaway, an interactive Australian spider exhibit courtesy of the Philadelphia Insectarium, an Australian flag pickup station outside of section 104 and an Australian-themed kid's coloring area located outside of section 120.
Retired Collingwood AFL champion Dane Swan, who was a big Allen Iverson fan growing up, will ring the 76ers' ceremonial Liberty Bell prior to tip-off. Swan was drafted by Collingwood late in the 2001 AFL draft, and ended his distinguished career as a five-time All-Australian, three-time Club Champion, two-time Anzac Day Medalist and recipient of the 2011 Brownlow Medal, among other achievements.
Swan will also have his work cut out that night, as he helps ESPN reporter Darren Rovell in an appropriate attempt at redemption. Rovell sparked a wave of outrage on social media last year, when he ate a Four'N Twenty beef pie with a fork and knife, instead of his bare hands.
https://twitter.com/wheelswordsmith/status/932752706321629184
The Philadelphia Hawks, Philadelphia's local footy side, will compete in a beef pie eating contest at halftime, with the winner taking home a year's supply of Four'N Twenty beef pies.
Last year, the Sixers announced Four'N Twenty as their first international corporate partner in franchise history.
"Australian Heritage Night, presented by Four'N Twenty, is another strong extension of the Philadelphia 76ers as an international brand," said Chris Heck, Philadelphia 76ers President of Business Operations. "The historic strength of this brand and our remarkable on-court legacy have always garnered international acclaim. Given our roster of transformative, international players and following our game in London earlier this month, the 76ers are poised to become an even more influential, global franchise. This is only the beginning."
Paul Hitchcock, CEO of Patties Foods, "We are really proud to have joined partnership with the Philadelphia 76ers and launch of the first ever Australian Heritage Night. Four'N Twenty is all about experiences and the big emotions people feel when they are watching sport that they love. This event marks the beginning of a strong bond with the USA and celebrates how eager the world is to taste our humble Four'N Twenty beef pie."