Discover more from The Pick and Roll
We're all about Aussie hoops. Independent, objective analysis and commentary. Insightful narratives built around Australian basketball. Read about our men and women in the NBA, WNBA, NCAA, Europe, national teams, NBL, WNBL, NBL1, prospects and more.
Over 2,000 subscribers
What Spurs struggles could mean for Patty Mills, despite red hot start
At 31 years old, Patty Mills might be playing the best season of his life. He's putting up career numbers, and isn't showing any signs of slowing down soon.
The San Antonio Spurs, however, are another story.
After winning their first three games to start the season, the Spurs have dropped to a 5-10 record, including an active losing streak of seven. The season is still very young, but if the team continues on this trajectory, there could be a subsequent impact on Mills.
Hot start
After coming off an insane FIBA World Cup performance, where many believed he should have been the tournament's MVP, Mills has picked up right where he left off, continuing to be an efficient scorer for the Spurs.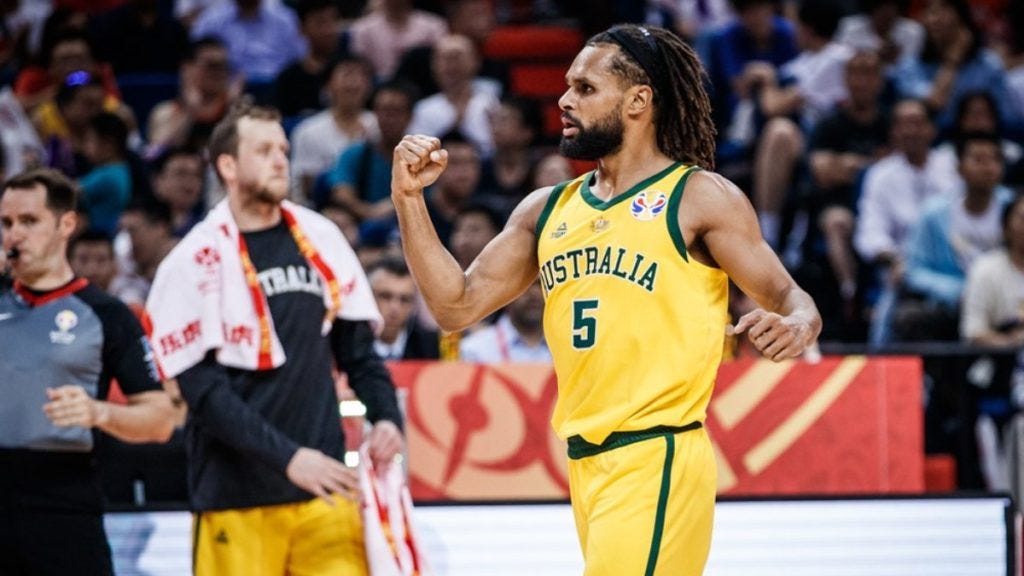 Patty Mills | Credit: FIBA
Mills is averaging a career high 12.1 points per game, which is nearly two points better than any other season he has played in during his NBA tenure, as well as about four points above his career average. This is the third best points per game by any Australian in the NBA, trailing only superstar Ben Simmons, and potential Most Improved Player candidate, Aron Baynes.
On his way to this impressive mean, Mills has been an excellent marksman, shooting 42.5% from long range (34th in the Association, of the players who qualify for league leaders), as this is the best he has shot since the 2013/14 season. These impressive feats have come while Mills has been playing less minutes than his previous three seasons, currently siting at 21.7 per game. The season is not even a quarter complete, and we are accustomed at this point to seeing month long stretches of Mills' hot streaks, but the signs are looking very bright for his personal success.
Mills was a starter for the first time this season in the Spurs' most recent away game against the Washington Wizards yesterday, and if coach Popovich continues to deploy him in the starting unit, his numbers could continue to grow. Against Washington, Mills went for 16 points, on 6/10 shooting from the field, including 4/6 from the three, to go along with 6 assists.
Spurs problems and what it means for Mills
The Spurs have struggled on consistent game execution, and Mills shared these sentiments after their most recent loss to the Wizards.
"I think the positive is we strung more of the 48 minutes tonight, then we have in the past, which is a positive that we are at least in the right direction."
The Spurs seem to be ignoring all of the latest analystics and trends, electing to play a more traditional style of basketball. Out of all 30 teams, they are dead last in 3-point attempts per game at 25.5. This is partially due to their two best players being mid-range specialists who practically have refused to extend their range to the 3 point line. LaMarcus Aldridge has attempted only 23 threes this season, while DeMar DeRozan has shot from behind the arc a measly three times.
Dejounte Murray was expected to make a big leap last year, but tragically tore his ACL before the season started. After sitting out the whole of last year, he started this season with promise, but it hasn't gone fully to plan for the young guard. However, taking Murray out exposes the team's other weaknesses. The Spurs are one of the worst defensive teams in the league, ranked 3rd last in defensive rating, allowing 113.6 points per contest.
If Mills can sustainably provide consistent effort on the less glamorous end of the court, while Aldridge and DeRozan continue to hinder the spacing, then it is very likely we see him regularly in the starting line up in the immediate future.
Trade value, team direction
The Spurs traditionally, have not been a team that has made too many mid-season changes or moves, typically relying on continuity and culture to keep them above the pack. In saying that, these early season struggles are somewhat unprecedented for Popovich-led teams, and with a competitive Western conference, anything is possible.
It makes sense that the Spurs continue to stay competitive, rather than blow it up and rebuild. Popovich isn't getting any younger, and probably wouldn't be optimistic about sticking around for a rebuild.
Mills, who has a year left on his deal after this season, has a very tradeable contract (US$12 million per season), and would be handy off the bench for any contending team. Mills' championship level experience and poise would add a new dimension to teams with limited playoff experience and in need of a proven performer.
Considering the Spurs' lack of perimeter shooting, it would be unlikely Mills is involved in a deal, unless they do indeed elect to totally rebuild.
Mills has been quite an advocate about his love for the Spurs organisation, as well as San Antonio as a town. Expect Patty and the Spurs to turn it around, as time and time has shown us to never bury them too quickly.