Discover more from The Pick and Roll
We're all about Aussie hoops. Independent, objective analysis and commentary. Insightful narratives built around Australian basketball. Read about our men and women in the NBA, WNBA, NCAA, Europe, national teams, NBL, WNBL, NBL1, prospects and more.
Over 2,000 subscribers
Patty Mills is doing Patty Mills things
With the Aussie explosion in the NBA, there has been a lot of talk surrounding the likes of Ben Simmons, Joe Ingles and Dante Exum recently (deservedly so), but let's not forget about the consistency of Patty Mills.
Yes, the Spurs are going to win under 50 games for the first time in 18 seasons(!), but Patty Mills has played a huge role in the Spurs still being in the playoff hunt; currently the 5th seed in the Wild West.
The bottom half of the Western Conference playoff race is absolutely ridiculous.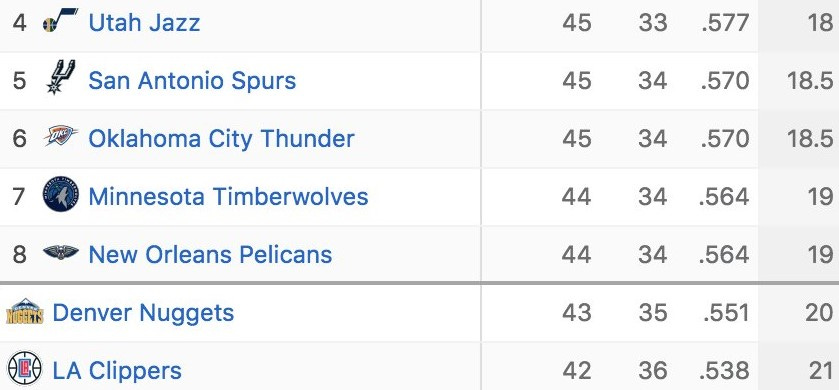 With just three games left, there is no doubt that they are all super important for the Spurs. They play the Trail Blazers and Kings at home, before taking on the Pelicans in New Orleans in what will be a vital match-up on the last day of the regular season.
Mills will need to be every bit of his attacking self in this final leg of the regular season.
As Spurs coach Gregg Popovich alluded to, Mills is a bonafide leader of this Spurs team.
"He's one of our team leaders for sure," - Coach Popovich on Patty Mills pic.twitter.com/iMy2S5eQkm

— San Antonio Spurs (@spurs) April 1, 2018
Since the start of March (17 games played), Mills has been consistent and one of the best for the Spurs. With LaMarcus Aldridge leading the team, Mills has shown his ability to get his own and take over games.
Over that stretch, Mills is averaging 11.3 points (3rd for Spurs), 3.1 assists (2nd for Spurs), 2.1 rebounds and just one turnover, whilst playing the second most minutes on the team (29.9).
He has started in all those games, with the Spurs going 9-8 - including an extremely disappointing overtime loss to the Lakers today.
With Kawhi Leonard missing the bulk of the season, the likes of Mills, Aldridge, Rudy Gay and Dejounte Murray have kept the Spurs going - albeit not up to the ridiculously high standards that we have become accustomed to with the Spurs.
The level of talent just simply isn't there. There's no Tim Duncan anymore, Tony Parker is no longer the starting point guard and Kawhi's quad has limited him to just nine games.
Although there's been more losses than usual, the emergence of Dejounte Murray, along with the high-level play of Mills, Aldridge and Gay, shows that there's still hope for a playoff run from this Spurs squad.
Against the Houston Rockets last week, who boast the best record in the NBA (albeit playing without Chris Paul), Mills had an equal game-high +/- of +20. The Spurs won by 17 points, 100-83. He finished with the stat-line of 14 points, 5 rebounds and 4 assists, along with ZERO turnovers in 37 minutes of game time as he set the tone for his team.
Mills' confidence is sky-high at the moment. When he is in a match-up that he knows he can take advantage of, he does just that.
See below.
DeAndre Jordan got caught on an island. It was not a sandy, sun-filled island that one might hope to come across though, Mills Island is not quite as forgiving or relaxing.
.@Patty_Mills is TOO quick! pic.twitter.com/cequkZXHlH

— NBA on TNT (@NBAonTNT) April 4, 2018
With his 15 points today against the Lakers, Mills has scored in double figures in five consecutive games. This may not seem like a big deal, but it does highlight just how much more comfortable he is in his current role, as opposed to earlier in the season.
As Mills told the San Antonio Express-News recently;
"It was a challenge jumping around like that," Mills said of going back and forth between the bench and the starting lineup and playing point guard and shooting guard. "But being in this position now it's kind of, 'All right, you can settle in.'"
And settle in he has. His 25 points and 4 assists against Utah in late March led the Spurs to a crucial 4-point overtime win. In that game, Mills was facilitating for Aldridge and letting the big man go to work.
He was in attack mode, whilst making the right plays and decisions - kicking it out when necessary and letting it fly when it was time. Because of his attacking mindset, he drew contact - resulting in seven free throw attempts (he drained all seven).
With the playoffs not yet locked in for the Spurs, and Aldridge doing all he can to will his team over the line, the play of Mills may just be the difference in making the playoffs or going fishing early for the Spurs.