Discover more from The Pick and Roll
We're all about Aussie hoops. Independent, objective analysis and commentary. Insightful narratives built around Australian basketball. Read about our men and women in the NBA, WNBA, NCAA, Europe, national teams, NBL, WNBL, NBL1, prospects and more.
Over 2,000 subscribers
Patty Mills on hope, respect and learning from history: "We are all as one"
PHILADELPHIA - Patty Mills stood, as he has done many times before, in front of a sold-out crowd in San Antonio.
Having completed his on-court warm-up, Mills walked to the middle of the AT&T Center. The lights dimmed, and 18,354 eager faces were affixed on the Australian.
The attention was nothing new for Mills, who has built his professional career on the loudest of public daises in the NBA, although there was a distinct feel to this late January evening.
A basketball game was about to commence, yet there was something far more important on Mills' mind. Microphone in hand, he delivered a message which, in his opinion, transcends global barriers or sporting affiliations.
"As a member of the Spurs organization, we are honoured and proud to celebrate the legacy of the Reverend Dr. Martin Luther King, Jr., in hopes that we can continue to educate about the past and we can all move forward together as one," Mills said.
The life of Dr. Martin Luther King Jr. is celebrated in North America with a national holiday, dubbed "MLK Day". Every year, January 21 becomes an opportunity to celebrate the life and legacy of Dr. King.
Mills' comments, and the celebration of MLK Day come just weeks after the Spurs visited the National Civil Rights Museum in Memphis, Tennessee. The museum – which is equipped with a series of poignant exhibits – tells the story of the American civil rights movement through the lives of instrumental figures such as Dr. King and Rosa Parks.
One exhibit, in particular, is especially noteworthy given the context of this week. Patrons visiting the museum can stand on the balcony outside room 306 of the Lorraine Motel, in the exact spot where Dr. King was assassinated on April 4, 1968. Mills did just that. He stood on the balcony outside room 306 and experienced a transformative moment he describes as powerful.
"It was a goosebumps standing on your hairs type of thing," Mills said. "Being able to visit and go through the exhibits, that's obviously a very powerful moment to understand the history of this country."
Mills, who was born in Canberra and arrived in North America as a 19-year-old ahead of a collegiate career at Saint Mary's College, identifies parallels between race-related issues in the United States and injustices endured by Indigenous people in Australia. That is why his speech to the people of San Antonio, which took place on the eve of MLK Day, carried so much weight.
"It was very important for me to deliver that speech," Mills told The Pick and Roll in Philadelphia on Wednesday. "It was a message for me that relates to everyone around the world. That's the power of MLK Day, the civil rights movement and the history that took place in this country. It gives a platform for people around the world to have a voice. It was really important for me."
It's fitting that MLK Day falls just days before 'Australia Day', the national day most people in Mills' homeland celebrate on January 26.
The holiday has become a source of increasing contention, with many Aboriginal and Torres Strait Islander people opposing the current date, which marks the First Fleet's arrival at Sydney Cove in 1788.
Large crowds have gathered at rallies in Melbourne, Brisbane, Perth, Canberra, Darwin and Adelaide over the past fortnight, and further protests are planned on Australia Day to remonstrate a date which supporters view as marking the beginning of Indigenous dispossession.
As one of Australia's highest-profile athletes, Mills has become a leading ambassador for the Indigenous community. His voice, on any topic of race, penetrates deeper than most other Australians. This is a responsibility Mills respectfully carries, and at a time of much consternation in his homeland, he is focused on enlightening the Australian community.
Mills has opted to stay out of the "change the date" debate, instead concentrating his efforts on educating others, both in Australia and globally, on the context and facts behind an issue that means so much.
"Using my platform to be able to educate people on the facts of Australian history, I think that is my biggest weapon I am able to provide to Americans and other people over here, as well as people back home on the significant events that happened," says Mills. "I think that is what I can provide."
Mills freely acknowledges the protests taking place in Australia and admits to feeling a sense of unease with being away from his homeland, when debate is raging and, in his mind, a community is dividing down racial lines.
"It's an important time in Australia and it has been heating up over this time," Mills said. "It's uncomfortable for me to be so far away from home and see the growing division of Australians. I have a little sense of helplessness being so far away. It doesn't stop me from giving it a crack and trying and being able to be a voice."
Mills, now a 10-year NBA veteran, let his feet do the talking in Wednesday's showdown against Ben Simmons and the Philadelphia 76ers. The Canberra native wore a custom-made pair of Under Armour shoes, equipped with a poignant distillation of Australian history ahead of Australia Day 2019.
The shoes incorporated the three national flags of Australia - Australian, Aboriginal and Torres Strait - appearing through the dusty red-soil plains, in a symbolic gesture that, in the words of Mills, is a "sign of hope that our future is brighter than our past by remembering and honouring all of those who have sacrificed for us."
Mills' left shoe was an ode to the past, while his right shoe offered a glimpse of the present.
"The left shoe displays the word 'INVASION' to describe the European Settlement and the genocide of Indigenous people that occurred on January 26, 1788," Mills said. "This was the year the British began to colonise the continent."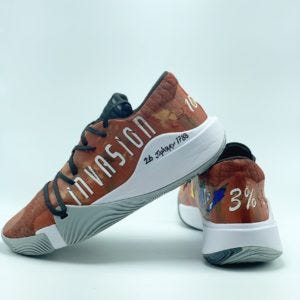 "The right shoe displays the word 'SURVIVAL' to describe the current status of Indigenous people, land and culture in Australia. This also illustrates the date, January 26, 2019."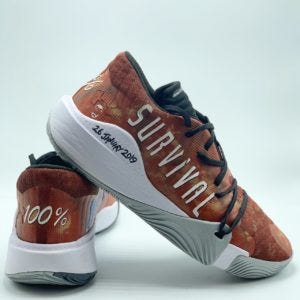 As Australia Day approaches, Mills wants to inform. Australia, which was once populated by 100% Indigenous people is now, 231 years later, only 3%, according to Mills. These are the facts that he wants disseminated to the world. Education, Mills explains, is the key to bridging the insensitivities that continue to plague Australian race relations.
"My general message, whether it is to people in Australia or people here in America or people all around the world, and it definitely relates to Indigenous Americans and black Americans, as this is the week of MLK Day and the celebration of the day, [the message] is to educate people and keep reminding people on the history of the country and making people aware of the facts.
"I think, after that, then you can acknowledge. My message is to educate and for hope and respect. I hope that there is a brighter future than our past so that we can understand that we are all in this together. We are all as one. I think that's the message."
Being the only child of parents who both worked in Indigenous affairs for the federal government -- Mills' father, Benny, is a Torres Strait Islander, and his mother, Yvonne, is an Aboriginal Australian – Mills has always been a willing speaker on Indigenous Australian culture. His platform is now amplified, and the role Mills plays in the community he represents has grown to levels that were unimaginable when he entered the NBA in 2009 with the Portland Trail Blazers, but the message remains the same.
"I pinch myself a little bit," Mills says, when asked about the opportunities he now has as an NBA player. " But what I do is what I've been doing my whole entire life.
"Whether I am back growing up and going to school with my family, or now. The stuff that I say is the stuff that I have always said and always believed in. It's just a matter of the platform being different with the [people] I am able to reach which I think is exciting."
Gregg Popovich, who has coached Mills in San Antonio for seven years, called Mills the spiritual leader of his team and credits the Australian for educating his teammates on Indigenous Australian culture.
"Patty, as an Indigenous native of Australia, is very aware of what went on and what his family went through," Popovich said. "He has actually brought that to our team and shown our team what that is all about. Whenever he can be involved with things form back home, he tries his best to be apart of that."
"He is socially aware," says Brett Brown, who coached Mills and the Australian Boomers at the 2012 London Olympics. "He is in the game and he cares."
While the NBA now provides Mills with a global audience, his message remains constant and that, once again, is focused on instructing people about the past in hope that it will lead to a unified future.
"That's all my message is: to educate people on what it is and don't forget about it."