Discover more from The Pick and Roll
We're all about Aussie hoops. Independent, objective analysis and commentary. Insightful narratives built around Australian basketball. Read about our men and women in the NBA, WNBA, NCAA, Europe, national teams, NBL, WNBL, NBL1, prospects and more.
Over 2,000 subscribers
Paige Price set to become a Hoosier with verbal commitment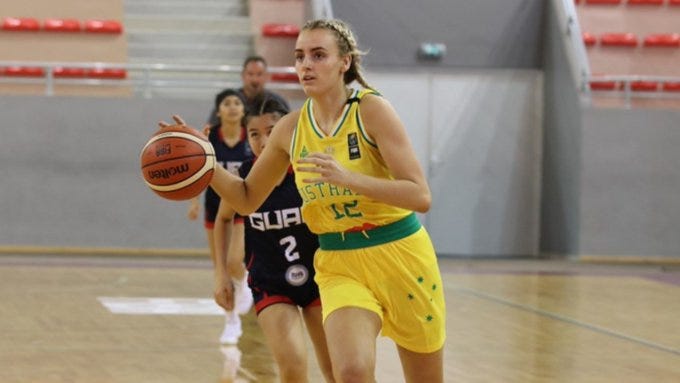 Credit: FIBA
One of Australian basketball's brightest prospects, Melbourne Boomers development player Paige Price has announced her choice of college, verbally committing to Indiana as part of the Hoosiers in 2021, which would make her part of the graduating class of 2025.
A highly-rated recruit, Price announced a Top 3 featuring Duke, Arizona State, and Indiana in early February. Both Duke (Miela Goodchild) and Arizona State (Imogen Greenslade) will feature an Aussie on their roster in 2021, but Price is set to forge her own path in making the decision to move to Bloomington. Not only will Price be the only Aussie on the roster, there is no record of any Australian woman playing for Indiana in program history to this point.
A junior for the Knox and then Southern Peninsula associations in Victoria, Price has been around elite programs for several years, working her way into the national setup in the process. Captain of the Australian team that secured gold at the 2018 FIBA Under 15 Oceania Championship, the 6'1 guard secured All-Star Five honours in that tournament as Australia dominated the tournament. Price also won gold at Oceania level in the 2019 Under 17 Championship, and was set to make her mark at the Under 16 Asian Championships in Canberra this year before the COVID-19 global pandemic saw that tournament cancelled. Price still has a chance at playing in August's Under 17 World Cup, but that tournament is also now under threat for the same reason.
Outside of her national team selections, Price has already enjoyed success in other ways, including selection for 2018's NBA Basketball Without Borders Asia Camp as well as spending 2019 with the Basketball Australia Centre of Excellence. During that time, Price averaged 7.8 points and 4.5 rebounds in the inaugural season of NBL1, demonstrating that the youngster can hang with older players with vastly more experience. Price also spent the season as a development player with the WNBL's Melbourne Boomers, making her debut against the UC Capitals in October before making a second appearance against Perth later in the season.
Price's decision to join Indiana comes following an outstanding season for the Hoosiers. After going 8-10 in Big Ten play in 2018-19, Indiana bounced back to finish with a 13-5 record in conference play and 24-8 overall. Despite losing to eventual champions Maryland in the Big Ten tournament, the Hoosiers were set for a return trip to the NCAA Tournament after winning the WNIT in 2018 before being knocked out by Oregon in the second round of 2019's Big Dance. The Big Ten is one of the more challenging conferences in the country, but Indiana appear to be a well-placed program at the current time.
With still seven months until the initial signing period, Price's announcement increases the Australian contingent of 2021 commitments to no less than four. New South Wales Under 20 guard Kitty Henderson is set to move to Columbia, whilst Western Australia's Emma Strelein is set to add to the burgeoning Aussie contingent at Portland. Meanwhile, Audrey Fuller, younger sister of Davidson forward Adelaide, is on her way to Campbell, just two hours' drive from Davidson.
Price's commitment will increase the number of Australian women in the Big Ten to four, joining Northwestern's Jess Sancataldo and Nebraska duo Isabelle Bourne and Ruby Porter. The conference has been slow on the uptake in terms of successfully recruiting Aussies when compared to other major conferences, particularly the Pac-12 and ACC. However, with the number of elite Aussies heading to college swelling over recent seasons, it seems to only be a matter of time before all power conferences contain a healthy number of Australian players.