Discover more from The Pick and Roll
We're all about Aussie hoops. Independent, objective analysis and commentary. Insightful narratives built around Australian basketball. Read about our men and women in the NBA, WNBA, NCAA, Europe, national teams, NBL, WNBL, NBL1, prospects and more.
Over 2,000 subscribers
Meet the Pacific's up and coming men's basketball stars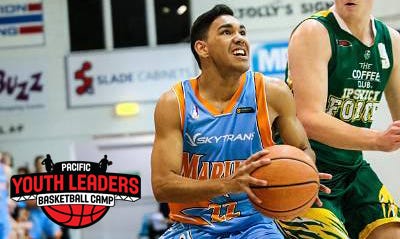 GOLD COAST - Earlier, we profiled some of the male talent from the Pacific participating in FIBA's inaugural Pacific Youth Leaders (PYL) Basketball Camp, from September 2-11.
We conclude this two-part series with a look at some of the remaining talent such as Timee Tekonnang (Kiribati), Collin Lal (Fiji), Josua Qalova (Fiji), Jaylan Bin Tahal, Elijah Puna and Verle William Jr (all from Australia).
Tekonnang, a 190cm forward hailing from the island republic of Kiribati, is one of the most passionate ballers to attend the camp. Basketball means everything to him.
"It means as if it is my life," he told FIBA.
He aspires to be great, and displays that mindset.
"Everything about basketball, training, shooting, defense, offense," he said. "Also I need [to learn] more about how to become a best player in my team and my country."
Lal, of Fiji, might be small in stature at 156cm, but his passion for the game is enormous. He's thrilled to be a part of the camp.
"Basketball means a lot to me. As long as I can remember, I have been playing basketball."
He has specific goals in mind that he hopes will help him achieve higher honours in his country.
"I hope to learn as much as I can from this training camp," he said. "I would love to be able to come back to Fiji with good basketball habits. Some of the things I would like to learn are; proper boxing out, shooting post play and rebounding."
Qalova, also from Fiji, simply loves the game for the cathartic reasons.
"It means that I can be myself and enjoy sports while playing with my friends and family," he said. "It helps me relieve stress and puts a smile on my face."
Qalova is hoping that the experience gained from the PYL camp will help him grow as a basketballer and as a person.
"I hope to help my team mates with the experience I will gain at the PYL basketball camp, and strive to play for the national team."
Bin Tahal, of Australia, is a 170cm guard who has played representative basketball in North Queensland since 2007.
He has dreams of playing professionally, having already firmly established his name within the Cairns basketball community. The camp will provide Bin Tahal with the added opportunity to learn from some of the biggest names in the region.
"I hope to gain knowledge from extremely experienced coaches and players," he told FIBA. "I also look forward to competing with other players at such a high level. I think that it is an amazing opportunity and the experience gained will help me take my basketball career to the next level."
Elijah Puna | Supplied by FIBA Oceania
Puna, a 198cm forward, is another with a long history of club and representative basketball. Currently playing for South West Metro Pirates, Puna notes how basketball has impacted his life for all the right reasons.
"This sport has changed my life for the better, especially off the court as well," he said.
The camp will afford him the opportunity to test himself – in a leadership sense – something he is keen to develop further. He has always been a good teammate, but often found himself hesitant in taking on a leadership role, due to the expectations that come with it.
"I believe that this camp will help me overcome this feeling, because I know that I have leadership skills in me," he said. "I believe that this camps will bring out these skills so that I can have an even bigger input into the game, my teammates and in my life in general."
Verle Williams Jr | Supplied by FIBA Oceania
William Jr is a 173cm guard who has passionately represented Queensland since 2013. Basketball means everything to him.
"Basketball is where I express my feelings and just enjoy playing," he told FIBA.
William Jr does as much as he can for his community, and is proud to have represented the Indigenous All-Stars in 2014. He too is looking forward to sharing his experiences from the PYL camp when he returns home.
"I would use my experience from the camp with everything," he said. "I will help my teammates and teach the things I have learnt from the camp."
The event is made possible through Australian Government funding.
---
About FIBA
FIBA (fiba.com) – the world governing body for basketball – is an independent association formed by 215 National Basketball Federations throughout the world. It is recognised as the sole competent authority in basketball by the International Olympic Committee (IOC).
For further information about FIBA, visit fiba.com or follow FIBA on facebook.com/fiba, twitter.com/fiba, instagram.com/fiba and youtube.com/fiba.