Discover more from The Pick and Roll
We're all about Aussie hoops. Independent, objective analysis and commentary. Insightful narratives built around Australian basketball. Read about our men and women in the NBA, WNBA, NCAA, Europe, national teams, NBL, WNBL, NBL1, prospects and more.
Over 2,000 subscribers
Pacific Youth Leaders Camp: Day 7 recap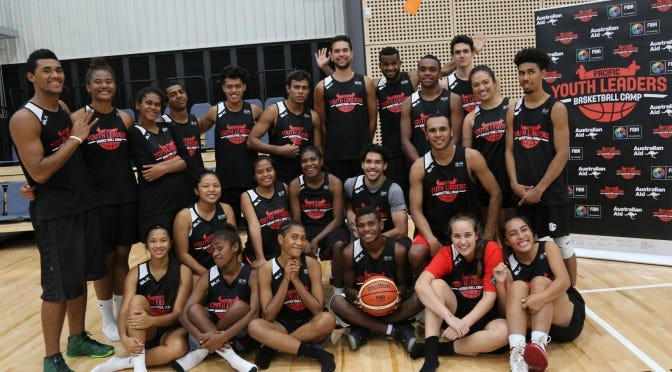 GOLD COAST - Day seven of the Pacific Youth Leaders Camp was a lot lighter for the athletes following wins against the U21 Gold Coast Rollers.
A series of shooting games, with the campers spilt up into culturally and gender mixed groups, was the only basketball activity on day seven. It was an enjoyable session for the athletes, with smiles being cracked all over the court, while the innate competitive nature of the campers also shone through.
After the games, camp coaches and mentors Carrie Graf, Phil Smyth, Peter Crawford, Kelsey Griffin and Allison Tranquilli, used the day to talk to the athletes about their stories, experiences and lessons from their basketball careers. Mthoko Madonda of Reach Sports Management also provided advice to the athletes.
Former Australian Boomer Crawford outlined his life motto of 'step up and represent.' He talked to the campers about how this message meant stepping up to every challenge and remembering that you're representing yourself, your team and your community.
With 489 games of experience in the NBL and an Olympic campaign, Crawford described to the athletes how each challenge is one to learn from. Crawford used the examples of injury setbacks, meaning it can be an opportunity to improve another part of your game, and selection rejection as a chance to work harder next time.
Tranquilli told the athletes how her teammates made an impact on her as a player and a leader. Recalling a story from when FIBA Hall of Fame inductee, Michele Timms, dove on a loose ball. Tranquilli described how she knew that was the effort required in games and in training. She also talked about how influencing and challenging her teammates drove her to new heights.
Being able to bounce back was also a predominant message in Tranquilli's talk. Despite being cut from the Opals in the lead-up to the 2000 Olympics, Tranquilli explained how she had given it her all, so it allowed her to move on and pursue her dreams.
Smyth talked about the importance of having a strong work ethic, using a story from his playing days to demonstrate how you must work hard as an athlete. Smyth said his daily routine used to entail at least an hour of shooting before practice, and challenging himself to make 100 three-pointers against a running clock, followed by 100 free throws.
Graf spoke about how she knew early on that playing wasn't going to be the path for her career. Instead, after playing under a terrible coach, Graf realised there is another part of basketball that she could contribute to, so she began a successful coaching career.
Jaylan Bin Tal asked Graf about what attributes elite and successful athletes possessed, and the former Opals' coach narrowed to down to three: the ability to handle adversity, work effort, and energy input. Graf also explained a sense of 'we team,' meaning that you need to know when to stand back, speak up and encourage teammates with words or actions.
At the conclusion of the session, all of the coaches agreed on some common lessons for the campers to take from the day: resilience, handling adversity, work ethic, being a great communicator, a team leader and the willingness to work hard.
In the leadership session, the campers were introduced to Cain Slater and Nerida Conway from Charity Bounce. The duo talked to the athletes about building individual brands, how to use social media and how to conduct yourself in the media. The campers were walked through techniques for calming nerves prior to an interview and how to relax on camera.
The athletes were given the evening off, as they prepared to take on the Seahawk representative sides on Friday at Coomera Indoor Stadium from 6pm.
* This event has been made possible through Australian Government funding.
---
About FIBA
FIBA (fiba.com) – the world governing body for basketball – is an independent association formed by 215 National Basketball Federations throughout the world. It is recognised as the sole competent authority in basketball by the International Olympic Committee (IOC).
For further information about FIBA, visit fiba.com or follow FIBA onfacebook.com/fiba, twitter.com/fiba, instagram.com/fiba and youtube.com/fiba.