Discover more from The Pick and Roll
We're all about Aussie hoops. Independent, objective analysis and commentary. Insightful narratives built around Australian basketball. Read about our men and women in the NBA, WNBA, NCAA, Europe, national teams, NBL, WNBL, NBL1, prospects and more.
Over 2,000 subscribers
Olympics: How Serbia adjusted and dominated the Boomers
Serbia executed a remarkable shift in strategy, and showed the Boomers they had what it took to win. Having lost to Australia 80-95 in the Group A tourney, they readjusted and secured a decisive 87-61 victory in the semi-finals this morning.
The Boomers' plays were seemingly negated right from the tip, and the first quarter was a microcosm of most things that went wrong for Australia. Like Andrew Bogut said postgame, "They kicked our ass from start to finish."
What were some of the changes Serbia made, that took the Boomers out of their game?
Playing off Ingles
Joe Ingles has not shot well from deep throughout the games. He's made 26.7% of his three-pointers (4 of 15) over 5 group games, and went 0 of 3 during the quarter-finals. Having obviously noticed this troubling statistic, Serbia made the appropriate defensive adjustments.
Here's how Ingles' defender (Kalinic) was guarding him during the group game. Notice how he's never too far away, ready to contest if Jingles caught the ball.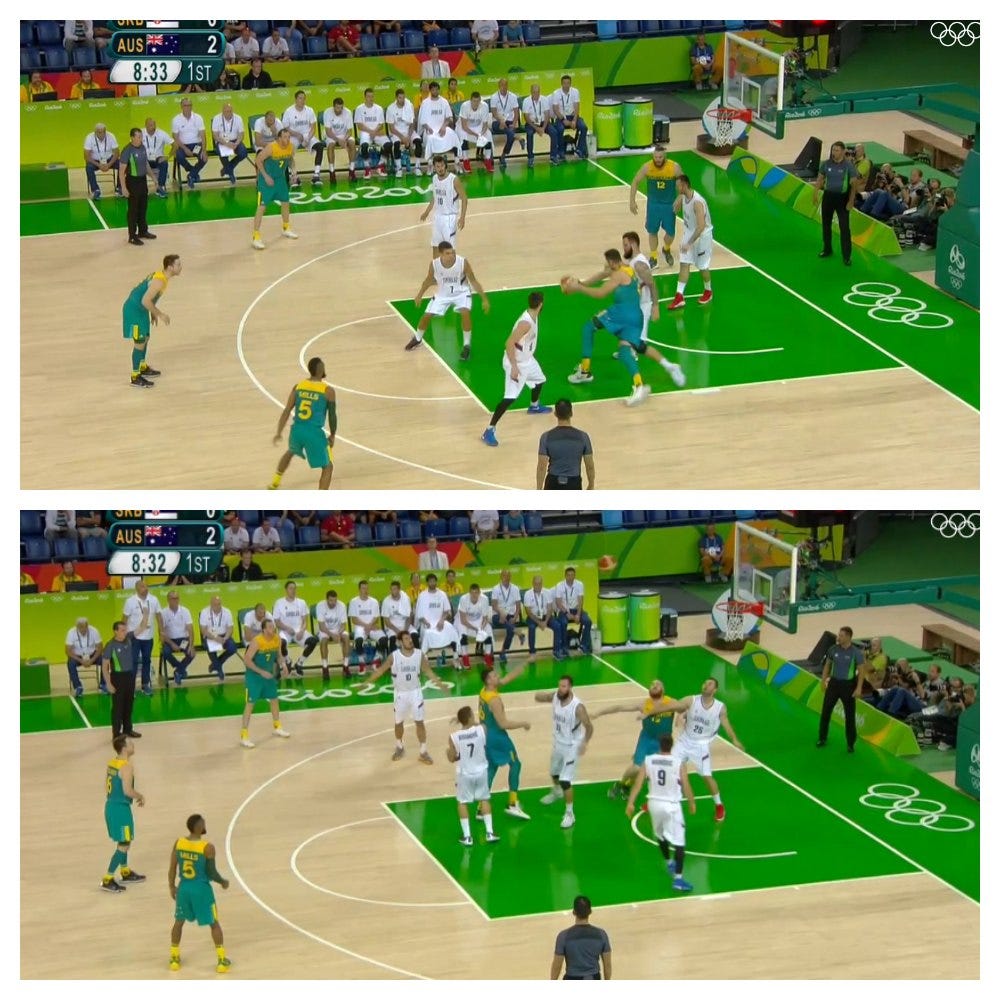 The attention was consistent. Watch how Patty was driving in during this possession right in front of Kalinic. The forward made a half-hearted attempt to swipe at the ball, and would not step away from Ingles to take a charge, even though there was plenty of time to do so.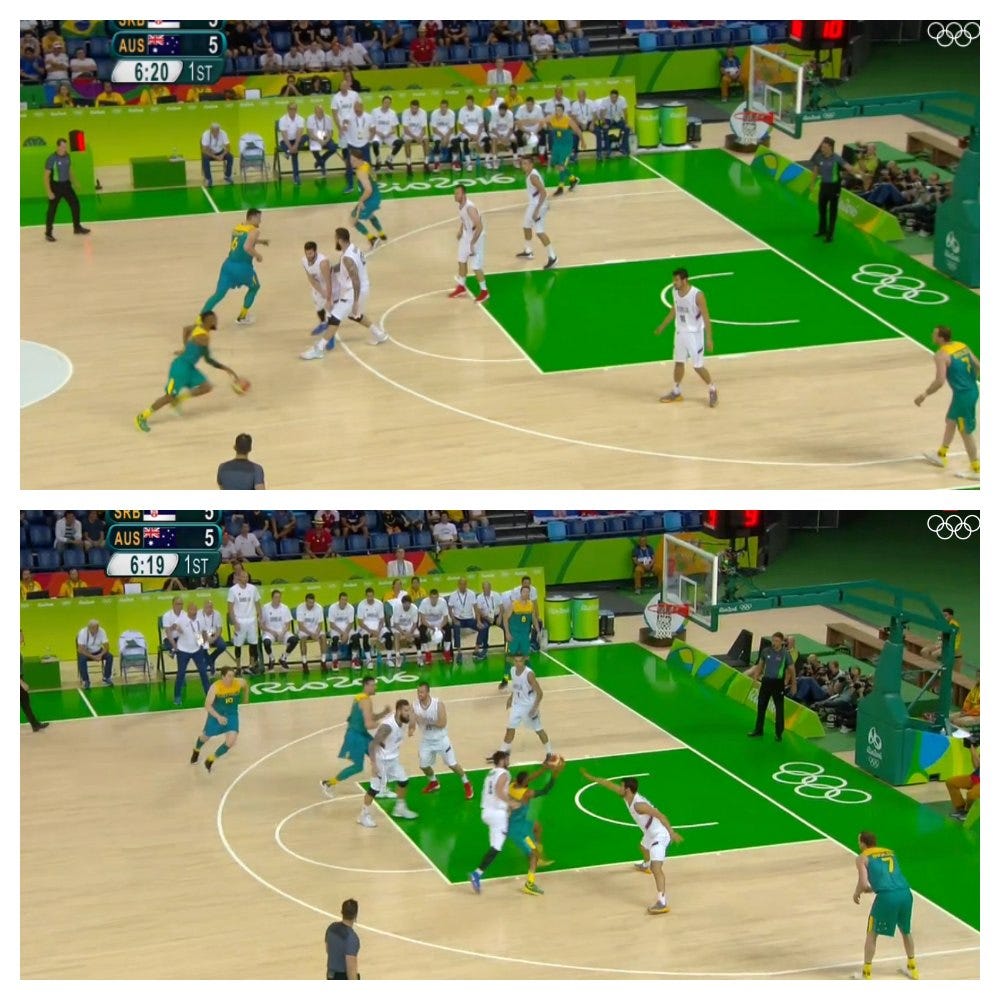 Compare it to the ridiculous amount of space Ingles was given by Kalinic, in today's game. Check out the first possession, right after tip off.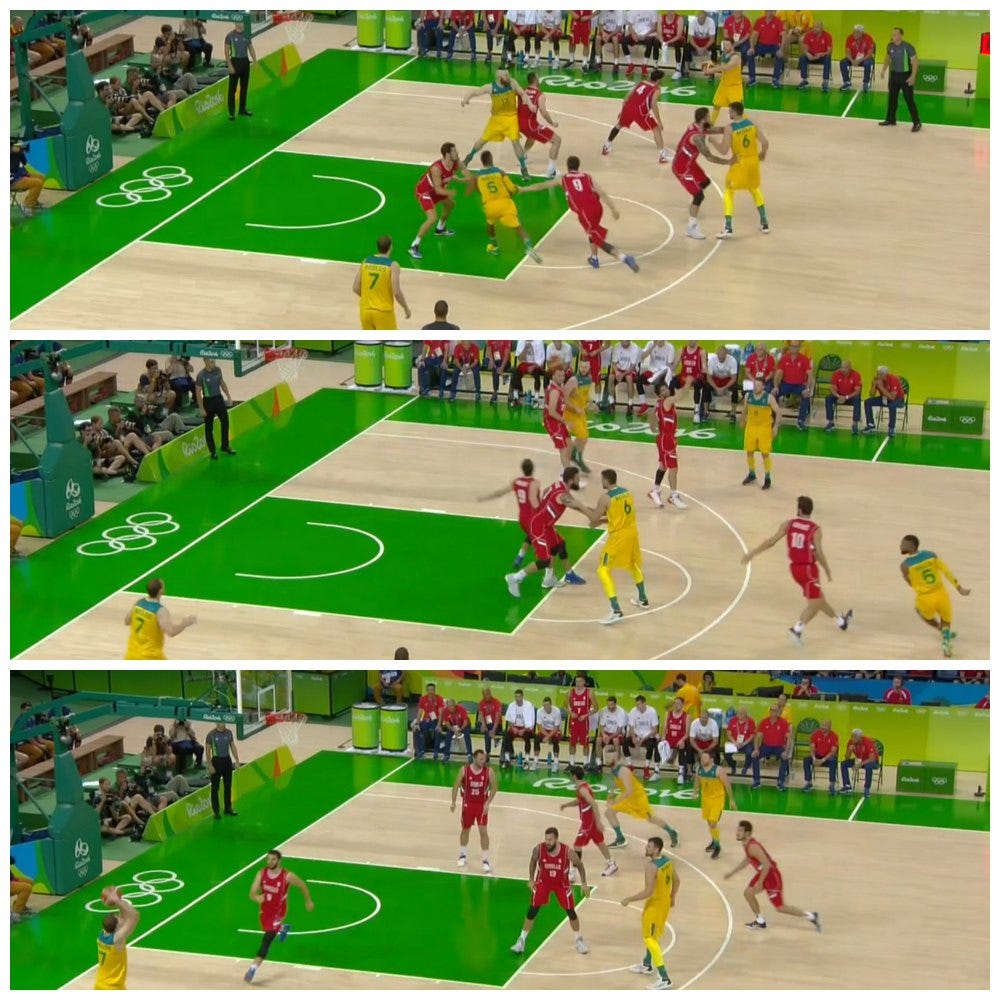 Kalinic's instructions were obviously different from the last game. He ignored the threat of Ingles as a corner shooter, and prioritised defensive pressure on Patty Mills. Even when Ingles had the ball and was ready to shoot, the nearest defender's body language says it all. There was no obvious intent to contest the shot; they were happy to live with the outcome.
Having an extra defender allowed Serbia to keep constant attention on Mills, and deny him of the space he needed to get open and attack.
The same level of disrespect happened again later. Ingles however, adjusted by driving to the basket when the closeout came. By driving hard, he forced help defenders to bunch up at the rim, and made one of his handy baseline passes to an open Patty Mills for the three-pointer.
Ingles stayed aggressive later in the game, and made repeated attempts to attack the rim.
The swingman also did excellently on perimeter defence during the game, and forced turnovers that led to transition layups. Despite the solid defensive turnout, his lack of outside scoring --Ingles missed all four of his three-point attempts-- obviously had an impact on the Boomers' spacing, and scoring chances.
Starting Teodosic over Bogdanovic
Serbia had Bogdan Bogdanovic on their starting lineup last game. Despite being a better defender, and an excellent three-pointer (45% across all rounds), he's not as versatile an attacker when compared to Milos Teodosic.
Teodosic proved his worth today, scoring 22 points at an explosive 64% efficiency. He ripped through the Boomers' defence, and defensive stalwart Damian Martin was the only Boomer who was capable of stifling Teodosic.
Observe how Matthew Dellavedova was defending Teodosic here. The rest of the Boomers were squared up in a defensive zone.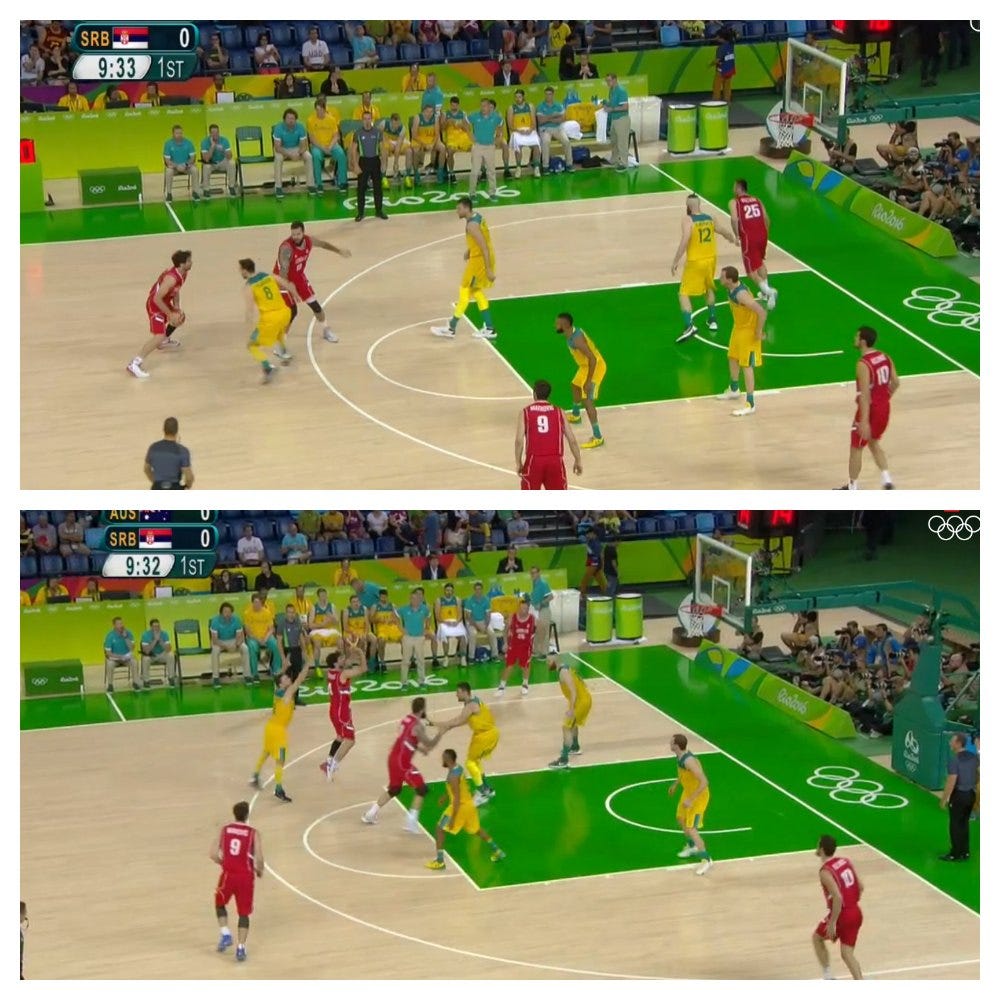 What Teodosic managed to exploit, was the amount of space he had on the pick and roll. After Dellavedova was caught by a Miroslav Raduljica high screen, Bogut was dropping back to contain the roll man and protect the paint. This gave Teodosic sufficient daylight to pull up on the mid-range shot, which he missed on this attempt.
The Boomers were playing a conservative mode pick and roll defence. They were giving up the option of a mid-range shot, while protecting easier attempts in the paint. This was in contrast over an aggressive (and usually more complex) style, that would see the big man pressure the ball handler, then hustle back to his man while other teammates helped shore the defence up on the strong side (where the ball was).
Given the lack of training time and limited lateral quickness for the Australian big men, this was a perfectly normal decision.
Unfortunately, Teodosic made the most out of these opportunities.
The same thing happened a few possessions later. Same screener, same exploit, and this time he made the shot. Seeing no defensive adjustment, Teodosic took the exact same shot and scored again, during 5:58 of the first quarter.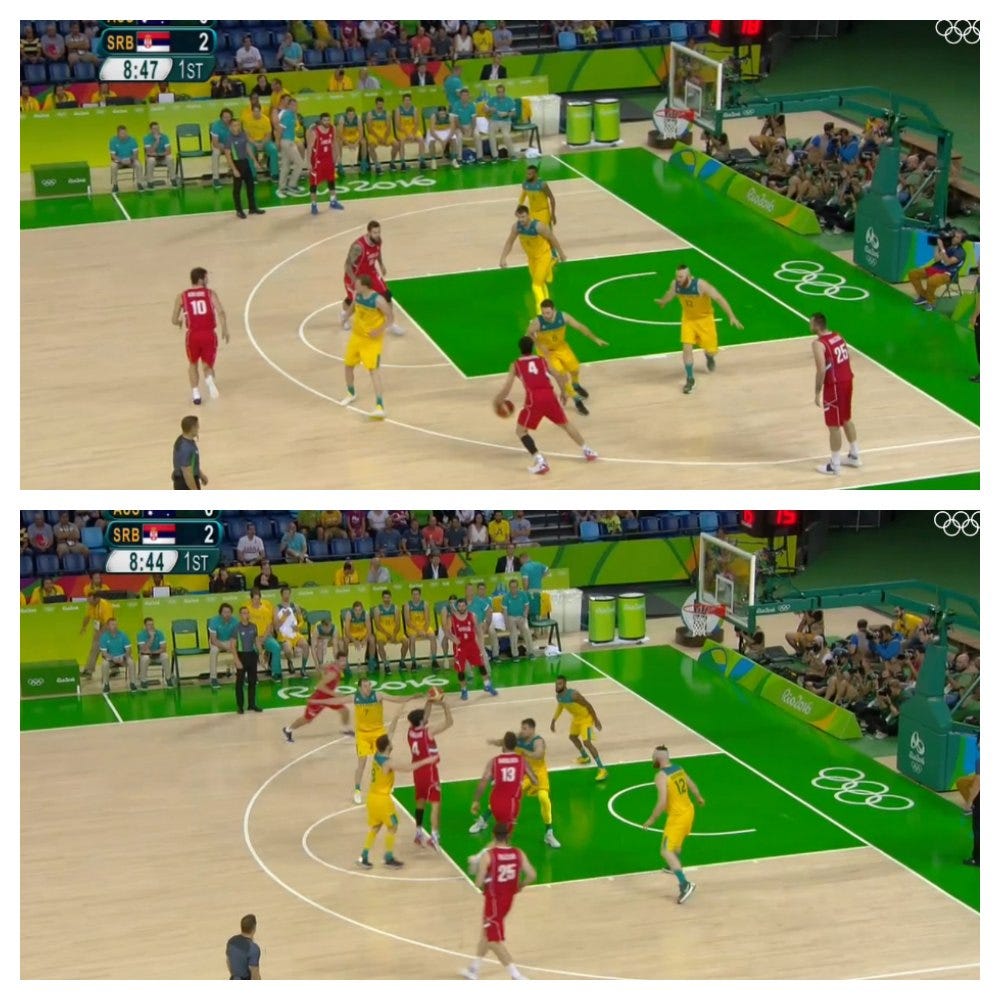 Teodosic's 22 points (9/14 made) led the Serbian team, and his scoring efficiency was a big reason for Serbia's victory.
Containing Bogut's playmaking
Andrew Bogut's playmaking has been a huge reason why the Boomers have been scoring so effectively.
Like Mike Prada of SB Nation wrote, following the Boomers' competitive fight against Team USA:
Bogut is more than just a screen setter. He remains a beautiful passer, which helps him slip passes in tight spaces to make up for the spacing crunch that comes from starting two centers.
We've covered Bogut's consummate playmaking over at Golden State before. With the Boomers, Bogut's deft passes allow for beautiful cuts to the basket, the way Patty Mills did on the below possession:
https://www.youtube.com/watch?v=V_mlFy09ov0&t=5m18s
His passing abilities add an additional dimension of creativity to the team, something that's not readily available to (or expected by) most other teams.
Serbia however, took this away by having Raduljica deny the ball. His proximity made it hard for Bogut to find passing lanes, or even receive the ball to begin with, look at how close he was.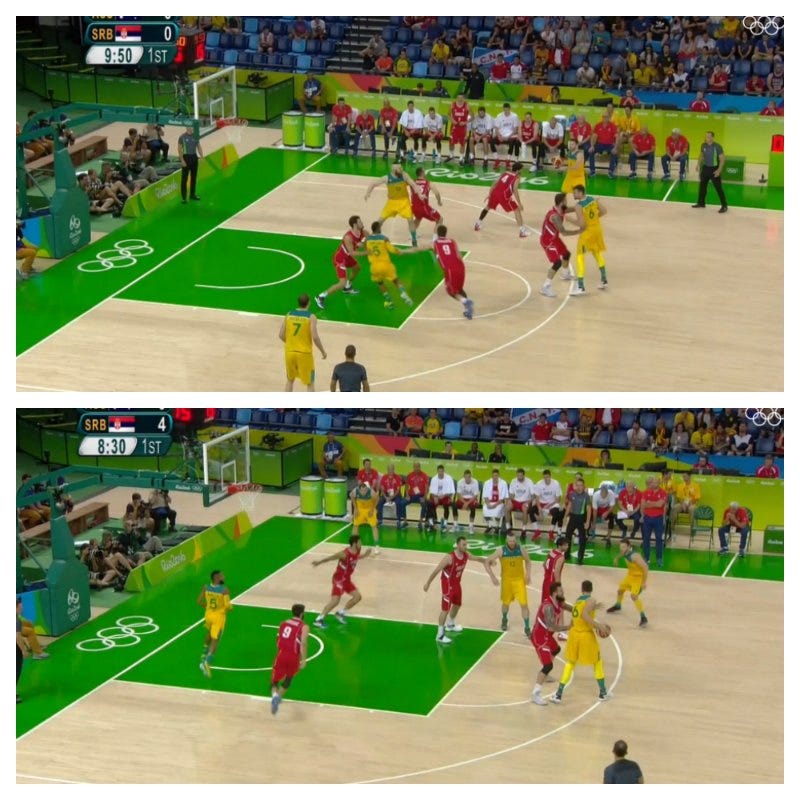 Taking Bogut out of the equation, meant the Australian point guards --particularly Dellavedova-- had heavier burdens to shoulder. They had to deal with constant on-ball pressure and figure the possession out, while knowing Bogut could not act as a release valve and help swing the ball, the way he usually did.
Bogut ended the game with four points, zero assists, one rebound, and an abysmal -20 in +/- rating. The drop off was significant, considering how he had averaged 13 points, 4 assists and 5.8 rebounds in earlier group games.
Needless to say, there were other reasons for Australia's loss today. Did they look like the slower team today? Or perhaps, it was being out-rebounded 43-30, committing 16 turnovers that led to easy Serbia points, or even the lack of in-game adjustments? One can point to a multitude of causes on Australia's next game being the bronze medal match, over a much-anticipated rematch against Team USA.
Credit however goes to Serbia for excellent scouting, and making the right adjustments against an opponent it had lost to less than two weeks ago. They came into the match swinging hard, and Australia could only roll with the punches, reeling and unprepared.
Ingles might have summed the night up best. "It was pathetic. Nothing Australian about it."
Despite the disappointing loss, there's no time to sit around. The team has to regroup and prepare for one final opportunity at an Olympic medal, when it faces Spain in the bronze medal game.
References: