Discover more from The Pick and Roll
We're all about Aussie hoops. Independent, objective analysis and commentary. Insightful narratives built around Australian basketball. Read about our men and women in the NBA, WNBA, NCAA, Europe, national teams, NBL, WNBL, NBL1, prospects and more.
Over 2,000 subscribers
Olympic hopes follows Sixers uncertainty with Simmons and Brown's season end
A disappointing 2019/20 season for the Philadelphia 76ers doesn't change the fact that Simmons and Brown will still likely be part of the Boomers' Tokyo campaign in 2021.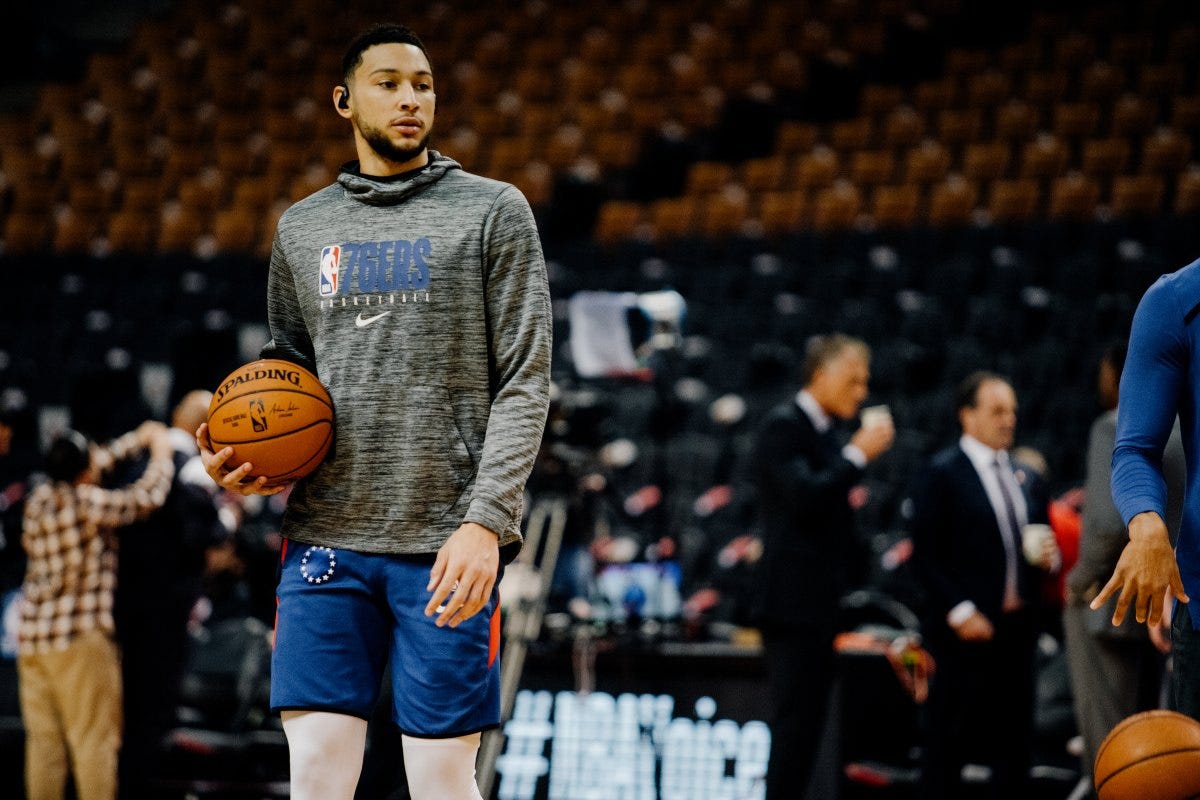 Credit: Sam Tolhurst (@_tollywood)
---
It seemed so close.
The Australian Boomers disappointingly missed out on Ben Simmons' debut at a major international tournament as a senior men's player last year, when the NBA All-Star withdrew in the lead up to the 2019 FIBA World Cup. Whether it was being drafted to the NBA or the proximity to a contract situation, something had come in the way between Ben Simmons and the Boomers' green and gold singlet.
But it seemed 2020 was going to be the year. With his Sixers head coach Brett Brown brought back to coach the squad, and Simmons' own godfather and Arkansas assistant coach David Patrick also brought in, the stars seemed to be aligning. Plus, there's nothing bigger than the Olympics, right?
Unfortunately it seems one thing definitely is - a global pandemic. The Tokyo Olympics' postponement to 2021 brought with it another twelve months of uncertainty, and any hope that period of time would unfold without any plot twists has already gone out the window.
For the first half of the season, things were about as predictable as usual down in Philadelphia. Simmons, statistically, had been producing almost identically to the two seasons prior, though his defence took the leap to All-NBA proportions. Narratives surrounding the fit of Simmons and Embiid on the 76ers, and the intertwining criticism of Simmons' unwillingness to shoot from outside, also persisted.
What did change was the team's success, and the subsequent growth of discontent among the team's fan base. Long gone is the patient and hopeful spirit of The Process - the team's improvement had not just stagnated, but taken a clear step back. After reaching the Eastern Conference semi-finals the last two seasons, including taking the eventual champion Toronto Raptors to seven games last year, it seemed greater things were to come for the young core. By the time the NBA's 2019/20 season was put on pause in March, the Sixers were limping to the finish line.
The team was already struggling for consistency, but after taking a hard fall against the Milwaukee Bucks on February 22nd, the Sixers would be further derailed by a nerve impingement in Ben Simmons' back that would keep him out until the season's restart. The health scare shocked Sixers and Boomers fans alike. Recounting the situation in May to NBC Sports, coach Brett Brown would describe the injury as "as disturbing a memory as it relates to a player that I can think of", describing him vomiting from the pain while lying on his back.
Simmons would triumphantly return to the lineup at the onset of the NBA's 'Bubble' —an unofficial moniker for the league's attempt to create a COVID-19 free playing environment in Orlando, FL— but it wouldn't last long. In only his third game back, Simmons suffered a partially dislocated kneecap, ending his season and decimating whatever playoff hopes the Sixers still had.
The team would finish the season out 2-3 without Simmons, before getting comprehensively swept by division rivals Boston in the first round of the playoffs. If the season was bad for Ben Simmons, it would be worse for Brett Brown, who will be the Boomers' head coach for the Olympics campaign. Brown would cop the brunt of criticism and soon fired from his head coaching role in Philadelphia, following the team's elimination.
"We are really disappointed and know we let our fans down," Sixers managing partner, Josh Harris said in a statement to ESPN's Adrian Wojnarowski. "It's unacceptable and it's important that we all hold ourselves accountable. We're going to be doing a real assessment of how we got here and expect that more changes will need to be made in order to get this organisation back on track. This will be a crucial offseason for us and we need to get it right."
It's unclear what those changes will mean. The disaster of a season will undoubtedly rekindle the flame of discussion around Embiid and Simmons, and whether the team is better off shipping one of the pair somewhere else.
Heading into Tokyo, Brown and Simmons both face some level of uncertainty. As of right now, nothing suggests this should change either's status with the Boomers team going into next year. Basketball Australia (BA) recently reiterated their confidence in Brown, assuring Australian fans that Brown is still slated to coach the team in Tokyo.
"Nothing has changed from our point of view," BA CEO Jerril Rechter said. "Brett is the head coach of the Australian Boomers for the Tokyo Olympics. He is an experienced campaigner, who has coached at the highest level and on the biggest stage.
"He is passionate about Australian Basketball and has made no secret of his desire to lead the Boomers to international success and we look forward to the rescheduled Tokyo Olympics with much anticipation."
Likewise, with ten months to go, Ben Simmons should be physically good to go by Tokyo, pending unforeseen health setbacks. Despite the concerning nature of Simmons' non-contact knee injury, the timeline for return was such that the 76ers did not even rule out a return in the event of a deep playoff run. Should there be lingering issues, Simmons has displayed a history of placing his NBA career as first priority. With his perimeter game still non-existent, any long term physical limitations as a result of injury accumulation could end up highly detrimental to his effectiveness. It's hopeful that once recuperated, that Simmons maintains a clean bill of health up to July 2021.
With the established Boomers core slowly aging out of their prime, Simmons' availability —as well as the plethora of other young talent destined to fill out the roster in years ahead— will be essential for the team's medal chances.
Like Brad Winter wrote:
Whatever comes next for Australian basketball will be headed by a different group of legendary leaders. Whether it's Ben Simmons, Josh Green, Josh Giddey, or even Matisse Thybulle, those leaders will be tasked with taking the sport in Australia to places that the previous generation couldn't quite get to.
Not only does Tokyo signify a golden crossover window between the veteran group and the new wave of Australian talent, it's also an essential opportunity for the core values and culture of the program to be passed on to the next generation, lest fears of an individualistic, self-serving era of NBA talents undermine a program historically personified by sacrifice, humility and teamwork.
Jock Landale might be one Boomer in the new generation who understands the Boomers ethos well. During a recent chat with Kane Pitman on the Pit and Roll podcast, Landale outlined his experiences and feelings as a Boomer in last year's World Cup campaign.
"Getting to play with those guys, initially I was like 'holy crap, I'm getting to play with all these guys that I look up to so much.' It was quite an intimidating thing getting on the court with them initially. Then you learn that you are here for a reason and you learn to embody the experience and roll with it.
"I was just in the mindset of whether I'm the first option —which I knew I was never going to be— or the fifteenth option, I am just going to roll with it. I really don't care. Do what ever I can to help the guys win. That was my mindset going in. I maintained that throughout the whole tournament.
"… Being the new guy on the team, this was all brand new to me. Sitting in those rooms, having those conversations: 'we have been grinding for 12 years or 10 years or whatever to get to a point where we are now considered the third-best team in the world.' Hearing those conversations, you sit back and think that I haven't seen the dog days like these guys have and I haven't had to fight my way through this.
"I've stepped into a team which has been built from the ground up by guys like Andrew [Bogut], Patty [Mills], Joe [Ingles], [Matthew] Delly and [Aron] Baynes. For me, I really took that on personally. At the end of the day, you are always playing for a national team and fighting for your country. You are fighting to win a medal. But by the end of [the World Cup campaign], I was like, I am not just fighting for my country, I am fighting for the guys on my team and dudes before me who have been playing to finally give us the chance to win a medal."
While Brett Brown's day to day job remains unclear, his role as Boomers head coach remains as clear and as important as ever. Having connections with Simmons, Matisse Thybulle and Jonah Bolden through the Philadelphia 76ers, as well as the original core of Boomers stalwarts through his stint at the 2012 London Olympics, Brown represents the conduit through which the proverbial torch shall be passed to the next generation.

It will be a tall task for Brown. First comes the unenviable challenge of picking the team. We all saw how much grief Lemanis received for his omissions of Deng Adel, Mitch Creek and Brock Motum in 2019. Brown will have no choice but to cut even more impressive names to get down to his group of 12 men. Once selected, the process of figuring out how Simmons incorporates into the FIBA game and alongside his Boomers teammates for the first time will be a difficult balancing act - particularly as Brown had not yet settled on the right role for Simmons with the Sixers, in his third year with the team.

There will be sacrifices needing to be made on all sides to make things work, even if things do come together on paper. Presumably, Ingles and the big men will have far lesser playmaking roles, and some previously key pieces may get squeezed for minutes in favour of fresh faces. Likewise, Simmons, as well as the rest of the youthful cohort, will have to demonstrate a buy-in and willingness to accept their roles for the team to have a successful campaign.

Fortunately for the Boomers, sacrifice is something we know they can do. If there's a coach to bring this all together, it's Brett Brown. The months ahead do suggest uncertainty, but in equal parts bring about a level of promise that could be greater than ever.