Discover more from The Pick and Roll
We're all about Aussie hoops. Independent, objective analysis and commentary. Insightful narratives built around Australian basketball. Read about our men and women in the NBA, WNBA, NCAA, Europe, national teams, NBL, WNBL, NBL1, prospects and more.
Over 2,000 subscribers
Olivia Pollerd is excited to commit to the Blue Devils
Talented Victorian guard Olivia Pollerd is headed to North Carolina, announcing her commitment to Duke via social media.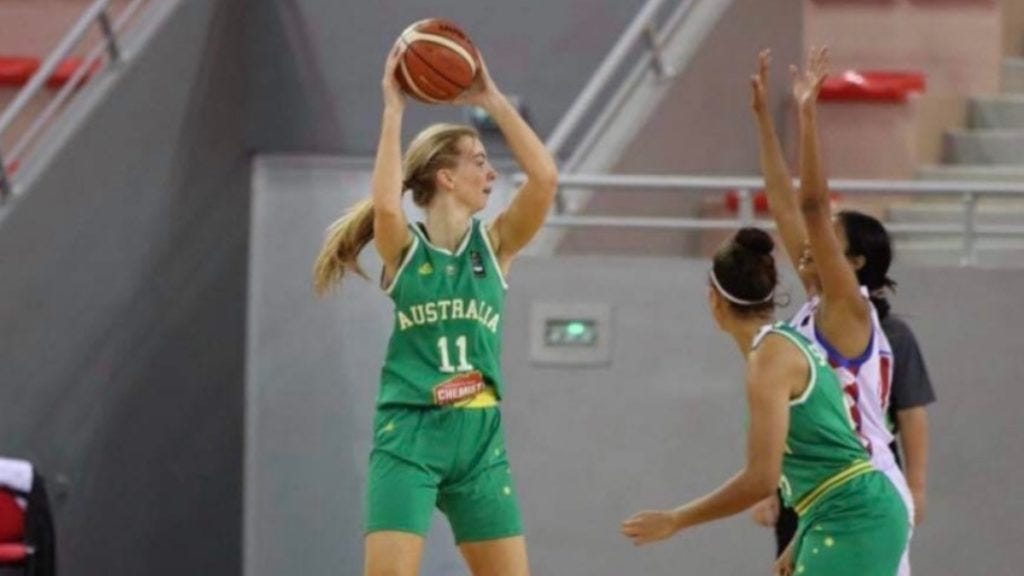 Credit: FIBA
The Basketball Australia Centre of Excellence (CoE) scholarship holder will ensure the Blue Devils feature two Australians in 2021, with the left-hander joining Queensland's Miela Goodchild, who will be expected to return as a senior on the roster upon her arrival.
Speaking with The Pick and Roll, Pollerd's excitement to be heading to Duke was hard to ignore.
"I'm just pumped!" enthused the Southern Peninsula product. While Pollerd acknowledged that for some, opportunities to play in the WNBL in Australia were few and far between, she explained that had little bearing on her decision to head to the US.
"The reason why I want to go to college, is we see the Aussie girls going over and we look up to them. When I was playing at Southern Pen, there were three girls who went over. Because of that, I got an insight into college, from their experience and I liked what I heard.
"It was not about a lack of opportunity to play in Australia [the WNBL], but it was about the opportunity to go overseas and play and experience college - it looks amazing! I'm also super excited to play with Miela [Goodchild] - she has done amazing at Duke so far and she is also such a lovely person."
With plenty of interest from other schools, Pollerd explained that Duke stood out in making an early commitment. "I had some really great schools, but ultimately Duke was the place for me.
"Duke was always the school I always liked. I followed them as a kid - their program is amazing. The program and environment is somewhere I will be pushed, and I will get development - the development I need. The coaches have all been amazing, as have the girls, and they can all hoop - I'm really excited at the opportunity."
In making the move to North Carolina next year, Pollerd admits there was one thing that had she was going to miss - the beach.
"I'm excited to go to North Carolina, but in my hometown of Mount Martha I live right on the beach," explained Pollerd. "Initially it was kind of a big thing for me, but since I've been living in Canberra the last couple of years, it has kind of has me prepared for that already."
A former development player for the Deakin Melbourne Boomers in the WNBL prior to attending the CoE, Pollerd has also been a standout for her home state of Victoria at Australian Junior Championships level. She was an integral member of the side that was emerged victorious at the 2020 Under 20 nationals, ending the tournament as one of five players to average 8 points or more on her stacked Victorian team. It was a roster that included UCLA-bound duo Gemma Potter and Isobel Anstey, Stanford recruit Agnes Emma-Nnopu, Lily Scanlon (Gonzaga) and Lara Edmonson (Santa Clara).
Pollerd was one of the stars of Australia's dominant run at the 2019 FIBA Under 17 Oceania Championships. Averaging a team-high 23.4 minutes per game, she was second in scoring behind future Bruin Potter with 13.2 points on 61.7% shooting, while also providing 5.2 rebounds, 1.6 assists and 1.8 steals per game en route to gold. She would follow up with a trip to the Basketball Without Borders Global Camp at the 2020 NBA All-Star game in Chicago earlier this year, joined by fellow CoE athlete and Under 17 Sapphires teammate Jade Melbourne.
"I made the squad for the [FIBA] Under 19 Asian Cup as a bottom aged player which was pretty amazing, and then made the squad but got cut for the worlds. However I then made the Oceania team last year which was awesome too. As for the nationals this year, that was really awesome. I have no other words to describe it - that was a really stacked team and we played so well."
Standing at 6'3, Pollerd is a tall sweet-shooting lefty that likes to play with the ball in her hands, providing her with the versatility to can play the three or as a stretch-four.
"I think as I am quite tall, people consider myself as a big, but I like to handle the ball and I'm not much of a post player," shared Pollerd in explaining her style of play. "I got that mentality from Southern Pen, and in particular from my coach Gerard Hillier. He taught us positionless basketball. I was sometimes the point guard, on the wing and sometimes in the post, and with no set position and no boundaries. You were able to add your own style of play to the game - play how you want to play. Being able to be creative helped me improve my IQ and playmaking for sure. That said, I would consider myself a three or a modern-day stretch four."
With such a versatile game and unique skillset, Pollerd would explain that she had been modelling her game on two superstars of the WNBA.
"When we first come into the CoE we have to pick a few players as to who we should look to model our games on. Brianna Stewart is an amazing player, great length with great skills, and she plays both ends of the court. She has a game that I aspire to be like."
Boasting lofty expectations of herself, Pollerd's potential was not lost on Sam Tomlinson of Aussie Basketball USA, someone who has followed her rise through the junior ranks closely.
"At the height of 6'3 and as versatile as she is from the perimeter, I believe that Olivia will be an eye-opener at the NCAA level of the ACC," shared Tomlinson.
"Sam has been awesome," added Pollerd. "She was a really good help in relation to my recruitment. I like the program she has going on in helping girls get to college. Massive thanks to my coaches, and in particular Gerard Hillier - he has been amazing, but also my coaches at the CoE. They have all been a massive part in my recent development."
While Pollerd's journey to Durham is 12 months away, she was focused on returning to the court and continuing to improve her game once COVID-19 restrictions were eased. Like everyone, she had been missing the competition, with the time away only reaffirming her long term goal of one day making the WNBA and playing for the Opals.
"That's the goal, I'm all in for that."