Discover more from The Pick and Roll
We're all about Aussie hoops. Independent, objective analysis and commentary. Insightful narratives built around Australian basketball. Read about our men and women in the NBA, WNBA, NCAA, Europe, national teams, NBL, WNBL, NBL1, prospects and more.
Over 2,000 subscribers
Oklahoma Sooners sign Anyang Garang
Oklahoma men's basketball head coach Lon Kruger announced the signing of Australian forward Anyang Garang.
Anyang Garang (pronounced on-YUNG guh-RANG), a 6-8, 190-pound forward out of Adelaide, Garang came to Australia as a refugee, from his home country of Uganda at a time of civil war. Moving to Australia at a young age for a safer life, Garang quickly picked up basketball and started playing competitively at the club level.
"Anyang is a terrific young guy with huge upside," said Kruger. "In terms of basketball, he's long, athletic and very versatile wing player who shoots the ball well from the perimeter. He'll fit in extremely well."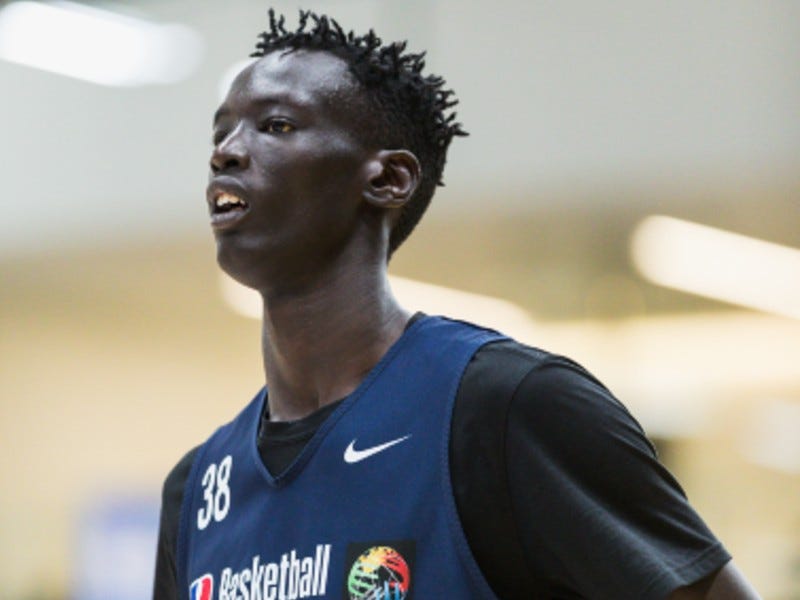 Credit: NBA
Garang has been with the NBA Global Academy since 2017, and has taken part in multiple international camps and showcases around the United States and the world. In 2018, he participated in Basketball Without Borders Global Camp in Los Angeles during NBA All-Star Weekend.
Two months later, he participated in the NCAA's first Next Generation Sunday event at the 2018 Final Four, where he participated in life-skills sessions and competed in exhibition games against his peers from around the world while experiencing aspects of the Final Four from a player's perspective.
https://pickandroll.com.au/nba-academy-lo-buluk-garang-follow-thon-maker/
The forward also took part in the NBA Global Camp in Treviso, Italy and the 2018 NBA Academy Games in Canberra, Australia. This past December, Garang competed alongside top prospects from the NBA's global academies in a series of exhibition games at the NBA G-League Winter Showcase in Las Vegas.
"Anyang is an exceptional player and leader who worked extremely hard to earn the opportunity to play at the next level and receive a college education," said Marty Clarke, the technical director of the NBA Global Academy.
"As a multi-dimensional wing who can stretch the floor and guard across positions, Anyang's athleticism and skillset will put him in a position to make an immediate impact on the University of Oklahoma's basketball program. Anyang is a trailblazer for the NBA Academies program and we look forward to following the next step of his basketball journey."