Discover more from The Pick and Roll
We're all about Aussie hoops. Independent, objective analysis and commentary. Insightful narratives built around Australian basketball. Read about our men and women in the NBA, WNBA, NCAA, Europe, national teams, NBL, WNBL, NBL1, prospects and more.
Over 2,000 subscribers
NZNBL 2014 Round 5: Defending champs receive boost with win over Saints
Round 5 of the NZNBL took place from Friday the 2nd of May to Sunday the 4th of May
---
OceanaGold Nuggets 84-86 The Good Home Mountainairs
The Airs have made it two wins on the trot, with an upset victory on the road against a very capable Otago Nuggets side.
Taranaki's import Suleiman Braimoh was at it again with a dominant 30 point, 21 rebound performance (not to mention two steals and three blocks) as he continues to solidify his position in the competition.
As Otago fell behind early, their late push by both Warren Carter (31 points, 11 rebounds) and Brendon Polyblank (21 points, 7 rebounds, 4 assists) fell short at the death. Point guard Mark Dickel (9 points, 9 rebounds, 13 assists) finished with a near triple double in the loss.
Could the Airs go three in a row?
---
Pacific Jewellers Saints 81-77 Fico Finance Nelson Giants
The Wellington Saints punched another ticket into their already strong start to the season with a determined fourth quarter to push past the Nelson Giants on Friday night.
Down six with ten minutes to play, the Saints scored 28 points to 18 in the final period off the back of Corey Webster's 32 points. BJ Anthony was everywhere at both ends, scoring 17 points while grabbing 10 rebounds and swatting three shots.
Josh Pace was the high man for the visitors with 20 points, seven rebounds and seven assists, while Jamal Boykin scored 17 points to go along with six rebounds and a couple of blocks.
---
IMS Payroll Hawks 91-89 Canterbury Rams
Despite being down 13 points leading into the fourth quarter, a Jarrod Kenny lay-up on the buzzer has won the game for the Hawke's Bay Hawks in a controversial finish.
With the Rams two points down, Matt Rogers found a way to grab a potential three point play, however his free throw rolled around the rim and was swatted away. As a potential goal tend may have been called, it was in fact the Hawks who came away with the ball and a timeout with 0.8 seconds to play.
The rest was history, with an alley-oop to Kenny for the win.
Marco Alexander dropped 28 points, while Paora Winitana (18 points) and Kareem Johnson (17 points, six rebounds) chimed in. Rogers had 28 points in the loss for the Rams, while a double double to Jeremy Kench (11 points, 8 rebounds, 13 assists) wasn't enough.
---
Fico Finance Nelson Giants 100-81 The Good Home Mountainairs
Behind Phil Jones (25 points, 5 assists) and Josh Pace (22 points, 3 steals) the Giants recorded a comfortable home win against the tired Taranaki Mountainairs.
Coming off a game the night before, the Airs looked worn-out trailing by 29 with a quarter to play. Fortunately for the visitors, they provided some fight in the final term as the Giants held off knowing the game was in good hands.
In one of the very few games this season where no player has recorded a double double, Suleiman Braimoh came back down to earth after posting consecutive great stat lines with 14 points and eight rebounds. Adrian Oliver and Brad Anderson led the Airs with 16 a piece.
---
Zerofees Southland Sharks 85-83 Pacific Jewellers Saints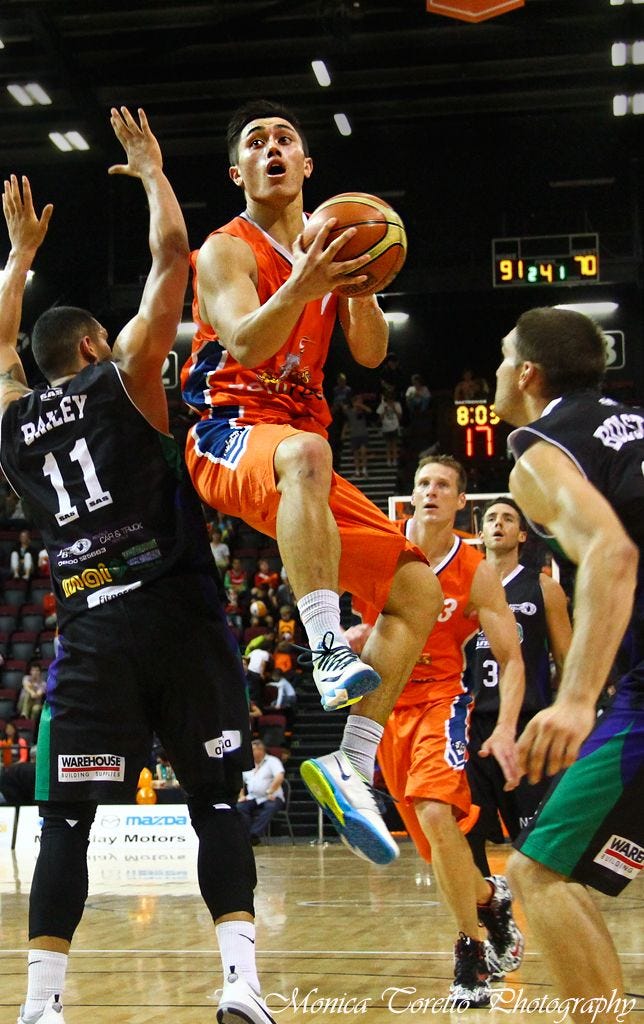 Credit: Photo Credit: Monica Toretto - Southland Sharks photographer
The Sharks have jumped back on the title contention bus with a thrilling two point victory over the highly rated Wellington Saints on Saturday night.
Down at three quarter time, the Sharks came out firing thanks to Kevin Braswell who led all scorers with 28. Braswell topped it all off with an incredible six rebounds, seven assists and six steals! He was helped tremendously by the Sharks bigs, who ran riot under the ring collecting rebound after rebound.
Dave Gruber piled on 15 points with his 17 rebounds, nine of those on the offensive glass, while off the bench Leon Henry posted 20 points and 10 rebounds.
For Shane Heal's men, it was Corey Webster who led the way with 26, as Lindsay Tait chimed in with 20 points of his own.
---
Breakers Manawatu Jets 108-101 Canterbury Rams
In what was a high scoring night, the Jets ousted the Rams in a triple figure delight even though the home side had a comfortable lead throughout the night.
With a poor opening quarter, the Rams could only manage 12 points on the scoreboard and were consistently double digits down with the margin never closer than seven for the rest of the contest.
Paul Jones (36 points, 5 rebounds) and Jeremiah Trueman (31 points, 5 rebounds) led the way for the winners, as Arthur Trousdell committed 19 points and 14 rebounds to the victory.
As the Rams stormed home with a 33 point final quarter to give the final margin look a little better, it was Richie Edwards off the bench and Jeremy Kench who did the damage with 40 points and 31 points, seven assists respectively.
---
Advice First Pistons 61-72 IMS Payroll Hawks
A disappointing finish to a big week in basketball has seen a low scoring and scrappy contest take place in which the Hawke's Bay Hawks came out victorious.
Dustin Scott was the main man, collecting 27 points and 16 rebounds including eight of them offensive. Despite not much help, Kareem Johnson was second best with nine points and nine rebounds with second chance points proving pivotal.
As the Pistons couldn't really get much going from the floor, double doubles to Casey Frank (11 points, 10 rebounds, seven turnovers) and Akeem Wright (12 points, 13 rebounds) made sure for a close finish. However, it was Corin Henry's 10 assists and five steals as the real display despite shooting just 2-10 from the field.
---
For more information regarding the NZNBL, head to their website, here.