Not all doom and gloom. In fact, Perth could be better without Knight.
Matty Knight is injured again, it's been that kind of year for the star big-man. Latest reports from Wildcats HQ have cleared him of any structural damage to his hip. At best, he needs a one game sojourn to rest up. At worst, he needs many weeks to recuperate his whole body. Sombre news indeed, though not all bad for the Wildcat faithful.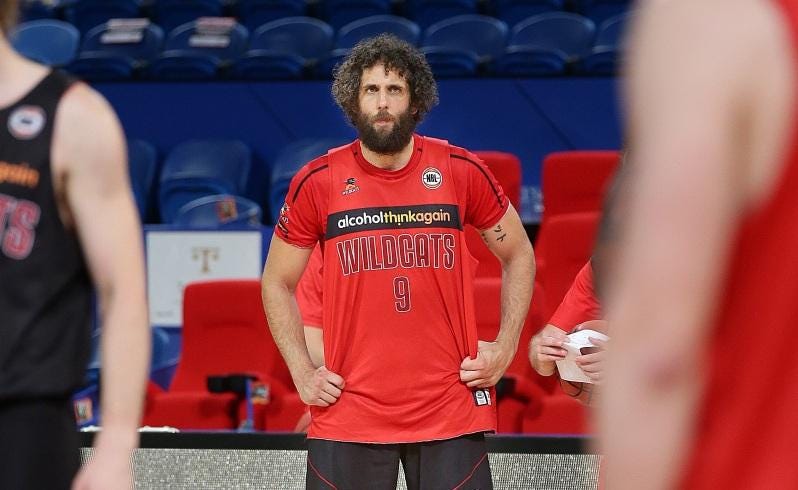 On the surface, the Tasmanian is averaging 11.7PPG and 6.9RPG, in this 2016/17 back-to-back campaign. Both marks are around his career averages. They're not earth shattering numbers by any means, but are definitive proof of his critical importance to the Perth Wildcats.
Delve a bit further into the 'things' unquantifiable, like, replacing his leadership, on-court presence, big game experience, ruthless determination and still undeniable toughness, and it's reasonable to assume all Wildcat hope may have left the building, along with his suddenly frail body.
At first glance, most would think the Wildcats have one hell of a monumental task replacing the hairy beasts all-encompassing output.
Yet, that's not quite true.
---
What do the stats tell us?
When it comes to somehow replicating the on and off court intangibles (mentioned above), yes, Perth will find it tough going.
If you examine both his and Perth's advanced numbers however, a surprising picture begins to take shape.
When it comes to the teams on-court production, the Wildcats could be better off without Knight.
Much better in fact.
Now, go and read the last two sentences again. You most likely think that's a crazy notion but here's why they could and should be much better.
It's quite simple.
Coach Trevor Gleeson has to divvy up Matt's 26.6MPG somehow. Logically (hopefully), he has to play Jameel McKay more than the measly 22.8MPG he currently averages.
This is a good thing.
Actually, it could be a great thing!
When he does play, Knight is very effective. According to RealGM.com, his 115.4 offensive rating (ORTG), 108.1 defensive rating (DRTG) and +7.3 net rating, all place in the top 25 for the league. He has been a helluva player whilst donning the red for 9 games this season.
If you compare his stats to Jameel McKay's, you'll understand why all of Perth should be bullish about the rest of the season. McKay, is in rare air at present.
Jameel's 125.3 ORTG is top 5, 103.8 DRTG is top 6 and he has a +21.4 net rating, which places 4th overall amongst ALL players. He leads the league in offensive rebounding percentage, blocks per game and blocks percentage. He is top 10 in a number of categories.
As a club overall, Perth has been outscored and is utterly average: a 107.2 ORTG and 107.8 DRTG, indicative of a 6-6 record to date.
Simply put, Perth is quite clearly a much better team, offensively and defensively, with Jameel on the court. The difference is knight and mckay, ahhh, night and day.
If Perth wants to keep winning, McKay has to spend more time on the court than on the pine, spectating. Has to!
Coach Gleeson, has been presented with another opportunity to right an egregious, season-long, mistake.
As he seemingly hasn't been taking notice, the basketball gods have practically hit him over the head this time. McKay must play more and a cautious approach taken with Knight.
Run through the stats and it's obvious.
Play Jameel at least 30 minutes a game and he would be in the MVP discussion alongside teammate Casey Prather, 36er Jerome Randle and Sydney's dynamic duo Kevin Lisch and Brad Newley.
Play Jameel at least 30 minutes a game and Perth's offense and defense would both improve markedly.
For Gleeson, the answer has been right under his nose the whole time: utilise and unleash one of the best players in the league more.
The latest injury to club legend Matty Knight is utterly terrible, and yet, may be the catalyst to getting Perth's season back on track.
Indeed, it's not all doom and gloom for the Wildcats. It could be a blessing in disguise.