Discover more from The Pick and Roll
We're all about Aussie hoops. Independent, objective analysis and commentary. Insightful narratives built around Australian basketball. Read about our men and women in the NBA, WNBA, NCAA, Europe, national teams, NBL, WNBL, NBL1, prospects and more.
Over 2,000 subscribers
Nic Pozoglou is ready for a breakout season
Now 23-years old, Nic Pozoglou has been around long enough, most notably as an Illawarra Hawks development player, for most to know that he is a player who will definitely try and dunk on you.
His athleticism is quite clearly already at an NBL level and his physical profile and style of play has drawn some comparisons to Australian star Mitch Creek.
"I have been given the Mitch Creek comparison a few times before by a select few coaches and players," said Pozoglou.
"I'm extremely flattered to be mentioned in the same sentence - his resume speaks for itself. There are aspects of his game that I do try and emulate, but I try not to compare myself to him too much as I'm focused on developing my own style of play."
Pozoglou's development in his skill-level to match his strongly built 6'6" explosive frame has been on show to start the season for the Melbourne Tigers and he looks destined to be one of the league's biggest breakout stars.
Nic PozoglouPTSREBASTSTLBLKFG%3P%FT%Melbourne (2019)26.510.83.51.50.5515059Ballarat (2018)11.67.22.61.40.5372464
Already an established rebounder and highlight dunker for a number of years, Pozoglou has improved his three-point shooting, and his ability to make plays for teammates. This evolving skill-set makes him a genuine small-forward prospect at the higher levels.
One significant reason behind this improvement is the situation he has found himself in at Melbourne after having an up and down season for Ballarat's SEABL team in 2018.
"In Ballarat, I found myself lost in the rotation and never really knew what was expected of me," said Pozoglou.
"My role this year (at Melbourne) is to be a go-to impact player and to be put in positions on the floor where my game is best suited. I knew that I was going to be one of the main focal points. The types of players they recruited really compliment my style of play and we all have the same goals in mind".
Melbourne are an interesting team to watch. The Tom Wilson departure changed their outlook on the offensive end enormously, but they have found their way to a respectable 2-2 win-loss record largely on the back of their defense (led by Dane Pineau at center) and Pozoglou's all-round game.
The Tigers are young, quick and mobile and it's Pozoglou and intriguing young guard Will Hickey, both great athletes, who have handled the majority of the extra available touches and kept the offense ticking along at just below an average level. This end will get a boost once Jack Purchase and his long-range shooting joins the team.
https://www.youtube.com/watch?v=lsnAaYmFGoc
Given his athleticism, Pozoglou is unsurprisingly a real problem for opposition teams in transition, a place where he gets cheap points each game. He can start the break off his own rebound or steal, or he also excels at running the floor and either getting on the end of a pass or grabbing the offensive rebound for an easy layup or dunk.
The half-court is where his improvement is largely being made though. The enhanced ability to be a floor spacer with catch and shoot threes on the wing or in the corner, a skill that he absolutely needs to consistently show at NBL level, has been encouraging, even if it is a little unsustainable so far (12-24 through four games).
He is also excelling when catching the ball in the post, especially when he has plenty of space between his man and the basket, where he can face up and attack off the dribble to either finish through contact, make a floater, or draw a foul.
Despite his physical strength, his finishing in the paint wasn't something that he was elite at in his time in Ballarat. The pieces didn't fit around him on offense perfectly so the space that he had to work in, and his understanding of where he could find his touches, affected what is normally a strength.
This season he has posted a shooting percentage inside 8-feet that is similar to his 2017 Waratah League numbers though which is more in line with expectations.
Given the improved clarity in his role, the personnel surrounding him, as well as further experience, Pozoglou should maintain his strong finishing inside as a strength, especially if he keeps working on his floater for added variety and unpredictability.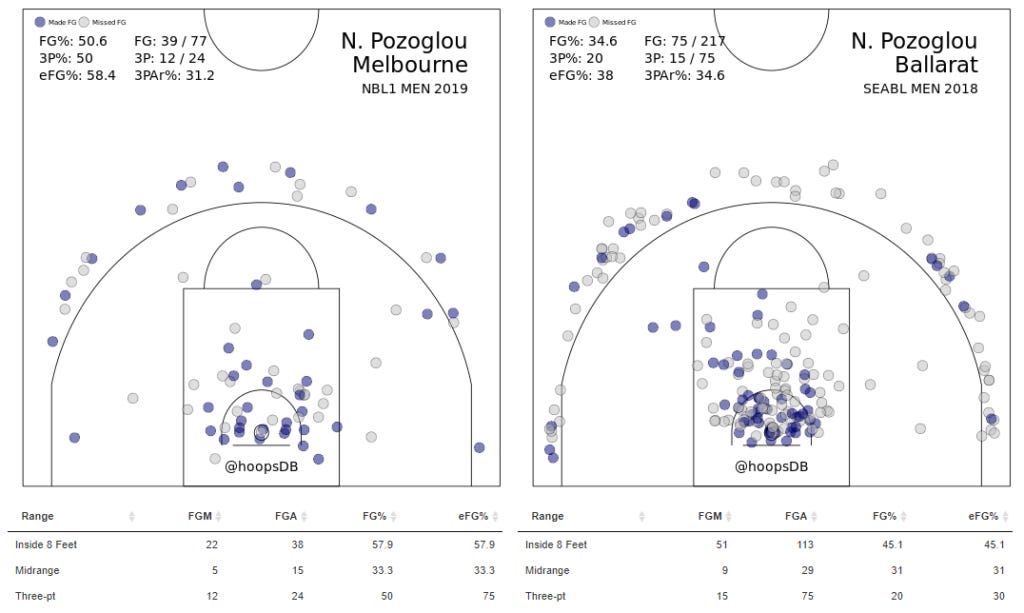 shot charts via hoopsdb.net/stats/NBL1/
What also adds to the upside in Pozoglou is his smarts. He moves well without the ball and cuts at the right times which results in easy points or an opportunity to crash the offensive glass where he is a real force. These are already translatable skills to the next level.
We're yet to see a full season of consistent outside shooting from him, and he's also prone to some turnovers dribbling into traffic, but his development as a shooter and play-maker is certainly encouraging.
"Ball-handling and perimeter shooting are the two main areas of focus for me right now", said Pozoglou.
"I think if I can keep improving on these things then it will complement the other areas of my game and help me with hopefully landing a rostered position in the NBL".
Nic doesn't have any indication of his next move after his Tigers stint but if he goes close to keeping up this level of play in NBL1 then it will be difficult for an NBL team to ignore his potential impact.