Discover more from The Pick and Roll
We're all about Aussie hoops. Independent, objective analysis and commentary. Insightful narratives built around Australian basketball. Read about our men and women in the NBA, WNBA, NCAA, Europe, national teams, NBL, WNBL, NBL1, prospects and more.
Over 2,000 subscribers
5 Aussies who could become our next Australian in the NBA
The Australian NBA pipeline has been flowing strongly recently, producing three top 10 picks in the past three drafts.
As it stands, the Aussie NBA count stands at eight players, but who are the most likely candidates to add to this number?
Let us cast any eye to the immediate horizon (i.e. players outside the high school system), to five prospects who have a good chance of becoming the next Aussie in the NBA.
---
William McDowell-White
Point guard |6'5 | Fresno State University | Freshman
McDowell-White is from good sporting stock. His father Darryl White, was an AFL excitement machine who played in the Brisbane Lions triple premiership team.
He solidified his standing as a leading international point guard prospect at the Basketball Without Borders camp and Nike Hoop Summit earlier this year, with some strong performances under the gaze of NBA decision-makers.
Listed as a 4-star recruit on Scout.com, McDowell-White turned down a number of big college offers to sign with Fresno State, where his older brother Darryl will also be attending.
https://twitter.com/EvanDaniels/status/698554994673479680
Adelaide 36ers coach Joey Wright likened McDowell-White to Derrick Rose before adding, he'd pick him over Dante Exum and believes he is a point guard NBA teams can build their team around.
https://twitter.com/OlgunUluc/status/698898433105489920
He needs some work on his outside shot but has great size and athleticism, plays lock-down defence and brings a pass-first mentality.
https://www.youtube.com/watch?v=8jvKbBU32IM
---
Deng Adel
Small forward | 6'7 | Louisville University | Sophomore
Adel left Melbourne to take up a basketball scholarship at Victory Rock prep school in Florida, where his impressive play saw him become the number 32 ranked recruit by ESPN.
After Adel committed to play for Louisville, their legendary coach Rick Pitino proclaimed, "I haven't been this excited about a recruit in 10 years."
An ill-timed MCL injury made it difficult for Adel to make an impact during his freshman season, although he did show encouraging form towards the end. He went on to impress at the Adidas Nations College Games, where he was named the top performer by DraftExpress.
Adel's excellent size and athleticism for a wing player, combined with his well-rounded skill set for allow him to contribute in various ways on the court.
If he can stay healthy and get a little more polish on his 3-point shot, Adel projects as a very exciting prospect at the next level.
https://www.youtube.com/watch?time_continue=15&v=Z8ZPyXf-2Pw
---
Isaac Humphries
Center | 7'0| Kentucky University | Sophomore
Isaac Humphries announced himself as a serious talent by leading Australia to a silver medal at the Under 17 World Championships in 2014. His tournament was punctuated by his record-setting 41 point, 19 rebound performance.
After a brief stint in American high school, Humphries reclassified to attend college a year earlier, becoming the number 49 ranked recruit by ESPN and joining the prestigious Kentucky basketball program.
Being the youngest player in college basketball last season meant it was always going to be a development year for Humphries. Although he only played very limited minutes he still managed to show flashes of his potential.
His tender age also means he has significant room for growth. Recently, Kentucky coach John Calipari singled out Humpries for the improvement he has shown.
https://twitter.com/CoachCalDotCom/status/768816241838530560
Humphries has impressive agility and quickness for his size, a polished low-post game, and a soft shooting touch out to 18 feet. Despite being a below-the-rim athlete, he has proven to be an effective defender by using his height and good positioning.
Playing at Kentucky means getting the scouts attention will be no problem for Humphries; and despite the NBA getting smaller, 7-footers are still highly valued (Timofey Mozgov is nodding).
https://www.youtube.com/watch?v=boWe72abUbQ
---
Harry Froling
Center/Power forward | 6'11 | Southern Methodist University | Freshman
Froling forced NBA scouts to take note of his game by winning MVP at the Basketball Without Borders camp and performing strongly at the Nike Hoop Summit. Apparently Froling makes a bad first impression on scouts due to his doughy body, but he keeps producing and outplaying more revered and athletic prospects.
His college path was very similar to McDowell-White's; he was also rated a 4-star recruit on Scout.com, and chose to attend SMU largely because of family (Froling's sister Alicia currently attends SMU and his sister Keely formerly attended).
He will also have the added bonus of playing alongside his good friend and Australian junior teammate Tom Wilson.
[Read: Tom Wilson: Earning success at every level]
https://twitter.com/HarryFroling/status/691821102520209408 Froling is a physical player with an excellent feel for the game, a strong rebounder, smart passer and has offensive range out to the 3-point line. He could see vast improvement to his game (and make a better first impression on scouts), if he can shed the puppy fat.
https://www.youtube.com/watch?v=125XR3wPrd8
---
Ryan Broekhoff
Small forward | 6'7 | Lokomotiv Kuban (Russia)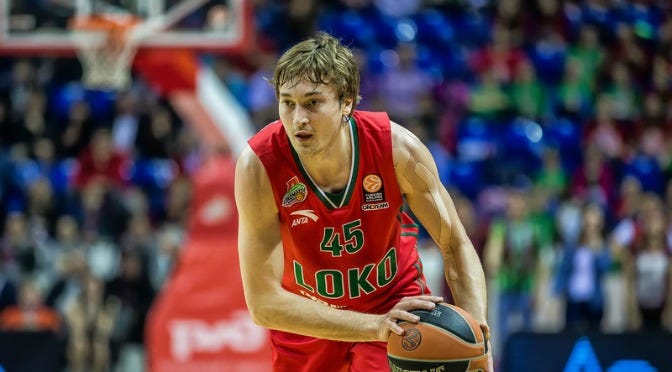 Ryan Broekhoff | Credit: Lokomotiv Kuban Press Service
It's surprising no NBA team has given Broekhoff a roster spot yet. Being one of the premier 3-point shooters in Europe who also provides versatile defence, his skill set appears well-suited to the modern NBA game.
Denver had a brief look at him in their Summer League last season, but he is never going to excel in an environment that focuses on 1-on-1 basketball.
The sight of Broekhoff standing open on the perimeter while a teammate went iso-ball against multiple defenders, was an unfortunately familiar one.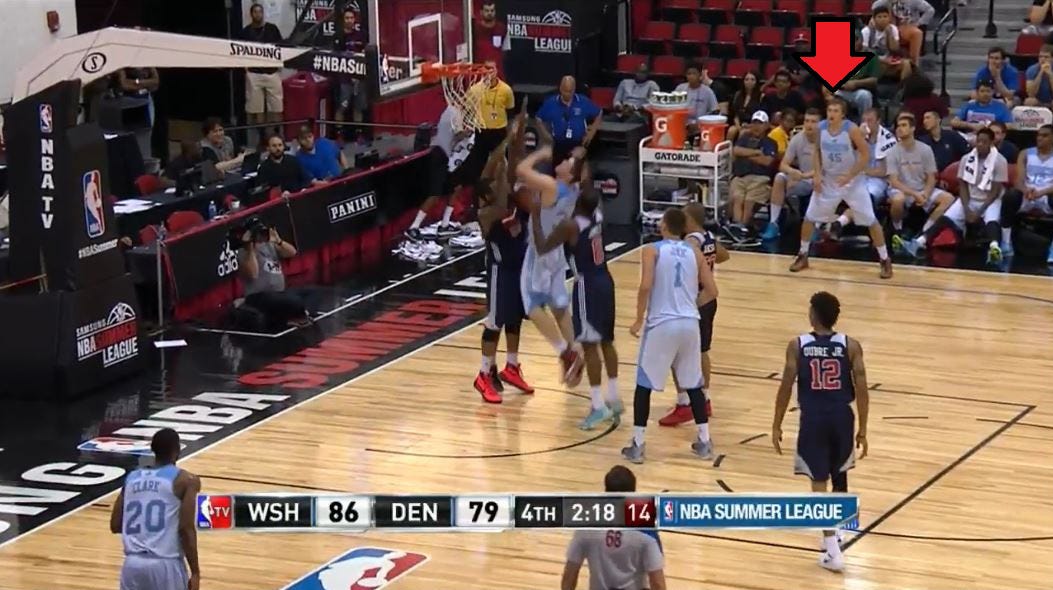 However, it's easy to envision Broekhoff succeeding in the conditions provided by the NBA regular season, with its increasing emphasis on teamwork and finding open perimeter shooters.
If the likes of Anthony Morrow, James Jones and Mike Miller can continue to get contracts, then why not take a flyer on a younger model?