Discover more from The Pick and Roll
We're all about Aussie hoops. Independent, objective analysis and commentary. Insightful narratives built around Australian basketball. Read about our men and women in the NBA, WNBA, NCAA, Europe, national teams, NBL, WNBL, NBL1, prospects and more.
Over 2,000 subscribers
New Year's Reset - The 'fantasy' NBL Draft Day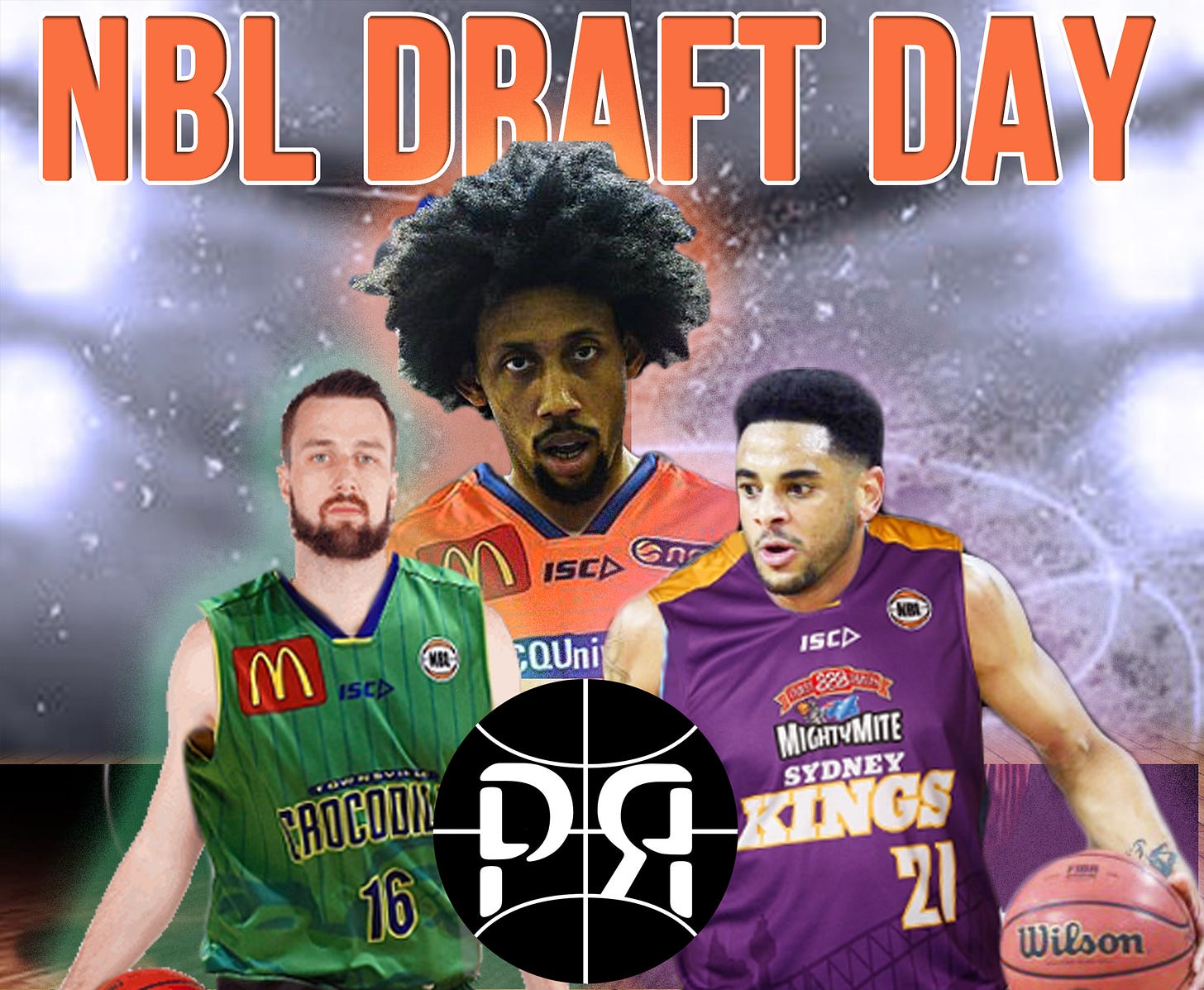 Remember those times when you're sitting on the couch playing 2K and you always hit fantasy draft on your next association mode.
Well, what would happen if you could do that in the NBL?
Right now, as it stands, you can bet your sweet bottom dollar that the Sydney Kings could push restart on season 2015/16. Injuries, bad form and a rotation of coaches sees the Kings at the bottom of the leaderboard on New Year's Day.
So we decided to help them out a little bit!
It's called, the New Year's Reset.
---
What is it? Well, all 80 contracted NBL players (we decided to ditch the injury replacements, but psst, we chose Weeks over Demos) are thrown into a draft pool and selected one through to eighty. As at December 30, 2015, the Sydney Kings, in last place, scored the number one draft pick (because they're last) and Perth (the league leaders) picked eighth (final pick of the first round). Imports are capped at the maximum of two per team.
We managed to scoop up eight #TeamPnR NBL writers to play the parts of NBL General Managers to make the tough decisions on how best to build a franchise.
The results? Well you just simply have to see them, to believe them! (Full teams and General Manager explanations are at the bottom of the article)
---
The Draft
Pick 1 - Sydney Kings (GM: Tony Loedi): Corey Webster
Pick 2 - Townsville Crocodiles (GM: Jordan Mc): AJ Ogilvy
Pick 3 - Cairns Taipans (GM: Tom Harrison): Josh Childress
Pick 4 - Adelaide 36ers (GM: Warren Yiu): Daniel Johnson
Pick 5 - Illawarra Hawks (GM: Corey Kennedy): Tom Abercrombie
Pick 6 - New Zealand Breakers (GM: Dean Zardo): Kevin Lisch
Pick 7 - Melbourne United (GM: Hayley Wildes): Chris Goulding
Pick 8 - Perth Wildcats (GM: Steve Chalmers): Cedric Jackson
Pick 9 - Perth Wildcats: Hakim Warrick
Pick 10 - Melbourne United: Kirk Penney
Pick 11 - New Zealand Breakers: Julian Khazzouh
Pick 12 - Illawarra Hawks: Stephen Holt
Pick 13 - Adelaide 36ers: Damian Martin
Pick 14 - Cairns Taipans: Jerome Randle
Pick 15 - Townsville Crocodiles: Casey Prather
Pick 16 - Sydney Kings: Daniel Kickert
Pick 17 - Sydney Kings: Charles Jackson
Pick 18 - Townsville Crocodiles: Jermaine Beal
Pick 19 - Cairns Taipans: Matt Knight
Pick 20 - Adelaide 36ers: Mark Worthington
21 - Illawarra Hawks: Nate Jawai
22 - New Zealand Breakers: Torrey Craig
23 - Melbourne United: Adam Gibson
24 - Perth Wildcats: Cameron Gliddon
25 - Perth Wildcats: Todd Blanchfield
26 - Melbourne United: Majok Majok
27 - New Zealand Breakers: Nick Kay
28 - Illawarra Hawks: Markel Starks
29 - Adelaide 36ers: Shawn Redhage
30 - Cairns Taipans: Clint Steindl
31 - Townsville Crocodiles: Rhys Martin
32 - Sydney Kings: Tom Garlepp
33 - Sydney Kings: Jordair Jett
34 - Townsville Crocodiles: Jesse Wagstaff
35 - Cairns Taipans: Tom Jervis
36 -Adelaide 36ers: Mike Vukona
37 - Illawarra Hawks: Stephen Weigh
38 - New Zealand Breakers: Jason Cadee
39 - Melbourne United: Tai Wesley
40 - Perth Wildcats: Cameron Tragardh
41 - Perth Wildcats: Angus Brandt
42 - Melbourne United: Marcus Thornton
43 - New Zealand Breakers: Alex Loughton
44 - Illawarra Hawks: Anthony Petrie
45 - Adelaide 36ers: Oscar Forman
46 - Cairns Taipans: Mitch Norton
47 - Townsville Crocodiles: Mitch Creek
48 - Sydney Kings: Tim Coenraad
49 - Sydney Kings: Everard Bartlett
50 - Townsville Crocodiles: Lucas Walker
51 - Cairns Taipans: Alex Pledger
52 - Adelaide 36ers: Brendan Teys
53 - Illawarra Hawks: Luke Schenscher
54 - New Zealand Breakers: Matt Burston
55 - Melbourne United: Mitch Young
56 - Perth Wildcats: Shaun Bruce
57 - Perth Wildcats: Larry Davidson
58 - Melbourne United: Matt Hodgson
59 - New Zealand Breakers: Cody Ellis
60 - Illawarra Hawks: Rhys Carter
61 - Adelaide 36ers: Nathan Sobey
62 - Cairns Taipans: Greg Hire
63 - Townsville Crocodiles: Corey Maynard
64 - Sydney Kings: Jarrod Kenny
65 - Sydney Kings: Jeromie Hill
66 - Townsville Crocodiles: Jarrod Weeks
67 - Cairns Taipans: Igor Haziomerovic
68 - Adelaide 36ers: Chris Patton (traded with pick 79 Omar Samhan due to TWN exceeding import restrictions)
69 - Illawarra Hawks: Brad Hill
70 - New Zealand Breakers: Nate Tomlinson
71 - Melbourne United: Dion Prewster
72 - Perth Wildcats: Leon Henry
73 - Perth Wildcats: Mirko Djeric
74 - Melbourne United: Steven Markovic
75 - New Zealand Breakers: Reuben Te Rangi
76 - Illawarra Hawks: Kevin White
77 - Adelaide 36ers: Shane McDonald
78 - Cairns Taipans: Damon Heiur
79 - Townsville Crocodiles: Omar Smahan (traded for Chris Patton due to exceeding the maximum (2) import counter)
80 - Sydney Kings: Ebi Ere (changed to Harry Froling due to exceeding the maximum (2) import counter)
---
The Teams
Sydney Kings (GM: Tony Loedi)
I wanted to draft a team full of 3-point shooters but didn't want it to be at the expense of solid defence and for the most part I think I succeeded. Except for Charles Jackson every player on this team can hit three's at an efficient rate. While Jackson's real value comes on the defensive end, where he provides excellent rim protection.
On offense, Corey Webster forms a lethal pick and pop/roll combination with Daniel Kickert, Tom Garlepp, and Jackson, while Jordair Jett should flourish with the space the outside shooters create, opening up the driving lanes for him to attack the rim.
On the defensive side of the ball, with Jackson protecting the paint and Jett and Webster defending the perimeter, this should be a solid defensive unit.
With the excellent shooting skills of Everard Bartlett, Tim Coenradd and to a lesser extent Jarrod Kenny, there's some real firepower coming off the bench.
I love the 3-point shooting and the versatility of this group of players. Overall it's a pretty decent looking team and one I'd be more than happy to go into battle with.
Team
PG: Jordair Jett
SG: Corey Webster
SF: Tom Garlepp
PF: Daniel Kickert
C: Charles Jackson
Bench: Tim Coenraad, Everard Bartlett, Jarrod Kenny, Jeromie Hill, Harry Froling
---
Townsville Crocodiles (GM: Jordan Mc)
My first two picks in AJ Ogilvy and Casey Prather were simply a case of taking the best player available. Once I had these two, I tried to build around their strengths (finishing at the rim, defense, athleticism, speed) and add players that would balance out the roster (shooting, two way play, flexibility). Getting a strong guard with high volume three point shooting (Jermaine Beal) and a power forward that could shoot the three and also play effective defense (Jesse Wagstaff) helped give us some much needed spacing. With two import wings now picked, I had to grab the best available starting caliber local point guard (Rhys Martin).
The versatility of Mitch Creek and Lucas Walker should help contribute to a fast pace on offense and some disruption and switching ability on defense. Adding Jarrad Weeks as a spark plug guard off the bench further adds to the fast pace idea and I will be very happy if he and Corey Maynard can knock down threes at a similar percentage to what they have done this season. Chris Patton is our 'banger' off the bench for half a dozen minutes when AJ sits, or when we can't afford to play small with a funky lineup of Wagstaff-Walker-Creek-Prather-Guard.
The toughest decision of the draft was passing on Childress at pick 2. Given his inability to stay on the court during his two seasons in the NBL, I decided to take Ogilvy who I would label as the MVP of the league thus far. One quirk of this draft exercise meant that Omar Samhan fell to me at pick 79 when I needed a backup C. Import restrictions meant that I couldn't keep him and therefore he was swapped for Chris Patton who had been drafted earlier.
Team
PG: Rhys Martin
SG: Jermaine Beal
SF: Casey Prather
PF: Jesse Wagstaff
C: AJ Ogilvy
Bench: Mitch Creek, Lucas Walker, Corey Maynard, Jarred Weeks, Chris Patton
---
Cairns Taipans (GM: Tom Harrison)
With pick three, who would have thought that the Cairns Taipans would be able to snare Josh Childress? The Snakes just received a long term player, not exactly because of his on court production, more so due to Childress representing the club after he steps foot off the hardwood. Add to that, the most electrifying man in the competition in Jerome Randle, and BAM, how crazy has the Taipans marketability soared.
The final piece of the Snakes 'Big 3' puzzle is Matt Knight. He's not going to set the world alight such as the above two, however he's a grit and grind player and by his stats, he's one of the most valuable players in the league. Just like that, the Taipans have entered the championship contending window.
Etching out the starting five are servicable long term prospects Clint Steinfl and Tom Jervis. Jervis earns himself a pay rise and a hefty increase in playing time thanks to slotting into the starting line-up in Cairns.
The bench isn't too shabby either, we've created depth in most areas, plus some pieces to build in future years. Mitch Norton is a starting calibre guard, while Alex Pledger will lock down the defensive end for our second unit. Igor Hadziomerovic and Greg Hire are at different ends of their career, while developing Damon Heuir could provide something for the club in a couple of years time.
Now just to get the front office right!
Team
PG: Jerome Randle
SG: Clint Steindl
SF: Josh Childress
PF: Matt Knight
C: Tom Jervis
Bench: Mitch Norton, Alex Pledger, Igor Hadziomerovic, Greg Hire, Damon Heuir
---
Adelaide 36ers (GM: Warren Yiu)
Defense wins championships. If that mantra is good enough for legendary coach, Brian Goorjian, it's good enough for me.
Over the past 3 seasons, the eventual NBL champion has sported a top 2 defense, per RealGM. Barring an historic offense, to sniff a title you will need a team that churns out stops on a regular basis; the type of gritty, in-your-face squad that "Goorj" was famous for coaching, that typically travels well away from home, and is able to perform on a consistent basis.
And that is why Damian Martin headlines this Adelaide 36ers squad as the captain, and general tone-setter from the point of attack. His ability to pick up his man from full court, harass that ball handler, and keep teams from initiating their sets until late the shot clock underlines this team's emphasis: DEFENSE, DEFENSE, DEFENSE. He will be ably flanked by the grisly triumvirate of Shawn Redhage, Mark Worthington and Mika Vukona, tough-minded veterans who won't take a backwards step, have played on championship squads, and are two-way stars in their own right.
With that in mind, it may seem like an odd decision to draft Daniel Johnson as the top pick for the 36ers. Johnson may never live up to his vast potential and lofty expectations, but he's unquestionably still a huge local talent. Even at 27, he still has time to harness that natural ability to become a truly elite two-way big, in a career trajectory similar to that of the legendary Matt Nielsen.
The rest of the squad is rounded out by fit and best available talent left on the board. Brendan Teys gives added spacing for the starting unit, and Oscar Forman provides veteran leadership and pristine floor spacing for an inexperienced second unit, that features the raw talents of Nathan Sobey and Shane McDonald.
Omar Samhan is a crucial addition as the lone true centre, acquired via a trade of Chris Patton (with Townsville), and gives the squad some added depth.
Look, it's a top heavy squad, particularly in the front court, but there's enough veteran smarts here, and a clear defensive identity that underpins any successful franchise culture.
Team
PG: Damian Martin
SG: Brendan Teys
SF: Shawn Redhage
PF: Mark Worthington
C: Daniel Johnson
Bench: Mika Vukona, Oscar Forman, Omar Samhan, Nathan Sobey, Shane McDonald
---
Illawarra Hawks (GM: Corey Kennedy)
I've decided with my team to go with a lot of fire power especially with positions 1-3 with my two imports.
Stephen Holt and Markel Starks they can shoot the ball or push it quickly to my two wings in Abercrombie and Weigh who can knock down the 3 ball.
If all else fails I can chuck it into my 3 big men - Nate Jawai, Anthony Petrie and the curly head of Luke Schensher. To finish off I've got the expertise of White, Hill and Rhys Carter to balance the fire power of the starters. I'm really happy to get those two guards and don't believe many other pairings could stop my guys.
Team
PG: Markel Starks
SG: Stephen Holt
SF: Tom Abercrombie
PF: Anthony Petrie
C: Nate Jawai
Bench: Stephen Weigh, Luke Schenscher, Rhys Carter, Brad Hill, Kevin White
---
New Zealand Breakers (GM: Dean Zardo)
I started off looking for the best available player in the early rounds, landing Lisch (PG) and Khazzouh (C) with picks 6 and 11.
Once the talent pool started to thin out I focused on building a balanced starting five, adding second import Craig at SF along with local rising stars Cadee (SG) and Kay (PF).
In the sixth round I again started with best availables to begin with, picking up Burston and Loughton in the front court, before filling in the gaps once more with Ellis, Tomlinson and Te Rangi to complete my 10.
Team
PG: Kevin Lisch
SG: Jason Cadee
SF: Torrey Craig
PF: Nick Kay
C: Julian Khazzouh
Bench: Matt Burston, Alex Loughton, Cody Ellis, Nate Tomlinson, Reuben Te Rangi
---
Melbourne United (GM: Hayley Wildes)
My first two picks; Chris Goulding and Kirk Penney, were chosen based on their offensive capabilities and I would be hoping that with them in the starting line-up, we would be able to match it with the best offensive teams in the league. Drafting Goulding at pick seven was an easy choice for me with his ability to singlehandedly win games for his team. His star power and marketability make him a goldmine for the organisation.
Adding to my offensive arsenal is my third pick and 23rd overall; Adam Gibson. I was thrilled to get Gibson and he will be running the point for Melbourne United. Together with Goulding, I will have two Boomers forming my starting backcourt, both of whom can push the pace and keep the offence moving.
I then shifted my focus to defence and was able to nab Majok Majok with the 36th pick. He will need to be an anchor on defence and crash the boards as he has been doing this season.
The power forward starting position is very much up for grabs. Depending on match ups and form, Mitch Young and Tai Wesley will be sharing this role throughout the season.
Drafting Tai Wesley was a big choice for my team. There were plenty of other serviceable big men left on the board when I picked him, but I decided to go for Wesley because I feel he is an underrated defensive player, which my team was lacking.
By drafting Marcus Thornton, Dion Prewster and Steve Markovic my backcourt has good reinforcements for the limited time Goulding and Gibson will be on the bench. My guards are certainly not defensive guards and this may prove to be a problem on nights when the offence isn't going, but I'll back them in to play solid team defence as a unit.
Matt Hodgson, given the opportunity, could be a solid backup big man in the NBL. His 18 points and 9 rebounds in the 2015/16 season-opener against reigning champs New Zealand proves this. I was somewhat cautious to draft him with his injury history, but at pick 58 I decided the possible reward is more than the potential risk.
Team
PG: Adam Gibson
SG: Chris Goulding
SF: Kirk Penney
PF: Tai Wesley
C: Majok Majok
Bench: Marcus Thornton, Steve Markovic, Dion Prewster, Mitch Young and Matt Hodgson
---
Perth Wildcats (GM: Steve Chalmers)
As the nominated General Manger of the Perth Wildcats, it was already assumed I was going to stretch the limits through the draft….ahem, I mean I was going to draft well and create a strong team.
The thought process was to draft a strong team for not only now, but to create a continued environment where the organisation can have longer term players. The first two picks were imports where the 'bookends' were created (PG and C).
While Warrick isn't technically listed as a C, he will start at that position for the 'Cats (and he'll be used much more than he previously was in Melbourne). The next batch of picks were the long term players that will flourish in our organisation - Blanchfield and Gliddon will provide spacing and are 'team' oriented players. With the starters out the way, the next task was to create a solid bench, which had plenty of chemistry as well as a combination of veterans and youngsters.
Tragardh and Davidson can help boost Angus Brandt's progression to bigger and better things; while Bruce, Henry and Djeric can provide boost minutes for our guards on what is a somewhat slim guard rotation.
While the on court product is strong, it's also the off-court product General Managers have to look into. Both imports (Jackson & Warrick) are marketable players, with merchandise set to rocket in terms of jersey sales. Gliddon is on the cusp of a Boomers spot and will therefore demand Australian attention, while the likes of Blanchfield, Brandt and Bruce can all have an impact on the fans and media.
Team
PG: Cedric Jackson
SG: Cameron Gliddon
SF: Todd Blanchfield
PF: Cameron Tragardh
C: Hakim Warrick
Bench: Angus Brandt, Shaun Bruce, Larry Davidson, Leon Henry, Mirko Djeric