NCAA Women: Sheedy and Froling impress
The NCAA women had a brief break, but is finally back underway with more exciting moments ahead. Michael De Lacy takes a look at the action and also the big standouts in the last 2 weeks of NCAA Aussie women this season.
---
Player of the week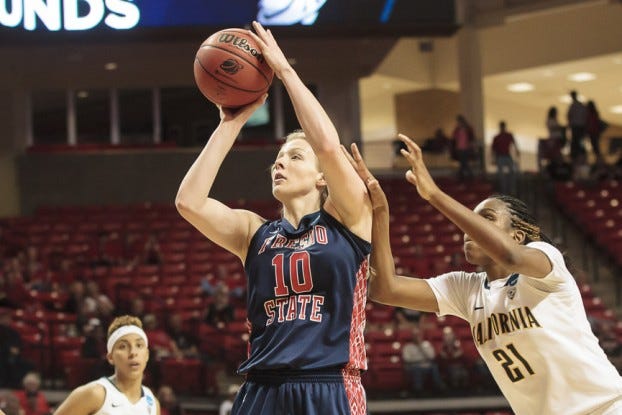 Sheedy in action against California - Courtesy of Fresno State Athletics
Choosing this edition's player of the week was a tough task, as I was torn between the outstanding performances of Fresno State Bulldogs senior, Alex Sheedy, and freshman Funda Nakkasoglu. Nakkasoglu made a huge positive impact for the Aggies, impressing with some big scoring outbursts and playing a vital role in the final moments of the last few games. However, I couldn't go past senior Alex Sheedy who has played at a consistently high standard throughout the season. After a ankle injury shut her down for a few games last season, Sheedy is currently making every opportunity count. She has since scored at a high level, with eight double-digit games in a row, with only one single-digit scoring game this season. It is no wonder that she's notched up Mountain West player of the week (15th-21st) for the second time this season.
Against Oregon, Sheedy continued her impressive play in big game situations, scoring a team high 25 points, 6 rebounds, 2 assists and snatching a game high 3 steals in 37 minutes. This led to a Bulldogs victory, with the final score being 68-59. The Bulldogs shot 47% from the field and from beyond the ark.
Sheedy played a significant role in the victory over New Mexico (71-65) as well, and had a team high 16 points with 7-14 from the field and 4 rebounds in 28 minutes. This victory extended the Bulldogs wining streak to 6 games, giving them a 9-3 overall record. Coach Jaime White said this about Sheedy
"Her basketball IQ is high and obviously her ability is high, and especially on the offensive end."
Team of the Week
The South Dakota Coyotes are team of the week for the second time in a row. After an impressive 8-game winning streak and overall 10-3 record to move into the new year, the Coyotes are on cloud 9.
In their first game, South Dakota played arch enemies North Dakota, pulling off a nail biting 5 point victory, 86-81, to bring ther winning streak to 7 games. Nicole Seekamp was outstanding once again, posting 17 points, 4 rebounds and a game high 7 assists in 29 minutes of action.
The Coyotes brought their winning streak to 8 games, defeating UTSA 76-79. Seekamp played a vital role in the victory, combining 16 points, 6 assists and 5 rebounds in 26 minutes of action. The Coyotes shot a noteworthy 50% from the field.
Unfortunately, this was where their winning streak ended. In their third game Seekamp struggled in a loss against UT Chattanooga (67-54), shooting 1-6 from the field and adding 5 points, 3 rebounds and 2 steals in 25 minutes. The Coyotes made a late push at the end but it just wasn't enough as they struggled from the field, not making a single 3 pointer (0-6), while shooting only 11-28 in the second half.
Best of the rest
The twin towers, Alicia and Keely Froling both featured in the starting line up for the SMU Mustangs as they faced Indiana State in a close 9-point loss (64-55). Alicia posted 10 points, 8 rebounds, 3 assists and 2 blocks in 27 minutes of action. Meanwhile, her freshman sister, Keely, went 1-6 from the field, adding 3 rebounds and 3 points. The Mustangs struggled in the first half from the field managing to go 6-24. Freshman Stephanie Collins appeared in her first game of the season and posted 3 points and 2 rebounds in 10 minutes. Hopefully we will see Stephanie hold her spot in the squad and become a valued contributor for the Mustangs.
Alicia impressed in the loss against Auburn (56-43), producing a team high 14 points and 4 rebounds in 18 minutes. Keely had 7 rebounds and struggled with her stroke, going 0-4 from the field. Collins had 2 rebounds.
In their second game the Mustangs battled Temple in a well-contested game which saw Temple sneak away with a win (77-64.) Alicia posted a career high 20 points, 8-10 from the charity stripe, 7 rebounds and a strong defensive 4 blocks. The Mustangs won the second half 37-33 but they weren't able to continue their run. Alicia Froling's 20 points were the most by any Mustang this season.
The Idaho Vandals had a strong victory against Lewis Clark State College 74-48. Senior Stacey Barr has struggled from the field managing only 6 points, 2-12 from the field, 5 rebounds and a not-so-good 6 turnovers in 20 minutes. Tayla Corrigan had 2 rebounds, 2 points in 4 minutes and Renae Mokrzycki had 2 points and 3 boards in 6 minutes. Geraldine McCorkell stood out amongst her Aussie teammates, going a strong 8-10 from the field while adding 4 rebounds and 18 points impressively in only 19 mins. Teammate Christina Salvatore had this to say about McCorkell.
"Geri has all the potential in the world. Sometimes she sells herself short. Lately she has been playing great. She is great inside, she is a great shooter, a great rebounder and a great passer. She does all those things really well. She is awesome to play with."
Finally, the Vandals overcame Weber State (67-60) in a thrilling fight to the finish. Barr led her team and nearly had half her squad's points, dropping a double-double with 10 rebounds, 31 points going a note-worthy 8-14 from the field with 5 assists in 39 minutes. She was the only Vandal to score in double figures. Coach John Newlee had this to say about Barr.
"Monster game from Stacey. It was great to see her back. Bad game happens. She played hard today. She got people involved and rebounded. Stacey did all the things Stacey does. She was the Western Athletic Conference Player of the Year for a reason. She can do this against Baylor, she can do it against Weber, she can have this kind of game against anybody."
The University of Hawaii were too strong for Loyola Marymount winning (85-76.)
Ashleigh Karaitiana was off from the field shooting 2-12 but still contributed 12 points, 5 rebounds and 2 assists in 38 minutes. Hawaii shot a reasonable 45% for the game.
Karaitiana continued her shooting slump going 5-15 against CSU Bakersfield, but managed a double-double in what turned out to be a good game for the 6'0" guard. She contributed 12 rebounds, 13 points and 4 assists in 36 minutes of action in a 78-69 loss to CSU Bakersfield. On a positive note, "The Rainbow Wahine" dominated in the paint, grabbing 50 points compared CSU's 34.
Senior Mollie McKendrick struggled from the field, going 6-21 compiling a team high 6 rebounds, 14 points and 2 steals as the Boston Terriers faced a loss against the overall 6-6 Massachusetts (78-57). This marked the Terriers fifth loss in a row.
McKendrick remained in her slump, going 0-7 from the field adding 2 rebounds and 2 points in 20 minutes for the Terriers as they were defeated by Holy Cross in a big loss with only 7 players in the squad (71-48), leaving them with a 6-game losing streak to start the new year.
Utah State weren't able to continue their winning ways facing a nail biting double overtime loss going down to BYU (62-58).
Despite being a late-game cog on a big scoring night, freshman Funda Nakkasoglu had an inefficient performance that game, going 7-25 on 19 points. She had 3 rebounds and 3 steals in 36 minutes. Nakkasoglu unfortunately, also missed a chance at the game-winne, which would have avoided the first overtime. Stephanie Bairstow didn't appear giving them their 4th loss in a row of the season.
Nakkasoglu also had a rough night with her stroke in a loss against Boise State (63-53), going 3-13 from the field. On a positive note, she went 7-8 from the charity stripe and added 4 rebounds to go with 11 points.
Saint Mary's Lauren Nicholson shot 6-16 from the field adding 3 rebounds, 3 assists and 15 points in 34 minutes of non-stop action. Hannah Kaser shot 1-4 from the field and had 2 points and 2 assists in 13 minutes while Carly Turner was quiet in 5 minutes. The Gaels had a loss against George Washington (70-52). Saint Mary's held an early lead but were not able to capitalise after George Washington made a run to get over the Gaels.
Nicholson had a tough shooting night against Santa Clara, shooting 6-15 from the field but still contributed 7-10 from the charity stripe, in addition to having 5 rebounds, 21 points in 37 minutes. Nicholson was vital in the second half of the game, making some big important plays to keep the Gaels ahead. Kaser had 5 points and 2 rebounds while Turner played 1 minute. In the end, Saint Mary's were able to win against Santa Clara in a very close finish (62-61.)
Freshman Carly Turner had her best game yet, posting 8 points, 10 rebounds, 2 blocks and 1 steal in 22 minutes. Nicholson had 8 points and 4 rebounds and Kaser 6 points in 13 minutes in a very close win against San Francisco (68-66.)
The Gaels would then follow up with a victory over Pepperdine (73-68.) Nicholson had a game high 21 points, 2 assists and 2 steals in 35 minutes. Kaser had 6 points and Turner was quiet with 4 rebounds. The Gaels as a whole, an incredible 50% from beyond the arc. On the defensive side, the Gaels only allowed an impressive 2 points in the paint whilst scoring 18 paint points.
Maddison Allen was impressive off the bench with 4 blocks, 4 rebounds and 8 points in 16 minutes in a 3 point loss against University of Pacific. Santa Clara struggled on offense, committing 28 turnovers, shooting 32% from the field and 1-10 from 3 pointers.
Gonzaga's Georgia Stirton went 4-5 from the field compiling 11 points and assists in 29 minutes in a exciting battle against BYU cougars (78-62).
Stirton compiled a nice game putting together 7 rebounds, 6 points and 5 assists in 24 minutes in a victory over the Portland Pilots (79-57).
To round out this week's update, here are some other pretty good performances worth noting:
Stirton was quiet in a win against San Diego Toreroes (49-67.) She still contributed 3 points, 3 assists and 2 steals in 22 minutes. Gonzaga now has a 9-4 record.

Marena Whittle hasn't been her usual self, going 1-5 from the field adding 4 points, 3 rebounds in 20 minutes of action. Where her squad faced a loss against Grand Canyon (69-54). Whittle managed to bounce back after struggling to put together a double-double leading her team with 12 rebounds, 11 points, 2 assists to go with 3 steals in 26 minutes while ending a four game losing streak.

Vanessa Panousis was big for the Hokies, putting up 21 points and 4 rebounds in 38 minutes to help the team grab a victory over Radford (73-60.) Panousis was big again with 23 points, 4 assists and 3 rebounds in 35 minutes.

Louise Brown had 8 points, 5 rebounds in 15 minutes off the bench for the 9-2 Washington State Cougars. The Cougars were able to get a victory Loyola Marymount (87-60.)

Grace Lennox's Eastern Illinois had a frustrating 3-point loss to Lehigh (72-69). Lennox appeared in the starting lineup and totalled 5 points, 8 assists in 38 minutes.

Thankfully, the Cougars ended a 6 game losing streak against Tennessee Tech 67-59. Lennox had 6 points, 4 assists in 35 minutes on that outing.