Discover more from The Pick and Roll
We're all about Aussie hoops. Independent, objective analysis and commentary. Insightful narratives built around Australian basketball. Read about our men and women in the NBA, WNBA, NCAA, Europe, national teams, NBL, WNBL, NBL1, prospects and more.
Over 2,000 subscribers
NCAA Women: Sheedy comes up big
The Aussie NCAA Division I women are making their presence well and truly felt in America. Michael De Lacy takes another look at the action and calls out the best performances of the last week.
---
Player of the Week
This past week I was torn between the new and the old, with senior Alex Sheedy and freshman Alicia Froling standing out. After some hard thinking, I went with Sheedy due to her consistency and in putting up some of the best numbers of her career. Fresno State has enjoyed a very good season and this is largely because of Sheedy.
Alex Sheedy - Courtesy Fresno State Athletics
As mentioned in last weeks update, Sheedy has dramatically improved this season following the graduation of fellow Australian Bree Farley. Sheedy put in a big performance this last week with a big double-double, going 9/17 from the field for 22 points, 11 rebounds and showed some nice defensive effort with 3 steals. Thanks in no small part to Sheedy, Fresno State recorded a convincing 62-44 victory against Nevada.
The Bulldogs are ranked first in Mountain West and remain undefeated. Sheedy has been leading her squad since the season tipped off in early November, averaging a very impressive 17 points and 7.1 rebounds a game while shooting 43% from field in 31 minutes per game.
Team of the Week
This week's standout team was quite easy; I picked the Baylor Lady Bears due to their impressive 17 wins in a row and only with 1 loss for the season. The Lady Bears are taking no prisoners on their quest on their Big 12 Championship. With only 11 games left to go, they may just look to go all the way and maintain their winning streak. They just need to continue to focus on playing the good team oriented basketball that has helped them to where they are to date.
Kristy Wallace - Courtesy SMU Athletics
Freshman Kristy Wallace has been a big reason for their sustained success. In Baylor's 17th consecutive victory, this time a 68-46 result over bottom of the table Kansas State, Wallace contributed 11 points with 2 rebounds, 5 assists and 2 steals. In leading from start to end, Baylor controlled the points in the paint (44-12), and has done that in all 19 games of this season.
Queenslander Wallace has been averaging 8.8 points and 2 rebounds in 24 minutes per game in her first season. Baylor is sitting on a very impressive 18-1 overall record and doesn't look like losing a game any time soon. Their biggest challenge may come when they face Oklahoma State who is ranked second behind them.
Best of the rest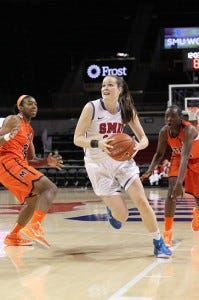 Alicia Froling - Courtesy of SMU Athletics
Southern Methodist are yet to win an American Athletic Conference game this season and are now 0-8 after a tough 57-61 loss to UCF. The latest loss came about despite freshman Alicia Froling lead her squad with an impressive double-double of 18 points, 11 rebounds and 2 blocks in 35 minutes on court. However sister Keely Froling went scoreless yet added 6 rebounds and 2 assists while Stephanie Collins was held scoreless as well. The Mustangs are now just 4-15 on the season are the loss to UCF was their 12th in a row. SMU will look to shake this hoodoo when they next face Tulsa who are mid-table.
Alicia Froling has been without doubt one of the most impressive freshman amongst the Aussies this season, starting all 19 games and averaging 11.5 points, 7.1 rebounds and 2 blocks in 28 minutes per game. She has cemented herself as a very valuable player and leads her team in 7 statistical categories. Her sister has been providing solid contributions, delivering 4.7 points and 5.4 rebounds per game.
Coming off the bench, Claire Maree O'Bryan produced 13 points, 6 rebounds, 2 assists and 2 steals in 25 minutes of action as Bucknell snatched a very good 66-49 victory over Loyola in a game they led from start to finish. Bucknell shot a very acceptable 57% from the field in the first half of the victory, while Loyola's downfall was their rough night from the field, shooting just 25% for the game.
Bucknell then went up against Boston University Terriers featuring Aussie Mollie McKendrick and earned a 72-56 victory. This time O'Bryan had 6 points, 3 rebounds and 4 assists in 22 minutes. McKendrick was back to her normal productive self, chipping in 9 points, 6 rebounds and 2 assists in her side's loss. The game wasn't easily taken by Bucknell as it consisted of 13 lead changes. Bucknell also shot a note worthy 57% from the field in their victory and 47% from beyond the arc. O'Bryan has started 17 games and averaged 9.2 points, 4.4 rebounds and 1.5 assists thus far this season as her team improved to 13-6 overall record and 5-3 in the Patriot League.
Virginia Tech enjoyed a 76-59 victory over Wake Forest with Vanessa Panousis leading the way. The Australian didn't hold back, racking up 16 points, 2 rebounds and 5 assists in 33 minutes of action. Hannah Young proved her past few big games weren't just luck, coming out again to put up 14 points, 4 rebounds, 3 assists and 2 steals. The Hokies shot 46 percent from field and led the entire game. Virgina Tech Hokies Coach Dennis Wolff had this to say after the victory.
Panousis is playing some very good basketball for the Hokies this season, experiencing a break-out season and being the Hokies most valuable player. She is putting up 14 points, 3.2 rebounds and 3.5 assists in 35 minutes per outing. With the win, the Hokies collected their first conference win this season as they improved to 10-10 overall.
The Idaho Vandals have the most Aussies in their team with 4 this season, however they have not enjoyed the on court success they would have been hoping for. They are currently ranked 7th in the Big Sky rankings. The 2013-14 WAC player of the year Stacey Barr collected 14 points and 6 rebounds in a 70-52 loss to Northern Colorado. The Vandals shot a disappointing 24% from the field and trailed the entire game.
Senior Barr has started every game this year, averaging 20 points and 7.4 rebounds in 31 minutes per game. The Vandals have an 8-10 overall record and so far are just 2-5 in Big Sky Conference play.
Ashleigh Karaitiana had a near double-double with 15 points, 9 boards and 4 assists in 35 minutes of action in Hawaii's 69-58 victory over UC Riverside. The win earned them their first conference victory of the season after Karaitiana being held to just 2 points in the first half. Karaitiana 2 points in first half. Hawaii is currently ranked 6th in Big West Conference and Karaitiana is currently averaging 10.8 points, 6 rebounds and 2 assists per game.
Nicole Seekamp - Courtesy University of South Dakota Athletics
Nicole Seekamp continued her fine form with 15 points, 7 rebounds, 2 assists and 2 steals as South Dakota won a nail-biting 1 point victory over IPFW 73-72. Even two late 3 pointers in the last 40 seconds wasnt enough for IPFW to get over South Dakota in a game that included 11 lead changes.
In her second outing of the week, Seekamp had a quieter game producing 11 points, 2 rebounds and 3 assists as South Dakota was defeated by IUPUI 43-68. Seekamp has started all 20 games for the season and is averaging a very good 14 points, 3.8 rebounds and 5 assists per game. South Dakota has a 15-5 overall record and is now 5-2 in the Summit League.
Saint Francis Brooklyn defeated Saint Francis University 70-55 and it was senior Eilidh Simpson at the forefront with 17 points, 2 rebounds, 3 assists and 2 steals in the victory. Simpson is also now just 70 points away from reaching 1,000 career points, averaging 14.2 points and 2.4 rebounds this season. The Terriers now have an overall record of 5-14 and are 2-5 in conference play.
Lauren Nicholson's Saint Mary's was defeated by Georgia Stirton's Gonzaga 52-42. Stirton had 10 points, 2 rebounds, 3 assists and 3 steals while Lauren Nicholson struggled, going 1/7 from the field to finish with just 4 points. Nicholson is leading the Gaels in scoring with 20 points per game this season which has her ranked 5th in the West Coast Conference.
Just Quickly
Louise Brown had 10 points and 5 rebounds in 26 minutes after Washington State defeated Utah 63-54.

Marena Whittle had 6 points, 9 rebounds and 2 assists in a 77-60 victory over Omaha.

Arguably the best Freshman so far this season next to Alicia Froling, Funda Nakkasoglu is currently leading her team with 15 points, 3.3 rebounds and 4.2 assists per game. She posted 17 points and 8 assists in Utah State's 85-72 win against UNLV.