NCAA Women: Seekamp, Barr and Alicia Froling fill it up
The Aussie NCAA Division I women are making their presence well and truly felt in America. Michael De Lacy takes another look at the action and calls out the best performances for past week.
---
Player of the Week
Choosing player of the week was a difficult with three Aussie women putting in some impressive performances for their respective teams. The first player was Idaho's Stacey Barr who dropped 26 points and 27 points in two games but unfortunately that was not enough because her team lost both games. The second player in contention was freshman Alicia Froling who keeps on putting up big numbers and has been a shining light in an otherwise dark season for Southern Methodist. However this I could not look past senior Nicole Seekamp who continued her fine form in averaging a very good 14 points, 3.8 rebounds and 5 assists per game this season and another career-best performance this week.
Nicole Seekamp - Courtesy University of South Dakota Athletics
Seekamp had a spectacular game against IPFW, compiling an impressive double-double for the second time this season, with 19 points and 10 assists with 3 rebounds in 26 minutes. Her 10 assists were a new career-high as she led from the front in guiding South Dakota to a 91-80 victory. Overall the Coyotes shot 50% for the game from the field. South Dakota held a big edge in the paint leading the rebound count (43-21) and held the advantage with points in the paint with a 34-18 edge on IPFW.
The Coyotes now improve to a 18-5 overall record and a solid 8-2 Summit conference record as South Dakota snatched their third victory in a row.
South Australia's Nicole Seekamp had this to say after her impressive game, "I'd like to think we have a pretty good connection after playing together for a few years. Whenever I drive I know she's either going to be in the short corner or on the elbow. It's almost an instinct to pass it there."
Team of the Week
Once again the Baylor Lady Bears make it to Team of the Week for the 5th time in a row.
The Lady Bears had a 66-58 victory over Kansas. Baylor were backed by a big home crowd of 7,048 Baylor fans. Australian freshman Kristy Wallace was up for the challenge and chipped in 9 points, 2 assists and 2 rebounds in 21 minutes of action. Baylor led in points in the paint (44-16) and has done so in all 21 games this season. Baylor applied some extreme defensive pressure, forcing Kansas into 28 turnovers.
The winning streak was extended to 20 as the Lady Bears defeated Oklahoma State. Wallace struggled with her shooting stroke going 2/9 from the field but was still able to contribute 5 points. With only 1 loss for the season, Baylor is now 21-1 overall and a stellar 10-0 in the Big 12 Conference. The 20-game winning streak ranks as the 5th longest in Lady Bears history.
Baylor head Coach Kim Mulkey had this to say following the victory, "This is a team where we just don't have one superstar, we've got several that can score, and we share the ball well. I thought our defense was very good and I thought we listened to the scouting report well. We hit some shots and executed offenses early in the game, and it just kept snowballing a little bit, and we spread the wealth."
Baylor's biggest challenge arguably comes this week when they take on Oklahoma at home where they haven't dropped a single game this season. Oklahoma (9-2) are ranked second in the Big 12 rankings. The Lady Bears have beaten Oklahoma 5 times in row in the last 5 years so the odds will be in the Lady Bears favour. But before Oklahoma they will face the 5th ranked Texas.
http://youtu.be/McewePGOnhM
Best of the rest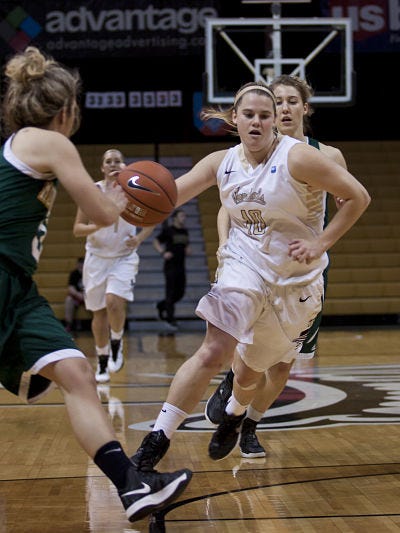 Stacey Barr - Courtesy University of Idaho Athletics
Stacey Barr enjoyed a big game against Montana State, amassing an impressive double-double with 26 points, 15 rebounds and 3 assists in 37 minutes of action in a tough 76-65 loss. Geraldine McCorkell was the only other Aussie to play, adding 5 points and 4 rebounds. The Vandals shot a very low 26% from the field and shot 7/29 from beyond the arc for the game. Barr continues to lead Big Sky in scoring at 20.1 ppg.
Vandals Coach Jon Newlee had this to say after the loss to Montana State, "It looked like we were in slow motion offensively in that first half. Nobody besides Stacey Barr could make a shot when it counted. It was rough. You are not going to win games like that."
In the Vandals second game of the week they were accounted for by Montana in a very disappointing 87-74 loss. Barr was yet again outstanding, leading her team with a game-high 27 points and 6 rebounds. Tayla Corrigan was back in action and chipped in 2 rebounds in 11 minutes. McCorkell put together a nice game, going 100% from the field on her way to 13 points, 5 rebounds and 1 block in 17 minutes. Idaho need to start earning some more wins if they are to bad an impact at the business end of the season.
Looking for their first conference win of the season, Southern Methodist fell to Tulane 84-60. A big positive to take out of the game was when Stephanie Collins made her first career start, delivering 5 points in 14 minutes. She provided great support to the imposing Alicia Froling who added 12 points, 6 rebounds and 2 blocks in the loss. The other half of the twin towers, Keely Froling ,who is still not 100% after having surgery, contributed 10 points, 6 rebounds, 4 assists and 2 steals in 27 minutes of action.
In their second outing of the week, Southern Methodist celebrated their first victory in the American Conference and their first win since early December to end a morale sapping 14 game losing streak. Alicia Froling exploded from the blocks, leading her team with a double-double that consisted of a new career high 27 points (10-16 FG) with 10 rebounds and 2 blocks. With the two blocks, Alicia set the SMU freshman single season mark for blocks with 42. Alicia Froling's 27 points were also the second-most ever by a freshman at SMU.
Collins remained in the starting line-up and collected 7 points, 7 rebounds and a team-high 4 blocks while Keeling Froling missed the game. The Mustangs' long-awaited success came as a result of logging season-low 12 turnovers. Southern Methodist with their youthful roster will be looking to build on the victory and look to put in a another big game when they face UCF in their next battle.
Funda Nakkasoglu compiled 21 points, making it her 5th 20 point game of the season, also adding 4 assists as she helped guide Utah State to a 94-55 thrashing of Boise State. The Aggies then took on Josie Greenwood and New Mexico. This time Nakkasoglu had 12 points, 4 assists, 2 rebounds and 2 steals in a 56-51 loss to the Lobos. Greenwood had 1 rebound in 7 minutes, in a game that was and up and down battle consisting of 11 lead changes.
Alex Sheedy broke out after a few quiet games with a solid double-double of 10 points, 11 rebounds and with 3 steals in 36 minutes, however could not prevent Fresno State being defeated by San Jose State 56-51. Fresno State were in the doldrums, committing 25 turnovers and dropping their first match after 13 straight wins.
Georgia Stirton - Courtesy Gonzaga Athletics
Over in the West Coast Conference, Gonzaga and Georgia Stirton earned a victory over Maddison Allen's Santa Clara 76-49. Gonzaga remain unbeaten in conference play, winning their 12th straight game. Santa Clara's Allen had 5 points and 4 rebounds in 12 minutes while Gonzaga's Stirton had 7 points, and 3 assists.
Gonzaga would then play in one of the longest games of the season, a mammoth 4 overtime battle against San Francisco. Gonzaga was the stronger team winning by 7 points 91-84 in what turned out to be a battle of the fittest. Stirton contributed 5 points, 3 assists and 2 rebounds in 43 minutes of action.
The first overtime was sealed with 0.01 seconds on the clock after San Francisco knocked down a buzzer-beating three-pointer. The second overtime came in the last-minute after a late San Francisco tip-in. The third extra period was decided after Gonzaga made a quick layup with 0.09 seconds remaining. The fourth came about thanks to a San Francisco made triple with just 0.08 seconds remaining. Gonzaga finally managed to breakaway from San Francisco, going on a 13-5 run to seal the well-earned victory. The score for the big game was tied an incredible 14 times and there were also 21 lead changes in the intense game.
Chelsea Roberts had 6 points, 7 rebounds and scraped in a strong defensive effort with 4 steals after UT Martin had a win over Austin Peay (71-61). In Roberts second game of the week the guard compiled 10 points, 5 rebounds, 3 assists and 2 steals in 28 minutes as UT Martin defeated SIUE (69-68) in a nail-biting finish, where a late 3 pointer by SIUE wasn't enough to get them over the line for the victory.
Chelsea Roberts - Courtesy UT Martin Athletics
Virginia Tech was defeated by Georgia Tech (79-70). Vanessa Panousis went 6/19 from the field, dropping 4 three-pointers along the way in adding 18 points, 4 assists, 2 steals in 37 minutes of action. Aussie teammate Hannah Young remained in the starting line-up and compiled 5 points, 4 assists, 3 rebounds. In their last game of the week Panousis lead her squad with 12 points, 7 rebounds, 3 assists and 2 steals in a low scoring loss to Miami 42-39. The Hokies only scored 8 points in the first half of the game.
Louise Brown put in a good game chipping in 5 points, a game high 11 rebounds and 2 blocks as Washington State was defeated by California 57-54. Brown made an appearance in the starting line-up and put in another good game with 8 points, 8 rebounds and 2 assists but it just wasn't enough as Washington State was defeated in a cliffhanger contest 70-69 by Oregon.
Pacific ended a 3 game winning streak for Saint Mary's, prevailing 61-48. Lauren Nicholson had 12 points, 4 rebounds and 2 assists while freshman Carly Turner had 5 rebounds and 1 steal in 22 minutes on court. Pacific's Emily Simons quietly contributed 2 rebounds and 3 steals in 12 minutes in the 13 point victory.
Mollie McKendrick gathered 4 points, 5 rebounds and 2 assists as the Boston Terriers were defeated by Navy 48-40 in a low scoring battle. The Terriers the backed up by ending their 6 game losing streak in accounting for Lafaytte 56-46. The win came about largely thanks to McKendrick's big double-double, racking up 16 points, 11 rebounds and 2 steals in 30 minutes of action.
Just Quickly
Grace Lennox compiled 11 points and 3 assists in a loss against Southeast Missouri (69-65).

Josie Greenwood had 8 points, 4 rebounds in 16 minutes of action coming off the bench to help New Mexico overcome Air Force 69-46.

St Francis Brooklyn's Eilidh Simpson had 14 points and 5 rebounds as the Terriers had a win over Mount St. Mary's Mountaineers 52-46.

Claire Mareer O'Bryan had 5 points and 4 rebounds in a 14 point victory over Lafayette (51-37).

North Dakota State were defeated by Western Illinois 66-60, with Marena Whittle chipping in 5 points, 6 rebounds and a team-high 3 blocks.

Hawaii's Ashleigh Karaitiana had 13 points, 2 rebounds and 2 assists as the Rainbow Wahine defeated UC Santa Babara 60-43.