The 2015/16 NCAA Division I season will see the greatest number of incoming freshmen Aussies possibly ever. Combined with a number of returning stars, all Aussie hoops fans should be excited for a big season ahead.
As with the men, I once again take a crack at selecting the pre-season top 10 Aussie women who are the ones most likely to be the standouts to keep an eye out for.
---
Pre-Season All-Aussie First Team
G | Kristy WALLACE | Baylor
Kristy Wallace - Courtesy SMU Athletics
Wallace enjoyed a remarkable first season of college hoops last season, helping Baylor to one win short of the Final Four in the 2015 NCAA Tournament.
Retuning for her sophomore year as an All-Big 12 Freshman team member, Wallace will play an even larger role as she looks to help guide the Lady Bears back t0 a deep post-season run in 2016 after adding 8.1 points per game in primarily coming off the bench. She returns after having helped guide Australia to a bronze medal at the 2015 U19 FIBA World championships, adding an impressive 10 points, 4.9 rebounds and 3.6 assists per game.
G | Funda NAKKASOGLU | Utah State
Funda Nakkasoglu - Courtesy Utah State Athletics
Also enjoying a stellar year last season was Funda Nakkasoglu who earned a host of awards, including edging out Wallace and Froling as our freshman player of the year.
The Mountain West Freshman of the Year and Honorable Mention All-Mountain West broke the school's freshman single season scoring record by posting 17.4 points per game. Her scoring output was second best in the nation across all freshman, which was also good enough for third in the conference and 68th in the nation. She also added an impressive 4.7 assists per game and left an indelible mark and raising expectations for the coming season ahead.
G | Nicole SEEKAMP | South Dakota
Nicole Seekamp - Courtesy University of South Dakota Athletics
After leading her team with 15.6 points, 5.1 assists and 1.2 steals per game, Nicole Seekamp capped off an amazing junior campaign by being named First Team All-Summit League just the third player in Summit League history to twice be named the Tournament MVP. She is a proven performer, having led the Summit League in assists, steals and assist-to-turnover ratio (2.01) last season, while leading the Coyotes in scoring for the third straight season. She was also named to our All-Aussie First Team.
She enters her 5th and final year poised to break a host of all-time school records, including points (7th, 1,484 points), assists (6th, 396) and steals (6th, 176). She is definitely ready to deliver yet again as she looks to close out her college career in style.
F | Alanna SMITH | Stanford
Alanna Smith | Credit: John Vittorio Cantalupi/Stanford University
Alanna Smith enters her freshman season as a bronze medalist, leading the Gems' in scoring at the 2015 U19 FIBA World Championships. She added 12.6 points (43.4% FG) while also posting 7 rebounds and 2.7 blocks per game en route to receiving all-tournament honours.
The talented and athletically gifted forward is the first international women to join the Stanford program as the first female international in school history. In addition to her international exploits, she was also our selection as MVP of the 2015 U20 Australian Junior Championships after leading her state to the gold medal. A winner at every level, She is expected to make an immediate impact, and is our pick as being the pre-season Aussie freshman player of the year.
C | Alicia FROLING | Southern Methodist
Alicia Froling - Courtesy of SMU Athletics
In posting a school freshman record 54 blocks last season - second all-time at SMU - Alicia Froling provided hope for the years ahead as the Mustangs struggled through a tough season. Named to the American Athletic Conference All-Freshman Team, she also led the Mustangs in scoring with 11.5 points per game and was the first freshman to do so in more than 10 years. She was also named as our Defensive Player of the Year and to our first team.
Froling continued to work hard in the off-season, linking up with Wallace and Smith on the Australian U19 team at the 2015 FIBA World Championship and was an integral player in helping her country win bronze. She is primed for an even bigger season head as a sophomore.
Pre-Season All-Aussie Second Team
G | Georgia STIRTON | Gonzaga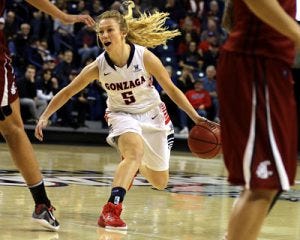 Georgia Stirton - Courtesy Gonzaga Athletics
While the 2014/15 season ended in heartbreaking circumstances in the Sweet 16, Georgia Stirton played an integral role in Gonzaga's post-season success, starting every game for the year.
While she only averaged 5.7 points per game in 28 minutes per outing, it was the intangible contributions she made that really shone through in a successful junior campaign. As the glue for the Bulldogs, her selfless play will once again be needed to ensure another deep run in the post season. While you may not see the stats in the box score, you cannot miss her leadership, heart and effort.
G | Vanessa PANOUSIS | Virginia Tech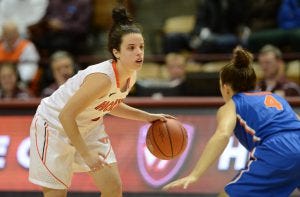 Vanessa Panousis | Credit: Virginia Tech
Vanessa Panousis has started every game for Virginia Tech across her first two years of college, contributing 12.4 points, 3.1 rebounds and 4.4 assists per game as a sophomore and was selected to our All-Aussie second team.
Such was the all-round play of the dynamic guard, especially in the ACC Tournament, Panousis was named All-Tournament Second Team and enters her third year brimming with confidence. She was just one of two US-based Australian college players to be selected to the 2015 Australian World University Games team that finished in 5th place, and will be looking to use that experience to help elevate her game to another level this coming season.
F | Lauren NICHOLSON | Saint Mary's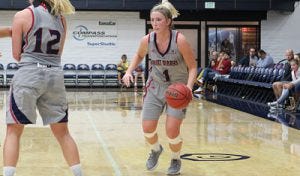 Lauren Nicholson - Courtesy Saint Mary's Athletics
The 2015 First-Team All-West Coast Conference player returns for her final year of college and looking to lead the Gaels to the top of the WCC.
She led the team in scoring with 17.6 points per game, with her 580 points ranking third all-time at SMC for a single season. Her efforts earned selection alongside Panousis to our All-Aussie second team. There is no doubting her ability to score, and this should not change next season.
F | Louise BROWN | Washington State
Playing all 32 games as a first year player, Louise Brown worked her way into the starting line up for the final 16 games and looks set for an even bigger role in 2015/16.
While the forward only averaged 3.9 points, her 6.5 rebounds per game was the second-highest freshman single-season output on record. She also tied for team-lead with 29 blocks, while also racking up the third-most in Cougar freshman single-season history. With more opportunities expected, Brown's influence and output is set to also increase as her importance to her team's success is emphasised.
C | Jacinta VANDENABERG | Oregon
Vandenberg scores over a Trojan - Courtesy Keith Kountz via Fresno State Athletics
After a promising year at Fresno State, Jacinta Vandenberg transferred to Oregon in a move that saw her required to sit out the 2014/15 season due to NCAA transfer regulations.
The 6'5 center led Fresno State with 6.5 rebounds and a total of 43 blocks with 5.7 points per game and could well form the best front court in the Pac-12 in playing alongside All-American Jillian Alleyne. She will be expected to play a key starting role as the Ducks make a push for the Pac-12 crown.
Player of the Year
Nicole SEEKAMP | South Dakota
This was a tough decision given the amount of talent entering the 2015/16 season, with all five of my first team members all worthy of being selected. Given the team situation and needs, it is hard to look past the experienced play of Nicole Seekamp who is set to excel yet again.
Nicole Seekamp - Courtesy University of South Dakota Athletics
---