Discover more from The Pick and Roll
We're all about Aussie hoops. Independent, objective analysis and commentary. Insightful narratives built around Australian basketball. Read about our men and women in the NBA, WNBA, NCAA, Europe, national teams, NBL, WNBL, NBL1, prospects and more.
Over 2,000 subscribers
NCAA Women: Nicholson fires the Gael's while Wallace does it again
Wow what a season so far! The Aussie NCAA Division 1 women are definitely out to impress and Michael De Lacy yet again takes a look at the action and the standout performances for the last week.
---
Player of the Week
This weeks player of the week was a difficult call. I was torn between Southern Methodist freshman Alicia Froling and Saint Mary's red-hot Lauren Nicholson. After a lot of deliberation, I could not go past Nicholson who has simply been out working everyone else and been filling up the stats sheet as Saint Mary's keep winning.
Lauren Nicholson - Courtesy Saint Mary's Athletics
Over the last few weeks she has put up 5 games in a row scoring 20 or more points including a 29 explosion where she looked absolutely unstoppable. Last week she was honoured with the West Coast Conference Player of the week after averaging 25 points per game. Don't be surprised if she is honoured again this week after putting up very similar numbers. Similar to Alex Sheedy who dramatically improved following the departure of Bree Farley, Nicholson seems to be thriving following since the graduation of fellow team-mate and countrywoman Kate Gaze.
Saint Mary's managed a narrow 57-56 win over San Diego in a thrilling finish. Nicholson went 10/11 from the charity stripe on her way to 20 points and added 5 rebounds in 30 minutes of action. She was a key reason the Gael's earned the win, while Aussie teammate Carly Turner provided 5 points and 4 rebounds in a valuable 16 minutes.
Nicholson then backed it up by delivering another big game, this time putting together her first career double-double! She racked up 20 points, 11 rebounds, 4 assists and 2 steals in yet another impressive performance in a solid 61-51 win against BYU. Freshman Turner picked up 7 points and 7 rebounds in making another solid contribution. The Gaels dominated the rebound count, grabbing 52 to 32 while they only shot only 2 three pointers for the game but made 15 foul shots out of 18. Nicholson's performance helped the Gael's improved to 13-5 overall record and an impressive 6-1 West Coast Conference record.
Team of the week
Last week we saw the Baylor Lady Bears honoured. This weeks team of the week is no different as I couldn't go past the Baylor Lady Bears again after they increased their winning streak to 15 games in a row, improving to a 16-1 overall record and an unbeaten 5-0 in the Big 12 with their Aussie freshman Kristy Wallace leading the way.
Kristy Wallace - Courtesy SMU Athletics
Wallace has been a big part of this winning momentum and was again named Big 12 Freshman Player of the Week for the second time this season and the 6th time a Baylor player has been honoured for this accolade this season thus far.
In their first game of the week, Wallace went 5/12 from the field in compiling 13 points, 3 assists and 2 steals in 33 minutes of action as the Bears defeated Iowa State 79-47 in front of 6,095 excited Baylor home fans. Overall Baylor dominated, dishing out 31 team assists and recording just 7 turnovers while shooting 58% from beyond the arc and commanding the pain with a 46-8 edge.
Baylor then encountered Kansas who are struggling with a 0-5 Big 12 conference record. The Bears were able to just escape by 8 points in a hard-earned victory (71-63). Wallace quietly contributed 7 points and 2 rebounds in the victory. So far this season Wallace has been averaging 8 points, 2 rebounds and 2 assists per game.
Best of the rest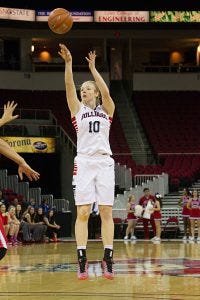 Alex Sheedy - Courtesy Fresno State Athletics
Fresno State's senior Alex Sheedy went 6/13 from the field as she recorded an impressive double-double of 15 points, 12 rebounds, 2 assists and steals in 37 minutes of action in a 58-46 win against San Jose State (58-46). Aussie Emily Schill didn't suit up for San Jose State as the Bulldogs restricted their opponents to just 25% from the field for the game.
The Bulldogs then went for their 10th victory in a row after an incredible run that started in early December. Against Wyoming, they prevailed in a nail-biting victory 66-65. Sheedy was at her consistent best, contributing 11 points and 4 rebounds in 33 minutes of action as they head the table in the Mountain West.
In a tough game, the Virginia Tech Hokies were defeated by Duke 65-40. The Hokies struggled from the field as a team, shooting just 24% from the field. Midway through the first half is when things fell apart for the Hokies and they never recovered. Vanessa Panousis had a very rough night from the field, connecting on just 5/22 including 4/15 from long-range. Despite this she still managed 14 points, 2 assists and 2 steals in playing the full 40 minutes. Hannah Young appeared in the starting line-up and put up her best game of the season yet in adding 9 points and 4 rebounds in 33 minutes.
With Panousis missing the game against Florida State, Young was ready to step up. She was able to lift her game to deliver 19 points and 2 rebounds in 33 minutes in possibly her best game of her career. Although Young had a big game, it wasn't enough for the Hokies to get over the line as they were defeated 44-59. It was the third game in a row that the Hokies failed to score over 46 points and subsequently they remain winless in the New Year with an 0-6 ACC conference record.
Boston's Mollie McKendrick was off with her shooting stroke going 1/5 from the field in compiling just 2 points, 2 rebounds and 2 assists in a 5 point victory over Colgate (58-53). The win ended a 9 game losing streak for the Terriers, in part thanks to shooting 61% from beyond the arc for the game. Despite the win, the Terriers went back to their losing ways after they were defeated by Loyola 53-63. Lone senior McKendrick had a near double-double, compiling a solid 10 points and 9 rebounds in 32 minutes of action.
The Idaho Vandals had a high scoring loss against Sacramento State 89-107. Stacey Barr connected on just 6/20 from the field in scoring 21 points with 4 rebounds, 4 assists and 2 blocks in 39 minutes. This was Barr's third 20 point outing in a row. Renae Mokrzycki had 6 points and 2 rebounds in just 6 minutes of action while freshman Geraldine McCorkell contributed 4 points and 2 rebounds in the loss. Sacramento State were hot from downtown, making 18 three-pointers out of 44.
In the Vandals second game of the week, flashy scoring guard Barr produced 22 points while adding 6 rebounds, 3 assists and 2 steals in 31 minutes to rack up four consecutive 20 point games. Junior Tayla Corrigan was back in the squad and had 2 points in 2 minutes for the game and Mokrzycki had 5 points and 4 rebounds. Freshman McCorkell continued to impress, contributing 10 points and 4 rebounds in 16 minutes. The Vandals were able to defeat the 3-14 Portland State in an important 77-44 victory which was a great confidence booster. The Vandals are currently sitting on a 8-8 Overall record and a 2-3 Big Sky conference record.
South Dakota's Nicole Seekamp was also once again was impressing with her slick passing skills, dishing out 9 assists (with just 1 turnover) while adding 14 points, 5 rebounds and 2 steals in a victory over North Dakota State. Fellow Aussie Marena Whittle appeared for the Bison's and contributed 5 points, 4 assists and 3 rebounds in the loss.
Seekamp experienced a relatively off night by her standards but still played a vital role in the Coyote's 82-78 victory over South Dakota State. The Coyote's moved to the top of the Summit League standings with the win, largely thanks to Seekamp who compiled 12 points including a perfect 10/10 from the charity stripe with 5 assists in 32 minutes.
North Dakota followed up the lost to South Dakota with a 21 point victory over Fort Wayne (81-60). Whittle bounced back from her last game and was impressive with a near double-double in compiling a game high 14 rebounds with 9 points, 5 assists, 4 steals and 2 blocks in 32 minutes of action. After the win, the Bison's improved to a 7-11 overall record and 1-4 in the Summit League.
Alicia Froling - Courtesy of SMU Athletics
Southern Methodist was defeated by the USF Bulls 59-82 despite the best efforts of the freshman Froling twins. Alicia Froling went 8/15 from the field in putting up 18 points, 7 rebounds and 2 blocks in a commanding individual performance. Sister Keely Froling added 4 points and 2 assists while compatriot Stephanie Collins made her first career start and collected 2 points, 2 rebounds and 2 blocks in 12 minutes of action. Alicia Froling has scored in double-figures in 12 of 16 games this season in what has been a great start to his collegiate career.
With a young roster, the Mustangs recorded their 10th loss in a row in going down to Tulane 58-60 in a thrilling finish which included a late Tulane three-pointer. Alicia Froling had 9 points, 6 rebounds, 2 steals and 2 blocks while twin sister Keely had 6 points, 5 rebounds and 2 steals. Alicia Froling is currently leading her team with 11.6 points per game while shooting 46% from the field, while also tallying a team-best 33 blocks. The Mustangs now have a 4-13 overall record and are just 0-6 in the American conference.
Funda Nakkasoglu collected a game-high 15 points with 5 rebounds and 8 assists in Utah State's 69-53 victory over Air Force to break a 7 game losing streak. Aussie Stephanie Bairstow has left the Utah State program citing personal reasons. Junior Bairstow was a solid guard who worked hard on the glass and at the defensive end. She appeared in 7 games for the season starting in 4 and averaged 6.4 points, 2.1 rebounds in 19.6 minutes per game.
Elidh Simpson was an efficient 4/6 from the field and finished with 17 points and 3 rebounds in playing a full 40 minutes as St Francis Brooklyn in a 72-61 win over Fairleigh Dickinson. She followed up with a huge 25 points on 9/16 shooting alongside 2 rebounds but this wasn't enough as the Terriers were defeated by Robert Morris by only 3 points (6-674). Freshman Alex Delaney had 1 rebound and 2 steals in 9 minute in the loss.
Sophomore Claire Maree O'Bryan had a rough night going just 1/6 from the field including 0/4 from beyond the arc but was able to contribute 2 points and 6 rebounds in and exciting, low-scoring overtime victory over Navy 44-42. In overtime, Bucknell's defensive game lifted and didn't allow Navy to score in the extra period in which just 2 points were scored. Bucknell has improved to an impressive 3-0 for overtime games this season and now boast an 11-5 overall record and are now 3-2 in the Patriot League.
Chelsea Roberts helped UT Martin to defeat Jacksonville State in a convincing 20 point victory (67-47 ) in front of big home crowd of 2,641 fans. Overall UT Martin impressively only had 8 turnovers and dished out 18 assists. Roberts pulled in 6 points and 5 rebounds in 23 minutes and is now averaging 4.5 points and 3 rebounds thus far this season. UT Martin currently sits on top of the Ohio Valley conference with a 5-0 record and is 9-9 overall.
Just Quickly
Grace Lennox compiled 2 points, 5 rebounds and 3 assists in 22 minutes of action as Eastern Illinois was defeated by Morehead State 67-62.

Murray State Racer's Bianca Babic had 5 points and 4 rebounds in 18 minutes in a devastating 22-76 loss to Tennessee State and is now on a 4-game losing streak.

Junior Bianca Dufelmeier went 4/5 from the field for a career high 10 points in 10 minutes as Alabama Birmington enjoyed a 68-45 victory over FIU.

Gonzaga had a 9 point victory over the Pepperdine Waves 73-64 in front of 4,981 fans and is now on a 8-game winning streak. Georgia Stirton had 10 points, 3 rebounds, 4 assists and 2 steals in 34 minutes.

Louise Brown entered the starting line-up and produced 6 points and 7 rebounds in 28 minutes of game time as Washington State snagged a victory over Jacinta Vandenberg's (red-shirt) Oregon 79-76.