Discover more from The Pick and Roll
We're all about Aussie hoops. Independent, objective analysis and commentary. Insightful narratives built around Australian basketball. Read about our men and women in the NBA, WNBA, NCAA, Europe, national teams, NBL, WNBL, NBL1, prospects and more.
Over 2,000 subscribers
NCAA Women: Mid-season top 5
The Australian women have been taking NCAA Division I hoops by storm this season! With conference play now underway, we take a look at the first couple of months of the season and rank the top 5 Aussies by performance and impact.
---
Mid-Season Top 5
5 | Marena Whittle | North Dakota State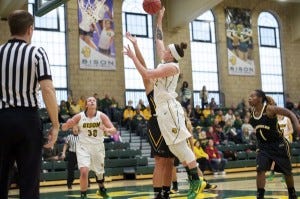 Marena Whittle - Credit Richard Svaleson via North Dakota State Athletics
Whittle has been an integral part of the North Dakota State side for her entire four years, but this season has seen the senior become the dominant player in the Bison lineup. In a side that has struggled at times this year, Whittle has been a shining light throughout the first half of the season.
The Victorian sits in the top 50 players in no less than 8 statistical categories, including total rebounds, where Whittle's 157 is good enough for 13th in the country. A spectacular run throughout December of five consecutive double-doubles helped lead North Dakota State to three of their five wins so far this season. Averaging a double-double and leading the team in both points (18.5) and rebounds (10.3) per game, Whittle has definitely laid the foundations for a senior season to remember on a personal level, having already secured Summit League Player of the Week once this season.
4 | Lauren Nicholson | Saint Mary's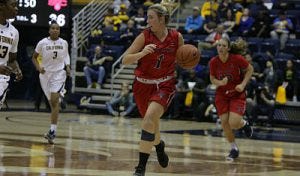 Lauren Nicholson | Credit Tod Fierner/Saint Mary's College Athletics
Nicholson has always been a solid scorer for Saint Mary's, averaging double figures every year since her sophomore year. This season however, the senior has added more strings to her bow. After racking up 104 turnovers last season, Nicholson has improved her ball security and at the midway point of this season has just 29 in 14 games. Nicholson has also improved her defending, and whilst it doesn't show up on the box score, when you watch the Gaels, you can tell how important she is to the team at both ends of the floor, leading Saint Mary's to a solid 13-4 record so far.
Above all else though, Nicholson is still a scorer first and foremost. Her 18 points per game through the first half of the season is testament to that. Nicholson's scoring numbers are certainly assisted by her ability to get to the line and also make shots - she currently sits 8th in the nation for free throws made with 93, and 10th for free throw attempts with 108, which equates to 85% from the charity stripe for the season.
3 | Funda Nakkasoglu | Utah State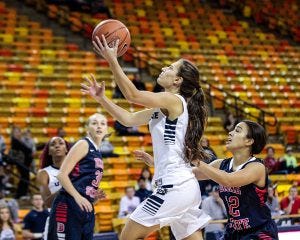 Funda Nakkasoglu | Credit: Utah State Athletics
Like Nicholson, Nakkasoglu is a scorer who also has the ability to draw fouls and convert free throw opportunities. The Utah State point guard is a remarkable 16th in the country for scoring, averaging 21.1 points per game, including a huge 37 point outing against Pacific, good enough for a top 20 scoring performance so far this year.
Everything in the Aggies' offense goes through Nakkasoglu - the sophomore has racked up 207 field goal attempts so far this season, a massive 56% higher than any of her teammates. It's not all about volume shooting for Nakkasoglu though; she also leads the team in assists with 4.9 per game. Nakkasoglu's abilities at the line are well documented, and are also visible in the national leaderboard - at 4th in the nation in free throws made with 98, and 8th in free throws attempted with 113, Nakkasoglu's 87% shooting from the line makes her one Utah State player that opposition teams don't want to foul. Unfortunately for them, Nakkasoglu generally has the final say in that matter. The sophomore has also been recognised for her performances, being named Utah State's Student-Athlete of the Week no less than four times this season whilst leading the Aggies to a solid 8-7 record so far.
2 | Alicia Froling | Southern Methodist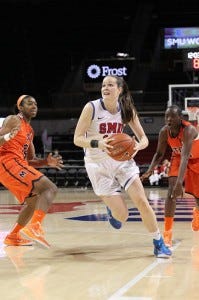 Alicia Froling - Courtesy of SMU Athletics
Froling was one of the top Australian players last season, and not a lot has changed in 2015-16. Teams are now more aware of the sophomore's shot blocking abilities, which has brought her block numbers down just slightly, yet Froling has more than compensated on the glass. Her rebounding numbers have improved markedly, up from 7.2 last season to 10.9, which has led to the Queenslander already registering six double-doubles - one more than she did in all of 2014-15.
With an average of 11.9 points per game, Froling is also one of only two players in the American Athletic Conference averaging a double-double, and this scintillating play has brought just rewards. Froling has been named to the conference honour roll three times already this season. She has also improved her ability to bring her teammates into the play, notching 19 assists at the midpoint of this season, the same number that she posted in an entire season last year. In a young team, Froling has been a mainstay in a Southern Methodist side that has compiled a 6-8 record to this point, a vast improvement on last season's 7-23. On a personal and team level, things look set to continue to improve for Froling and SMU both for the rest of this season and into the future.
1 | Nicole Seekamp | South Dakota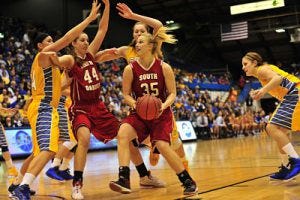 Nicole Seekamp - Courtesy University of South Dakota Athletics
Seekamp was named as our preseason Player of the Year, and the senior point guard has lived up to that billing. The leader of South Dakota at both ends of the floor, Seekamp's numbers may not have any eye-popping figures like the rebound numbers of Marena Whittle and Alicia Froling, or the scoring numbers of Funda Nakkasoglu and Lauren Nicholson, but there is one thing the stats show: all-round excellence. Averaging 14.2 points, 6.3 assists, 3.3 steals, and shooting 87% from the line, Seekamp is the kind of player that any team would be happy to have.
The stats only tell half the story though. When watching South Dakota play, everything just looks calmer and more organised with Seekamp on the court, as the South Australian has led the Coyotes to an 11-5 record to this point. Her decision-making combined with her ability makes her an exceedingly reliable player. This has led to Seekamp cementing her status as one of, if not the, premier player in the Summit League, as evidenced by winning the conference's Athlete of the Month in December. Seekamp is also edging ever closer to breaking several school records for South Dakota; she currently ranks third in points, third in steals, and fourth in assists for the Coyotes.
Special Mention
Many players were on the edge of the top 5, including Virginia Tech duo Hannah Young and Vanessa Panousis, and Gonzaga point guard Georgia Stirton.
Vanessa Panousis is the only Australian this season to have received the ESPNW National Player of the Week award this year. The junior point guard achieved this in a week in which Virginia Tech knocked off national powerhouse Tennessee in a massive upset, and has led from the front as the Hokies have silenced the naysayers in putting together a 13-2 record to this point. Senior swingman Hannah Young has had a sublime season from outside the arc for Virginia Tech. She has equalled the record for most threes in a home game for Virginia Tech (6), and is eighth in the nation for three-point percentage at 48.3%. This number is actually better than her overall field goal percentage, a testament to her excellent perimeter shooting this season, which has been a saviour for the Hokies at times.
Georgia Stirton has never been known for her huge numbers in her time at Gonzaga, although she has earned a West Coast Conference Player of the Week award for two double figure scoring efforts in the space of a couple of days earlier this month. More of a solid, reliable player than a headline maker, Stirton has acted as a facilitator more than a scorer for much of this season, but knows when to take matters into her own hands. Whilst other players at Gonzaga may grab more of the spotlight, the team could never have compiled a 13-4 record without a player like Stirton in the lineup.
---
NCAA Women: Pre-season Top 10 Aussies Full List of Australian Women in 2015/15 NCAA Season